The global telecom services market size was estimated at USD 1.81 trillion in 2022 and it is expected to surpass around USD 2.65 trillion by 2030 with a registered CAGR of 4.85% from 2022 to 2030. The U.S. telecom services market was valued at USD 429.5 billion in 2022.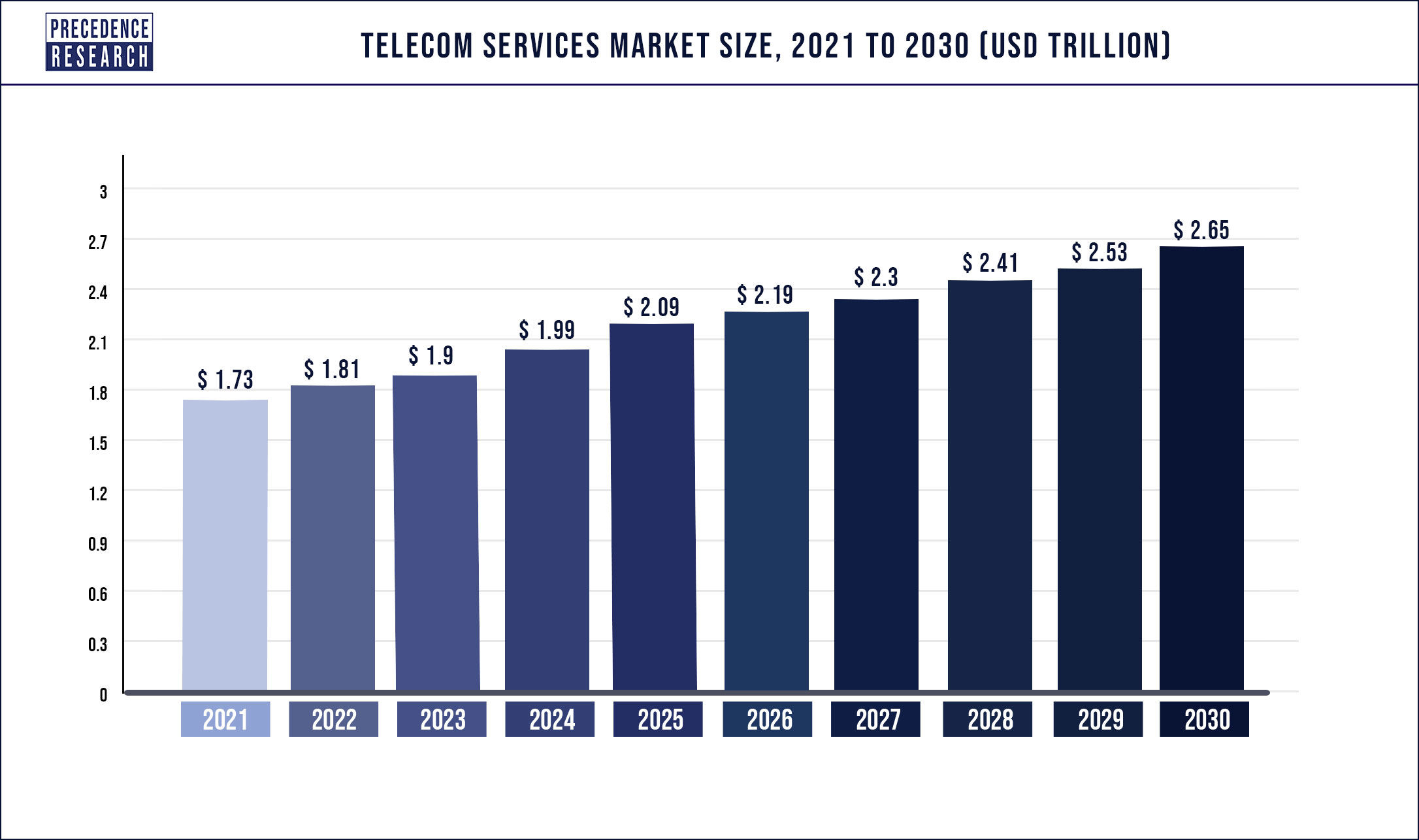 The basic elements of telecommunication technologies are the transmitter, the transmission medium and the receiver. The market for telecommunications services has also witnessed significant improvements. The exchange of information over long range distances by the means of electronic media and refers to all types of voice data and video transmission.
Telecommunications services are a broad term that includes. A range of communication infrastructure and information transmitting technologies are like the mobile devices, cell phones, microwave communication, satellite radio, television, fiber optics, internet and telegraphs. The Internet is the largest example of telecommunications sector work. In many countries, the telecom service providers were government owned, that is no longer the case, and now there are private companies that are providing this service. Residential and small business market among the customer markets is toughest. There are many market players that function solely on competitive prices.
Report Scope of the Telecom Services Market
| | |
| --- | --- |
| Report Coverage | Details |
| Market Size by 2030 | USD 2.65 Trillion |
| Growth Rate from 2022 to 2030 | CAGR of 4.85% |
| Asia Pacific Market Share in 2021 | 33% |
| Wireless Segment Market Share in 2021 | 76% |
| Base Year | 2021 |
| Forecast Period | 2022 to 2030 |
| Segments Covered | Service, Transmission, End User, Region |
| Companies Mentioned | AT&T Inc., Verizon Communications Inc., China Mobile Limited., SoftBank Group Corp., Duetsche Telecom AG. KT Corp., Vodafone Group., Bharti Airtel limited., Reliance JioInfocomm limited., KT Corp., Nippon Telegraph and Telephone Corporation, Comcast Corporation |
Growth Factors
Owing to increased spending on next generation wireless communication setups due to the shift in the preferences towards 5G network and a cloud based technology is driving the demand. There is great demand for high speed data connectivity and also as there is rapid digitalization across the world and explosion of ott platforms the market is expected to grow significantly. The market growth is fueled due to 5G enabled smartphones that are generated and available across all the nations. The pandemic has also boosted the market size. When people were in home isolation across the world entertainment platforms have become very famous. Increasing demand for video streaming services or applications including Netflix, YouTube, Amazon Prime.
Also, the usage of data or Internet connectivity services was soaring during the pandemic as many people were working from home. The network architectures that provide good connectivity at reduced infrastructure costs. These services will provide great 5G networks across the nations. As the telecom services are providing improved voice services and also other value added services, the market is expected to grow during the forecast period
Due to a need for global communication network there are continued technological advancements over the past few years. As the multiplexes and outdoor entertainment places were shut down due to strict social distancing, the internet applications have been used more.
Service Type Insights
For rapidly growing usage of data over the smartphones for cloud augmented reality, virtual reality gaming, smart cities and ott platforms there has been a substantial rise in the mobile data services segment. The mobile data services segment accounted largest revenue share of around 34% in 2021. As the demand for high speed broadband services is high in residential areas, the segment is expected to grow during the forecast. The market is expected to grow owing to online cloud gaming.
Telecom Services Market, By Offering 2021 (USD Billion)
| | |
| --- | --- |
| Fixed Voice Services | 148.20 Bn |
| Fixed Internet Access Services | 472.00 Bn |
| Mobile Voice Services | 361.10 Bn |
| Mobile Data Services | 575.00 Bn |
| Pay TV Services | 108.00 Bn |
| Machine-to-Machine (Mobile IoT) Services | 48.00 Bn |
Transmission Insights
Based on the type of transmission, the wireless segment is expected to have largest revenue share 76% in 2021 and expected to witness fastest growth during the forecast. Other than increased sales of mobile services among customers and businesses the demand for machine to machine services segment may grow during the forecast. as there is rapidly growing IoT devices that will require higher speed data connectivity to communicate effectively, the wireless local area networks have provided Internet access to cellular devices in home, in public spaces, in airports, at cafeterias, other areas or office buildings.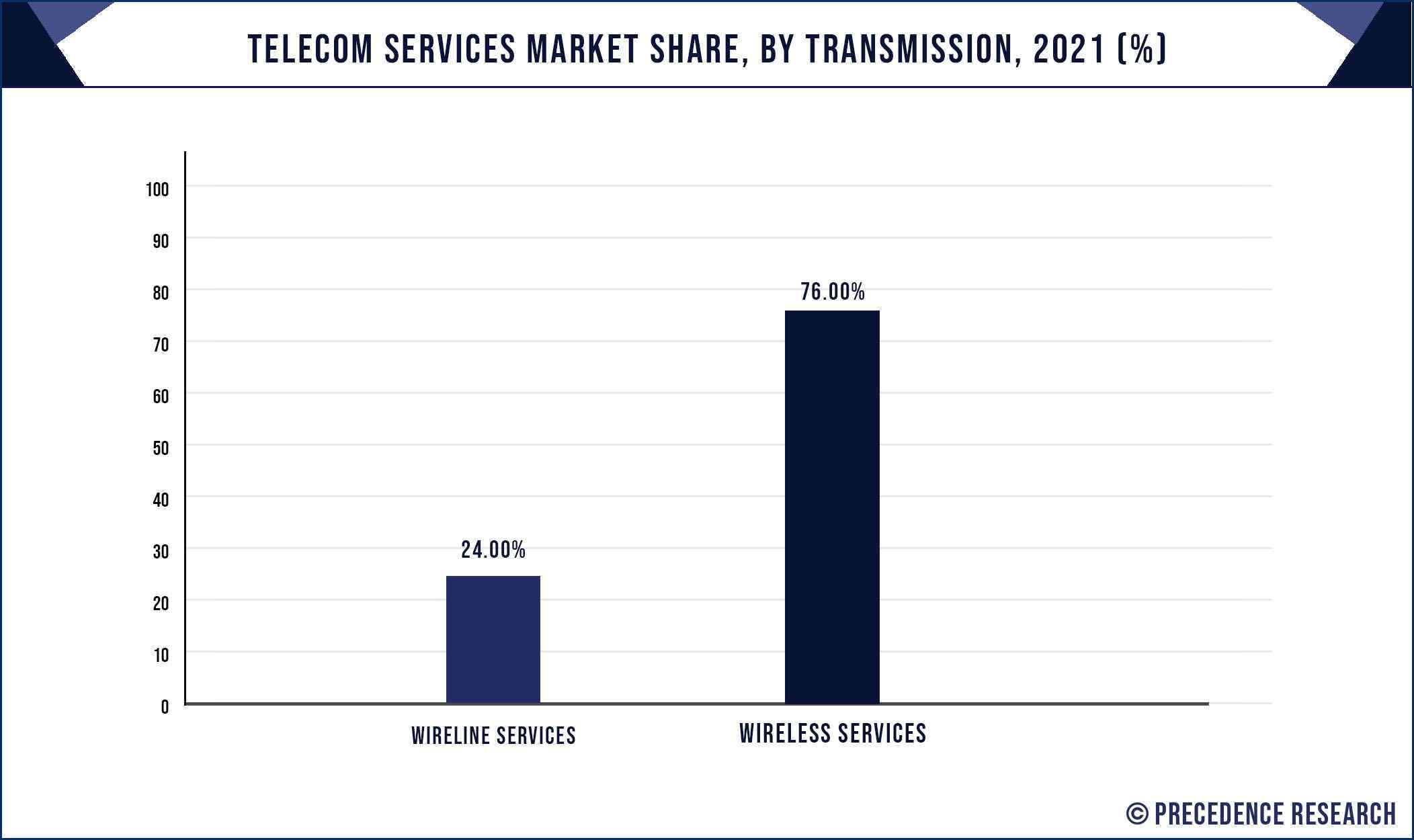 The system of wireless local area networks is expected to result in the growth of the market. The communication involves transfer of information via coax, coaxial twisted pair or optical fiber cables. Due to a rise in MNC,s and SME's in UK, USA and China there will be a growth in this market.
End User Insights
In 2021, the consumer/residential segment accounted revenue share of around 61%. The residential segment has accounted for the largest revenue share among all the other end user type segments. During the forecast period, the sub segment is expected to maintain its lead. More than 60% of the population is using smartphones. The applications in the residential areas are helping in the significant growth of the market. Online gaming is also expected to give a boost to this segment during the forecast.
Regional Insights
The Asia Pacific region accounted 33% revenue share in 2021 and is expected to expand at a faster pace during the forecast due to rapidly growing population, significant adoption of smartphones and as there is rising penetration even in the niche markets. T-Mobile USA Inc, or acquired Sprint Corp, which is a telecom Company, the merger is aiming for a 5G network infrastructure in US that will help in capturing the rural as well as the urban areas. It is likely to invest 40 million U.S. dollars over the next three years. Significant investments are made across many nations to acquire next generation services and provided to the customers. AT&T Inc and Verizon Communications together have spent U.S. dollars 70 billion on the 5G spectrum. Vodafone Group PLC, BT Group PLC and China Mobile Limited are investing to procure millimeter wave for delivering enhanced connectivity for business and consumer applications. It is estimated that India's 5G subscriptions will reach up to 350,000,000 by the year 2026. Due to growing use of technologies such as Internet of Things, artificial intelligence, robotics and cloud computing, there will be a lot of jobs generated in this sector in India. Under the Department of Telecom, U.S. dollars, 1.65 billion has been allotted for telecom and networking products.
The commission for communications regulation Ireland has released an extra radio spectrum to enable mobile network operators to provide their customers who access 3G as well as 4G technologies. An additional spectrum has been added to the communication network service provider, by the federal communications commission, ensuring continuity of broadband in US. The moderate growth of the wireline segment is because of the rising number of MNC,s and SME,s.
Key market players
AT&T Inc.
Verizon Communications Inc.
China Mobile Limited.
SoftBank Group Corp.
Duetsche Telecom AG. KT Corp.
Vodafone Group.
Bharti Airtel limited.
Reliance JioInfocomm limited.
KT Corp.
Nippon Telegraph and Telephone Corporation
Comcast Corporation
Key Market Developments
The Internet of Thing, devices and sensors have provided people with a quality life. The governments were also able to decrease their expenses related to information technology. The next gen upgrade for telecommunications services is 5G technology. Machine learning and artificial intelligence are also impacting the industry.
Virtual reality, augmented reality and mixed reality are all new types of content which require low latency Internet and good speed transmission. In order to reduce lag and create a seamless experience for the gamer, the startup subspace based in US uses a combination of software and hardware solutions. There are cyber security issues across the globe. Saudi Arabia has developed cyber security tool Cybersenshi which discovers and fixes customer websites and network security issues. The British start up Angoka is providing hardware solution for managing cybersecurity risks.
Segments covered in the report.
(Note*: We offer report based on sub segments as well. Kindly, let us know if you are interested)
By Service
Fixed Voice Services
Fixed Internet Access Services
Mobile Voice Services
Mobile Data Services
Pay-TV Services
Machine-to-Machine (Mobile IoT) Services
By Transmission
Wireline services
Wireless services
By End User
Residential
Offices
Corporates
Hospitals
Others
By Geography
North America
Europe
Asia-Pacific

China
India
Japan
South Korea
Malaysia
Philippines

Latin America

Brazil
Rest of Latin America

Middle East & Africa (MEA)

GCC
North Africa
South Africa
Rest of the Middle East & Africa