The global advanced battery market size is expected to be worth around US$ 168.13 billion by 2030 from US$ 74.13 billion in 2020, growing at a CAGR of 8.53% during the forecast period 2021 to 2030.
The global market growth driven by rising concerns about carbon emissions drives demand for advanced batteries across the world and augmented awareness regarding use of energy efficient devices further supports market expansion.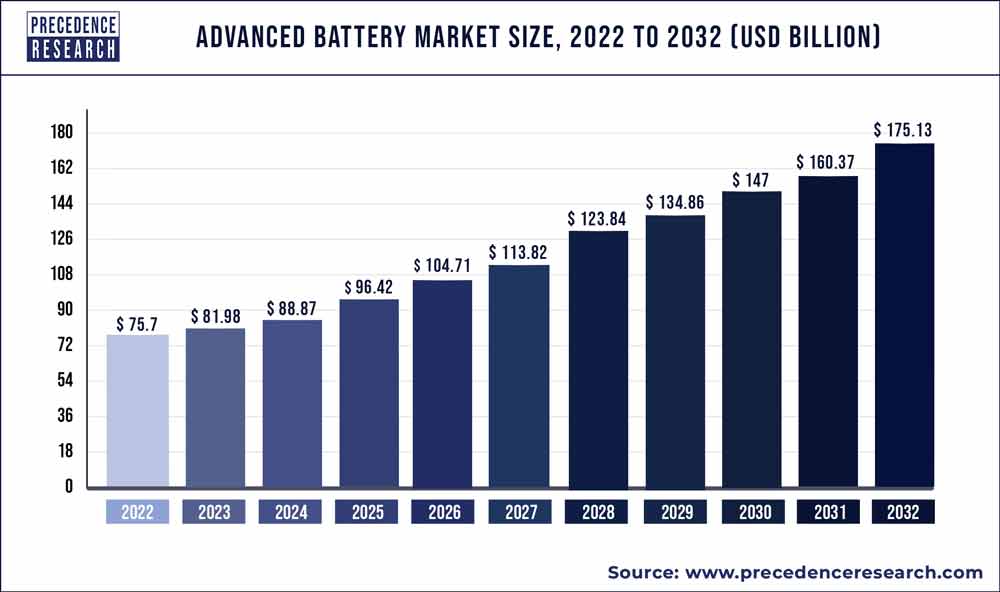 Key market Insights:
One of the prime objectives of the energy storage effort is to design cost effective and durable advanced batteries and ultracapacitors in order to use in advanced vehicles such as start/stop, full-power PHEVs, HEVs, and electric vehicles. Noteworthy efforts have been devoted to the progress of enhanced energy storage systems that are essential to support rising vehicle electrification. Next-generation batteries or advanced batteries have already become a part of everyday lives nowadays. Next-gen batteries offers lower emissions and also possesses lengthier lifespan and can effortlessly be integrated in power grid to form an energy storage system. These systems plummet the electricity costs across the world and also reduce the emissions of greenhouse gases.
Advanced batteries also find application in the transportation sector. An upsurge in activities like deforestation, combustion of natural gas, oil, and coal, industrial activities including cement production are accountable for the atmospheric concentration of CO2. Thus, growing concerns for carbon emissions is a crucial factor accelerating the demand for advanced batteries. Due to features such as grid flexibility, generation asset enhancement, competence and safety and, the demand for advanced batteries is possible to eyewitness a significant surge during years to come.
COVID-19 Impact on Global Advanced Battery Market
The influence of COVID-19 on the global industry and trade disagreements among the leading economies is predicted to hamper the growth advanced batteries market. The supply chain participants such electrode material producers, raw material suppliers, and battery pack producers suffered a key setback on account of intensifying impact of coronavirus epidemic and projected to take a momentous amount of time to attain pre-Covid sale levels.
| | |
| --- | --- |
| Report Highlights | Details |
| Market Size | US$ 168.13 Billion by 2030 |
| Growth Rate | CAGR of 8.53% From 2021 to 2030 |
| Base Year | 2020 |
| Historic Data | 2017 to 2020 |
| Forecast Period | 2021 to 2030 |
| Segments Covered | Type, Application |
| Regional Scope | North America, Europe, Asia Pacific, Latin America, Middle East & Africa (MEA) |
| Companies Mentioned | Pathion Inc., PolyPlus Battery Company Inc., GS Yuasa Corporation, Oxis Energy Ltd, Samsung SDI Co. Ltd., Others |
Significant Market Trends:
Lithium-Ion Polymer Battery Segment Seized Significant Market Stake in 2020
The cumulative implementation of renewable energy infrastructure is expected to offer enormous business prospects for energy storage systems that in turn are a great lift for next generation advanced battery market. The lithium-ion polymer battery market segment reported for the maximum market cut of above 15% in 2020 due to the widespread application of these batteries in the electronic devices industry. Advanced batteries have numerous exceptional features like efficient performance, compact size and high-power density on account of which they have a high requirement compared with traditional batteries. Advanced lead-acid battery garbs a noteworthy market chunk and is assessed to cultivate at a protuberant growth rate over the estimate period.
Consumer Electronics is Projected to Govern the Advanced Battery Market Revenue
Global advanced battery market is segregated on the basis of various applications into automotive, consumer electronics, industrial, and energy storage systems among others. Advanced battery is widely employed in automotive sector. Surge in government backing and inducements to indorse the implementation of passenger and commercial electric vehicles are supposed to lift the growth of the automobile segment of the market throughout the prediction period. Consumer electronics segment is anticipated to rule the global advanced battery market, due to the increasing need of electronic devices across the world. The increasing intricacy of electronic devices needs compact, thinner, and more effectual battery packages. This tendency is projected to upsurge requirement of this product in the consumer electronics sector. Further, automotive battery segment is also probable to record the major growth rate during the prediction period due to the rising propagation of advanced batteries in EVs.
Asia Pacific is Estimated to be the Major Regional Market for Advanced Battery
This research report offers analysis of different drifts and forecasts of advanced battery products across dissimilar regions such as North America, Asia Pacific, Europe, Latin America, and Middle East and Africa. Among all, Asia Pacific is predictable to control the market revenue with majority of the requirement originating from the nations such as China and India. This high growth is also attributable to great demand for improved battery capacity in emerging economies across various application segments. These economies are directing the placement of electric vehicles and thus, need advanced batteries to power these vehicles. Further, increasing need for portable devices such as mobile phones, watches, and cameras is projected to accelerate the regional market.
North America is assessed to grow at a prominent growth rate during the prediction period with the U.S. being the principal revenue contributor. The market in the U.S. is anticipated to eyewitness a protuberant growth due to increasing consciousness regarding use of energy-efficient products. The U.S. government offers heavy subsidy for the designing of lightweight, and robust batteries for applications in the commercial, residential, and industrial segment. This trend is predicted to boost the growth of regional market during the estimate period.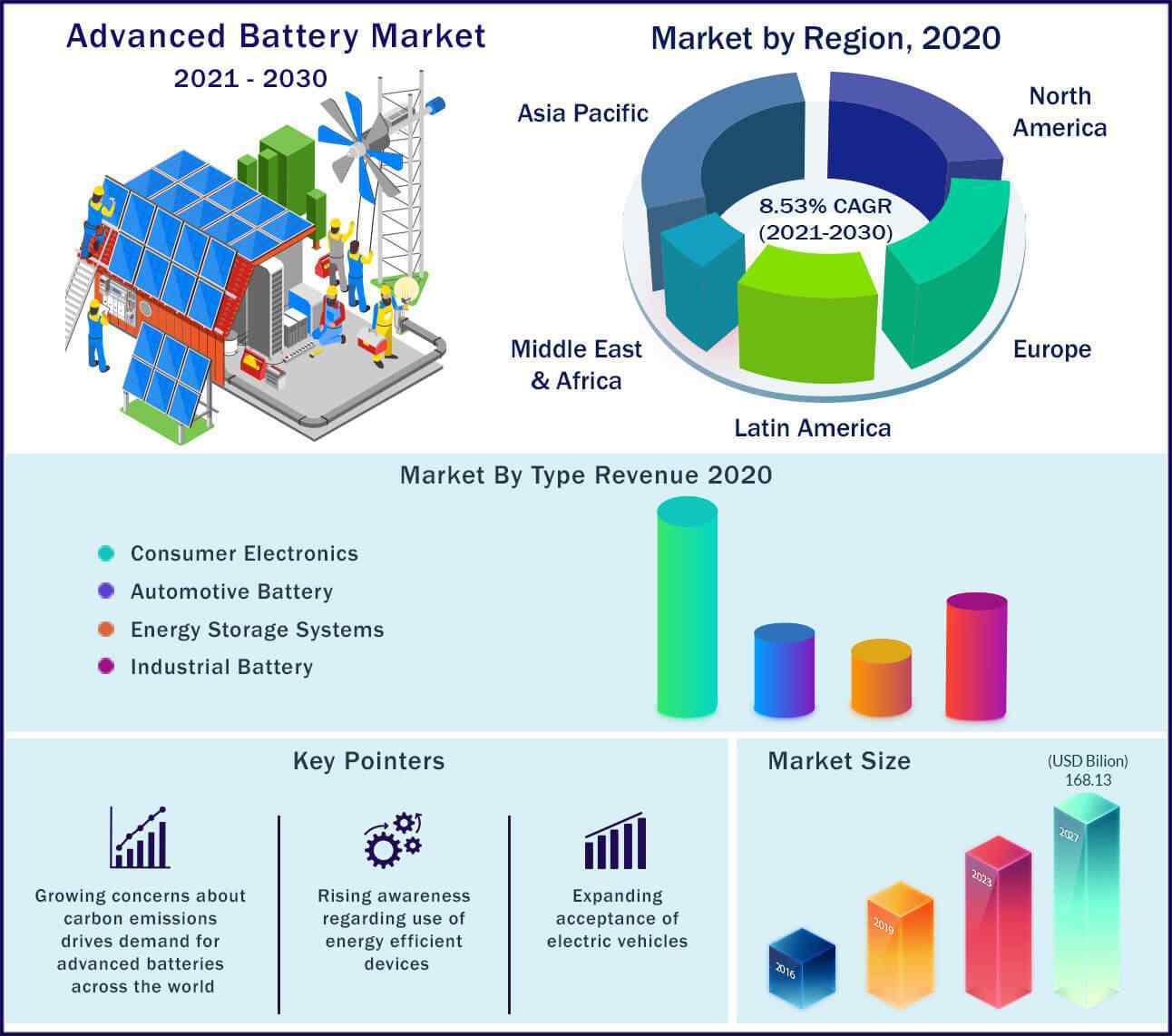 Top Players contending in the Market:
This market has been initiated by Tesla since 2017, yet the greater catalyst for rapid market acceptance of EV technology is China. In China, government grants are in place for both commercial EV's and passenger EV vehicles. Players with sophisticated technical competences are probable to subsidize provocatively toward technological progressions in the next generation battery technologies for electric vehicle. Leading competitors competing in global advanced battery market are as follows:
Pathion Inc.
PolyPlus Battery Company Inc.
GS Yuasa Corporation
Oxis Energy Ltd
Samsung SDI Co. Ltd.
Others
Recent Market Developments:
In March 2020, researchers from the Samsung R&D Institute Japan and Samsung Advanced Institute of Technology offered a study on durable and high-performance all-solid-state batteries to Nature Energy, which is one of the top scientific journals. This promising research is anticipated to aid boost the expansion of electric vehicles. Team developed prototype pouch cell which is expected to allow an electric vehicle to travel up to 800km on a single charge
In January 2019,at the 2019 North American International Auto Show, Samsung SDI offered its next-generation battery technologies, such as roadmap for all-solid-state batteries
In 2015, PATHION announced innovations in high-energy and safe lithium-ion batteries. PATHION offered novel advancements in solid-state electrolytes that accomplish up to 4 times superior than present lithium-ion technologies with a high level of safety.
Major Market Segments Covered:
By Type
Sodium Sulfur Battery
Sodium Metal Halide Battery
Lithium-Ion Polymer Battery
Advanced Lead Acid Battery
Smart Nano Battery
Others
By Application
Consumer Electronics
Automotive Battery
Energy Storage Systems
Industrial Battery
By Geography
North America
Europe

Germany
France
United Kingdom
Rest of Europe

Asia Pacific

China
Japan
India
Southeast Asia
Rest of Asia Pacific

Latin America

Brazil
Rest of Latin America

Middle East & Africa (MEA)

GCC
North Africa
South Africa
Rest of Middle East & Africa