The global electric scooters market size was accounted for USD 33.72 billion in 2022 and it is expected to hit around USD 88.75 billion by 2032, anticipated to grow at a compound annual growth rate (CAGR) of 10.16% from 2023 to 2032. The global electric scooters market is anticipated to be driven by increasing electric scooter sharing services owing to their costeffective urban commute for end-user across all the developed and developing economies across the globe.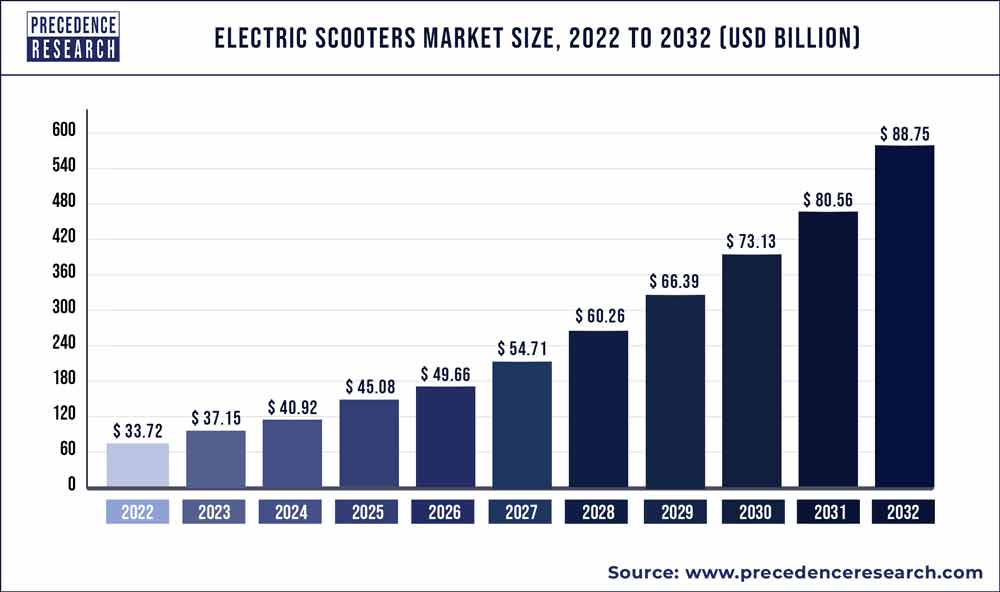 Access our Premium Real Time Data Intelligence Tool, Visit: Precedence Statistics
Key Takeaway
North America electric scooters market is anticipated to grow at a registered CAGR of 12.7% 2022 to 2030.
By product, the retro segment has contributed highest market share 53% in 2022.
The folding variant product segment is anticipated to reach at a CAGR of 10.6% from 2022 to 2030.
The sealed lead-acid battery segment has garnered 63% market share in 2021.
The lithium-ion battery segment is anticipated to hit at a CAGR of 10.4%.
By voltage, the 36V segment has accounted highest market share 62% in 2021.
The greater than 48V segment is anticipated to grow at a CAGR of 11.6% from 2022 to 2030.
Growth Factors
Rising demand for fuel-efficient vehicles across the globe coupled with increasing concern for alarming rise in the global pollution are some of the major factors that drives the market growth of electric scooters over the upcoming years. As a result, governments of various regions have issued stringent emission norms to curb the rate of rising rate of carbon in the environment. For instance, Environmental Protection Agency (EPA) of USA proposed a rule in order to revise the existing national Greenhouse Gas (GHG) emission standards for light trucks and passenger cars.
Similarly, European Commission has also proposed strict measure on the passenger vehicle emission. This is majorly due to 70% out of the total emission is from transport sector and passenger cars are the major contributor among road transports in the rise the GHG gas.
Furthermore, rapid urbanization along with rising population density particularly in the developing nations contribute prominently for the significant rise in demand for electric scooters in these regions. Moreover, it is an affordable and environment-friendly mode of commutation that again propels the market growth during the forecast time frame.
Urban mobility trend such as shared bikes, electric scooters, and dockless bikes have gained significant momentum in the past few years. Electric scooters reduce the overall travelling time as well as is more convenient for short and long-distance commutation. Hence, the preference for electric scooters are rising rapidly even greater compared to electric cars during the upcoming years.
However, sudden outbreak of coronavirus in the year 2020 has impacted the automotive sales badly along with several other industries owing to disruption in the supply chain structure across the globe. Nonetheless, diversity in the e-scooter models and on-going research on electric scooters for improving its performance propels the market growth for electric scooters over the forthcoming period.
| | |
| --- | --- |
| Report Coverage | Details |
| Market Size | USD 88.75 Billion by 2030 |
| Growth Rate | CAGR of 10.16% from 2023 to 2032 |
| Base Year | 2022 |
| Historic Data | 2019 to 2021 |
| Forecast Period | 2023 to 2032 |
| Segments Covered | Voltage, Battery, Product |
| Regional Scope | North America, Europe, Asia Pacific, Latin America, MEAN |
| Companies Mentioned | Gogoro Inc., AllCell Technologies LLC, BMW Motorrad International, BOXX Corp., Green Energy Motors Corp., Honda Motor Co. Ltd., Greenwit Technologies Inc., Jiangsu Xinri E-Vehicle Co. Ltd., Mahindra GenZe, KTM AG, Peugeot Scooters |
Market Drivers
Increasing adoption for electric scooters sharing service
The growing adoption of electric scooter sharing services in countries like France, Germany, the U.S., and Spain, among others, has spurred the demand for electric scooters. The companies such as Bird Rides, Inc., Lime, Spin, Uber Technologies Inc., emmy-sharing, Cooltra Motos SL, Scooty, and Razor USA LLC offering electric scooter sharing services are procuring electric scooters mainly from the manufacturers like Ninebot-Segway, Gogoro, Inc., and Xiaomi. The penetration of electric scooter sharing service is witnessing an exponential adoption rate since 2016. Currently, more than 90 cities and various universities across the globe use electric scooter sharing service, with around 95 percent of the scooters having an electric drivetrain. The growth of the electric scooter market is attributed to the increasing adoption of scooters as the preferred mode of transportation, especially from the time when electric scooters entered this market space.
Moreover, electric scooters have become a cost-effective urban commute for an end-user. Its sleek design and easy handling capability help commuters avoid traffic congestion and simultaneously reduce carbon emissions. Therefore, the above-mentioned factors are some of the key drivers behind the escalating adoption of electric scooters. Since the electric scooter sharing industry is currently undergoing rapid development and is in a transition phase; therefore, the electric scooters sharing operators are also expanding their presence to both untapped and competitive markets.
Market Restraints
Range anxiety amongst the consumers posing a challenge for the adoption of electric scooters
Many potential buyers are concerned about the distance or range covered in a single charge of the electric scooter. Thus, electric scooter owners are a bit reluctant towards purchasing these scooters due to the fact that an electric scooter might not have the necessary range to take them to their desired destination. The driving distance or range of electric scooters on a single charge is shorter than the distance covered by the normal scooters on a full-tank of traditional fuel. This problem is severely linked to the lack of charging infrastructure across many countries.
The normal scooters can be refueled at petrol stations, such regularized infrastructure (charging station) is not yet available for electric scooters, thus hindering the market growth. But these obstacles are slowly fading with increasing investments in the charging infrastructure across the globe. For instance, in 2017, HM Treasury from the Government of the U.K. announced the establishment of the Charging Infrastructure Investment Fund (CIIF). It includes a EUR 200 million investment from the government, and the same amount needs to be contributed by the private sector. Several such investments are taking place across the globe and are expected to eliminate the range anxiety amongst the consumers over the next five years.
Segments Insights
Product Insights
Retro electric scooter product segment has held revenue share of over 53% in the 2022, owing to increasing maintenance and fuel costs are posing electric scooters as attractive transportation alternative. In addition, electric transportation is becoming an eco-friendly alternative with increasing pressure to limit the carbon footprints. However, the demand for retro electric scooter has witnessed a sluggish growth over the past two years. This is attributed to the introduction of lightweight folding electric scooters also called kick or dockless scooters. Retro electric scooter segment will continue to maintain a dominant position, but the majority of growth is expected to come from folding and standing/self-balancing electric scooter.
The introduction of the next-generation technology and the need for product differentiation have propelled the growth of the folding scooters market. One of the key factors boosting the demand for this type of scooters includes the lack of parking space in metro cities. These scooters have gained prominence in the U.S. as they are free from the initial restrictions of strength and weight. Additionally, the need to revolutionize the increased traffic and mobility has impelled vendors to manufacture folding electric scooters. These scooters offer flexibility with minimum energy consumption and can be easily folded to the size of a suitcase.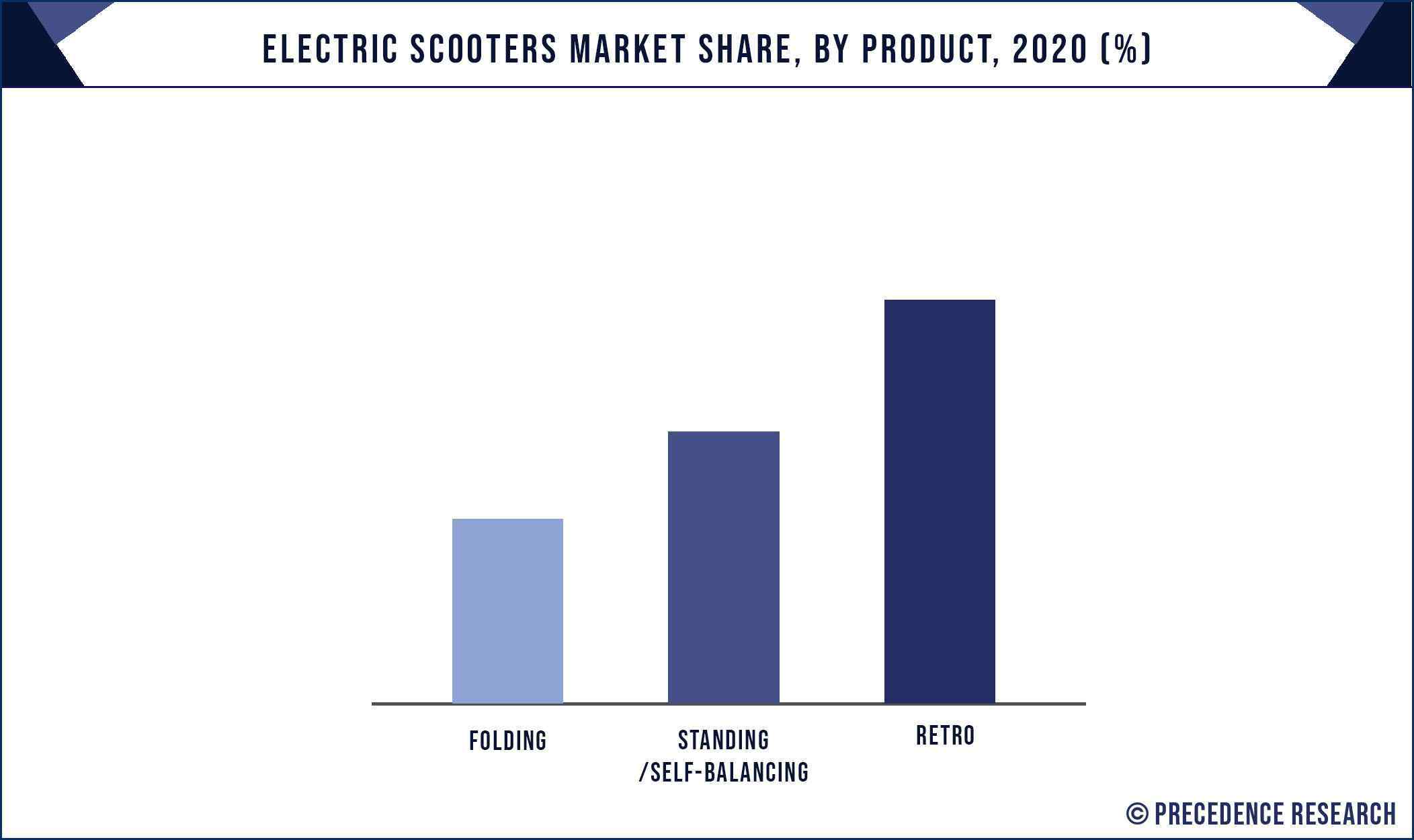 On the other side, folding e-scooter type exhibit accelerating growth of nearly 10.6% during the forecast period. Increasing penetration of next-generation technologies such as big data and Internet of Things (IoT) and rising need for product differentiation have triggered the demand for folding electric scooters. However, higher degree of convenience and control of standing/self-balancing electric scooters in residential and commercial application basically for the amalgamation of daily activities likely to prosper its demand over the forecast period.
Voltage Type Insights
The 36V segment was valued at USD 13,665.0 million in 2022 and it is expected to reach at a CAGR of 6.9% from 2022 to 2030. The greater than 48V segment was valued at USD 1,579.1 million in 2022, registering at a CAGR of 11.7% from 2022 to 2030. The deployment of additional voltage levels i.e., scooters with voltage greater than 48V offer several advantages. These systems facilitate the realization to reduce carbon dioxide emissions at acceptable cost levels. Furthermore, these voltage systems offer features such as air conditioning compressors, turbochargers, and so on that are difficult to implement in 12V or 24V systems. The need to reduce carbon footprints is estimated to proliferate the growth of high voltage electric scooters.
Battery Insights
The sealed lead acid segment was valued at USD 13,586.3 million in 2022 and it is expected to grow at a CAGR of 5.9% from 2022 to 2030.
The Li-Ion segment was valued at USD 7,344.9 in 2022 and registering at a CAGR of 10.6% from 2022 to 2030.
The NiMH segment was valued at USD 1,352.9 in 2022 and registering at a CAGR of 9.7% between 2022 to 2030.
Regional Insights
Why Asia Pacific dominated the global electric scooter market?
The Asia Pacific region is the front-runner in the global electric scooters market accounting for a revenue share of approximately 70% in the year 2021 and predicted to witness significant growth over the upcoming years. This is primarily attributed to the increasing concentration of electric scooter manufacturers in Japan, China, and Taiwan that acquire significant share in electric scooters market across the world.

Besides, China has projected itself not only as the largest consumer of electric scooters but also a leading exporter and producer across the globe. Some of the active electric scooter market players in China include Yadea, Jiangsu Xinri Electric Vehicle Co. Ltd., Zhejiang Luyuan, AIMA Group, and Niu International.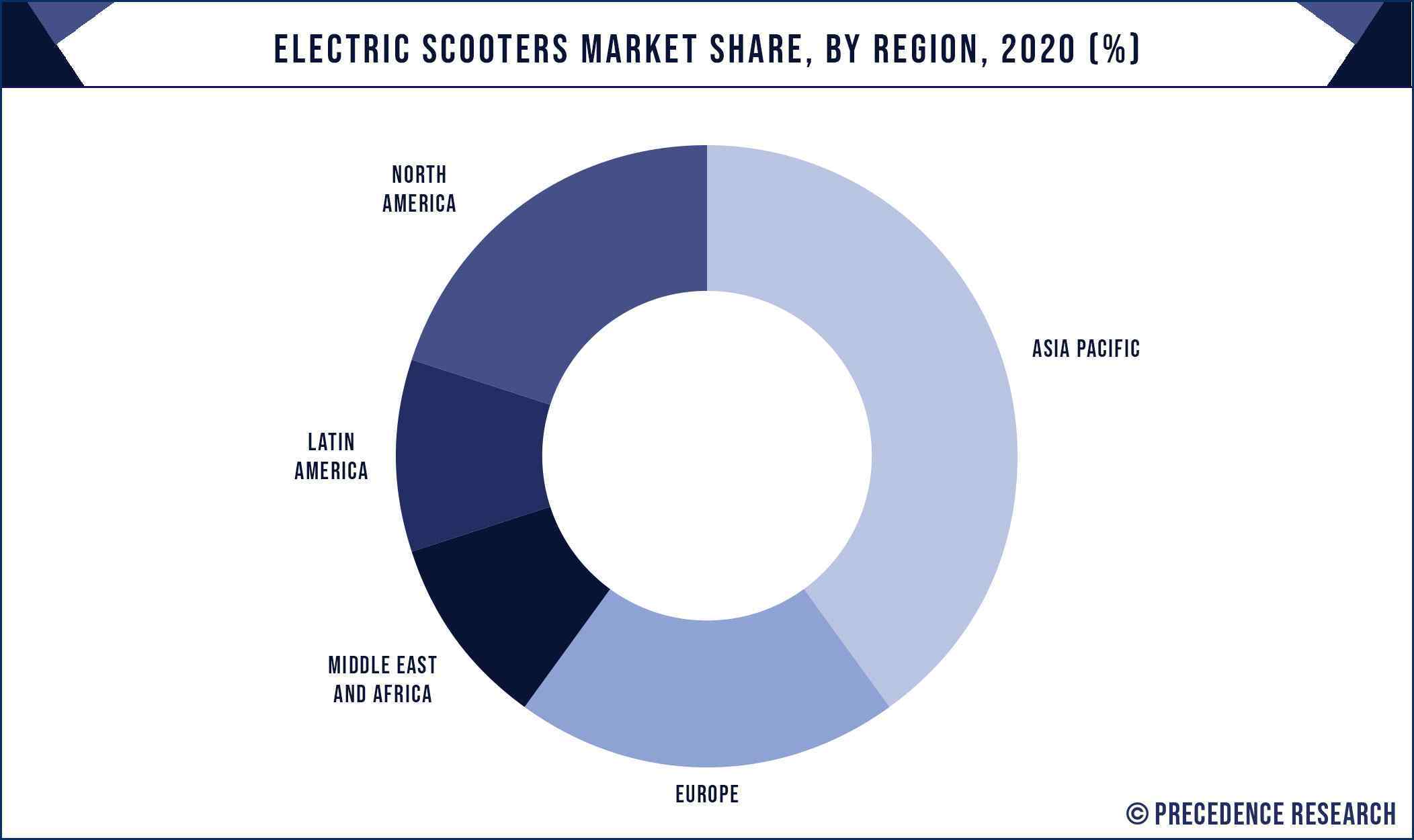 North America region witnessing fast growth in electric scooter market?
Key Companies & Market Share Insights
Leading players in the global electric scooters market are largely focused on research & development activity along with product level strategies in order to expand their market reach across the globe. Industry participants adopt various strategies in different regions depending in the consumer preference and nature. For instance, in Taiwan Gogoro Inc. introduced swappable battery electric scooters that has revolutionized the market. In addition, several Asian vendors are affiliating with the company to integrate the swappable battery technology in their e-scooters.
JIANGSU XINRI E-VEHICLE CO., LTD. is a China-based company engaged in the production of electric vehicles. The company is engaged in the manufacture and sale of electric scooters and motorcycles. The company is investing significantly in the R&D activities for development of technologically advanced electric vehicles, as well. It has three main production units in Wuxi, Tianjin, and Xiangyang in China.
Gogoro, Inc. is a Taiwan-based company involved in the manufacturing of electric scooters as well as battery swapping products. It is focused on integrating the latest innovations in its Energy Network in order to enhance mobility and connectivity. The company adopted partnership and product launch as its key strategy to maintain its foothold in the market. The company also focuses on innovations to stay aligned with the transitioning phase of the electric scooters market. For instance, the company launched Gogoro 2 Smartscooter with battery swapping, smart connectivity, and high-performance for a wide customer base across the globe.
Yadea Technology Group Co., Ltd. is a China-based manufacturer of electric bikes, electric scooters, electric tricycles, and other special vehicles. Recently, it set up four production units in Guangzhou, Tianjin, Ningbo, and Wuxi provinces. The company exports its electric scooter model to 66 countries, including the U.S., and Germany, to name a few.
In the electric scooters market, the market leaders comprise the China- and Taiwan-based scooter players including Gogoro, Inc., Yadea Technology Group Co. Ltd., NIU International, and Jiangsu Xinri E-Vehicle. These players generate revenue by selling their products either through their local and international distribution channels or through the OEM channel across the globe. To enter into the premium electric scooter segment, Niu International has differentiated itself by integrating a number of advanced connected features to enrich the riding experience.
The increasing popularity of electric scooter sharing services and the growing awareness about ecofriendly vehicles are some of the major factors that are opening growth opportunities for other electric scooter manufacturers. In addition, the electric scooter sharing start-ups are collaborating with top manufacturers in the market to expand their customer base and enhance their product offerings in the market.
Some of the prominent players include:
Gogoro Inc.
AllCell Technologies LLC
BMW Motorrad International
BOXX Corp.
Green Energy Motors Corp.
Honda Motor Co. Ltd.
Greenwit Technologies Inc.
Jiangsu Xinri E-Vehicle Co., Ltd.
Mahindra GenZe
KTM AG
Peugeot Scooters
Terra Motors Corporation
Suzuki Motor Corporation
Vmoto Limited
Yamaha Motor Company Limited
Yadea Technology Group Co. Ltd.
Xiaomi
Bird
Ninebot Limited
Lime
Spin
Segments Covered in the Report
This report forecasts revenue growth at global, regional, and country levels and provides an analysis of the latest industry trends in each of the sub-segments from 2020 to 2032. For the purpose of this study, Precedence Research has segmented the global Electric Scooters Market report on the basis of product, battery, voltage, and region: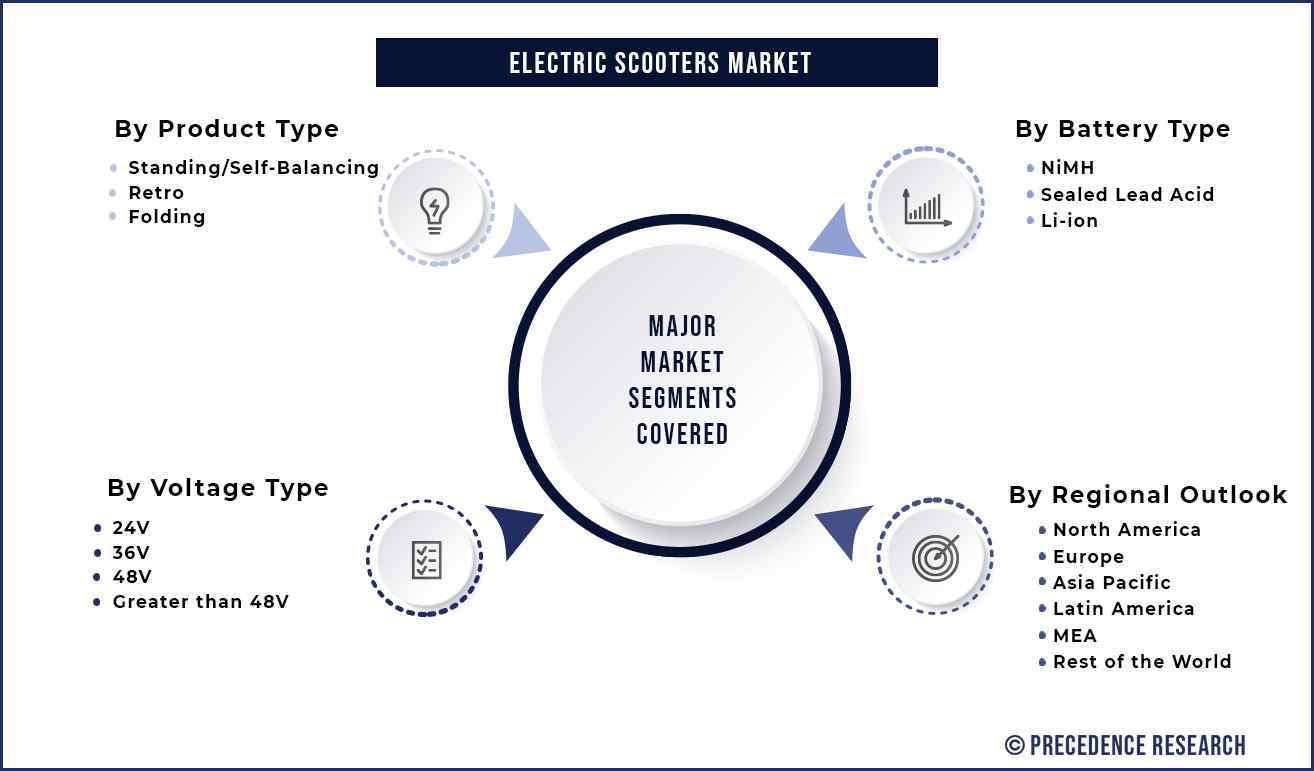 By Product Type
Standing/Self-Balancing
Retro
Folding
By Battery Type
NiMH
Sealed Lead Acid
Li-ion
By Voltage Type
24V
36V
48V
Greater than 48V
By Regional Type
North America
Europe
Asia Pacific

China
India
Japan
South Korea

Rest of the World