The global autonomous coding market is surging, with an overall revenue growth expectation of hundreds of millions of dollars during the forecast period from 2023 to 2032.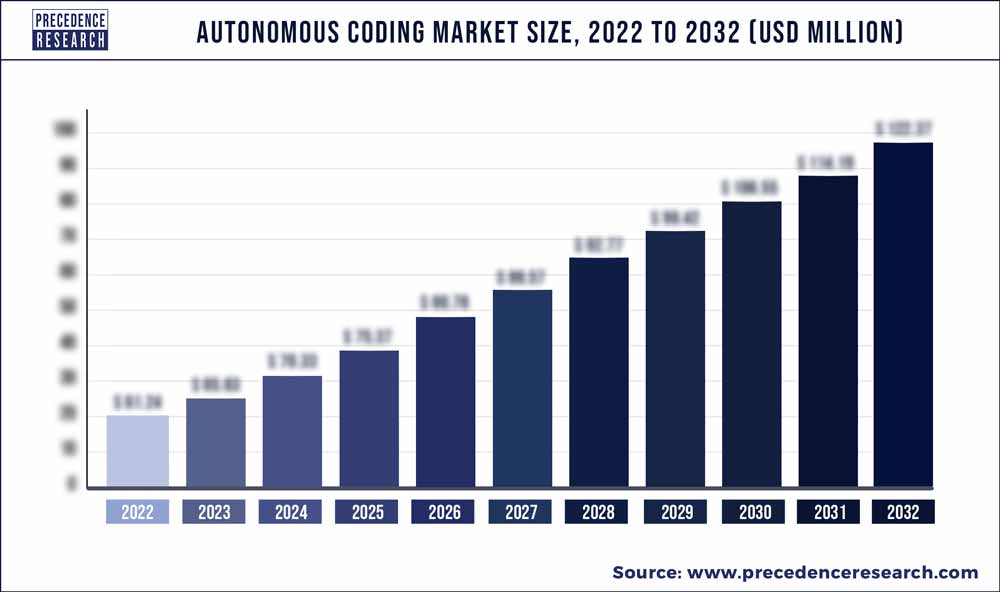 Key Takeaways:
North American lead the global market between 2023 and 2032.
By Usage, the machine learning segment captured the largest market share in 2022.
By Mode of Delivery, the web & cloud-based segment recorded the largest market share in 2022.
By End-user, the hospital's segment generated the largest market share in 2022.
Market Overview:
A brand-new and cutting-edge technique called autonomous coding uses a completely automated AI solution to accurately and quickly code charts. Based on cutting-edge clinical language understanding (CLU) technology, autonomous coding is exceptional in its capacity to comprehend freely used medical terminology. CLU is the application of computational linguistics to clinical language along with medical expertise. It enables computers to build models defining the narrative of the doctor's documentation and to comprehend the logical linkages between various linguistic elements in the medical record. Although installing an AI product has several advantages, the primary objective in the medical billing and coding industry is to automate procedures that improve workflow and overall revenue cycle performance.
Productivity and code quality are two key performance indicators (KPIs) that continue to come under close scrutiny. Every clinical element of the medical record is identified by autonomous coding technology. It provides constantly accurate, top-notch medical coding because it comprehends relevancy as well as which codes should be assigned as being the most accurate. Just the charts that the software completely comprehends receive codes. Medical records that are not handled are marked for manual review. Scalable coding services are available from autonomous coding systems without sacrificing precision. Indeed, enormous productivity increases have been made. Medical encounters can be processed by autonomous platforms at a rate of less than five seconds each encounter, with an unlimited capacity. Chart volume fluctuations are handled by simply allocating additional or less computation capacity.
Organizations have been able to overcome coder shortages, streamline the billing process, and lower costs due to the gains in quality and productivity and the system's capacity to operate without human intervention. The audit performance of autonomous coding and its capacity to identify and promptly fix coding problems, without the need to refer encounters back to coders for resolution, are also gaining a lot of attention. Autonomous coding systems offer a transparent audit trail that fully explains the reasoning behind each and every issued code in addition to the recognition improvement.
A speedy validation of the assigned codes is made possible by this technological innovation, which is a byproduct of the fundamental CLU ability to comprehend clinical narrative. It also provides a strong platform for the management of denials and the appeals process. Accounts receivable days (AR), missing charges, and insufficient paperwork all improved for customers who used autonomous coding technology. Moreover, codes are recorded with the utmost level of clarity possible, which has been effective in lowering the number of denials and raising the percentage of clean claims.
Report Scope of the Autonomous Coding Market:
| | |
| --- | --- |
| Report Coverage | Details |
| Largest Market | North America |
| Base Year | 2022 |
| Forecast Period | 2023 To 2032 |
| Segments Covered | By Usage, By Mode of Delivery, and By End User |
| Regions Covered | North America, Europe, Asia-Pacific, Latin America, and Middle East & Africa |

Market Dynamics:
Future technological advancements in medical coding are anticipated to occur much more quickly. As the capabilities of artificial intelligence/machine learning (AI/ML) and natural language processing develop, numerous firms are actively looking into the widespread application of autonomous medical coding (AMC). The holy grail of medical coding, a mechanism that can convert clinical data into coded data and receive payment from insurance carriers without requiring human interaction is being developed by organizations using such technologies. AMC systems moreover encourage openness by providing an audit trail of autonomous code. This stage employs a machine learning technique to lessen the likelihood of errors and boost the model's accuracy when the AMC product deals with complex patient interactions.
Programs for medical and billing training require either a high school diploma or a general education development degree as eligibility requirements (GED). This is essential because one will be using very specific medical language. The high school education will provide him/her with the language and math skills they need to succeed in a medical billing and coding training program. So, if they have not earned their GED or completed high school, they do not meet the requirements to participate in a medical billing and coding training programme. If they wish to work as a medical biller and coder, they must finish an approved training course. There is a program for a certificate, diploma, or associate degree. They can find training programs by consulting community colleges, vocational schools, universities, hospitals, and other organizations that offer healthcare courses. The required training program to become a medical biller and coder may take 7 to 24 months to complete, depending on the type of curriculum they choose.
Impact of COVID-19:
Global healthcare systems were substantially damaged by the COVID-19 epidemic. According to the WHO, emergency codes were activated in February 2020 for the clinical or epidemiological diagnosis (suspected or probable) of COVID-19 as well as the verified diagnostic of COVID-19. Also, the WHO published the COVID-19 worldwide certification and categorization (coding) rules in seven languages in April 2020. Also, the Centers for Medicare and Medicaid Services (CMS) were at the forefront of assisting providers with COVID-19 testing and treatment-related medical billing and coding. The market under study underwent a number of changes as a result of the COVID-19 outbreak, and these changes are anticipated to have a long-term effect on the market.
However, the market is expanding as a result of reasons such the increased demand for coding services, the requirement for a universal language to decrease insurance claim fraud and misinterpretations, and the high demand for expediting hospital billing procedures.
The need for coding services is expanding significantly. For instance, according to Hospital Statistics 2022 from the American Hospital Association (AHA), there were approximately 33,356,853 admissions across all US hospitals. Due to the significant demand for medical billers and coders in the market under study, the market for medical coding is anticipated to rise rapidly.
Also, there is a need to convert to a simpler and more practical coding and billing solution. Medical coding also makes it possible for medical facilities to capture things consistently.
Segments Insight:
Usage Insights:
According to the usage segment, machine learning held the maximum market share in 2022. It is a branch of artificial intelligence that enables machines to learn directly from information, experience, and examples. By learning from examples or data rather than by following pre-programmed rules, machine learning enables computers to perform certain jobs intelligently and allows them to carry out complex procedures. Market expansion is being driven by advancing technology advancements that increase system accuracy. Humans interact with a range of machine learning-based systems, such as recommender systems, speech recognition, and image identification.
The rapid advancement of image recognition technology, which has increased the system's accuracy, has fueled the demand for machine learning in many systems. Due to the inclusion of machine learning in robotics, the machine learning industry has also grown. The quick advancement of sensor technology and materials has resulted in several advancements in robotics. Robots now have a greater ability to contribute to initiatives like autonomous vehicles and drones because to the advancement of machine learning. Also, the market has expanded as a result of an increase in demand for sophisticated robotic systems across a variety of sectors, including healthcare, automotive, electronics, food, and beverage.
Mode of Delivery Insights:
By mode, Cloud-based solutions held the maximum market share in 2022. They are a more recent strategy that is mostly used by businesses without the required internal infrastructure. These systems require less money to install. Also, this software does not require internal maintenance, which is perhaps the key factor behind its increasing popularity.
End User Insights:
By end users, hospitals held the maximum share. Professionals in revenue cycle and health information management (HIM) face a confluence of challenges as the number of healthcare interactions rises. The availability of skilled coding specialists was limited by pandemic-related volatility as senior professionals left, medical leaves occurred, and other coding specialists changed positions. Healthcare provider organisations are under pressure to produce faster, higher-quality coding outputs in order to ensure revenue integrity, reduce reimbursement recoupments, and increase bottom lines as they recover from two years of uncertain cash flows. A 350-bed hospital's typical revenue cycle is $22 million (an estimated 3-5 percent of revenue). All these factors drive the demand for use of autonomous coding in hospitals.
Regional Insights:
Due to technology advances and better healthcare infrastructure in several of the nations in this region, the North American autonomous coding market is anticipated to hold a sizable share over the projected period. The region's market is expanding as a result of increasing demand for coding services and the high demand for streamlining hospital billing operations due to the rise in chronic diseases, as well as strategic moves made by industry participants in the area.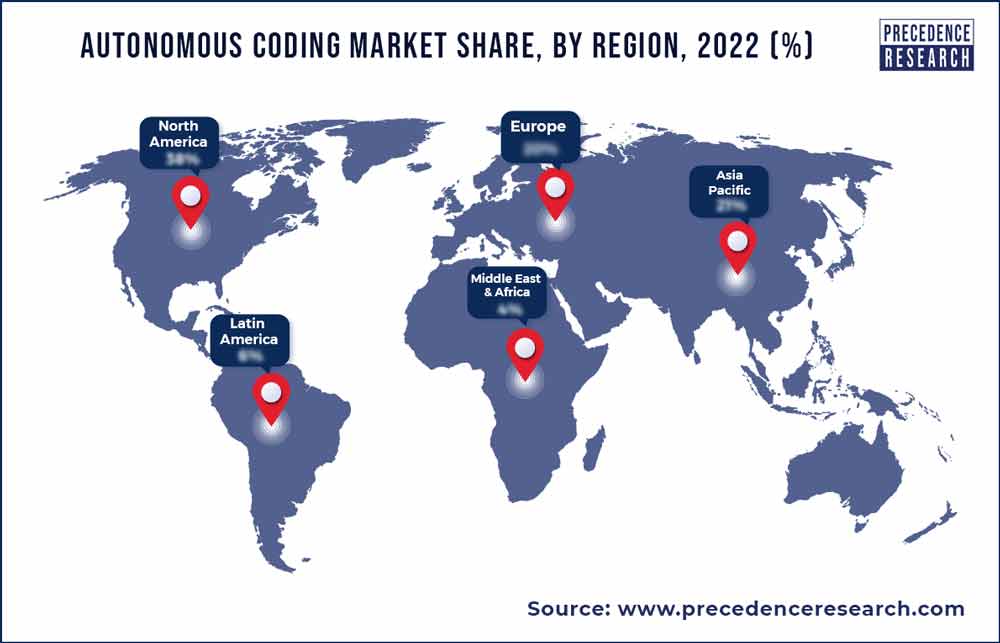 The market is expanding in part due to the rising prevalence of chronic diseases in the various nations in the region. For instance, according to the American Cancer Society, there will be 1,918,030 new cancer cases in the United States in 2022, which will increase the need for streamlining. The market's growth is also being fueled by the strategic actions made by the market's participants. For example, in October 2022, Canadian company WELL Health Technologies Inc. signed a contract to buy Cloud Practice Inc. and three clinics from CloudMD Software & Services Inc. RBC purchased MDBilling.ca, a cloud-based platform that streamlines and automates medical billing for Canadian doctors, in October 2022.
Recent Developments:
Fund raising: In 2022, saw XpertDox, LLC., a revenue cycle startup based in Birmingham, Alabama, raised $1.5M from TN3, LLC, an Arizona-based private equity capital firm. The company specializes in autonomous medical coding powered by artificial intelligence.
Product launch: DeliverHealth, a supplier of technology-enabled solutions for hospitals, health systems, and group practises, has recently launched autonomous coding powered by artificial intelligence (AI) as a quicker, easier approach to improve the revenue cycle. The autonomous coding platform helps administration and operations realize the value of their electronic health record (HER) investments while removing the inherent challenges faced by doctors and care teams.
Product launch: Early adopters of AQuity Solutions' QCode platform attested to the QCodeAI launch's success. QCodeAI uses the most recent advancements in ML and NLP to automate essential coding operations that increase coder productivity and accuracy for quicker turnaround times and lower labour expenses. In order to support its growing portfolio of premium coding solutions, QCodeAI has added AI-based Autonomous Coding. This solution increases accuracy, decreases denials, and ensures optimal revenue capture, with early adopters frequently experiencing productivity improvements of 40% to 75%.
Partnership: The autonomous medical coding technology developed by Nym Health, the forerunners of Clinical Language Understanding (CLU) technology, will be used by Geisinger in all nine of its hospital emergency rooms beginning in 2020. In Pennsylvania, Geisinger offers a medical school, two research centres, and nine hospital campuses. Clinical Intelligence and computational linguistics are used in Nym's CLU technology to comprehend provider narratives on charts and assign reimbursement codes. Healthcare providers may use autonomous coding to reliably produce accurate claims and deliver them to payers without human intervention thanks to Nym's 98% CLU coding accuracy and the native audit trail. The entire process is meticulously documented, and the system creates audit-ready, traceable codes with lightning speed for complete transparency.
There are both small and major enterprises in the intensely competitive global market for dental anaesthesia. To boost their market position and increase their market share, these companies have implemented crucial business strategies, such as joint ventures, strategic alliances & partnerships, product innovation, new product launches, and contracts.
Key Market Players:
AQuity
Access Healthcare
Nym Health
DeliverHealth
Avasant
CorroHealth
XpertDox
3M
Artificial Medical Intelligence Inc
TruCode LLC
Segments Covered in the Report:
(Note*: We offer reports based on sub-segments as well. Kindly, let us know if you are interested)
By Usage
Machine Learning
NLP
Deep Learning
By Mode Of Delivery
Web & Cloud-based
On-Premises
By End User
Hospitals
Clinical Laboratories Logistics & Transportation
Others
By Geography
North America
Europe
Asia-Pacific
Latin America
Middle East and Africa