The global ultra-mobile devices market size was estimated at USD 193.8 billion in 2022 and is expected to hit around USD 348.8 billion by 2032, poised to grow at a compound annual growth rate (CAGR) of 6.10% from 2023 to 2032.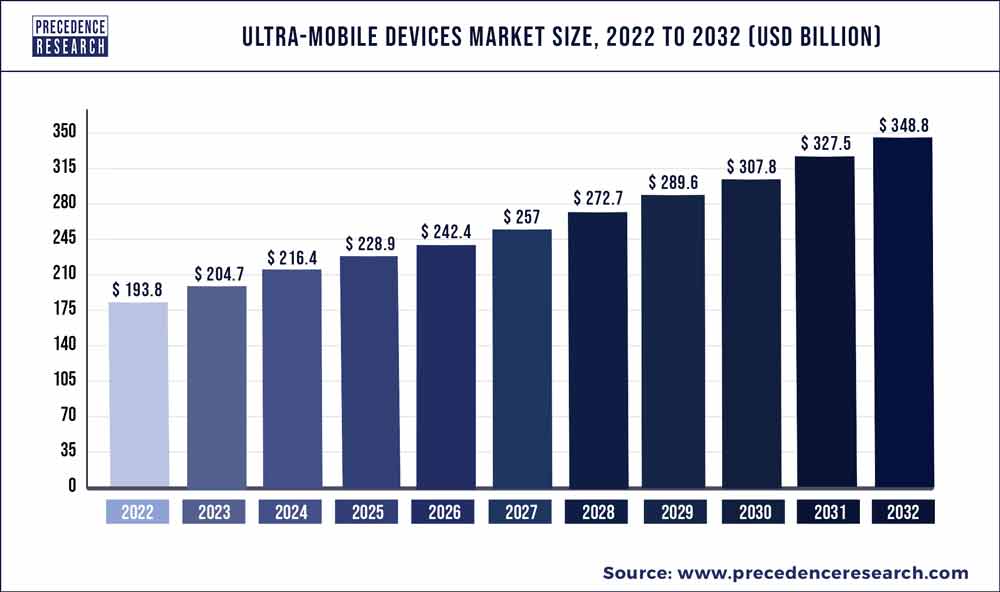 Key Takeaways:
By type, the premium ultra-mobile segment accounted 42% market share in 2022. However, the utility ultra-mobile segment is growing significantly during the forecast period.
By application, the consumer electronic segment held highest revenue 30% in 2022. However, the IT & telecommunication segment is poised to reach highest growth rate from 2022 to 2032.
The North America region has reached 43% market share in 2022.
The Asia-Pacific is projected to growth at a significant CAGR from 2023 to 2032.
One group of small, light-weight computing devices is referred to as ultra-mobile devices. These gadgets have a display size that ranges from 7 inches to 13 inches and are designed with mid-size specifications. Due to technology improvements, communication with the rest of the world has undergone a significant transformation. With the use of extremely portable internet gadgets, the user can access information and material whenever they choose. A rising number of end users are switching from conventional PCs and related devices to the newest and most cutting-edge devices as a result of the emerging trend of mobility. These devices are used for both personal and business purposes and are excellent for satisfying changing client expectations. The difference between conventional laptops or PCs and tablets is eliminated by the wide variety of functionality offered by ultra-mobile devices. Therefore, across all age groups, ultra-mobile gadgets are being used in a variety of ways and for a variety of uses.
Increased trends in business improvement, expanded mobility, and continual learning are what are fueling the expansion of the ultra-mobile device industry. Additionally, it is anticipated that adding extra features to the device will open up lucrative business opportunities in the worldwide ultra-mobile device industry.
Growth Factors.
As part of their digitalization agenda, governments all around the world are enticing citizens to utilize the internet more frequently. Due to rising urbanization and technological advancements, a sizeable section of the world's population will have internet access in the next years. Growing numbers of young people entering the workforce, decreasing bandwidth, faster internet, and technological breakthroughs are all factors in the expansion of the internet user base. Additionally, as they provide quicker internet connections, long-term evolution, or LTE, and 5G communication technologies have enhanced the adoption of social networking sites across mobile devices. For millions of individuals, mobile gadgets have become an integral part of daily life. The high-speed internet availability and disposable income is the driving factor of ultra-mobile devices market.
A substantial amount of data is generated by social media platforms and social networking sites, and this number is expected to keep increasing in the future. In order to gain a competitive advantage, businesses rely on social media to comprehend consumer needs. As a result, there is a greater need for collaboration tools that support data analysis as well as social business intelligence software.
Moreover, the rising demand for consumer mobility and the proliferation of smart devices, including wearables. Growing demand from the retail industry as a result of programs for improving consumer interaction and sales through digital transformation. Due to their capacity to efficiently access real-time information about patient care and treatment plans, ultra-mobile devices are being more widely used in the healthcare sector, which is boosting the market.
Report Scope of the Ultra-Mobile Devices Market
| | |
| --- | --- |
| Report Coverage | Details |
| Market Size in 2023 | USD 204.7 Billion |
| Market Size by 2032 | USD 348.8 Billion |
| Growth Rate from 2023 to 2032 | CAGR of 6.10% |
| Base Year | 2022 |
| Forecast Period | 2023 to 2032 |
| Segments Covered | Type, Application, and Geography |
| Companies Mentioned | Apple Inc., HTC Corporation, Dell Inc., Sony Corporation, Lenovo, HP Development Company, L.P., Google Inc., HTC Corporation, Microsoft Corporation, Samsung, Electronics Co., Ltd. |
Segment Insights
Type Insights
Depending upon the type, the premium ultra-mobile device segment is the dominant player and is anticipated to have the biggest impact on ultra-mobile devices market. A Premium Ultra-Mobile is a device that runs Windows, iOS, or Android. It has a powerful processor and enough storage for installing complicated software. The screen's high resolution is due to the multi-touch technology it enables. Premium ultra-mobile gadgets are incredibly thin and light, making it simple to hold one in one hand. On panels with high pixel densities and high resolution, they offer a fantastic gaming experience. Hence, owning to these benefits this segment expected to hold major share in the ultra-mobile devices market. Additionally, government programs for technological development, growing public awareness of technology, and consumer gadgets that are affordable all contribute to this segment's growth.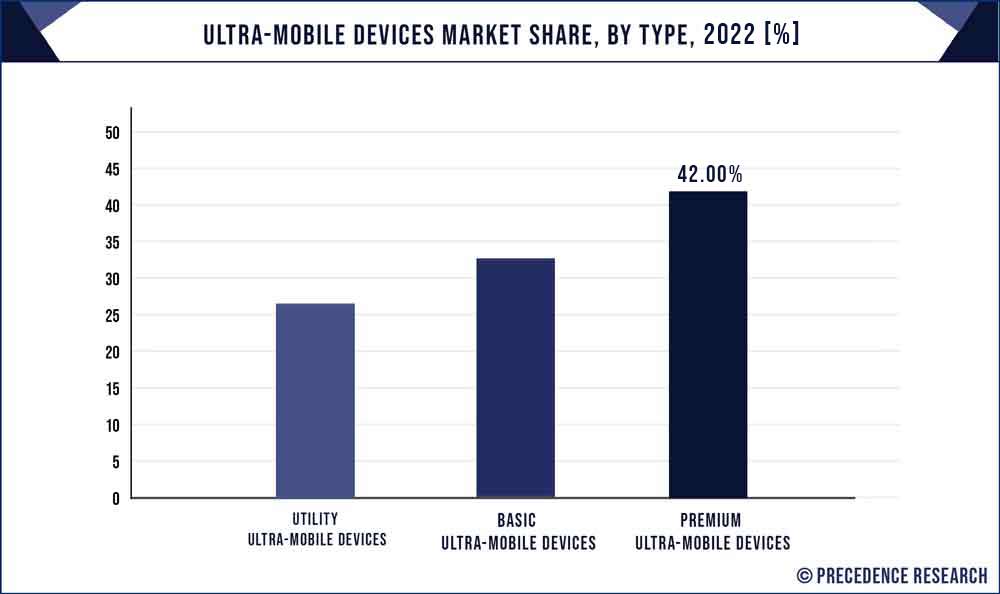 The utility segment held a significant share in the ultra-mobile market during the forecast period. This is due to the growing ultra-mobile device market, the development of cognitive intelligence applications, predictive analytics, and mobile applications, as well as the rise in system security concerns. Computing devices that fit in a pocket or purse are called utility ultra-mobile devices. They offer quick access to databases, information systems, application programs, and the Internet due to their great processing capacity. Smart wearables, tablets, and smartphones are examples of ultra-mobile devices.
For a variety of use cases, Ultra-Mobile devices are in Basic Ultra-Mobile. Ultra-mobile devices can be used in the healthcare industry to track patients' health conditions and other variables while they're on the go. They have contributed significantly to telemedicine by making it possible for remote diagnosis via video conferencing.
Application Insights
During the projected period, the consumer electronics segment is anticipated to be the largest in the ultra-mobile devices market. Consumer electronics employ ultra-mobile technology to give people the ability to perform many jobs. The main platforms for using mobile apps are smartphones. In today's society, ultra-mobile technologies are more prevalent than ever. These devices can be used for a variety of purposes, such as on-the-go multimedia consumption and remote access to web services. Ultra-mobiles are now used by more people than simply businesspeople and professionals for occupational purposes.
The ultra-mobile devices market had a sizable revenue share for the telecom and IT segment. This market's rapid expansion is linked to the quick uptake of cutting-edge, ultra-mobile gadget technologies. Systems for ultra-mobile devices are used by IT and telecom organizations in their operations for a number of reasons, including monitoring and security. Important IT and telecom companies are also more likely to pursue technological innovation in order to create communications solutions that are secure, network-savvy, and energy-efficient, which might offer the IT and telecom industry lucrative growth potential. As a result, it is anticipated that this segment's growth would accelerate during the upcoming years. An international trend towards thin clients or zero client terminals that can interact with cloud servers through broadband networks has emerged as a result of many businesses replacing desktop computers with ultra-portable laptops.
Remote information regarding the patient's health is gathered via ultra-mobile medical devices. Patients and healthcare professionals can communicate in real-time using ultra-mobile devices, giving them the chance to voice or video chat about their experiences. Hence, healthcare segment is using these devices and that is expected to rise in the forecast period.
Ultra-Mobile Devices Market Share, By Region, 2022 (%)
| | |
| --- | --- |
| Regions | Revenue Share in 2022 (%) |
| North America | 43% |
| Asia Pacific | 19% |
| Europe | 27% |
| Latin America | 7% |
| MEA | 4% |
Regional Insights
The highest market share and dominant position in the ultra-mobile devices market belongs to North America. This region includes U.S. and Canada. Rise in disposable income and the habit of socializing through online platforms are the reason behind the market growth. Almost everyone has access to the internet and people are preferring ultra-mobile devices as they are portable and can handle the things as personal computers. Hence, the demand for such products is rising mostly among young and professionals owning to their benefits.
Asia-Pacific is considered as second largest region in the ultra-mobile devices market. This region includes China, Japan, and India. Due to the rising number of small and medium-sized businesses in the region, it is anticipated that demand for ultra-mobile devices such smartphones, tablets, laptops, and PCs would increase. The market for ultra-mobile devices in the region is anticipated to expand as internet usage rises in some developing nations. Additionally, the rise in the number of people watching OTT (Over-the-Top) content locally is causing an increase in the use of ultra-mobile devices there. Additionally, as the region's population expands, medical professionals in developing nations like India and China are starting to use solutions like remote surgery, remote audio/video diagnosis, and remote health monitoring via portable devices, which is driving up the demand for ultra-mobile devices.
Key Market Developments
Sony introduced the Xperia 1 IV. The brand-new item was designed to include the most recent Qualcomm Snapdragon 8 Gen 1 chipset, a 6.5-inch display, a quad-camera system, and a separate periscope module.
Key Market Players
Apple Inc.
HTC Corporation
Dell Inc.
Sony Corporation
Lenovo
HP Development Company, L.P.
Google Inc.
HTC Corporation
Microsoft Corporation
Samsung Electronics Co., Ltd.
Segments Covered in the Report
(Note*: We offer report based on sub segments as well. Kindly, let us know if you are interested)
By Type
Premium Ultra-Mobile Devices
Basic Ultra-Mobile Devices
Utility Ultra-Mobile Devices
By Application
Healthcare
Consumer Electronics
Telecom & IT
Retail
BFSI
Education
Entertainment
Others
By Geography
North America
Europe
Asia-Pacific
Latin America
Middle East & Africa (MEA)