The global smart glass market size was exhibited at USD 5.06 billion in 2022 and it is projected to augment USD 14.05 billion by 2032 with a registered CAGR of 10.8% during the forecast period 2023 to 2032.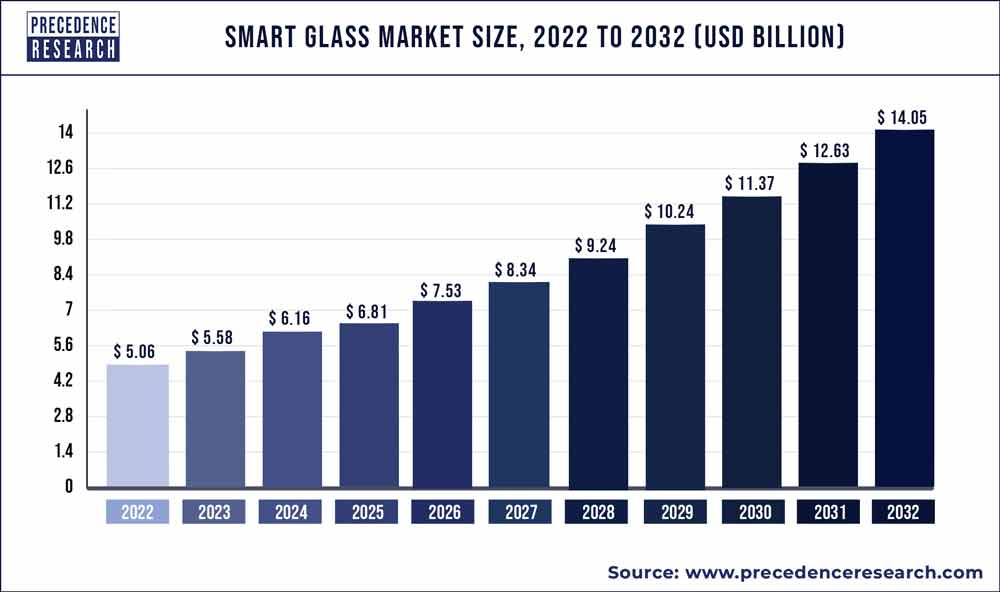 Access our Premium Real Time Data Intelligence Tool, Visit: Precedence Statistics
Key Takeaways:
North America region accounted for 33% of revenue share in 2022.
The suspended particle device (SPD) segment is registering a CAGR of 12.6% from 2023 to 2032.
The transportation segment is expected to witness growth at a CAGR of 13.2% from 2023 to 2032.
The construction segment is estimated to reach a CAGR of 12.3% from 2023 to 2032.
The Europe region is growing at a CAGR of 12.8%.
When voltage, light, or heat is introduced, smart glass undergoes a change in appearance and light transmission qualities. The expanding use in several applications, including architectural, automotive, aerospace, and marine, is fueling the expansion of the global market. The factors driving the market are technical breakthroughs in switchable glasses and architectural advances in the majority of buildings for the installation of smart windows. Switchable glass usage will also be aided by the government's rigorous regulations for retrofitting older buildings with eco-friendly and energy-efficient technology.
Covid-19's limits on logistics and transportation of people and goods have had a substantial negative impact on the performance of the automobile and construction sectors. In addition, the market for speciality items like smart glasses has decreased due to consumers' lower spending capacity and increased focus on purchasing necessities. Major businesses are spending money on R&D projects, too, for things like hospital ward barriers and ICU walls that are used in healthcare and medical institutions. For instance, Milton Hospital, a community hospital constructed in Milton, Canada, and run by Halton Healthcare Services, has privacy smart glass for the doors in all of the ICUs and bullet-resistant switchable glass panels in the entire emergency department spaces. Additionally, a larger range of applications has been made possible by the introduction of smart automation in homes and workplaces. In the aftermath of COVID-19, these factors have offset the decreased demand from the construction and automobile industries.
The governments of both established and emerging countries have increased expenditure on the building and construction industry as a result of rising urbanisation and population growth. Smart glass is commonly used in windows, walls, skylights, and doors to create adaptable lighting environments. This is anticipated to significantly increase demand for smart glass in the expanding building and construction sector. The demand for smart glass, which is used in windshields, backlights, sidelights, and sunroofs of both heavy and light weight vehicles, has increased significantly in the automotive sector as a result of rising transportation and logistics activities as well as rising foreign direct investment (FDI) inflow. The market for smart glasses may develop as a result of this aspect.
Scope of the Smart Glass Market
| | |
| --- | --- |
| Report Coverage | Details |
| Market Size in 2023 | USD 5.58 Billion |
| Market Size by 2032 | USD 14.05 Billion |
| Growth Rate from 2023 to 2032 | CAGR of 10.8% |
| Largest Market | North America |
| Fastest Growing Market | Asia Pacific |
| Base Year | 2022 |
| Forecast Period | 2023 to 2032 |
| Segments Covered | Technology, Application, Control Mode, and Geography |
| Companies Mentioned | AGC Inc., ChromoGenics, Corning Incorporated, Gauzy Ltd., Gentex Corporation, Guardian Industries, Kinestral,Technologies, Inc., Nippon Sheet Glass Co., Ltd., PPG Industries, Inc., RavenWindow, Research Frontiers Inc., Saint-Gobain S.A., Showa Denko Materials Co., Ltd., Smartglass International Limited, VELUX Group, View, Inc.,Vision Systems |

Growth Factors
With prospects in the building, transportation, power generation, and consumer electronics industries, the market for smart glass has a bright future. The increasing demand for smart glass in automotive applications, the falling cost of electro chromic materials, and strict government regulations requiring energy-efficient construction are the main drivers of this industry.
The expansion of the building and construction industry, where smart glass is commonly employed in windows, skylights, partitions, and doors to create adaptable lighting environments, has been accelerated by rising infrastructure investment and population increase. During the projected period, this can be one of the major factors boosting the market for smart glasses. Smart glasses are commonly used in rear-view mirrors, side-view mirrors, sunroofs, backlights, windshields, and sidelights as a result of causes like rising original equipment manufacturers (OEMs), growing disposable income, and technical advancements. This might accelerate the market expansion for smart glasses.
Key Market Drivers
Growing smart glass integration in automotive glass panels will drive market
To differentiate their products from the competition, a number of multinational automakers are concentrating on incorporating contemporary ideas into their automobiles. Customers have insisted on selecting premium amenities in their vehicles due to rising consumer buying power over the previous ten years.
The use of switchable glass is one such design choice that has flourished in the car sector. In addition to windows, rear-view mirrors, windshields, sun visors, sunroofs, and panoramic view windows, they are used in glass panels for these items. These glass panels assist preserve temperature and privacy within the automobile in addition to controlling light transmission inside the vehicle chamber. These goods improve the comfort of the passengers and the energy economy of the vehicle thanks to these qualities.
Additionally, a rise in tourism activities across the world has fueled a rise in demand for cars with panoramic windows and sunroofs so that passengers may take in the scenery from the comfort of the vehicle. Due to these reasons, the market is anticipated to grow over the projected period due to the rising need for switchable glass for the manufacture of automotive glass panels.
Growing smart glass adoption in the construction industry will drive the market
With the flip of a button, multifunctional rooms that are illuminated by smart glass respond to human demands and adapt to their surroundings. Additionally, it has the ability to insulate buildings from sound and heat, saving energy while offering architects and interior designers a 3D designing option. These glasses are used in buildings to develop smart facades, skylights, and smart windows, giving the structure a distinctive, dynamic aesthetic and allowing for control over the privacy within, particularly in office areas and hospital dividers. The need for intelligent construction materials is anticipated to rise as consumer expenditure rises in emerging nations, enabling customers to live elegantly.
Additionally, this glass is used in various tourist attractions to design distinctive areas that draw visitors. For instance, the Eureka Tower in Melbourne includes a glass cubical space that extends 3 meters from the structure and is suspended 300 meters above the ground with people within. The glass stays opaque after it is inside the building's chamber. The glass in the cube turns translucent after it has been fully stretched outside of the structure, allowing the visitors to see a bird's-eye perspective of Melbourne. These use boost the appeal of glass panels and offer room for expansion in the worldwide market for smart glass.
Key Market Challenges
Cost of smart glass is a barrier to the adoption
The entire cost of smart glass is determined by factoring in the price of the glass itself, installation costs, power costs, and functional aspects like control latency, transparency variance, and dimming capability. When compared to regular glasses, these charges make this glass significantly more costly. Due to the use of rare chemicals and electrical systems, disposing of waste glass panels also requires specific treatment techniques, which raises the overall cost. These constraints make it difficult for switchable glass producers to list the advantages and alluring returns on investment that clients receive when adopting switchable glass. Despite the benefits of these spectacles, their expensive price is still the main barrier to their wider adoption.
Key Market Opportunities
A growing market trend is the use of SPD glass to create large windows in the aerospace industry - Demand has increased as a result of the aircraft industry's fast expansion. The adoption of bigger windows that would have greater utility and passenger control is being encouraged by aircraft makers. They are utilizing certain glasses, mostly SPD glass, for this purpose. These glasses provide the fundamental qualities needed to enhance the performance of the aircraft, including rapid and uniform reaction, great acoustic insulation, light management, and improved heat rejection when the aircraft is parked on the ramp. These features increase passenger comfort by reducing glare, protecting the vision, and enabling day lighting at the press of a button. As a result, the aerospace sector is seeing an increase in demand for these glasses since they have features that not only increase consumer happiness throughout the flight but also aid aerospace businesses in maintaining the energy efficiency of aircraft.
Increasing R&D activities - Rising R&D efforts have given rise to possible uses for smart glass across a range of end markets. Smart glass, for instance, may boost operational efficiency by 20 to 30% in solar-powered heating and cooling systems. Additionally, it is frequently used in fighter jets, airplanes, and cruise ships' interior barriers as a privacy glass. This is expected to result in a surge in smart glass sales across a number of end-use industries, opening up attractive market potential.
Segments Insight
Technology Insights
In 2022, the electrochromic glass market had a sizable share of more than 83.4%. This is partly attributable to the features of the device, including its high UV and IV ray blocking ratio, low operating voltage, and straightforward integration with big glass panels. Additionally, the electrochromic glass may be stained, colored, and made opaque to adjust how much light and heat it transmits depending on the environment. These glasses are widely used in medical facilities, educational facilities, business settings, and retail stores.
Due to the excellent stability of SPD against UV radiation, the Suspended Particle Device (SPD) smart glass category is anticipated to see the greatest CAGR of over 15.0% through 2030. These lenses can change from translucent to black in 1-3 seconds and provide fine and immediate light control. They also offer a remarkable optical quality that makes it easier to effectively manage sun glare.
Electronic gadgets frequently employ polymer dispersed liquid crystal (PDLC) glass, commonly referred to as switchable glass, magic glass, clever glass, or privacy glass. The technology is mostly utilised in businesses and residences to provide enough of light while maintaining privacy. It has applications in a number of fast-growing industries, including aviation, automobiles, ships, and architecture. The need for PDLC smart glass technology is being further fuelled by the rising predisposition toward "Green Energy" sources.
Application Insights
In 2022, the transportation application category held a sizable market share of around 49.6%. Aerial, vehicular, and maritime transportation are further subdivided into the transportation sector. The significant expansion in the automobile market can be attributed to luxury car manufacturers' increased use of smart glass. The market participants are being pushed by the increasing demand to broaden their product offerings in this niche in order to obtain a competitive advantage. For instance, the automotive giant BMW debuted its BMWi Vision Circular Show car in September 2021 at the IAA Auto Show. This vehicle was outfitted with a cutting-edge headlamp that was created utilizing the SPD LCG Technology created by Gauzy Ltd.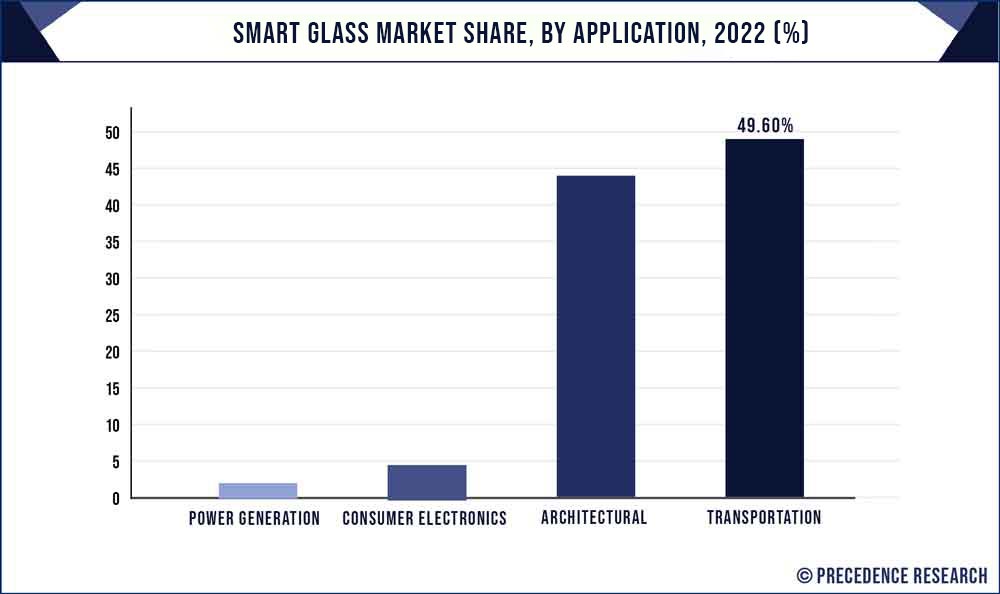 Commercial office buildings and corporate headquarters are where smart glass technology is most commonly used since it helps to significantly save expenses while increasing worker efficiency. In the approaching years, self-cleaning glasses, low-emissivity glasses, and solar control glasses are projected to emerge as popular options for the building industry. The expansion of the architectural sector is greatly influenced by the rising number of infrastructure projects, as well as restoration and renovation operations in residential and commercial areas.
Smart Glass Market Share, By Region, 2022 (%)
| | |
| --- | --- |
| Regions | Revenue Share in 2022 (%) |
| North America | 33% |
| Asia Pacific | 24% |
| Europe | 29% |
| Latin America | 8% |
| MEA | 6% |

Regional Insights
With a revenue share of more than 33%, North America dominated the global market for smart glass in 2022. This may be attributed to the availability of value-added goods like laminated glass as well as the implementation of energy-saving construction laws in the area. The area businesses are introducing items that meet customer demands.
The regional automotive industry is anticipated to see an increase in demand for smart glass due to the growing popularity of electric vehicles equipped with cutting-edge technology.
Through 2032, Asia Pacific is expected to have the greatest CAGR of more than 12.4%, thanks to the region's exceptional development prospects in the transportation industry. Growing demand for luxury cars and rising disposable income are encouraging regional market growth. Additionally, it is predicted that increasing energy conservation awareness in the area would encourage the use of energy-efficient air conditioners and windows.
Recent Developments
October 2021: In order to create glass applications that power gadgets without needing electrical cables, NSG Group established a partnership with Cohda Design Limited (UK).
Market Segmentation
(Note*: We offer reports based on sub-segments as well. Kindly, let us know if you are interested)
By Technology
Electrochromic
Polymer Dispersed Liquid Crystal (PDLC)
Suspended Particle Devices (SPD)
Thermochromics
Photochromic
Others
By Application
Architectural
Transportation

Automotive
Aircraft
Marine

Consumer Electronics
Power Generation
By Control Mode
Dimmers
Switches
Remote Control
Others
By Geography
North America
Europe
Asia-Pacific
Latin America
Middle East & Africa (MEA)