The global displays market size was estimated at USD 157.80 billion in 2022 and is expected to be worth around USD 314.78 billion by 2032 and anticipated to expand at a CAGR of 7.20% during the forecast period 2023 to 2032.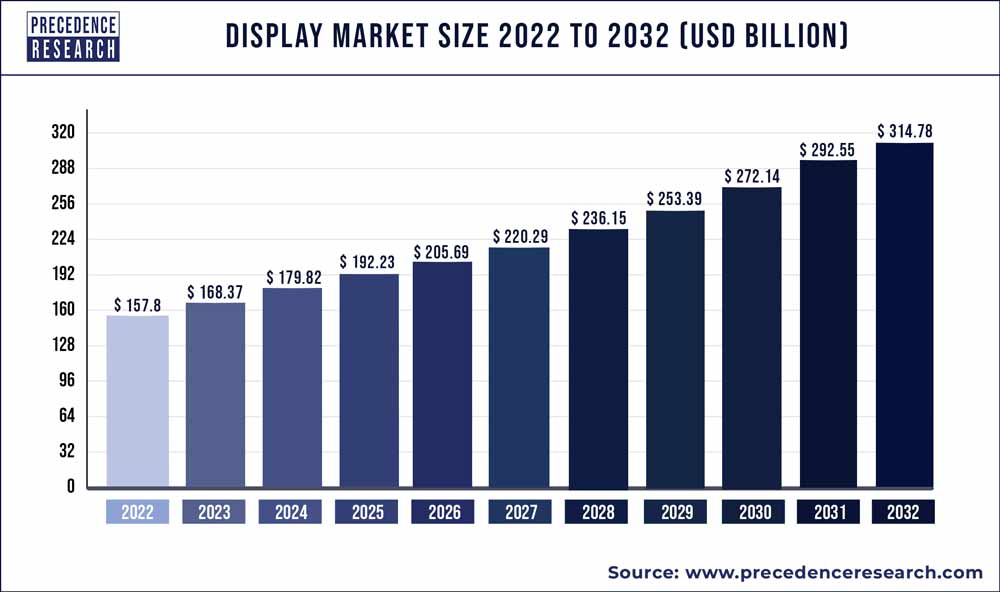 Access our Premium Real Time Data Intelligence Tool, Visit: Precedence Statistics
Screens that project information like pictures, movies, and messages are referred to as displays. Numerous technologies, including light-emitting diodes (LEDs), liquid crystal displays (LCDs), organic light emitting diodes (OLEDs), and others, are used in these display panels. Additionally, it plays a significant role in consumer electronics including TVs, computers, tablets, laptops, smart watches, and others. Consumer electronics, retail, sports & entertainment, transportation, and other business verticals all benefit from improved visualisations brought forth by the development of modern technology. In the consumer electronics and entertainment industries, 3D displays are popular. Additionally, flexible display technologies are becoming more and more common.
Furthermore, display technologies like organic light-emitting diode (OLED) have become more crucial in items like televisions, smart clothing, cell phones, and other gadgets. In order to draw customers, smartphone makers also want to use flexible OLED screens. In addition, the market is also developing energy-saving gadgets, mainly for wearable technology. Presently, a wide range of industries, including those in the entertainment, business, transportation, retail, hospitality, education, and healthcare, among others, employ a lot of displays. These make it possible for organisations to interact with a larger audience. A centralised network for digital communications is also facilitated by them. With capabilities like touch screen as well as non-touch screen combined with intelligent graphical user interface, displays are quick to execute colour and organic light emitting diode and liquid crystal display interfaces. It is made up of hardware and software, and embedded software is what makes displays compatible with it.
Growth Factors
The worldwide display market is expanding as a result of advancements in flexible displays, rising OLED display device demand, and the growing popularity of touch-based devices. However, barriers to market expansion include the expensive cost of cutting-edge display technologies like quantum dot and transparent displays, as well as the stalling growth of desktop, notebook, and tablet PCs. In addition, substantial development possibilities for the global display market are anticipated from new applications in flexible display technologies.
One of the key reasons fuelling the growth of the display market is the rise in demand for digital product and service promotion to get the attention of the target audience. The emergence of smart wearable gadgets, technical developments, and rising demand for OLED-based goods are all contributing to the market further.
The rise in demand for 4K digital sign displays with inbuilt media players and software accelerates market demand.
Report Scope of the Display Market
| | |
| --- | --- |
| Report Coverage | Details |
| Market Size in 2023 | USD 168.37 Billion |
| Market Size by 2032 | USD 314.78 Billion |
| Growth Rate from 2022 to 2032 | CAGR of 7.20% |
| Base Year | 2022 |
| Forecast Period | 2023 to 2032 |
| Segments Covered | Display Type, Technology, Product, Industry, End Use, Geography |
| Companies Mentioned | Panasonic Corporation (Japan), LG Display Co., Ltd (South Korea), HannStar Display Corporation (Taiwan), AU Optronics Corp. (Taiwan), Chi Mei Corporation. (Taiwan), SAMSUNG (South Korea), SHARP CORPORATION (Japan), Schneider Electric (France), Siemens (Germany), Mitsubishi Electric Corporation (Japan), SONY INDIA. (India), FUJITSU (Japan), Chunghwa Picture Tubes, LTD. (Taiwan), Barco.(Belgium), BOE Technology Group Co., Ltd. (China), Innolux Corporation (Taiwan), Advantech Co., Ltd (Taiwan) |

Technologically Advanced Products
Innovative items like leak detecting systems, home monitoring systems, and complex financial solutions are starting to appear, which has an additional impact on the industry. The industry is growing thanks to the use of organic light-emitting diode panels in televisions and smartphones. Additionally, the display market benefits from rising urbanisation, a shift in lifestyle, an increase in expenditures, and higher consumer spending.
Increase in use automated equipment
The adoption of automated equipment by many industries for a variety of uses has a significant influence on displays, which are available with high efficiency at cheap cost and are anticipated to accelerate market expansion. Because they offer a long lifespan, great scalability, high intensity, high brightness, and more, embedded devices are widely utilised. The organic light emitting diode and liquid crystal display markets are supported by aspects like reasonable pricing, effective brightness, and longer life and are expected to expand at the quickest rate in the industry over the projected period. The increased usage of Displays by the healthcare, educational, and automotive sectors is anticipated to fuel market expansion.
Greater Use of Displays in 3D Systems
The usage of Displays in 3D systems is another factor boosting the market's expansion. The user can employ the sophisticated technologies in Displays for the 3 systems due to their quick development. The market is anticipated to increase significantly as a result of the adoption of 3D systems in the consumer, industrial, medical, automotive, and other sectors. These systems require displays to project the dimensions.
Growing Demand for Flexible Display enabled Technology Consumer Electronic Devices
The flexible display technology has several benefits over rigid standard displays, which are often heavier. These benefits include light weight, flexibility, brightness, low power consumption, and shatter proofness. There are several consumer electronics products that employ these screens. The consumer electronics industry is expanding due to rising demand for products including smartphones, TVs, laptops, smart wearables, and other display devices.
Rise in Trend of Touch-based Devices
Since touch-based gadgets are more accessible, the number of devices with touch sensors has grown tremendously in recent years. The proliferation of display devices is aided by the fact that touch-based gadgets need a display panel to function. As a result, a broad variety of home appliances, including the refrigerator, washing machine, microwave, etc., are enabled with the help of touch screens. The provision of cutting-edge display devices in automobiles, like the navigation system, heads-up display, digital rear-view mirrors, digital dashboard, and others, has also increased in the automotive sector. As a result, the market for displays is expanding due to the move toward touch-based technology.
Display Type Insights
Innovations in flexible displays, a growth in the demand for OLED display products, and a rise in the popularity of touch-based gadgets are what are driving the worldwide display market. However, the market is constrained by the expensive cost of cutting-edge display technologies like quantum dot and transparent displays, as well as the slow expansion of desktop, laptop, and tablet computers. Additionally, new applications for flexible display technologies, which are anticipated to produce profitable growth possibilities, are likely to boost the worldwide display market.
Technology Insights
LCD technology has been widely utilised in display items during the preceding several decades. Currently, a number of settings, including retail, corporate offices, and banks, employ LCD-based gadgets. But it's anticipated that LED technology will advance quickly throughout the course of the predicted period. The development of LED technology and its energy-efficiency are what are driving the demand for it. A disturbance in the supply-demand ratio, a decline in LCD display panel ASPs, and intense competition from emerging technologies are anticipated to push the LCD display sector into negative growth during the course of the projection period.
LED technology is predicted to drive market expansion because to its high pixel-pitch, brightness, improved efficiency, high light intensity, improved power efficiency, extended lifespan, and high scalability. Due to increased usage of displays in the automotive and medical sectors, where LED Displays are being utilised increasingly, the LED display market is anticipated to develop at a large and rapid 6.5% between 2023 and 2032.
Product Insights
The smartphones will make up a large percentage of the market. This rise will be fueled by the growing use of OLED and flexible displays by smartphone manufacturers. Shipments of expensive flexible OLED displays are growing quickly, and the forecast year is expected to see this trend continue. The market's new development path has been identified as the smart wearables category. The demand for these gadgets is expected to soar throughout the projected period due to the fast-growing market for these products and the widespread use of AR/VR technology.
Device Type Insights
At 68%, the fixed device is anticipated to have the biggest market share over the projection period. Fixed devices are more widely accepted on the market than portable ones because of their low pricing, high scalability, longer life, contrast, and pixel quality, among other factors.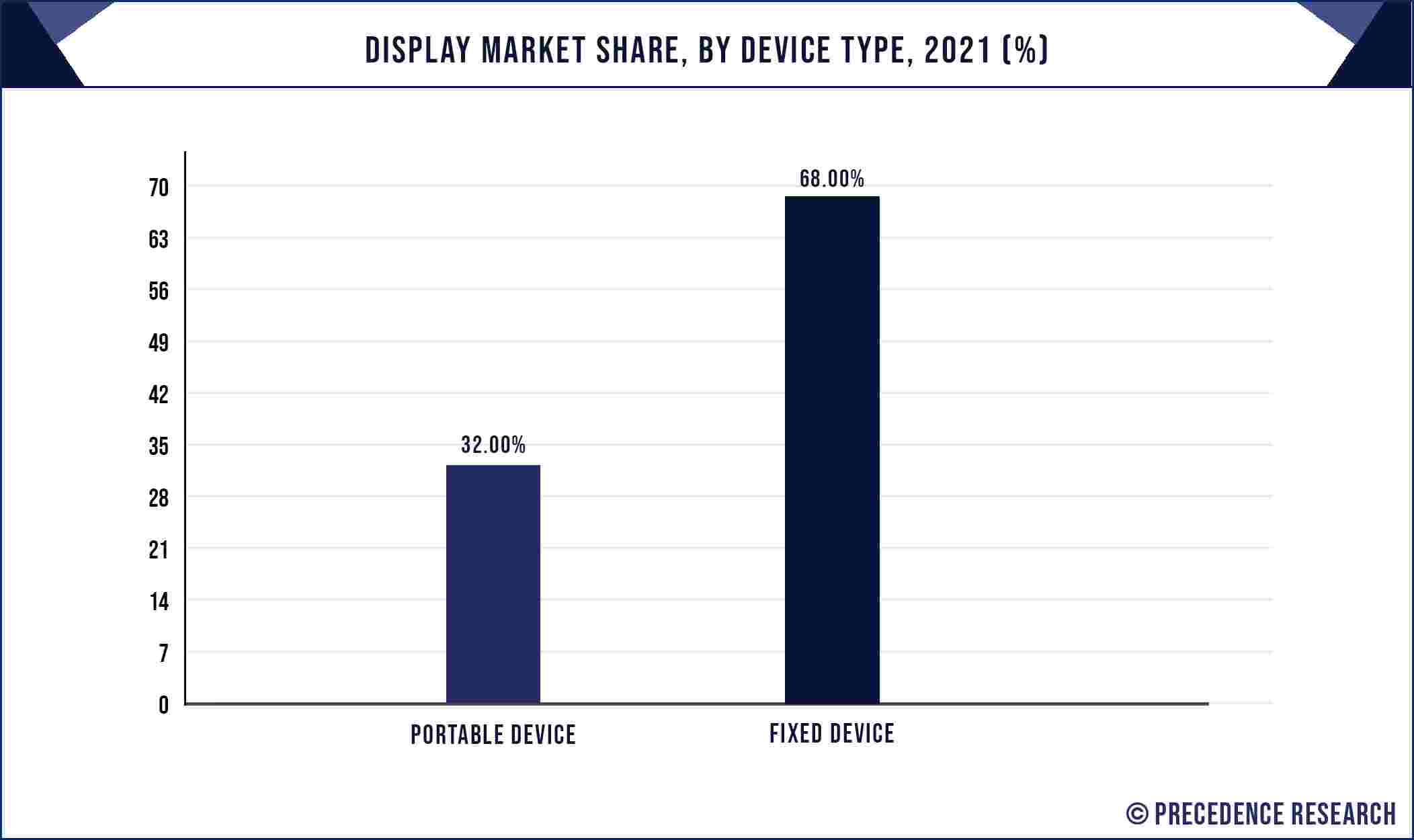 The aforementioned factors have increased the market adoption of fixed device, which is projected to drive the Display market. Both LED displays and Organic Light Emitting Diode are frequently used in these stationary devices.
Wearable Technology Market Share, By Display, 2022 (%)
| | |
| --- | --- |
| Regions | Revenue Share in 2022 (%) |
| North America | 29.2% |
| Asia Pacific | 40% |
| Europe | 21% |
| Latin America | 6.7% |
| MEA | 3.1% |

Geography Insights
In 2022, APAC will hold a 40% share of the global display market, followed by Europe. The industry-level research and development efforts in North America are constantly growing and advancing automated embedded device technology, which is raising the adoption rate of Display devices in industries including as healthcare, automotive, industrial, defence, and others. The market is anticipated to be stimulated by the huge number of end device makers in APAC. Since emerging nations like India, Japan, China, and others are constantly expanding the use of displays in a variety of industrial verticals, including wearables, smartphones, digital signage, medical, automotive, and other areas, the APAC region is thought to have the fastest growth for liquid crystal displays.
Other factors contributing to the market's growth in the area include the expansion of display panel production facilities and the quick uptake of OLED displays. APAC has low labour expenses, which lowers the overall cost of producing display panels. The market is also being supported by the increasing use of display devices across a variety of sectors, particularly in China, India, and South Korea.
Key market developments
Samsung Electronics introduced a new 14-meter Onyx Cinema LED screen in February 2020. The HOYTS Entertainment Quarter at Moore Park in Sydney, Australia, is where the Onyx screen is situated. This screen was erected for the first time in Australia.

Samsung Electronics introduced the QLED 8K in March 2019 as an expansion of its Q900 QLED 8K television line. The recently released TV will come in screen sizes of 65 inches, 75 inches, and 82 inches. Additionally, it will expand its offering to include the most cutting-edge image quality.

Samsung Electronics launched the first 15.6-inch OLED panel in the notebook industry in January 2019. Additionally, compared to 4K LCD-based displays, the panel will produce richer colours and deeper blacks.
Key market players
Panasonic Corporation (Japan)

LG Display Co., Ltd (South Korea)

HannStar Display Corporation (Taiwan)

AU Optronics Corp. (Taiwan)

Chi Mei Corporation. (Taiwan)

SAMSUNG (South Korea)

SHARP CORPORATION (Japan)

Schneider Electric (France)

Siemens (Germany)

Mitsubishi Electric Corporation (Japan)

SONY INDIA. (India)

FUJITSU (Japan)

Chunghwa Picture Tubes, LTD. (Taiwan)

Barco.(Belgium)

BOE Technology Group Co., Ltd. (China)

Innolux Corporation (Taiwan)

Advantech Co., Ltd (Taiwan)
Segments covered in the report
(Note*: We offer report based on sub segments as well. Kindly, let us know if you are interested)
By Display Type
Flat Panel Display
Transparent Panel Display
Flexible & Foldable Panel Display
3D Display
By Technology
OLED
LED
Micro-LED
Direct-View LED
LCD
Others
By Product
Smartphones
Television Sets
PC Monitors & Laptops
Digital Signage/Large Format Displays
Automotive Displays
Tablets
Smart Wearables
Others
By Industry
Fixed Device
Portable Device
By End Use
Automotive
Healthcare
Defence and Aerospace
Education
Sports and Entertainment
Consumer
Retail and Hospitality
Banking
Financial Services and Insurance
Transportation and Industrial
By Geography
North America
Europe
Asia-Pacific

China
India
Japan
South Korea
Malaysia
Philippines

Latin America

Brazil
Rest of Latin America

Middle East & Africa (MEA)

GCC
North Africa
South Africa
Rest of the Middle East & Africa