The global virtual networking market size accounted for USD 32.7 billion in 2022 and it is expected to hit around USD 201.4 billion by 2032, growing at a CAGR of 19.93% between 2023 and 2032.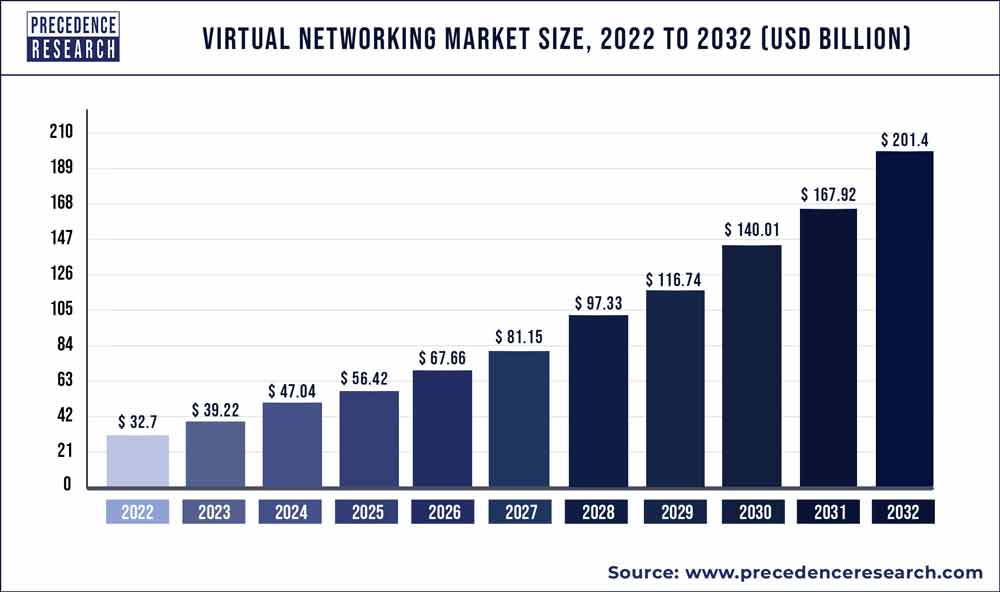 Market Overview:
In the virtual world, virtual networks stand out because of their flexibility and a vast range of potential applications. At far cheaper rates, they can supply a network infrastructure with practically everything one could want.
Key Takeaways:
By component, the software segment has generated a revenue share of 43% in 2022.
By deployment, the cloud segment has accounted for more than 56% share of the global revenue in 2022.
By enterprise size, the large enterprises segment held a revenue share of 68.5% in 2022.
By application, the IT & Telecommunication segment accounted for 26% of revenue share in 2022.
North America region accounted for 31% of the total revenue share in 2022.
Growth Factors:
The global virtual networking market is expected to grow over the forecast period due to a number of factors, including an increase in focus on skills that manage virtual machines, rising cloud computing adoption, high levels of advanced communication method adoption by people, rising software-defined networking adoption in enterprises, and the need for network and physical hardware virtualization to lower network downtime.
COVID-19 Impact:
The COVID-19 pandemic has had a profound impact on various industries, and the virtual networking market is no exception. As the world adapted to social distancing measures and remote work became the norm, the demand for virtual networking solutions grew rapidly. This unprecedented situation acted as a catalyst for the growth and development of the virtual networking market. The pandemic forced organizations across the globe to shift to remote work setups. This sudden transition created a need for a robust virtual networking infrastructure to enable seamless communication and collaboration among employees.
As a result, companies turned to virtual private networks (VPNs), software-defined wide area networks (SD-WANs), and other virtual networking technologies to ensure secure and reliable connectivity for remote workers. This surge in demand led to a significant expansion of the virtual networking market.
The increased reliance on online platforms for various activities during the pandemic contributed to the growth of virtual networking. With restrictions on in-person gatherings and events, businesses, educational institutions, and even social groups turned to virtual networking platforms to conduct meetings, conferences, classes, and social interactions. Virtual networking technologies such as video conferencing, virtual event platforms, and collaboration tools experienced a tremendous surge in usage. Providers like Zoom, Microsoft Teams, and Cisco Webex saw a substantial increase in their user base, demonstrating the impact of the pandemic on the virtual networking market.
Moreover, the pandemic highlighted the need for scalable and resilient network infrastructure to support the surge in online activities. Virtual networking technologies offered the flexibility and scalability required to accommodate the increased network traffic, ensuring smooth connectivity and uninterrupted services. As organizations invested in virtual networking solutions to enhance their network capabilities, the market experienced significant growth.
The COVID-19 pandemic has changed the perception of remote work and virtual collaboration. Many organizations have recognized the benefits of remote work, including reduced costs, increased productivity, and access to a wider talent pool. This shift in mindset towards remote work is likely to have a lasting impact on the virtual networking market, as organizations continue to invest in virtual networking technologies to support their remote workforce even after the pandemic.
Report Scope of the Virtual Networking Market:
| | |
| --- | --- |
| Report Coverage | Details |
| Market Size in 2023 | USD 39.22 Billion |
| Market Size by 2032 | USD 201.4 Billion |
| Growth Rate from 2023 to 2032 | CAGR of 19.93% |
| Largest Market | North America |
| Base Year | 2022 |
| Forecast Period | 2023 To 2032 |
| Segments Covered | By Component, By Deployment, By Enterprise Size, and By Application |
| Regions Covered | North America, Europe, Asia-Pacific, Latin America, and Middle East & Africa |

Market Dynamics:
Driver:
Cloud computing & ease of communication and network management
Cloud computing and the ease of communication and network management are key drivers behind the growth of the virtual networking market.
Cloud computing plays a pivotal role in driving the adoption of virtual networking. With the rise of cloud platforms, businesses are increasingly leveraging Infrastructure as a Service (IaaS) and Platform-as-a-Service (PaaS) solutions, which provide virtualized resources and services. These cloud environments enable organizations to deploy and manage virtual networks on demand, without the need for dedicated physical infrastructure. This flexibility allows businesses to quickly adapt to changing demands, scale their network resources up or down as needed, and efficiently allocate computing resources. Furthermore, the ease of communication and network management facilitated by virtual networking solutions contributes to market growth. Virtual networking technologies provide centralized control and management capabilities, allowing administrators to configure, monitor, and troubleshoot networks from a single interface. This streamlines network operations reduces manual configuration efforts, and improves overall network agility.
Moreover, virtual networking supports the concept of software-defined networking (SDN), which separates the network's control plane from the data plane. This decoupling enables dynamic network programmability, where network configurations can be defined and modified using software-based controllers. SDN allows organizations to create virtual networks that are tailored to specific requirements, optimizing performance, security, and resource utilization.
Virtual networking, which also enables network management and monitoring, gives end users full access to the network. Solution providers assist enterprises by warning users and managing network endpoints when danger is discovered. Network management is also made much simpler for businesses by having access to a portal where all network-related processes, such as service management, mobile health monitoring, SLA management, and performance reporting, are documented. Managed network services also help firms utilize all resources to their fullest potential, increasing business efficiency. As a result, it is anticipated that network administration simplicity would be a crucial factor in driving up demand for virtual networking.
Restraint:
Cost & lack of infrastructure for support and complicated business models
Finding data gets difficult when everything is moved to a virtual network since virtual PCs and containers can be moved across servers. Due to the large number of virtual machines and containers, the administrator manages several endpoints. Another issue in this scenario is the bandwidth and latency problems that develop if the infrastructure is not built with the required changes in mind. Additionally, the difficulty of integrating software from many suppliers and the complexity it causes make choosing the right vendor for the virtual network installation essential.
Although there are many advantages to virtual networking, such as lower hardware costs and better resource usage, there may be upfront expenses associated with implementing and integrating virtualization technologies. Some firms that are considering using virtual networking may be constrained by these prices. Purchasing physical infrastructure, such as servers with enough processing power, memory, and network connections to support virtualization, is frequently required for virtual networking.
Additionally, enterprises might have to spend money on network switches that enable SDN management software and protocol. In addition to hardware costs, there can be outlays for IT staff training, virtualized management platforms, and software licenses. Organizations must also take into account the costs of continuous operations, such as upkeep, updates, and support.
Opportunity:
Internet of things (IoT) connectivity
The network of physically connected objects with connectivity, software, and sensor capabilities is known as the internet of things (IoT). IoT devices are used across many industries, including healthcare, transportation, smart cities, and industrial automation. Virtual networking is essential for effectively connecting and controlling these IoT devices. IoT devices may exchange information and carry out coordinated actions due to virtual networking, which enables seamless communication and data transfer between them. It makes it simpler to manage and control different IoT devices remotely by facilitating the integration of those devices into a single network infrastructure.
There are many advantages to virtual networking for IoT connectivity. It makes it possible for organizations to manage devices effectively, allowing them to remotely monitor, set up, and update Internet of Things (IoT) devices from a single location. Virtual networks may be set up to properly prioritize and route IoT data flow, ensuring top performance and cutting down on latency. Additionally, it permits encrypted and secure connection between IoT devices and data centers, safeguarding private data and preventing illegal access.
Virtual networking also makes it possible for companies to scale their IoT implementations quickly. Virtual networking can dynamically distribute network resources, accommodate new devices, and provide dependable connectivity as the number of IoT devices rises. For large-scale IoT solutions, like smart grids or smart cities, where hundreds or even millions of devices must be connected and controlled effectively, scalability is crucial.
Segments Insight:
Component Insights:
The software segment dominated the market in 2022 due to their capacity to improve the scalability, robustness, and portability of applications. Software solutions are focusing on integrating security features throughout the development lifecycle to protect against risks as a result of the rising frequency of cyber-attacks.
Deployment Insights: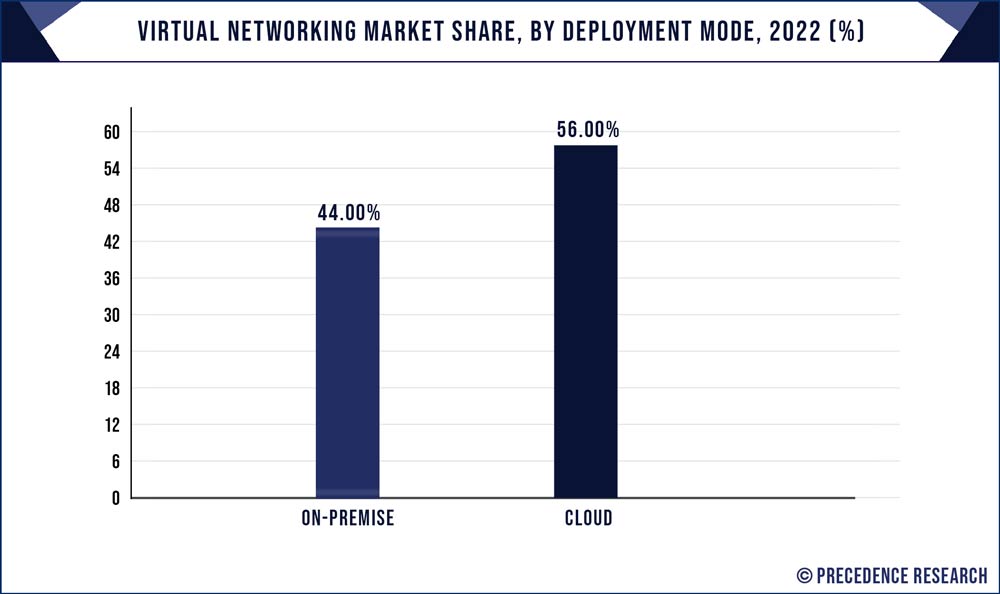 In 2022, the cloud industry controlled the market. In order to enable clients to build and operate their own virtual networks inside the cloud environment, cloud solution providers are increasingly including virtual networking services as part of their cloud solutions.
Enterprise Size Insights: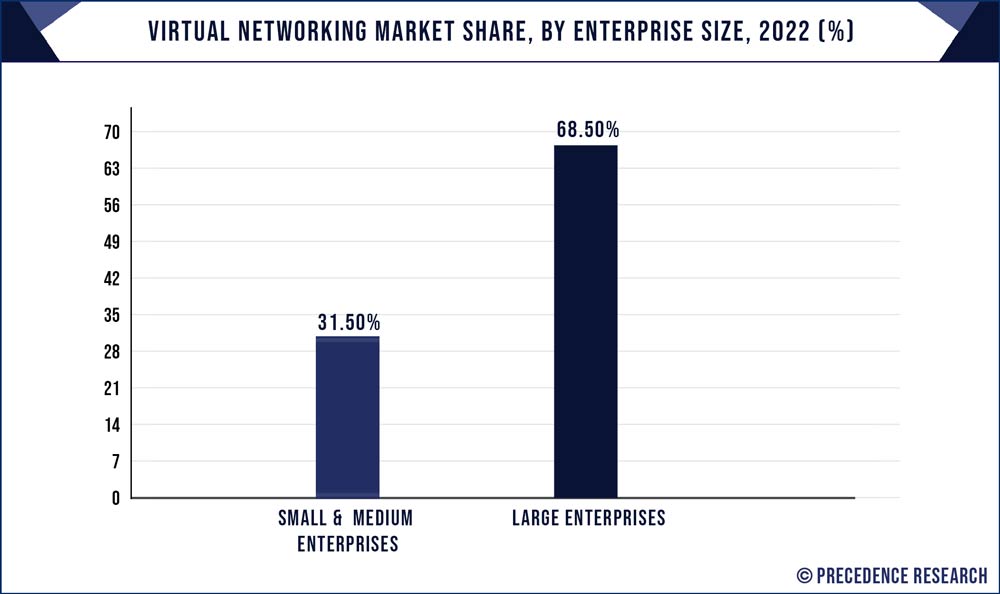 In 2022, the market was dominated by the big enterprises sector. Large businesses can cut hardware and operating costs by virtualizing network resources because they no longer need to invest in pricey physical network equipment.
Application Insights:
In 2022, the IT & Telecommunications sector dominated the market. By supplying connectivity between various cloud environments, IT and telecom businesses are enabling clients to access several clouds while still enjoying a consistent network experience.
Regional Insights:
In 2022, North America led the local market. It is projected that increasing cloud computing adoption in the region will considerably aid in boosting regional market expansion.
Recent Development:
In January 2023, Huawei Technologies and the telecom company Etisalat UAE (e&) partnered. The 5G Portable Private Network MEC deployment and testing are the main goals of the collaboration. The business wants to offer Etisalat UAE consumers smart connectivity and cutting-edge digitalized solutions.
Key Market Players:
Huawei Technologies Co., Ltd.
Hewlett Packard Enterprise Development LP
VMware, Inc.
Cisco Systems, Inc
Microsoft Corporation
IBM Corporation
Citrix Systems, Inc.
Juniper Networks, Inc.
Oracle
Verizon Communications Inc.
Segments Covered in the Report:
(Note*: We offer reports based on sub-segments as well. Kindly, let us know if you are interested)
By Component
Hardware
Software
Services
By Deployment
By Enterprise Size
Large Enterprises
Small & Medium Enterprises
By Application
BFSI
Public sector
Others
By Geography
North America
Europe
Asia-Pacific
Latin America
Middle East and Africa