The global virtual private network (VPN) market size was accounted at USD 48.94 billion in 2022 and it is expected to touch around USD 358.64 billion by 2032 with a noteworthy CAGR of 22.04% between 2023 and 2032.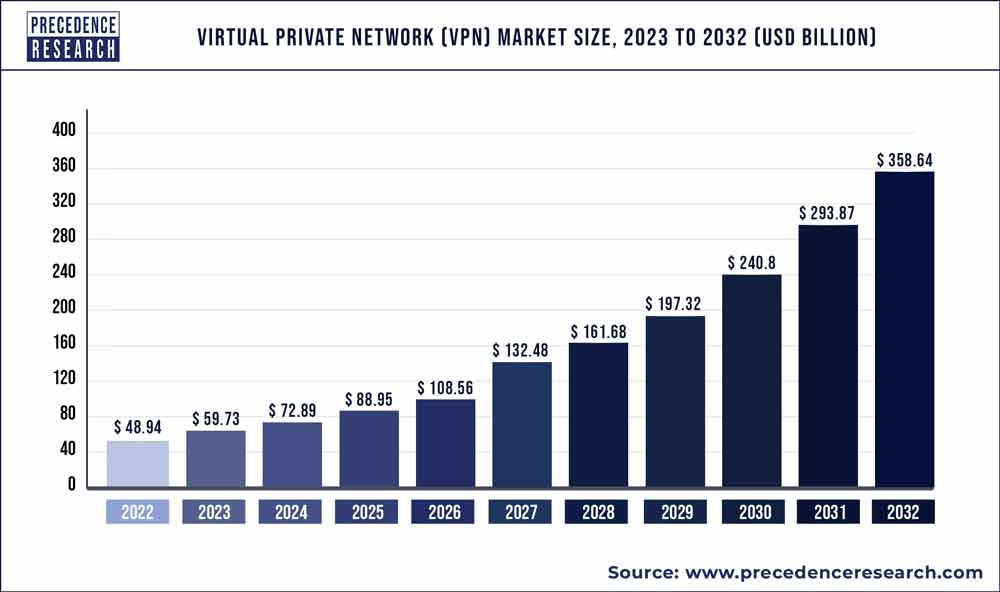 Key Takeaways:
By geography, the North America generates more than 37% of revenue share in 2022.
By component, the solution segment generates more than 66.0% of revenue share in 2022.
By type, the remote access segment captured more than 37% of revenue share in 2022.
By deployment mode, the cloud segment accounted highest revenue share at 75% in 2022.
By end-use, the commercial segment captured more than 77% of total revenue share in 2022.
Market Overview
A virtual private network (VPN) is a means to provide secure communication between group members using public telecommunications infrastructure while protecting privacy using a tunneling protocol and security measures. VPNs conceal users' internet protocol (IP) addresses, making it nearly impossible to track their online activity. To increase privacy, VPN products and services create safe, encrypted connections.
It has long been possible to provision VPNs utilizing Asynchronous Transfer Mode (ATM) and Frame Relay technology of virtual circuits (VC). However, IP and Multiprotocol Label Switching (MPLS)-based VPNs have grown in popularity during the past few years.
The three main factors driving the market growth for virtual private networks are a rise in data security concerns, an increase in sophisticated cyber threats, and a surge in the use of mobile and wireless devices within enterprises.
The demand for remote accessibility is another factor driving this market's expansion. However, a lack of virtualization skills will likely restrain the growth of the VPN industry. On the other hand, rising private cloud adoption will offer attractive chances to expand the virtual private network market in the following years.
The solution segment led the whole market size of a virtual private network in 2022 based on components. Due to significant investments in network security, North America held the largest market share for virtual private networks in 2022.
The considerable presence of leading market vendors in North America also fuels the market expansion in this area. In addition, one of the main factors propelling the North American market for the virtual private network is the rise in demand from industries like BFSI and telecom, among others.
Businesses of all sizes, operating in a wide range of sectors and industries, are actively seeking safe connectivity between their various business units as well as efficient methods of data management. Businesses also need constant connectivity to sustain cooperation with partners and clients worldwide.
At this point, VPNs can provide exceptional service quality to maintain essential traffic flow for enterprises and prevent packet loss. It is becoming increasingly critical to compete in a cutthroat economic environment, particularly for telecoms and IT organizations, to reduce costs and enhance the quality of business services.
Report Scope of the Virtual Private Network (VPN) Market
| | |
| --- | --- |
| Report Coverage | Details |
| Market Size in 2023 | USD 59.73 Billion |
| Market Size by 2032 | USD 358.64 Billion |
| Growth Rate from 2023 to 2032 | CAGR of 22.04% |
| Base Year | 2022 |
| Forecast Period | 2023 to 2032 |
| Segments Covered | By Component, By Type, By Deployment Mode and By End-Use |
| Regions Covered | North America, Europe, Asia-Pacific, Latin America and Middle East & Africa |

Impact of Covid-19
The COVID-19 pandemic has significantly impacted the virtual private network (VPN) market. As more people began working from home and using the internet for remote communication and collaboration, there was a significant increase in demand for VPNs. This is because VPNs provide a secure and private connection to the internet, allowing users to access sensitive information remotely without fear of it being intercepted or compromised.
Additionally, VPNs can also be used to bypass geographical restrictions and access content that may be blocked in a particular location. As a result, many VPN providers have seen a significant increase in sales and usage during the pandemic.
Segments Insight
Component Insights
The solution segment had the highest revenue share in 2022, with almost 66.0%. Over the forecast period, the services segment will likely post a sizable CAGR. Over the past few years, virtual private network solutions have gained significant acceptance, especially among business vendors and independent solution providers. The need for VPN services will continue to be driven by the continuously evolving nature of work and virtual private networks.
Control, reporting, and administration capabilities are typical components of virtual private network solutions. To increase the sales of VPN solutions, suppliers have been working with NAC solution providers and mobile VPN vendors over the past few years. Moreover, VPN services are provided in order to enable the virtual private network to safeguard a remote connection. Vendors also allow real-time price comparison online, which helps budget-conscious customers evaluate the VPN services available before making a purchase decision.
As economies of scale and technological advancements combine, providers should be able to lower their cost structures further and speed up their investments in other areas.
Type Insights
The remote access category generated the most revenue, with a 37% revenue share in 2022. This is explained by the rise in the market's number of franchised dealers. For the projected period, the extranet category will likely grow significantly. The expansion can be linked to increased extranet usage by businesses to publish confidential material on open networks. Additionally, companies are putting more of an emphasis on opening up their internal web applications to their partners and clients.
The demand for site-to-site connectivity and remote access has gradually risen to ensure smooth communication. Optimized bandwidth and data comparison are made possible via site-to-site connections and remote access. Over the past few years, remote virtual private network solutions demand has been driven by mobile VPN device proliferation and the increasing demand for remote accessibility. In particular, remote access can assist firms in adhering to security standards.
Deployment Mode Insights
In 2022, the cloud segment had the highest revenue share at 75%. This is due to a trend toward cloud-based deployment to cut expenses and maintenance. To give private on-premise access and a secure gateway to cloud services, leading market players are now offering virtual private clouds. For instance, IBM Corporation announced the introduction of an on-premises VPN gateway to a cloud VPN built inside a VPC in December 2018.
Vendors now offer virtual private clouds to assist businesses in setting up an environment of private cloud computing on public cloud infrastructure. These services give business customers control that is fine-grained over providing or preventing access to particular resources through exacting applications or IP addresses.
Virtual servers, storage, and networking resources in the cloud can be deployed dynamically to assist VPC customers in adjusting to changes per their business demands. Due to decreased expenses, enterprises can concentrate on achieving core competencies and essential business objectives.
End-Use Insights
In 2022, the commercial category contributed 77% of total revenue on account of growing worries about creating a secure network. Virtual private networks also assist in lowering risks throughout the entire data lifecycle. As an alternative, VPN services assist business users in gaining the trust of their clients. Other alluring qualities like cost effectiveness, fault-tolerant resource availability, and redundant resource availability will likely fuel the virtual private network solution's commercial adoption.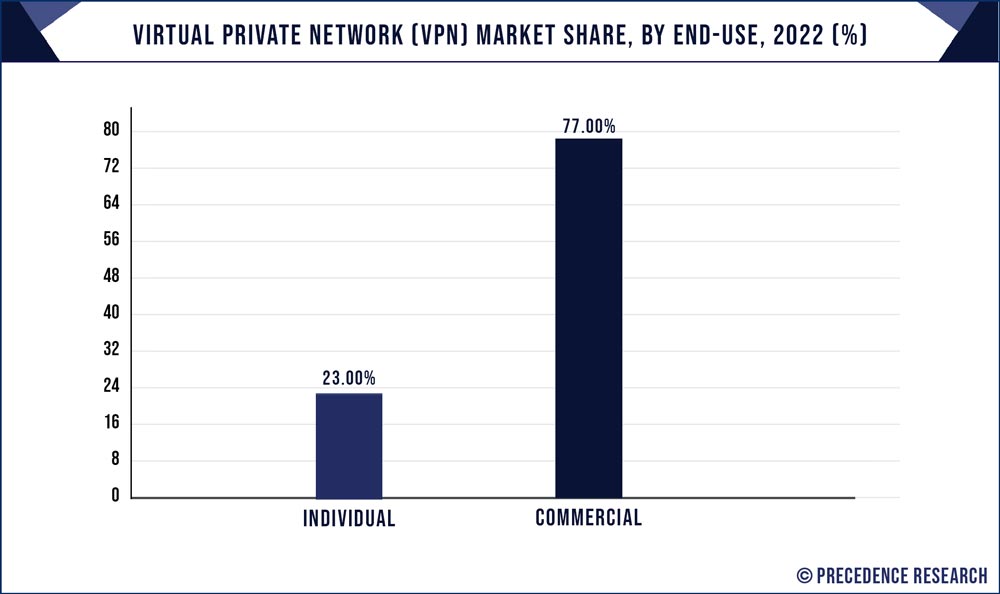 Companies are beginning to permit the usage of remote gadgets at work. As a result, most employees can now access numerous business applications from any location using various connected devices, such as laptops, PCs, netbooks, and tablets. Notably, this is fueling individualized demand for VPN solutions. Additionally, hybrid network applications, such as a combination of Internet VPN and MPLS solutions, are created using virtual private networks. A virtual private network also expands the business's cloud data center.
Virtual Private Network (VPN) Market Share, By Region, 2022 (%)
| | |
| --- | --- |
| Regions | Revenue Share in 2022 (%) |
| Asia Pacific | 26% |
| North America | 37% |
| Europe | 29% |
| Latin America | 5% |
| MEA | 3% |

Regional Insights
Due to the telecoms and BFSI sectors' and other US industries' and industry verticals' strong development in demand, North America had the most significant revenue share 37% in 2022. The European market also contributed a sizeable market share, which will likely continue expanding. On the other hand, due to the rising use of VPN services and solutions in India, China, and other Asian nations, Asia Pacific is anticipated to experience the highest growth of CAGR over the projection period.
With increasingly organized players using mobile VPN services, China is ruling the Asia Pacific sector. The virtual private network offering as a solution opened up a lot of business prospects for entrepreneurs in Indonesia, China, and other Asian nations due to the numerous government policies and regulations regulating popular websites.
Additionally, effortless networking and streaming in Asian countries are now possible thanks to VPN services. Users who utilize a virtual private network are guaranteed that their data is encrypted and safe from hackers. These aspects have significantly increased the demand for VPN products and services in Asian nations.
The new trend for practically all IT businesses is working remotely. The use of virtual private network (VPN) connections and remote desktops has significantly increased since the COVID-19 pandemic's introduction. The rise in remote workers and various devices drives the demand for better visibility and management. Additionally, because remote users can now connect to several networks, central control is made challenging. Enterprises seek to monitor the wireless activity of mobile workers in addition to managing these devices.
According to a recent analysis by Atlas VPN, VPN usage has climbed 53% in the United States over the past 12 months. And in Italy, a nation that COVID-19 has primarily impacted, it grew by 112%. Additionally, the US Department of Defense Information Systems Agency (DISA) has been trying to increase network and VPN capacity.
Kay Market Players
Cisco Systems, Inc.
Opera Norway AS
BM Corporation
Google LLC
Citrix Systems, Inc.
Avast Software s.r.o.
NetMotion Software
The above mentioned vendors are concentrating on growing their customer base to acquire a competitive advantage in the market. They are exploring several strategic initiatives, including mergers and acquisitions, alliances, and collaborations. One of the most recent advancements in establishing a payment deferrals program by Cisco Systems, Inc. in April 2020 was to encourage businesses to purchase solutions for the virtual private network during the pandemic era.
Segments Covered in the Report
(Note*: We offer report based on sub segments as well. Kindly, let us know if you are interested)
By Component
By Type
Remote Access
Extranet
Site-to-site
Others
By Deployment Mode
By End-Use
By Geography
North America
Europe
Asia-Pacific
Latin America
The Middle East and Africa