The global OLED market size was estimated at USD 38.44 billion in 2022 and is expected to be worth around USD 259.67 billion by 2032, poised to grow at a CAGR of 21.1% over the projection period 2023 to 2032.
Key Takeaways:
By product type, the display segment has garnered a revenue share of over 82% in 2022.
By technology, the PMOLED segment hit 28% revenue share in 2022.
By end use, the consumer electronics segment contributed 31% market share in 2022.
In comparison to conventional LED, VFD, or LCD displays, OLED (Organic Light Emitting Diode) displays offer higher contrast, are brighter, have broader viewing angles, have quicker reaction times, and use less power. OLED displays are self-illuminating due to their biological makeup; therefore, they don't need a backlight for the best visibility under all circumstances. These technologies and products have been developed by several businesses.
OLED technology, which offers effective and beautiful lighting panels, is being used in smart TVs. A digital television that is linked to the internet is known as a smart TV. It functions mostly as a regular television set with built-in internet and interactive Web 2.0 features. Users may browse the internet and see photographs while listening to music and watching movies. For these reasons, smart OLED TVs are changing how entertainment is seen and how the entertainment industry is affected. With increased disposable income brought on by global economic expansion, curved OLED TVs and other high-end items are expected to become more popular.
OLEDs have garnered a great deal of attention from the worldwide scientific and industrial sectors over the years. A wide range of OLEDs have been introduced to the market with uses in many different industries, with a concentration on passive and active-matrix solutions. Additionally, lightweight, unbreakable, bendable electronics with greater mobility have been made using flexible OLEDs. OLED displays, which do not require any of the filtering or backlighting mechanisms present in LCDs, are made from organic light-emitting materials. OLED displays' high brightness, low power requirement, and enhanced contrast are some other benefits.
Growth factors
During the projected period, the worldwide OLED displays market is anticipated to develop due to the lucrative benefits supplied by OLED technology. OLED technology has several benefits, including improved contrast ratios, quicker refresh rates, and crisper, more vibrant colours. OLED displays are smaller, thinner, and provide superior energy management since they use less electricity overall. Additionally, OLED panels' improved view angle benefits customers in other ways.
Over the projected period, expanding OLED display applications are anticipated to fuel market expansion for OLED displays worldwide. OLED-based technology has begun to be used in a number of industries throughout the world. Media players, digital cameras, mobile phones, televisions, wearable electronics, etc. all use OLED technology. A number of well-known market companies, including Sony, Samsung, and LG, have introduced a variety of items featuring OLED displays in an effort to diversify their product lines and achieve a competitive advantage.
Report Scope of the OLED Market
| | |
| --- | --- |
| Report Coverage | Details |
| Market Size in 2023 | USD 46.36 Billion |
| Market Size by 2032 | USD 259.67 Billion |
| Growth Rate from 2023 to 2032 | CAGR of 21.1% |
| Base Year | 2022 |
| Forecast Period | 2023 to 2032 |
| Segments Covered | Technology, Product Type, Display Panel Type, Application, and Geography |
| Companies Mentioned | Acuity Brands, OLED works, Kopin Corporation, Pixelligient Technologies, BOE Technology, LG Display, Osram, AU Optronics, Tianma Microelectronics, Samsung Electronics, Universal Display Corporation, Lumiotec, Royole Corporation, Konica Minolta Pioneer OLED, China Star Optoelectronics Technolog, Emagin Corporation, JOLED, Raystar Optronics, Panasonic, Truly International, Visionox, Winstar Display, Wisechip Semiconductor |
Market Drivers
High-demand for cost-effective and energy-saving OLED Lighting
Approximately 15% of the world's total energy consumption is used for lighting. Additionally, around 5% of the world's carbon emissions come from lighting. In order to lower carbon emissions, the United Nations Environment Programme (UNEP) has published some advice on energy-efficient lighting options. With Europe and the Middle East experiencing fast urbanisation and economic expansion, it is anticipated that over the next two decades, the demand for OLED-based lighting would increase significantly. Thus, the need for more LED-based lighting to achieve efficient cost and energy savings is anticipated to propel the worldwide OLED lighting market's expansion in the upcoming years.
Rising Demand for Superior Display in Wearable Devices and Smartphones
As OLED devices are used in a range of end-use scenarios. The increased use of smartphones and the soaring demand for better cellphones are driving the industry's expansion. Smartphones and tablets are using active-matrix OLED (AMOLED) screens more frequently because of their great activation speed. Additionally, they use far less power than LCD, which is why they are recommended for widespread usage in smartphones. The popularity of different wearable gadgets like smartwatches and fitness bands is also boosting the industry's expansion. Increased demand for automated and bright-screen displays is fueling the market's expansion.
Key Market Challenges
High cost of the technology - OLEDs are regarded as expensive since they have a higher initial capital cost than traditional lighting technologies. Cost also includes any necessary electronics and power supply. However, this is only taking into account the initial investment; the overall cost (taking into account the OLED's lifetime) would be less than that of traditional technologies. OLEDs have a reduced total cost of ownership than LED and LCD sources, which includes maintenance and energy costs. Additionally, OLEDs' early appeal is constrained by their expensive initial expenditure levels. Additionally, because OLED requires a lot of materials, it is expensive to produce OLED displays or lights. In addition, establishing new industrial facilities requires a substantial investment and government clearance. Setting up brand-new manufacturing facilities requires a significant amount of cash due to the technology's relative youth and high expertise need. This is anticipated to limit the OLED market's expansion to some extent.
OLED technology use is not very widespread: Over the projected period, the growth of the worldwide OLED displays market is anticipated to be constrained by the low penetration rate of OLED technology. When compared to other modern technologies, OLED screens have a very low adoption rate due to their large cost. The client frequently views OLED technology as highly sophisticated and pricey in comparison to LCD technology because of the initial success of the latter. Such a barrier to the technology's rapid adoption is causing a void in the volume manufacturing required to compete with other leading technologies.
Market Opportunities
Increase in government initiatives towards OLED adoption
To reduce costs and pollution, governments from several nations have concentrated on implementing lighting systems based on OLED technology. The global market is expanding due to different nations' favourable attitudes regarding the use of OLED lighting technology. For example the government of Germany provides grants to towns so they may install modern OLED lighting in publicly held assets like outdated street lighting. The Middle East Lighting Association (MELA), an international nonprofit organisation founded by a collaboration between Gulf Advanced Lighting, Osram, Philips Lighting, and Tridonic, is also present in the Middle Eastern nations. In order to assist lawmakers in the Middle East in developing and enforcing policies, standards, and regulations for lighting-related goods and services, MELA also works to represent the interests of the top lighting product manufacturers in the area.
The group is also committed to promoting energy-efficient lighting practises for the protection of the environment, human comfort, and consumer health and safety. As a result, the growing number of government requirements and efforts encouraging the use of OLED lighting systems has a substantial positive impact on the worldwide OLED market's expansion.
OLED smart TVs are becoming increasingly popular
Today's android TV uses OLED technology, which provides gorgeous and functional lighting panels. A smart TV is a digital television that is connected to the internet. It performs substantially the same duties as a standard television set, but with integrated internet and interactive Web 2.0 capabilities. This may be used by users to browse the internet, watch movies, listen to music, and see photos. Smart TVs may offer internet TV, on-demand streaming, interactive multimedia content (OTT), and much more in addition to the typical television functionalities.
Segmental Insights
Product Insights
Based on product, the display segment dominated the market with the highest revenue share in 2022. The lighting segment is expected to grow at a remarkable CAGR during the forecast period 2023 to 2032. And lighting segment held a market share of around 18% in 2022.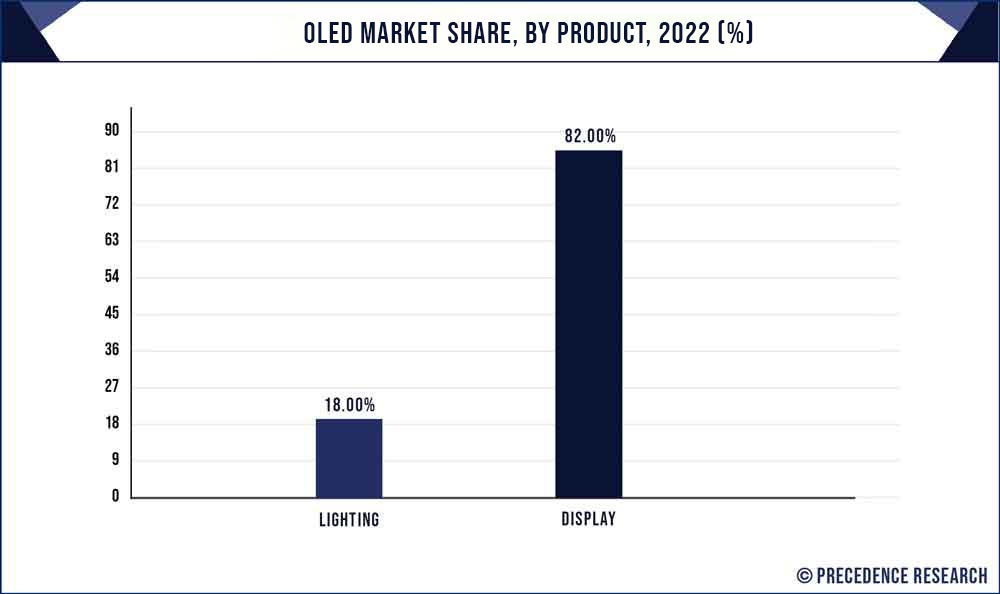 OLED displays and lighting are mostly used in the automotive industry like dashboard displays, heads up display, internal lightings, digital rear-view and internal mirrors, and other external lightings.
Technology Insights
It is anticipated that AMOLED displays in smartphones will expand quickly. The OLED screen surpasses the flat panel displays that have generally been used in smartphones since it is emissive and doesn't require any additional illumination. Additionally, mobile manufacturers are increasingly incorporating AMOLED panels into their devices due to better attributes including thinness and brightness, which is anticipated to accelerate market development.
Display Panel Insights
The introduction of foldable devices and the enthusiasm they spark will help the OLED industry grow. OLED lighting research is receiving financial backing from governments all over the globe, there is a large desire for improved viewing experiences, notably among smartphone and television users, and there is a surge in the market for AMOLED displays for usage in AR/VR headset applications.
Application Insights
OLED panels are extensively used in televisions and smartphones. A number of display panel manufacturers also claimed that new product introductions and an improved supply-demand situation for large panels had increased mobile display sales in spite of the pandemic. Therefore, the main product categories promoting consumer sector growth throughout the predicted period will be smartphone, televisions, and wearable technology, notably smartwatches and VR HMDs.
OLED Market Share, By Region, 2022 (%)
| | |
| --- | --- |
| Regions | Revenue Share in 2022 (%) |
| North America | 41.50% |
| Asia Pacific | 21.40% |
| Europe | 30.50% |
| Latin America | 4% |
| MEA | 20.60% |
Geography Insights
Due to the established infrastructure in nations like Japan, China, and South Korea, the Asia-Pacific region will account for the greatest portion of the worldwide AMOLED display market in 2022. For instance, the Samsung Group, a South Korean multinational company with Asia Pacific headquarters, manufactured in-cell touch screens. In addition, the North American AMOLED Display Market is anticipated to generate sizeable revenue shares because to the growing demand for cutting-edge technology. Additionally, given its demand for non-OLED display solutions, Europe is poised to make a large contribution.
Recent developments
In November 2020, Lumenique LLC and OLEDWorks partnered. With this partnership, illuminated art manufacturer Lumenique becomes a leader in the advancement of OLED lighting. By using the latest OLED lighting panels, the business will provide stunning portable lighting.
Samsung Electronics stated in August 2019 that it has reduced LCD output in order to be ready for a major investment in quantum dot, also known as (QD) OLED panels of hybrid displays that use both OLED as well as quantum dot technology.
A new OLED technology license agreement and supplemental material purchasing agreement were signed between Wuhan China Star Optoelectronics Semiconductor Display Technology Co., Ltd. and Universal Display in May 2020. According to the long-term agreements, UDC will provide phosphorescent OLED components to Optoelectronics through its subsidiary UDC Limited based in Ireland for use in display goods.
Key Market Players
Acuity Brands
OLED works
Kopin Corporation
Pixelligient Technologies
BOE Technology
LG Display
Osram
AU Optronics
Tianma Microelectronics
Samsung Electronics
Universal Display Corporation
Lumiotec
Royole Corporation
Konica Minolta Pioneer OLED
China Star Optoelectronics Technolog
Emagin Corporation
JOLED
Raystar Optronics
Panasonic
Truly International
Visionox
Winstar Display
Wisechip Semiconductor
Segments covered in the report
(Note*: We offer report based on sub segments as well. Kindly, let us know if you are interested)
By Technology
Active-matrix OLED (AMOLED)
Passive-matrix OLED (PAMOLED)
Foldable OLED
White OLED
Transparent OLED
Others
By Product Type
By Display Panel Type
By Application
Smartphone & Tablet
Smartwatches & Wearables
Television
Digital Signage Systems
PC Monitors
Laptop
Others
By Geography
North America
Europe
Asia-Pacific
Latin America
Middle East & Africa (MEA)