The global electronic components market size was estimated at USD 190.28 billion in 2022 and it is expected to hit around USD 368.4 billion by 2032, growing at a CAGR of 6.83% during the forecast period 2023 to 2032.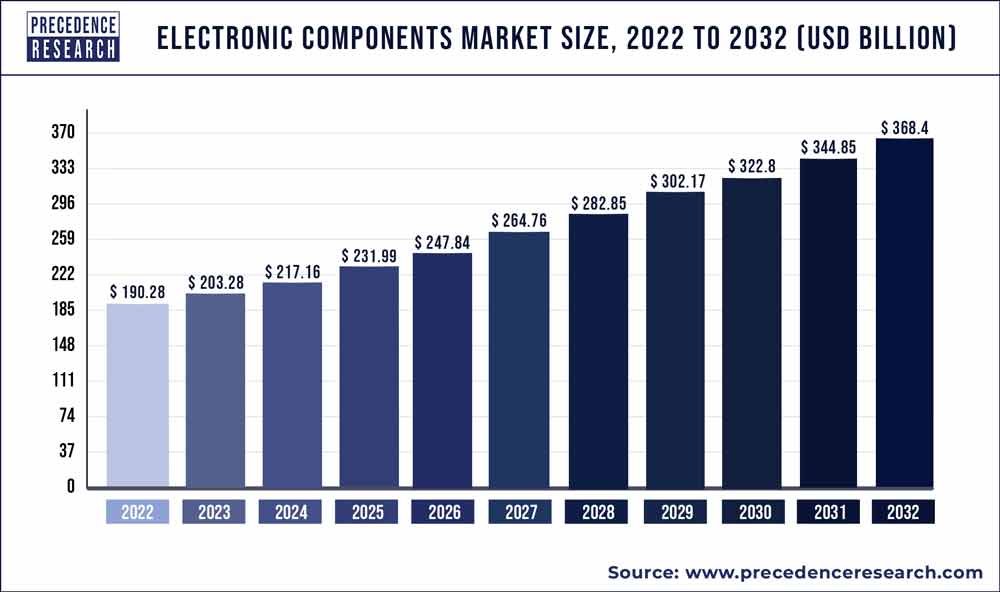 Key Takeaways:
Asia Pacific is expected to dominate the market from 2023 to 2032.
By Type, the active segment is expected to capture the largest market share over the forecast period.
By Application, the automotive segment is expected to grow at the highest CAGR over the forecast period.
Market Overview:
Electronic components are fundamental elements that make up electronic circuits and devices, playing a crucial role in modern technology. They are the building blocks that enable the manipulation and control of electrical signals, allowing devices to perform a wide range of functions. From simple switches to complex microprocessors, electronic components form the foundation of everything from everyday consumer electronics to advanced industrial systems. The world of electronics revolves around the concept of using various components to create circuits that can process, transmit, and store information in the form of electrical signals.
These signals can represent data, perform calculations, generate sounds, display images, and many other applications. Electronic components can broadly be classified into two main categories which are passive and active components. Passive components do not require an external power source to perform their basic functions. They interact with electrical signals but do not amplify or generate them. Besides, the active components require an external power source to perform their functions. They can amplify, switch or modulate electrical signals.
Growth Factors:
By 2025, the GSMA predicts that 5G networks will reach 1.2 billion connections or one-third of the world's population. The rising integration of 5G network services across the globe is observed to boost the demand for electronic components. The market growth is being driven by several factors such as increasing demand for consumer electronics, the rollout of 5G networks and the growth of high-speed data communication, advancements in IoT, and increasing industrial automation.
Report Scope of the Electronic Components Market:
| | |
| --- | --- |
| Report Coverage | Details |
| Market Size in 2023 | USD 203.28 Billion |
| Market Size by 2032 | USD 368.4 Billion |
| Growth Rate from 2023 to 2032 | CAGR of 6.83% |
| Largest Market | Asia Pacific |
| Base Year | 2022 |
| Forecast Period | 2023 To 2032 |
| Segments Covered | By Type and By Application |
| Regions Covered | North America, Europe, Asia-Pacific, Latin America, and Middle East & Africa |

Market Dynamics:
Driver:
Growing demand for robots across the industry
Product manufacturers are implementing robots to automate some of the repetitive procedures due to rising demand across economies. An estimate of the penetration of industrial robots is provided by the Robotic Industries Association, which states that more than 250,000 industrial robots have been installed in the United States alone. Additionally, due to the growing use of smart manufacturing systems, in which these robots play a crucial role, the industrial robotics market has been seeing enormous demand over the past ten years. Every section of the robot receives signals and power to engage its functions through passive and interconnecting electronic components. Therefore, the aforementioned facts drive the market growth during the forecast period.
Restraint:
Decrease in the profit margins of manufacturers
Hardware prices are decreasing as a result of advances in device technology, but they are still rising as a result of the ongoing demand for increasingly complex and specialized products. The cost of passive and active components is being directly impacted by product counterfeiting. In addition, the prices of interconnects and passive components have decreased as a result of the fierce rivalry between players from different locations. The price of developing new products or goods driven by cutting-edge technology is negatively impacted by this. Therefore, this is expected to hamper the market growth during the forecast period.
Opportunity:
Increasing adoption in the automotive sector
The transition to lane-keeping and adaptive cruise control as Advanced Driver Assistance Systems (ADAS) and higher levels of vehicle autonomy are increasing demand for interconnects and passive components. More passives are required by infotainment systems as well. The need for passive components will also rise as more vehicles move to hybrid and eventually entirely electronic powertrains. As well as advanced ECUs, regenerative braking, and battery-charging techniques, hybrid cars require sophisticated ECUs to regulate the changeover between electric and internal combustion engine (ICE) driving.
The difficulty of operating a hybrid powertrain is replaced in fully electric cars by the struggle to get a predictable range, quick charging, and adequate performance out of still-evolving battery technology. To handle the flow of enormous amounts of electrical energy, all of this necessitates sophisticated sensing, reliable communications, and substantial usage of power electronics devices and their accompanying circuitry. Thus, this is expected to offer a potential opportunity for market growth during the forecast period.
Segments Insight:
Type Insights:
Based on the type, the global electronic components market is segmented into active, passive and electro-mechanic. The active segment is expected to capture the largest market share over the forecast period. The segment growth is attributed to the increasing application of active components in various industries including consumer electronics, automotive, telecommunication, industrial automation and others. Moreover, the growing product launches are expected to propel the market growth. For instance, in January 2023, Renesas unveiled a new intelligent power device (IPD) for automobiles that manage power distribution in cars flexibly and safely to satisfy the demands of the next E/E (electrical/electronic) designs. Thus, this is expected to drive market growth during the forecast period.
Application Insights:
Based on the application, the global electronic components market is segmented into automotive, communication, computing, industrial and others. The automotive segment is expected to grow at the highest CAGR over the forecast period. To attract customers, automakers all over the world concentrate on incorporating different electronics and technologies.
The market for automobile electrical components has been significantly impacted by the rising demand for premium and ultra-luxury automobiles. The usage of electronic components in automobiles has expanded recently due to the rising reliance of these cars on safety systems and other electronic components. It is common practice to employ electronic components to improve the performance and efficiency of powertrain systems. These parts provide communication between the powertrain systems of a car and allow sensor signals to be exchanged, all while controlling the systems' functions. Sensors for throttle position, transmission fluid temperature, and turbine speed are all utilized in powertrain systems.
On the other hand, the communication segment is expected to capture a significant market share over the forecast period. The use of electronic components in the telecommunications sector is anticipated to increase throughout the projected period due to technological advances such as the transition from 4G to Voice over Long-Term Evolution (LTE/4G) and 5G. Network equipment, remote controllers, mobile phones, landlines, set-top boxes, and base stations are a few examples of telecommunication applications. Moreover, the telecom industry is using more and more electronic components as a result of the smartphone industry's notable expansion and the mobile handset market's subsequent rise. Thus, these factors are anticipated to drive the market over the forecast period.
Regional Insights:
Asia Pacific is expected to dominate the market over the forecast period. This is due to labor being inexpensiveness, raw materials being easily accessible, and production costs being low in this area. Moreover, the market for passive and interconnecting electronic components has been steadily expanding due to the strong demand for consumer electronics made in Asia Pacific, particularly in China and India. The country has seen a sharp increase in demand for computers, as well as other electronic devices like mobile phones, LED displays, and multipurpose processors, due to growing income levels and improving living standards.
Moreover, there is a growing international market for low-cost consumer electronics made in China. The Chinese government has consistently supported research and development (R&D) endeavors and encouraged the establishment of industrial parks in Chinese cities to facilitate the manufacture of electronic components. Additionally, the Indian government is offering several incentives to enterprises that spend $400 million within the projected term. Thus, this is expected to drive the market growth in the region.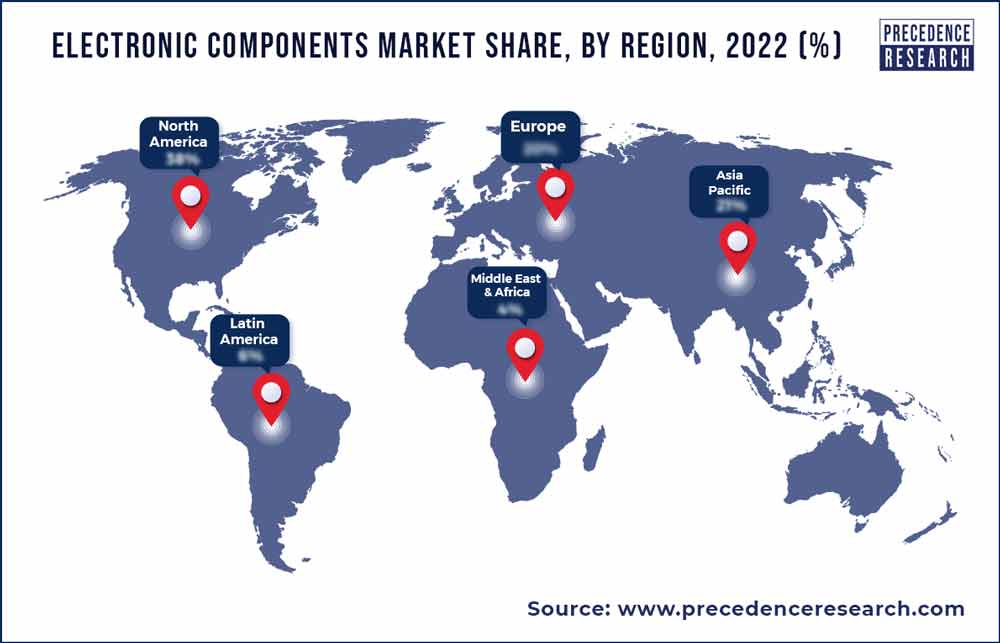 North America has a substantial electronic components market, driven by its advanced technological infrastructure and strong presence in industries such as automotive, consumer electronics, aerospace, telecommunications, and healthcare. The demand for smartphones, tablets, laptops, wearables, and other consumer electronic devices drives the need for various electronic components like microprocessors, sensors, displays, and memory chips. Moreover, Leading semiconductor and electronic component manufacturers, including Intel, Texas Instruments, Qualcomm, Broadcom, and NVIDIA, have a significant presence in North America. Many startups and smaller companies are also active in designing and producing electronic components. Therefore, the aforementioned statements are expected to propel the market growth during the forecast period.
Recent Developments:
In June 2023, ZF began producing Advanced Driver Assist Systems (ADAS) technology at its electronics factory in Monterrey, Nuevo Leon, and extended its manufacture of these technologies. This is ZF's first manufacturing project in the state of Nuevo Leon, and it employs 120 people. Its primary concentration is on producing cutting-edge electronic parts for passenger cars, which contributes to increased occupant safety. With a 100-degree horizontal field of vision and a 1.8-megapixel image sensor, the Smart Camera 4.8 is the first monocular camera that allows for features like Automatic Emergency Braking (AEB), Adaptive Cruise Control (ACC), and Lane Keeping Assist (LKA). The company started producing these cameras in large quantities.
In March 2023, a global challenge to engineers and innovators worldwide to build the next big thing, the 21st Create the Future Build Contest is being sponsored by Mouser Electronics, Inc., the New Product Introduction (NPI) leaderTM enabling innovation. Reiterating their 10-year sponsorship of the tournament, esteemed manufacturers Intel® and Analog Devices, Inc. join Mouser as co-sponsors. SAE Media Group, an SAE International Company, is in charge of producing the competition. The contest's primary sponsor is COMSOL as well.
In May 2023, an upgrade to Sourcengine's Application Program Interface (API) has been released by Sourceability, a worldwide distributor of electrical components, under the name SourcengineTM Order API. The cutting-edge solution makes it possible for material requirement planning (MRP) and enterprise resource planning (ERP) divisions to contact thousands of suppliers worldwide and expedite the procurement process. Developed for mid-sized manufacturers using ERP/MRP systems, the API enables companies to find, price, and buy electronic components without having to leave their internal systems, saving time spent monitoring vendors and procurement lists. In contrast to its rivals, Sourcengine's API is not constrained by the amount of stock it can hold. The marketplace is dependent on the alliances the business has built with more than 3,500 suppliers globally.
Key Market Players:
STMicroelectronics
Murata
Amphenol
Texas Instruments
NXP Semiconductors
Kyocera
Omron
ABB
ON Semiconductor
Infineon Technologies
TDK Corporation
Samsung Electro-Mechanics
Analog Devices, Inc.
Segments Covered in the Report:
(Note*: We offer reports based on sub-segments as well. Kindly, let us know if you are interested)
By Type
Active
Passive
Electro Mechanic
By Application
Automotive
Communication
Computing
Industrial
Others
By Geography
North America
Europe
Asia-Pacific
Latin America
Middle East and Africa