The global active electronic components market size was valued at USD 326.12 billion in 2022 and is expected to reach over USD 747.59 billion by 2032, expanding growth at a notable CAGR of 8.7% from 2023 to 2032.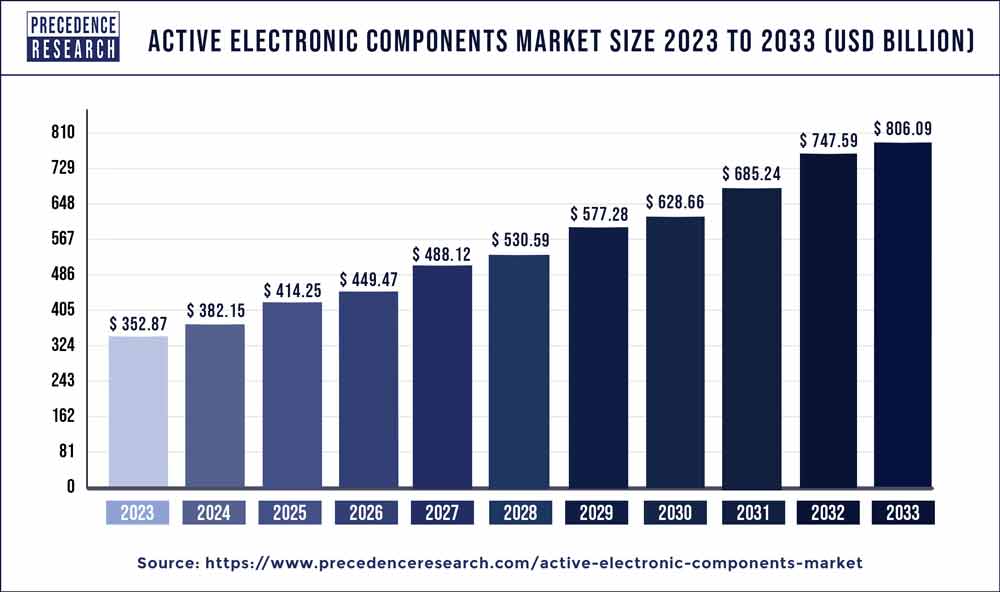 Access our Premium Real Time Data Intelligence Tool, Visit: Precedence Statistics
Key Takeaways:
By product, the semiconductor segment has accounted revenue share of over 57.7% in 2022 and it is growing at a CAGR of 7.2% during the forecast period.
ICs sub-segment of semiconductor devices has generated revenue share of 55.4% in 2022.
By end-user, the consumer electronics segment has captured revenue share of 31.2% in 2022 and growing at a CAGR of 7.1%.
The automotive segment is expected to grow at a CAGR of 7.3% over the forecast period.
Asia Pacific accounted highest revenue share of over 54.6% in 2022.
North America is expected to grow at a CAGR of 6.3% during the forecast period.
Active electronic components are devices that can amplify a signal and feature an electronic filter for power gain. An oscillator, integrated circuit, or transistor is examples of active electronic components. These components work in a device to enhance or generate voltage, active power, or current as an alternating current circuit. The global active electronic components market is growing rapidly and will continue to do so in the coming years. In an electronic system, an electronic component is a simple physical device or object that affects electrons or their associated field. The increased need for high transfer speeds with reduced idle time among customers has enabled telecom administrators, particularly in emerging nations such as India, to deliver a cutting-edge 5G business framework. As a result, curiosity in new information technology and telecom hardware will grow, increasing item reception.
Active Electronic Components Market in the Asia Pacific 2023 To 2032
The Asia Pacific active electronic components market size reached USD 178.06 billion in 2022 and is projected to hit around USD 400.73 billion by 2032, growing at a CAGR of 54.6% from 2023 to 2032.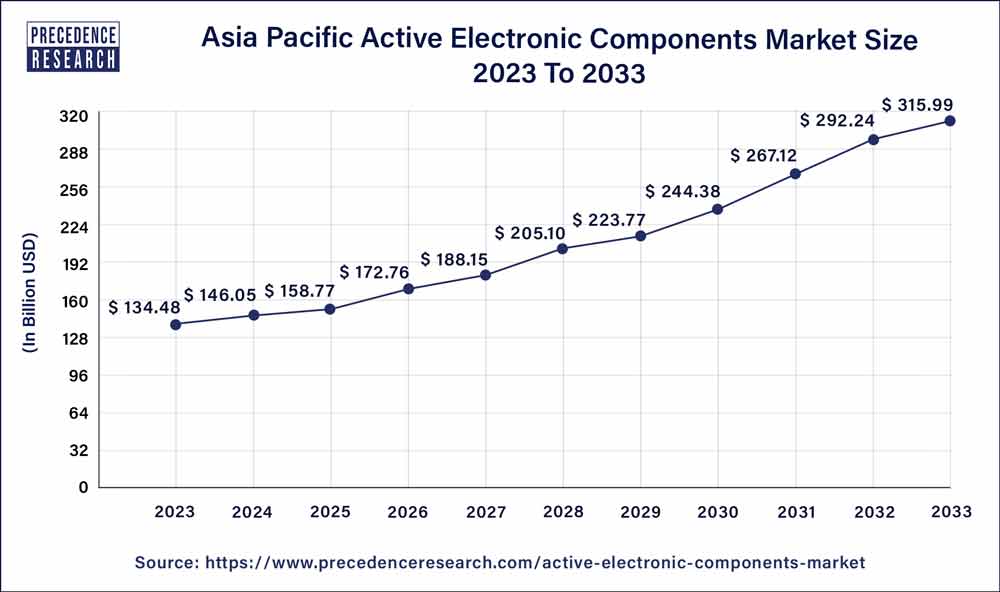 The Asia Pacific held the largest revenue share 38% in 2022. Due to an increase in internet customers and internet usage on smartphones and portable devices, the digital map is expanding rapidly. The Asia Pacific area benefits from the increased use of digital maps by opening up new prospects. Digital map systems are used in autonomous cars for navigation and route planning. The key driving force behind the Asian market's expansion is the recent developments in digital maps, such as 3D maps, and the simplicity with which a location may be found and understood.
Moreover, the industry is driven by enterprises' efforts to develop GPS. For instance, the mapping solutions company Esri India debuted a platform in January 2023 that will offer businesses, institutions, and state governments access to data-driven policymaking. The granular data provided by the interactive "Policy Maps" can be used to analyze the progress made. Policy Maps are primarily impersonal and get their information from reliable governmental sources. Policymakers can use the tool to construct and place different indicators on maps in accordance with demand.
China has also created a business ecosystem. Manufacturers profit from their well-developed supply chain in both procurement and distribution operations. Most components used in electronics may be supplied by local Chinese businesses, which enables manufacturers to reduce logistics expenses. In addition to lowering logistical expenses, shorter lead times also result in lower working capital requirements, which lessen the financial pressure on enterprises. This has had a positive influence on the Chinese active electronics market.
Additionally, a significant portion of Malaysia's exports come from electronics production. Malaysia is home to manufacturing operations for international brands from nations like Germany, Japan, and South Korea. Computers, semiconductors, and cameras are some examples of products, with semiconductor fabrication receiving a lot of attention. Unexpectedly, Malaysia's labor costs are cheaper, and blue-collar workers make between 500 and 800 USD per month. On the other hand, in China, the average monthly wage is greater than USD 1,000. Therefore, it is essential to consider Malaysia's affordable labor expenses. As a result, the active electronics components industry would soon see a significant increase in the Asia Pacific region.
North America is estimated to observe the fastest expansion. The federal government of the U.S. is heavily investing in the creation of smart cities around the country. The growth is majorly attributed to the rising adoption of micro-electromechanical systems (MEMS) and renewable energy resources. In addition, the increasing demand for portable electronic devices in the region contributes as the key driver for the growth of active electronic components market. Apart from this, burgeoning trend for connected cars and smart homes in the U.S. has opened up new opportunities for the telecom operator in the region to invest huge amount for the deployment of 5G network infrastructure. For instance, in April 2020, AT&T announced investment of USD 5 Bn in the first quarter of 2020 only for expanding 5G network.
Meanwhile, the Asia Pacific seeks to be the most opportunistic region and projected to supersede North America during the forecast period. The region is expected to witness a CAGR of nearly 10.8% over the forecast period. The growth is mainly driven by the presence of huge consumer electronics market in the region. As per a research conducted by the European Council in 2017, China exhibits lucrative growth of 36-38% in the consumer electronics market in 2017. Along with this, China is the largest producer and exporter of consumer electronic products worldwide. Lucrative features and new technologies have transformed the consumer electronics product and thus flourishing the demand for active electronic components market in the region.
Growth Factors
Increasing demand for electronic products with high energy efficiency for emerging applications such as military, satellite, aerospace, and automotive has accelerated the demand for active electronic components market at a rapid pace. Earlier, active electronic components were only used for printed circuit boards and consumer electronics. Rising trend for electric vehicle and hybrid vehicles coupled with increasing focus towards the application of renewable energy predicted to fuel the market growth prominently in the coming years. Several renewable energy fixtures consist of devices like inverters, solar panels, and turbines. These devices are further made up of active electronic components such as photo-transistors and photodiodes.
With the advent of IoT and smart devices, demand for flexible and miniaturized electronic component has risen significantly over the past few years. Further, the fuelling demand for smartphones and other smart handheld devices such as tablets and PDAs are projected to propel the global active electronic components demand prominently during the forecast period.
Report Scope of the Active Electronic Components Market
| | |
| --- | --- |
| Report Highlights | Details |
| Market Size in 2023 | USD 352.87 Billion |
| Market Size by 2032 | USD 747.59 Billion |
| Growth Rate from 2023 to 2032 | CAGR of 8.7% |
| Largest Market | North America |
| Fastest Growing Market | Asia Pacific |
| Base Year | 2022 |
| Forecast Period | 2023 to 2032 |
| Segments Covered | Product, Regional |
| Companies Mentioned | Infineon Technologies AG, Fairchild Semiconductor International, Inc., Maxim Integrated Products Inc., Texas Instruments, Inc., Analog Devices, Inc., ST Microelectronics NV, Diotec Semiconductor AG, ON Semiconductor, Toshiba Corporation |
Market Dynamics
Drivers
Surge in demand for active electronic components in various sectors
Printed circuit boards and consumer electronics were once the sole places where active electronic components were used. However, the military, space & satellite technologies, and vehicle applications have all seen an increase in the use of these gadgets. The market for active electronic components is developing due to increased use of renewable energy and a growing trend toward the use of electric and hybrid cars. UPS and invertors, panels, and solar turbines are only a few examples of renewable energy fixtures or equipment. Photodiodes and photo-transistors are examples of active electronic components.
Increasing Necessity of Electronic Devices:
The popularity of different electronic devices, such as power inverters, controllers, driver assistance systems, power diodes, telematics, and GSP receivers, among others, has increased due to the automobile industry's increasing automation. Electric vehicles (EVs) and autonomous vehicles utilize these components frequently. Consequently, it is estimated that over the forecast period, the rising electronic car demand would accelerate product adoption. The manufacturing sector is undergoing a rapid transformation as a result of connected technology.
Battery electric vehicle sales in the world are still rising rapidly. For instance, according to data from the European Automobile Manufacturers' Association, 12.1% of the 9.1 million vehicles sold in the European market in 2022 were fully battery electric vehicles. This contrasts with a share of just 1.9% in 2019 and 9.1% in 2021. Initially, Dataforce reported that the Tesla Model Y SUV outperformed all EV models in 2022 with approximately 137, 819 sales in Europe.
Restraints
Fluctuation in prices
The greatest issue that these manufacturers have is figuring out how to produce even more electric energy at lower rates than they are now, taking into consideration the fact that raw material prices change greatly.
Fluctuating Cost of the Raw Material:
The price of raw materials is the main barrier to the manufacture of active electronic components. These prices are erratic and fluctuate greatly during the day. Labor expenses also raise the price of a finished good. The active electronic components market is severely constrained by this issue. Passive components typically come in the form of tailored pastes or powders. The most variable costs are associated with these materials. During September, the cost of these commodities climbed by more than 12%, indicating high demand. A significant concern for the electronics business is rising commodity prices. Supply networks may need to change significantly as a result of this. Price hikes may also reduce profitability because raw materials are important inputs in the production of finished high-tech products. Electronics businesses are therefore attempting to lessen the effects of these changes.
Opportunities
Growing penetration of smartphones
Smartphones and other wearable gadgets, as well as industrial automation, have boosted demand for active electronic components. The active electronic components market is boosted by rising demand for active electronic components from the automotive and healthcare industries, as well as rising technology usage. The deployment of active electronic components has accelerated as vehicle modernization and demand for technologically advanced automobiles has increased. The market's growth is fueled by the increasing use of active electronic components in consumer products and wearables, as well as the increasing usage of renewable energy resources. The rising use of active electronic components in connected devices is driving active electronic component adoption around the world.
Increase in the Production of the Semiconductors for Electronics and EVs:
An automobile manufacturer would run the risk of turning into an assembly plant if the majority of a product's economic value was produced by other industries. As a result of the pandemic's shortages of both conventional auto parts and semiconductor components, automakers are now thinking about expanding vertical integration into the design and production of semiconductors, particularly power devices for electric vehicles (EVs). For example, Bosch and BYD already had their own wafer fabs for producing power components that were self-designed. Federal programs and international strategic alliances will also fuel market expansion. For instance, in January 2023, the India Electronics and Semiconductor Association (IESA) and the U.S. Semiconductor Industry Association mutually announced plans to establish a commercial task group to improve cooperation between the two nations in the global semiconductor environment.
Challenges
High cost of raw materials
The costs of the raw resources required to produce this energy are volatile. They change dramatically from one day to the next, and even throughout the day. In addition, the cost of labor also adds to the final cost of the product. This is a major impediment to the active electronic components market's expansion.
Segment Insights
Product Type Insights
Semiconductor devices held nearly half of the revenue share in the global active electronic components market in the year 2022 and analyzed to witness robust growth during the forecast period. The growth of the segment is mainly due to on-going product innovation along with rising demand for energy efficient devices in the market. The semiconductor devices segment is further bifurcated into transistors, diodes, optoelectronic components, and integrated circuits. Out of these, integrated circuits held significant revenue approximately USD 90 Bn in 2019, attributed to the robust rise in demand for integrated circuits incorporated with state of art devices such as vehicle automation systems, laptops, and network devices among others. The significant adoption of semiconductor devices across a variety of applications, including household appliances, personal computers, mobile phones,and network equipment, is credited with the segment's rise. In addition, the current trend of shrinking and the development of energy-efficient systems is boosting demand for semiconductor devices and related components.
The segment with the highest revenue share was semiconductor devices. The strong use of semiconductor devices across many applications, including home appliances, personal computers, smartphones, network equipment, laptops, and many others, is credited with the market growth. Additionally, the demand for semiconductor devices and associated components is benefiting from the current trend of shrinking and creating energy-efficient systems. For instance, gallium nitride (GaN) is gaining popularity due to its potential to provide higher power density and improved efficiency compared to conventional silicon MOSFETs and insulated-gate bipolar transistors (IGBTs). Additionally, GaN devices' smaller size and improved efficiency translate into significant cost savings, while an increase in power density enables the placement of more processing power on the data center rack in the form of additional processors, graphics, and RAM.
Over the past few years, smartphones have registered significant growth in demand, especially across under-developed and developing nations. Additionally, the demand for 5G chipset is increasing enormously in the developed countries with the introduction of 5G-enabled smartphones, along with fuelling demand for vehicle automation systems and other telecom equipment. Thus, the increasing demand for 5G chipset is presumed to offer lucrative growth in the integrated circuits segment.
By End User
With the biggest revenue share in the market in 2022, the consumer electronics sector took the lead. The need for microelectronics appliances for different consumer products, video game consoles, and several gadgets is expected to increase, which is primarily responsible for the growth. The need for networking hardware, such as modems, repeaters, routers, and gateways, is also rising, particularly in the areas of corporate automation and home application. For instance, India's router sales increased sequentially by 17.8% during the third quarter of the 2022 calendar year but somewhat decreased by 1.4% YoY by vendor revenues. With a 63.3% market share, Cisco once again held the top spot, followed by Juniper (14.3%), Nokia (14.2%), Huawei (2.7%), and Ekinops (1%). Therefore, the enactment of active electronics constituents is expected to grow over the projected period as a result of the rising demand for network devices and other IT gear.
Key Companies & Market Share Insights
The global active electronic components market is fragmented and highly competitive in nature owing to presence of several global along with regional players in the market. The prime strategies adopted by the market players to secure their market position are global expansion, and merger & acquisition to reach out to maximum customers with variable needs. For instance, in June 2020, Diotec Corporation announced to expand its global presence by opening new production facilities worldwide. Similarly, on July 2016, Infineon Technologies AG announced to acquire RF power and Wolf speed Power divisions of Cree Inc. The agreement helped Infineon to strengthen its footprint in semiconductor industry. With this acquisition, the Company has entered into the list of leading suppliers of power and RF power solutions in emerging markets such as renewables, electro-mobility, and next-generation 5G infrastructure relevant for IoT. The company has also established new sales offices in Singapore and South Korea. Furthermore, increasing investment in the active electronic components market has forced market players to develop more effective and attractive components.
Recent Developments
In January 2023, The HiRel DC-DC converter business of Infineon, comprising its hybrid and custom board-based power products, has been definitively agreed to be acquired by Micross Components, Inc. ("Micross"), according to an announcement from Infineon Technologies AG. This sale will allow Infineon to decrease its emphasis on companies that need more specialized product offerings for the high-reliability market and increase investments, and its attention on core semiconductor advancements for that market.
In December 2022, In western Japan's Hyogo Prefecture, Toshiba revealed that it is going to build a new manufacturing facility for power semiconductors at the Himeji Operations. Production is expected to begin in the spring of 2025 once construction begins in 2024. In comparison to fiscal 2022, the project will almost treble Toshiba's Himeji manufacturing capabilities for automotive power semiconductors.Infineon Technologies AG announced in July 2016 that it would acquire Cree Inc.'s R.F. power and Wolf speed Power divisions. Infineon was able to strengthen its position in the semiconductor business as a result of the agreement.
NXP Semiconductors N.V. announced the SR100T, a secure fine-ranging chipset, in September 2019. This chipset is primarily developed to deliver very accurate positioning performance for next-generation Ultra-Wide Band (UWB)-enabled mobile devices.
Infineon Technologies AG purchased Cypress Semiconductor Corp. in June 2019 to expand its product portfolio and market position.
In December 2022, Texas Instruments, a market pioneer in high-voltage semiconductor products, revealed that the newest 65-W laptop power adapter, Le Petit, by Chicony Power will be powered by TI's integrated gallium nitride (GaN) technology. Chicony Power and TI worked together to develop a design that reduced the size of Chicony's energy converter by 50% and increased efficiency by up to 94% while utilizing TI's LMG2610 half-bridge GaN FET with an integrated gate driver.
Some of the prominent players in the active electronic components market include:
Infineon Technologies AG
Fairchild Semiconductor International, Inc.
Maxim Integrated Products Inc.
Texas Instruments, Inc.
Analog Devices, Inc.
ST Microelectronics NV
Diotec Semiconductor AG
ON Semiconductor
Toshiba Corporation
NXP Semiconductors NV
Everlight Electronics Co., Ltd.
Vishay Intertechnology, Inc.
Renesas Electric Corporation
Panasonic Corporation
Segments Covered in the Report
Global active electronic component market estimates revenue and its growth trend at global, regional, and country levels and offers a comprehensive study of the cutting-edge industry trends in every of the sub-segments from 2020 to 2032. This research study classified global active electronic components market on the basis of product type, and region:
By Product
Semiconductor Devices

Transistors
Diodes
Optoelectronic Components
Integrated Circuits

Display Devices

Cathode-ray Tubes
Microwave Tubes
X-ray Tubes
Triodes
Photoelectric Tubes

Optoelectronic
Vacuum Tubes
Others
By End User
Consumer electronics
Healthcare
Automotives
Aerospace and defense
Information Technology
Others
By Geography
North America
Europe
Asia-Pacific

China
India
Japan
South Korea
Malaysia
Philippines

Latin America

Brazil
Rest of Latin America

Middle East & Africa (MEA)

GCC
North Africa
South Africa
Rest of the Middle East & Africa