The global generative AI in healthcare market size was reached at USD 1.07 billion in 2022 and it is projected to surpass around USD 21.74 billion by 2032, growing at a CAGR of 35.14% over the forecast period 2023 to 2032.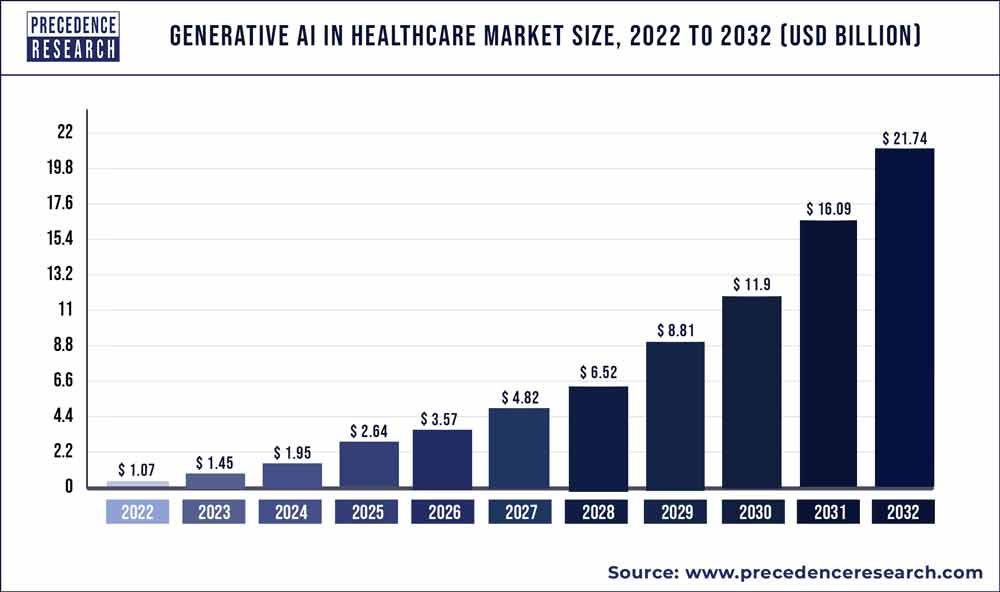 Key Takeaways:
North America contributed more than 37% of the revenue share in 2022.
Asia Pacific will witness significant growth during the forecast period.
By application, the clinical segment is expected to grow at a significant rate during the forecast period.
By function, the image analysis segment is predicted to dominate the market with the largest share during the forecast period.
By end-user, the diagnostic centers' segment is expected to lead the market in the analyzed timeframe.
Market Overview:
Generative AI, a subset of artificial intelligence (AI), is making significant strides in revolutionizing the healthcare industry. By leveraging advanced machine learning algorithms, generative AI models can create new data instances that closely resemble real-world healthcare data. These innovative techniques have the potential to transform various aspects of healthcare, ranging from diagnostics and disease prediction to drug discovery and patient care. Generative AI operates on the principle of Generative Adversarial Networks (GANs), which consist of two primary components such as a generator network and a discriminator network. The generator network is trained to generate artificial data, such as medical images, patients record, or molecular structures, while the discriminator network attempts to distinguish between real and generated data. Through an iterative and competitive process, these networks improve their performance, leading to the generation of highly realistic and useful data.
According to the recent survey report and analysis by Accenture, 98% of healthcare providers and 89% of payer executives agree that advances in AI generation are ushering in a new era of enterprise intelligence. Moreover, language-based AI might assist or enhance 40% of all healthcare worker hours. Furthermore, half of all healthcare companies intend to employ ChatGPT, an AI chatbot, for learning purposes this year, with more than half planning test projects.
Gartner stated in its recent report that 60% of the data required to create analytics and AI projects will be produced artificially by 2024.
According to the IBM Survey, the highest adoption rates of AI are seen in Chinese and Indian businesses, at around 60%. In the USA (25%), UK (26%), Canada (28%) and Australia (24%), the adoption of AI was at or below 50%.
Growth Factors:
The applications of generative AI in healthcare are diverse and far-reaching. It can assist in predicting diseases, identifying risk factors, and improving diagnostic accuracy by analyzing large volumes of medical records. Medical imaging can benefit from generating AI by generating artificial images that stimulate different conditions, aiding in training healthcare professionals and refining image techniques. Furthermore, it can be used for data anonymization, removing personally identifiable information while preserving statistical properties and ensuring patient privacy. The global generative AI in the healthcare market is being driven by several factors including growing collaboration among the key players, technological advancements, and growing research and development activities.
Report Scope of the Generative AI in Healthcare Market:
| | |
| --- | --- |
| Report Coverage | Details |
| Market Size in 2023 | USD 1.45 Billion |
| Market Size by 2032 | USD 21.74 Billion |
| Growth Rate from 2023 to 2032 | CAGR of 35.14% |
| Largest Market | North America |
| Base Year | 2022 |
| Forecast Period | 2023 to 2032 |
| Segments Covered | By Application, By Function, and By End User |
| Regions Covered | North America, Europe, Asia-Pacific, Latin America, and Middle East & Africa |

Market Dynamics:
Driver:
The advantages of AI in economic implications
AI use in healthcare has a major financial impact in terms of both cost reduction and revenue creation. For instance, AI-powered chatbots may provide members and patients with rapid and individualized help, cutting down on expensive ER visits and improving access to preventative care. By identifying patients who are likely to acquire chronic diseases, predictive analytics enables healthcare professionals to take early action and avoid the need for later, more expensive treatments. More than half of healthcare institutions are preparing pilot cases this year to test out ChatGPT, an AI chatbot, for learning reasons. Additionally, by seeing patterns and trends in massive datasets, AI may also help population health management, allowing healthcare companies to customize their services to the requirements of certain patients and member groups. In general, using AI in healthcare may reduce expenses, boost revenue, and enhance patient care. Thereby, this is expected to fuel the growth of the market over the forecast period.
Restraints:
Data quality and reliability
Generative AI models heavily rely on high-quality, diverse, and representative datasets for training. In healthcare, obtaining such datasets can be challenging due to issues like data fragmentation, bias, and lack of standardized data formats. Poor-quality or biased training data can lead to inaccurate or unreliable generative AI outputs, compromising the effectiveness and safety of applications. Thus, acting as a major restraint on market growth.
Opportunities:
Collaborative efforts and technological advancements
The generative AI market in healthcare is driven by collaborative efforts between technology providers, healthcare institutions, and research organizations. These collaborations foster the exchange of knowledge, resources, and expertise, pushing the boundaries of generative AI applications in healthcare. Additionally, advancements in AI technologies, computational power, and data availability contribute to the growth and sophistication of generative AI solutions. Thus, this is expected to open opportunities for the growth of the market during the forecast period.
For instance, in April 2023, to increase the use of artificial intelligence in electronic health records, Microsoft Corp. and Epic Systems Corp. Through their collaboration, the businesses will combine Epic's health record software with Microsoft's Azure OpenAI Service.
Segments Insight:
Application Insights:
Based on the application, the global generative AI in the healthcare market is segmented into clinical and system. The clinical segment is further divided into cardiovascular, dermatology, infectious disease, oncology and others. In addition, the system segment is further bifurcated into disease diagnosis, telemedicine, electronic health records, and drug interaction. The clinical segment is expected to dominate the market over the forecast period.
The growth in the segment is attributed to the use of generative AI in various domains in the healthcare industry. Generative AI is being used to enhance medical imaging in areas such as radiology and pathology. It can generate synthetic images that simulate different conditions, improve image quality, and aid in the analysis and interpretation of medical images. For example, generative AI can generate synthetic magnetic resonance imaging (MRI) or computed tomography (CT) scans to augment training data, refine imaging techniques, and assist in the detection and diagnosis of diseases.
Moreover, they are employed to improve diagnostics and disease prediction by analyzing large datasets of patient records. It can generate synthetic patient data that captures the statistical properties of real patient populations, allowing healthcare professionals to identify patterns, risk factors, and potential treatments. Thereby, driving the segment growth.
Function Insights:
Based on the function, the global generative AI in the healthcare market is segmented into AI-assisted robotic surgery, virtual nursing assistants, aid clinical judgment/diagnosis, workflow & administrative tasks and image analysis. The image analysis segment is expected to capture a significant market share during the forecast period. Generative AI techniques are used to enhance the quality and resolution of medical images. By generating synthetic images, generative AI models can improve clarity, reduce noise, and enhance the details of medical images obtained from various modalities such as MRI, CT scans, ultrasound, and X-rays.
This aids in better visualization, accurate interpretation, and improved diagnostic capabilities. Moreover, these models are employed to reconstruct and restore medical images. This includes tasks such as denoising, deblurring, and artifact removal. By training on large datasets of both corrupted and high-quality medical images, generative AI models can learn to reconstruct images, removing unwanted noise and artifacts, and producing clearer and more accurate representations of anatomical structures. Thus, the aforementioned characteristics of generative AI in image analysis drive market growth.
End User Insights:
Based on the end user, the global generative AI in the healthcare industry is divided into hospitals & clinics, clinical research, healthcare organizations, diagnostic centers, and others. The diagnostic centers segment is expected to dominate the market during the forecast period. Generative AI is used to assist radiologists and other healthcare professionals in the interpretation of medical images. By training on large datasets of labeled images, generative AI models can learn to detect and classify abnormalities, aiding in the diagnosis of various conditions. Thereby, propelling the market expansion.
Regional Insights:
North America is expected to dominate the market during the forecast period. The growth in the region is attributed to the growing adoption of the healthcare institution. Healthcare institutions in North America, including hospitals, clinics, and diagnostic centers, are increasingly recognizing the potential of generative AI and integrating it into their workflows. Generative AI is being applied in various clinical domains, such as radiology, pathology, and cardiology, to enhance diagnostic accuracy, optimize treatment planning, and improve patient outcomes.
The adoption of generative AI in these institutions is driven by the need for advanced tools and technologies that can augment healthcare professionals' capabilities and streamline healthcare processes. For instance, according to a study from Harvard University and McKinsey & Company, increased AI use might help the United States save 5% to 10%, or $200 billion to $360 billion annually. Therefore, the growing adoption of generative AI in healthcare institutions is expected to drive market growth in the region.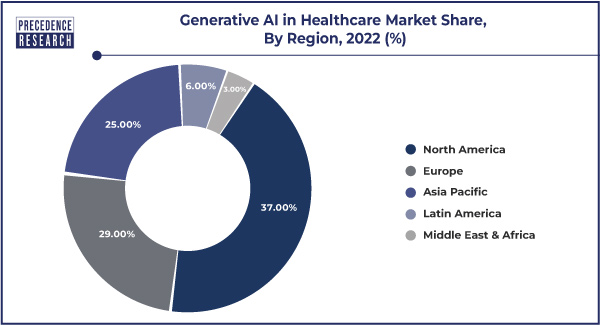 Asia Pacific is expected to grow at the highest CAGR over the forecast period owing to the large and diverse patient population and increasing government initiatives. The region has a large and diverse patient population, providing a rich dataset for training generative AI models. The availability of diverse data enables the development of robust and accurate generative AI algorithms, leading to improved diagnosis, treatment planning, and patient outcomes.
Generative AI models trained on data from the Asia Pacific can account for unique regional characteristics and diseases. In addition, governments in the region are actively promoting AI adoption in healthcare and supporting research and development in the field. They provide funding, infrastructure, and regulatory frameworks to encourage the growth of generative AI in healthcare. These initiatives foster collaborations between industry, academia, and healthcare institutions, accelerating the development and adoption of generative AI solutions. Thus, this is expected to drive the regional growth.
Recent Development:
In June 2023, the development of strong, generative AI services for businesses throughout the world was announced by Oracle. In partnership with Cohere, a top enterprise AI platform, Oracle will offer native generative AI capabilities to assist businesses in automating end-to-end business processes, enhancing decision-making, and improving customer experiences. Oracle generative AI services, which span applications and infrastructure and strive to offer the greatest levels of security, performance, and value in the market, are built on Oracle Cloud Infrastructure (OCI) and make use of Oracle's special supercluster capabilities.
In May 2023, IKS Health, a platform for empowering healthcare providers, and Abridge, a platform for generative AI in healthcare, announced a broad collaboration to develop and implement AI-based solutions that may decrease the administrative burden that is now contributing to staffing shortages and provider burnout. IKS will use Abridge's generative AI over the upcoming months to improve the efficiency of its clinical documentation services. In exchange, IKS will quicken the development of Abridge's key AI technologies by providing input from their sizable staff of medical specialists. This cooperation between the parties, made possible by IKS Strategic investment in Abridge, promotes both organization's goals of expanding their influence throughout the healthcare system at a time when expenditures and levels of clinician burnout are at an all-time high.
Key Market Players:
Syntegra
NioyaTech
Saxon
IBM Watson
Microsoft Corporation
Google LLC
Tencent Holdings Ltd.
Neuralink Corporation
Johnson & Johnson
OpenAI
Oracle
Segments Covered in the Report:
(Note*: We offer reports based on sub segments as well. Kindly, let us know if you are interested)
By Application
Clinical

Cardiovascular
Dermatology
Infectious Disease
Oncology
Others

System

Disease Diagnosis
Telemedicine
Electronic Health Records
Drug Interaction
By Function
AI-Assisted Robotic Surgery
Virtual Nursing Assistants
Aid Clinical Judgment/Diagnosis
Workflow & Administrative Tasks
Image Analysis
By End User
Hospitals & Clinics
Clinical Research
Healthcare Organizations
Diagnostic Centers
Others
By Geography
North America
Europe
Asia-Pacific
Latin America
Middle East and Africa