The global RFID in Healthcare market is expected to garner revenue around US$ 12 billion by 2027 and predicted to register a compound annual growth rate (CAGR) of around 21% during period 2020 to 2027.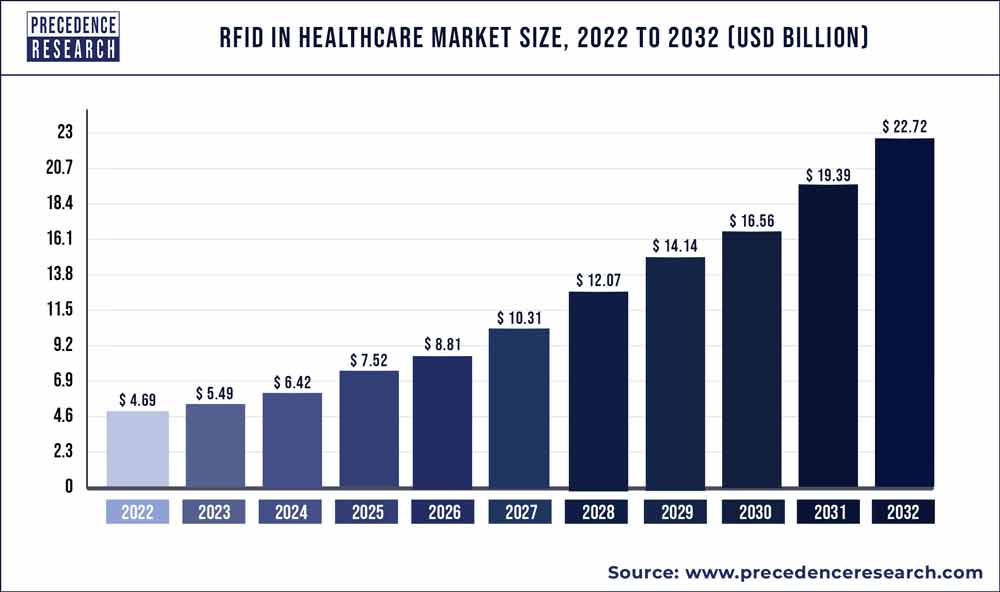 Growth Factors
RFID technology in healthcare sector is predicted to witness a outstanding growth in near future. Some of the prominent factors accelerating growth of Improvement RFID in Healthcare market include inventory management in pharmacies, hospitals, and biotechnology companies, enhanced patient security by healthcare providers. Further, high efficiency and low-cost of the RFID systems and implementation of automated process in pharmacies and hospitals are spurring market demand. Also, intensifying research and development operations by non-profit organizations and rigorous strategies adopted by top participants like expansion, mergers, and partnership for the development of new fangled technologies to reinforce RFID in healthcare also improving the growth of the market. For illustration, Harland Simon, a chief provider of location tracking solutions partnered with PervasID for presenting novel RFID reader technology to the market. It is Cambridge-based and award-winning technology firm.
The Growing requirement to avert expiry, spoilage, and counterfeit products from coming in the market and cumulative requirement to helping adherence to the FDA's Drug Supply Chain Security Act, MHRA and other regulatory establishments. The growth of this market is powered by the snowballing installation of RFID in manufacturing units for efficiency enhancement; augmented practice of access and security control application and swelling government initiatives. Huge implementation of RFID technology in retail sector, and development in the RFID ecosystem via organic growth strategies like acquisitions and mergers, and collaborations further aiding in market progression.
However, few limiting aspects for the development of the healthcare RFID market are more installation cost of RFID systems in healthcare and systems interoperability. RFID adoption in any industry needs huge investment for readers, tags, software, electricity and running replacement services. Further additional features like IoT integration, accuracy checking of system, and training charges increases expenses for RFID solution.
Product Insights
Different products in healthcare RFID product market comprise monitors, RFID tags, printers, software and readers among others. RFID tags can be employed for pharmaceutical and asset tracking, patient and blood monitoring systems tracking. Whereas the hardware and software are employed for displaying and reading the information on the RFID tags. Among product segmentation, RFID systems are projected to grasp the principal market stake over the prediction period. These systems are normally employed for equipment, personnel and inventory tracking healthcare settings and in hospitals. Additionally, these systems are employed for patient monitoring and to avert distribution of forged devices and drugs.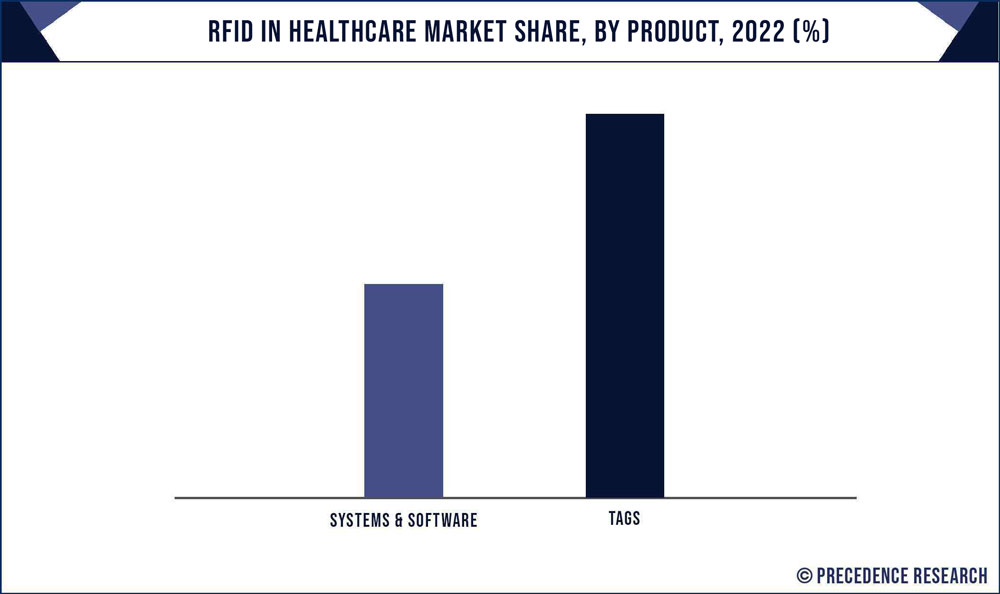 Owed to features such as low cost, small size and extended lifetime, passive tags are anticipated to gain more grip compared to active tags. Passive UHF RFID tags have also observed a large acceptance after the development of RAIN RFID alliance. With members like AIDC industry association AIM Global, Impinj, Google, Intel and SMARTRAC, the alliance has efficiently worked on spread of alertness among the users and probable customers.
Application Insights
Different applications assessed in RFID in healthcare market report are tracking and monitoring. Pharmaceutical tracking application generates the prominent revenue due to growing acceptance of the technology to recognize the counterfeit drugs. Pharmaceutical tracking systems are measured helpful to patients, organizations, and supply chain partners. In recent times, there has been an upsurge in the propagation and distribution of forged drugs that stance an augmented risk for health hazards.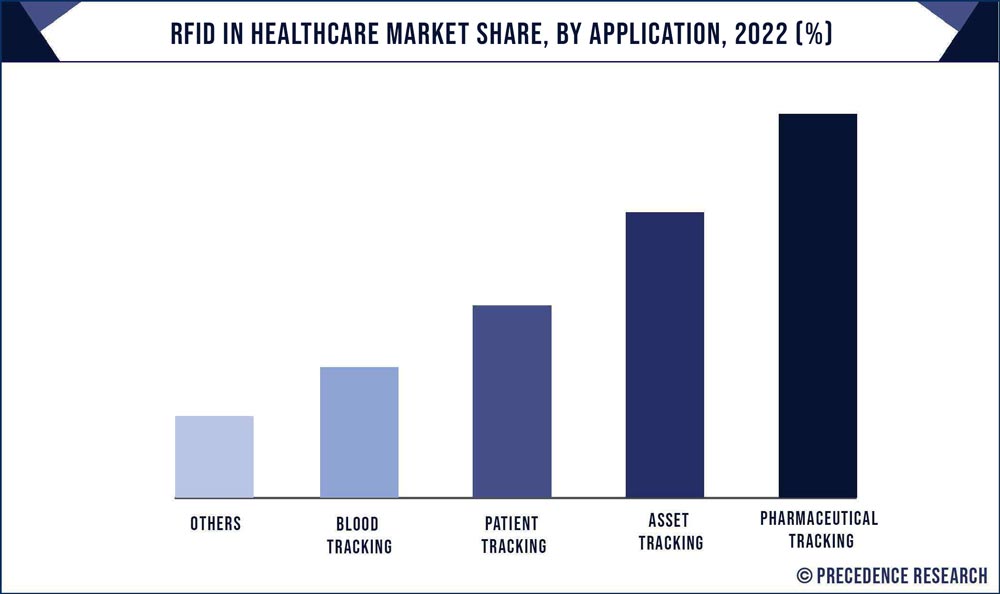 The RFID technology supports in detection and screening of such drugs and aid in ceasing from the spreading in the market. Besides, this technology helps pharmaceutical companies for efficient inventory managing tasks and minimalizing the labelling blunders. These compensations help lessen the wastes and thus cuts the undesirable costs incurred.
Regional Insights
North America dominated the global healthcare RFID marketplace due to cumulative number of hospitals and existence of regulations on patient safety. Europe can assume to be the second-most profitable market for healthcare RFID systems. The regional market benefits from promising government support in terms of funding and the rigorous support of for the development of healthcare sector. Moreover, growing research and development in the region offers lucrative avenues for the market expansion during near future.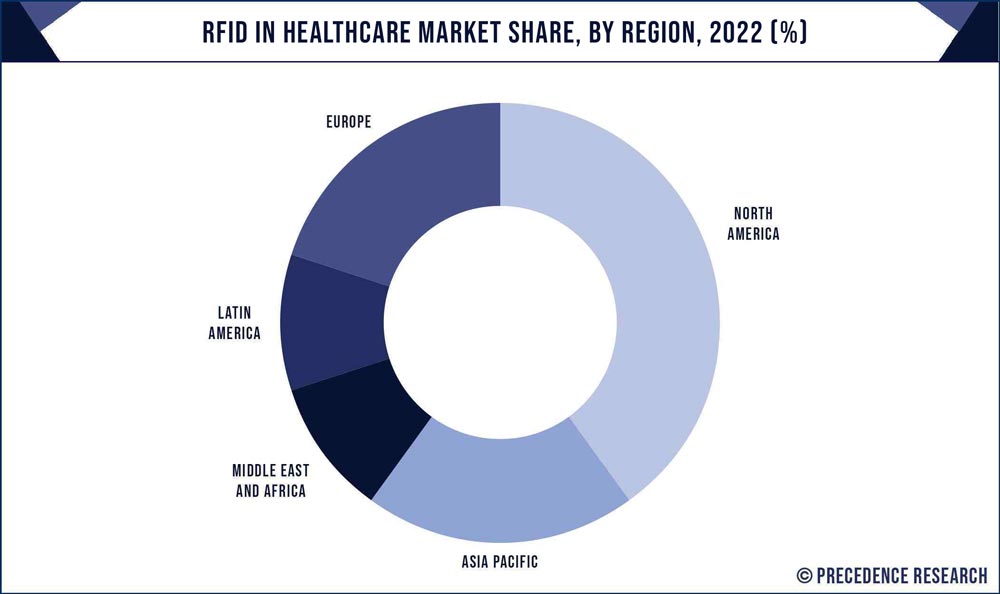 Asia Pacific is anticipated to be the fastest budding healthcare RFID market throughout the estimate period on account of refining healthcare infrastructure, increasing investments in healthcare sector and developments by market participants in the region. Also, nations such as China and India are seeing the fastest progressions owing to the growing government emphasis on implementation of novel technology, and the finest treatment selection from a developed country.
Key Companies & Market Share Insights
Major companies are concentrating on the strategies such as new-fangled product promotions and expansions, advances, contracts, and partnerships to augment their product offerings and inflate their business. Likewise, they have introduced advanced technologies in tags and gateways which are presently encouraging the growth of RFID market.
Certain significant players in the RFID in Healthcare market include:
CenTrak
metraTec GmbH
SpaceCode
Zebra Technologies Corporation
Impinj
Biolog-id
Terso Solutions
Tagsys RFID
Carinal Health
Mobile Aspects
Pepperl+Fuchs
Scope of the RFID in Healthcare Market Report
| | |
| --- | --- |
| Report Highlights | Details |
| Market Size | USD 12 Billion by 2027 |
| Growth Rate | CAGR) of 21% From 2020 to 2027 |
| Base Year | 2020 |
| Historic Data | 2017 to 2020 |
| Forecast Period | 2020 to 2027 |
| Segments Covered | Product, Application |
| Regional Scope | North America, APAC, Europe, Latin America, MEAN, Rest of the World |
| Companies Mentioned | Applied Wireless Identifications Group, Inc., Gao RFID, Inc., Honeywell International Inc., STiD RFID.CAEN RFID S.r.l., Alien Technology Corporation, Impinj Inc Mobile Aspects, Inc., Motorola Solutions, Inc. |
Segments Covered in the Report
This research report includes complete assessment of the market with the help of extensive qualitative and quantitative insights, and projections regarding the market. This report offers breakdown of market into prospective and niche sectors. Further, this research study calculates market revenue and its growth trend at global, regional, and country from 2016 to 2027. This report includes market segmentation and its revenue estimation by classifying it on the basis of product, application and region as follows: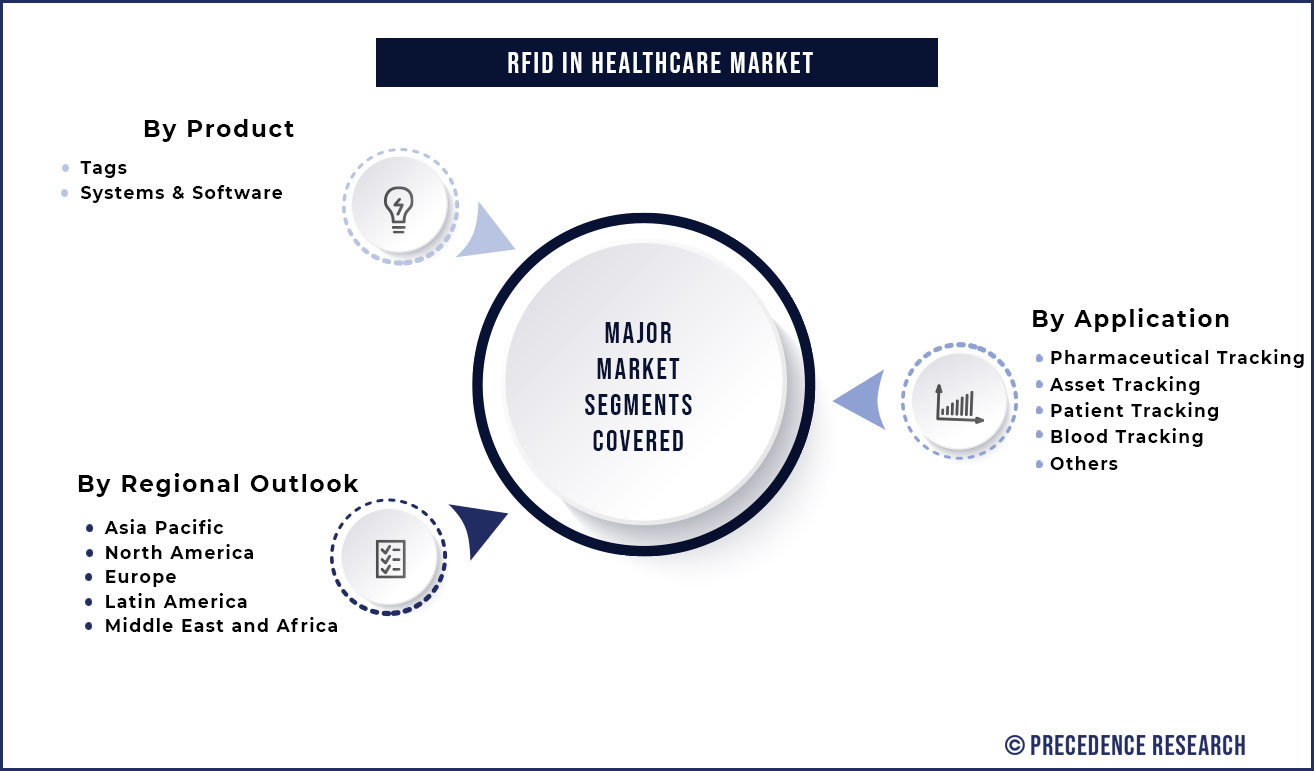 By Product
By Application
Pharmaceutical Tracking
Asset Tracking
Patient Tracking
Blood Tracking
Others
By Regional Outlook
North America
Europe
Asia Pacific

China
India
Japan
South Korea

Middle East & Africa
Latin America