The global RFID in pharmaceuticals market size was estimated at USD 6.13 billion in 2022 and it is expected to be worth around USD 13.28 billion by 2032, expanding at a CAGR of 8.04% during the forecast period from 2023 to 2032.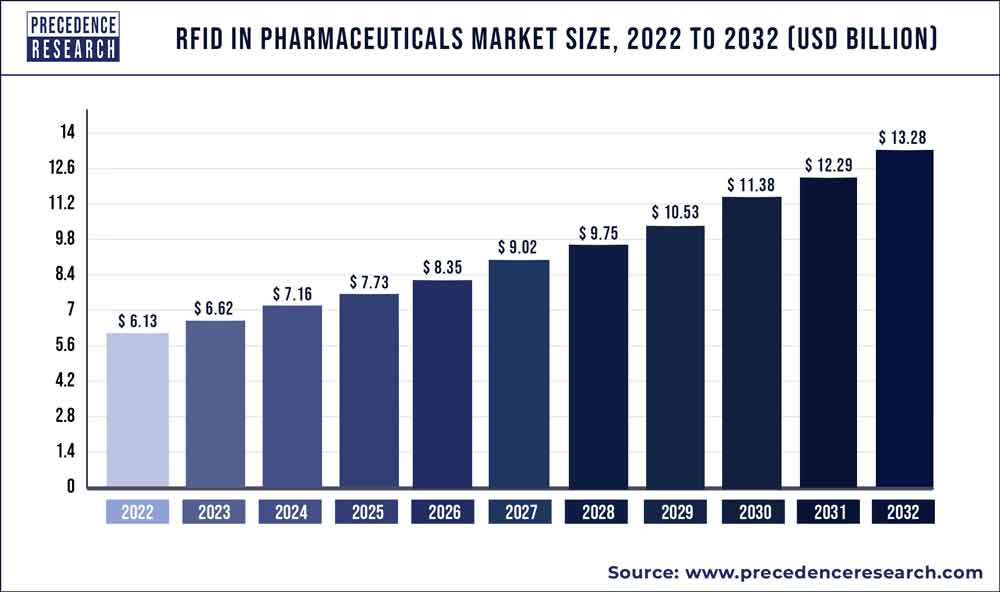 Key Takeaways:
North America dominated the global market with the largest market share of 49% in 2022.
By Component, the RFID tags segment dominated the market with the maximum market share of 42% in 2022.
By Type, the chipped RFID segment contributed more than 65% of revenue share in 2022.
By Application, the drug track & tracing systems segment dominated the market in 2022 with the highest market share of 52% in 2022.
By end-user, the drug manufacturers segment captured more than 43% of revenue share in 2022.
Market Overview:
Radiofrequency identification technology or RFID technology in the pharmaceutical industry involves the utilization of small electronic tags, labels and equipment that restore information about the tagged item and enables communication between the tag and RFID readers. RFID allows real-time tracking of pharmaceutical products as they move through the supply chain. This enables better inventory management and improves the overall efficiency of the distribution process.
RFID involves tagging items with small electronic chips that transmit data via radio waves to a reader device. In the pharmaceutical sector, RFID tags can be affixed to individual drug packages. Moreover, RFID plays a crucial role in ensuring patient safety by enabling accurate medication verification and authentication. Healthcare providers can quickly verify the authenticity and expiration of drugs, reducing the risk of administering expired or counterfeit medicines.
Growth Factors:
The pharmaceutical industry is witnessing an increased adoption of radio frequency identification technology due to several growth factors, the requirement of smooth and efficient supply chain promotes the market's growth. In addition, governments across the globe are focused on developing strategies that can leverage the overall efficiency and productivity of the pharmaceutical industry to meet the demand. This factor also supports the growth of the market.
Additionally, the demand for improved patient-centric care is pushing pharmaceutical companies to invest in RFID-enabled smart packaging. This facilitates medication adherence through reminders, dosage instructions and expiry date alerts, ultimately promoting patient well-being.
Report Scope of the RFID in Pharmaceuticals Market:
| | |
| --- | --- |
| Report Coverage | Details |
| Market Size in 2023 | USD 6.62 Billion |
| Market Size by 2032 | USD 13.28 Billion |
| Growth Rate from 2023 to 2032 | CAGR of 8.04% |
| Largest Market | North America |
| Base Year | 2022 |
| Forecast Period | 2023 to 2032 |
| Segments Covered | By Component, By Type, By Application, and By End-User |
| Regions Covered | North America, Europe, Asia-Pacific, Latin America, and Middle East & Africa |

Market Driver:
Increasing cases of counterfeit drugs
RFID offers precise, real-time tracking and identification across the pharmaceutical supply chain, which helps fight the spread of counterfeit pharmaceuticals. Assuring the legitimacy and integrity of drug products enables them to be marked with distinctive identifiers that can be electronically scanned, followed, and traced from manufacture to distribution.
In August 2023, the Central Drugs Standard Control Organization (CDSCO) East Zone operated and recovered around two crores from prominent producers of fake medications. RFID technology's improved supply chain visibility allows pharmaceutical companies to swiftly detect and eliminate fake goods.
Additionally, it aids in lowering the possibility that counterfeit pharmaceuticals would enter the market, preserving patient safety and the excellent name of pharmaceutical producers. By integrating RFID, stakeholders will be able to confirm product origins, expiration dates, and the proper storage conditions of medications. Transparency increases trust in the legitimacy of the pharmaceuticals handled or ingested among regulators, pharmacists, and patients.
Market Restraint:
Data privacy and concerns
Pharmaceutical items may have RFID tags attached, including private data, patient information, health history, and prescription details. Illegal access or data breaches may jeopardize patient privacy, resulting in identity theft or unauthorized utilization of medical records. RFID technologies can potentially unintentionally gather more data than they were designed to. For instance, RFID scanners installed in pharmacies may be able to monitor customer activity and movement, which raises privacy and surveillance issues. Wirelessly transmitted or stored data on RFID tags is open to interception and illegal access. Critical medical data, such as prescription information and patient histories, could fall into the hands of hackers, raising safety concerns and the possibility of misuse.
Market Opportunity:
Technological advancement in data analytics and insights
RFID technology enables real-time gathering of information and supply chain monitoring by tracking and identifying goods and assets via radio waves. By integrating modern data analytics, pharmaceutical firms can use RFID to get important insights into their operations. This entails keeping track of inventory levels, tracking drug transportation, assuring regulatory adherence, and improving overall supply chain effectiveness.
Companies can enhance inventory management, cut waste, stop counterfeiting, and increase patient safety by guaranteeing the authenticity of drugs by evaluating the data gathered by RFID tags. Furthermore, data analysis can make it easier for pharmaceutical manufacturing facilities to perform predictive maintenance on their gear and equipment. Companies may predict possible equipment failures and arrange care when disruptions happen via analysis of RFID-generated data, decreasing downtime and increasing productivity.
Data analytics can also help spot trends and patterns in patient conduct, adherence to medicine, and therapy results. Pharmaceutical companies can create individualized treatments and interventions using this data, eventually enhancing the patient experience and healthcare delivery. Thus, technological advancements in data analytics and insights present significant opportunities for the market.
Segments Insight:
Component Insights:
The RFID tags segment is expected to hold the dominating share throughout the forecast period. RFID technology can track it quickly and accurately without counting every item. With RFID applications, it is possible to quickly determine the quantity of any item and its position or state during processing. RFID-based tags can store a lot of data and allow for the addition of more data. RFID tags can be developed as per specifications such as the shape, composition, and purpose of various pharmaceuticals to be traced.
Type Insights:
The chipped RFID segment is expected to grow at a significant rate during the forecast period. The implanted microchips offer higher security and authentic verification, which aids in the fight against drug fraud and guarantees that patients receive accurate prescriptions. If a product needs to be recalled, chipped RFID tags make it possible to identify the damaged batches quickly and precisely, limiting the effects on patients and the expenses related to widespread recalls.
The information gathered from chipped RFID tags can be evaluated to streamline supply chain operations, increase distribution effectiveness, and pinpoint places where money can be saved. Pharmaceutical products that require specific storage conditions can be monitored in real-time using chipped RFID tags with temperature and humidity sensors, preserving the quality and safety of the final product.
Application Insights:
The drug track & tracing systems segment is expected to be dominant in the RFID in the pharmaceuticals market throughout the forecast period. The drug tracing system gives unified end-to-end control and management of drugs from the producer and distributor, through intermediary wholesalers, through the healthcare institutions who purchase medicines, and finally to the patients who obtain the prescriptions. To accomplish product traceability across numerous enterprises and companies, it is necessary to be able to identify specific objects using barcodes or RFID automatic identification tags.
The drug quality management segment is the fastest growing in the RFID in the pharmaceuticals market. RFID technology provides a reliable and practical approach to tracking and monitoring pharmaceutical items throughout their entire lifecycle, confirming their authenticity and quality. Pharmaceutical businesses are using RFID technology more and more to improve their drug quality control procedures. RFID tags allow it to monitor humidity, temperature, and other environmental factors while storing and transporting individual medicine packages. This guarantees that medications are stored in the best possible circumstances, avoiding potential degradation and retaining efficacy.
RFID-enabled serialization and track-and-trace systems also contribute to the fight against fake medications by offering a safe way to identify and confirm the legitimacy of pharmaceutical products. This is essential for protecting patient safety and preserving the standing of pharmaceutical companies. As the emphasis on delivering genuine medications with stringent regulations, the segment is expected to grow.
End-User Insights:
The drug manufacturers segment is expected to be dominant in the RFID in the pharmaceuticals market during the forecast period. The growing utilization of RFID technology in the overall pharmaceuticals industry is driven by drug producers. Throughout the supply chain, RFID enables enhanced tracking and drug verification, improving safety and lowering the chance of counterfeiting. This technology also makes real-time inventory and distribution tracking possible, which helps with enhanced overall management and legal compliance.
The hospitals & clinics segment shows a significant growth in the RFID in the pharmaceuticals market during the predicted period.
Medications and pharmaceuticals are some of a hospital's most frequently utilized and necessary items. Therefore, the requirement for supply chain increases. It should also include biodegradable medical equipment, including masks, syringes and gloves. Medication and surgical supplies are costly. As a result, healthcare facilities must keep inventory and records of these items. Only surveillance makes it possible to safeguard significant investments. Such requirements from the hospitals are observed to promote the growth of the segment.
Regional Insights:
North America has its largest revenue share in 2022 and is expected to sustain in the RFID in the pharmaceuticals market throughout the predicted timeframe. North America has been at the forefront of research and development in RFID technology and its applications. Universities, research institutions, and technology companies in the region have contributed to advancements in RFID systems, leading to innovative solutions tailored to pharmaceutical use cases. Collaborative efforts between technology providers, pharmaceutical companies, and regulatory bodies in North America have further accelerated the adoption of RFID technology. These collaborations have led to the development of industry-specific standards and best practices.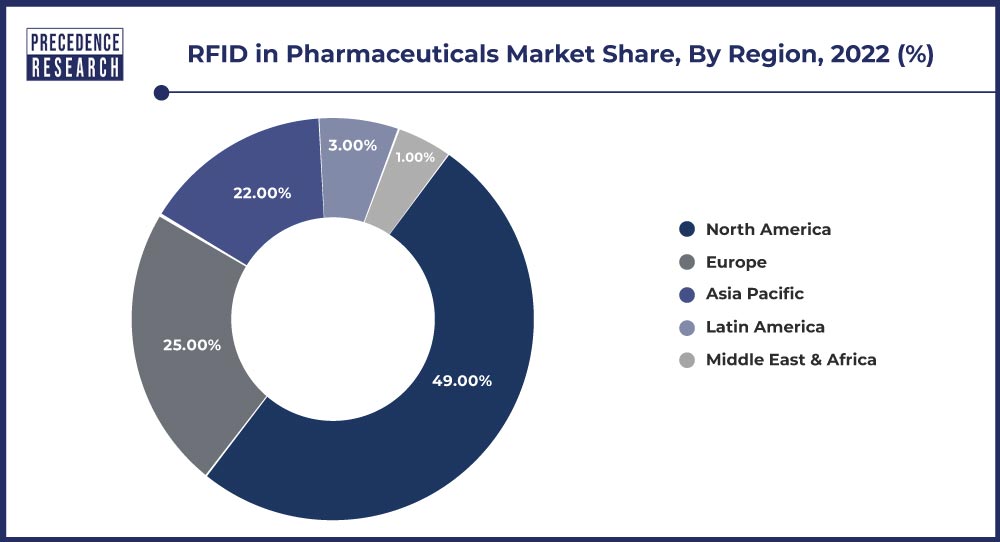 Asia Pacific is expected to expand at a robust rate during the forecast period. Asia Pacific has been experiencing growth in its pharmaceutical market due to factors like increasing population, rising healthcare awareness, and expanding access to healthcare services. This growth has likely led to a higher demand for efficient supply chain management, which RFID can help address. Counterfeit medicines pose a significant threat in many countries within the Asia Pacific region. RFID technology can help in tracking and authenticating drugs throughout the supply chain, reducing the circulation of fake drugs and enhancing patient safety.
Recent Developments:
In April 2023, the release of Teamwork Commerce's RFID-Powered Self-Checkout solution, intended to streamline the process of paying for in-store consumers, was declared at its headquarters in Florida, USA.
In November 2022, Schreiner MediPharm and SCHOTT Pharma started working together. It attempts to create fresh, clever ideas that give prefilled syringes more functionality.
Key Market Players:
Zebra Technologies Corp.
CCL Healthcare
Fresenius Kabi AG
GAO RFID Group
Tageos
Alien Technology, LLC.
Avery Dennison Corporation
Impinj Inc.
Bluesight
Terso Solutions Inc.
Segments Covered in the Report:
(Note*: We offer reports based on sub-segments as well. Kindly, let us know if you are interested)
By Component
RFID Tags
RFID Readers
RFID Middleware
By Type
Chipped RFID
Chipless RFID
By Application
Drug Track & Tracing Systems
Drug Quality Management
Others
By End-User
Drug Manufacturers
Hospitals & Clinics
Others (Distributors, Retailers)
By Geography
North America
Europe
Asia-Pacific
Latin America
Middle East and Africa