The global cannabis pharmaceuticals market size reached USD 3.6 billion in 2022 and is projected to hit around USD 430.51 billion by 2032, expanding a CAGR of 61.4% during the forecast period from 2023 to 2032.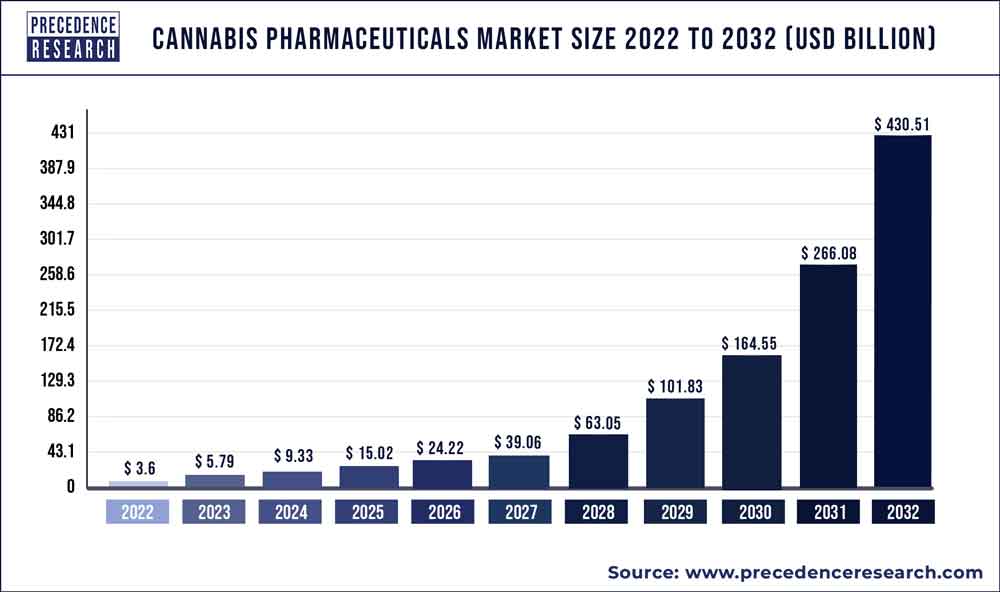 Access our Premium Real Time Data Intelligence Tool, Visit: Precedence Statistics
Key Takeaways
North America contributed more than 37% of revenue share in 2022.
Asia-Pacific is estimated to observe the fastest expansion during the forecast period.
By Product, the sativex segment has held the largest revenue share in 2022.
By Product, the epidiolex segment is anticipated to grow at the fastest CAGR during the projected period.
By Distribution Channel, the hospitals segment led the global market in 2022.
By Distribution Channel, the retail sales segment is expected to expand at the fastest CAGR over the projected period.
Cannabis Pharmaceuticals Market in the U.S. 2023-2032
The U.S. cannabis pharmaceuticals market size was valued at USD 0.77 billion in 2022 and is estimated to reach around USD 48.72 billion by 2032, growing at a CAGR of 51.4% from 2023 to 2032.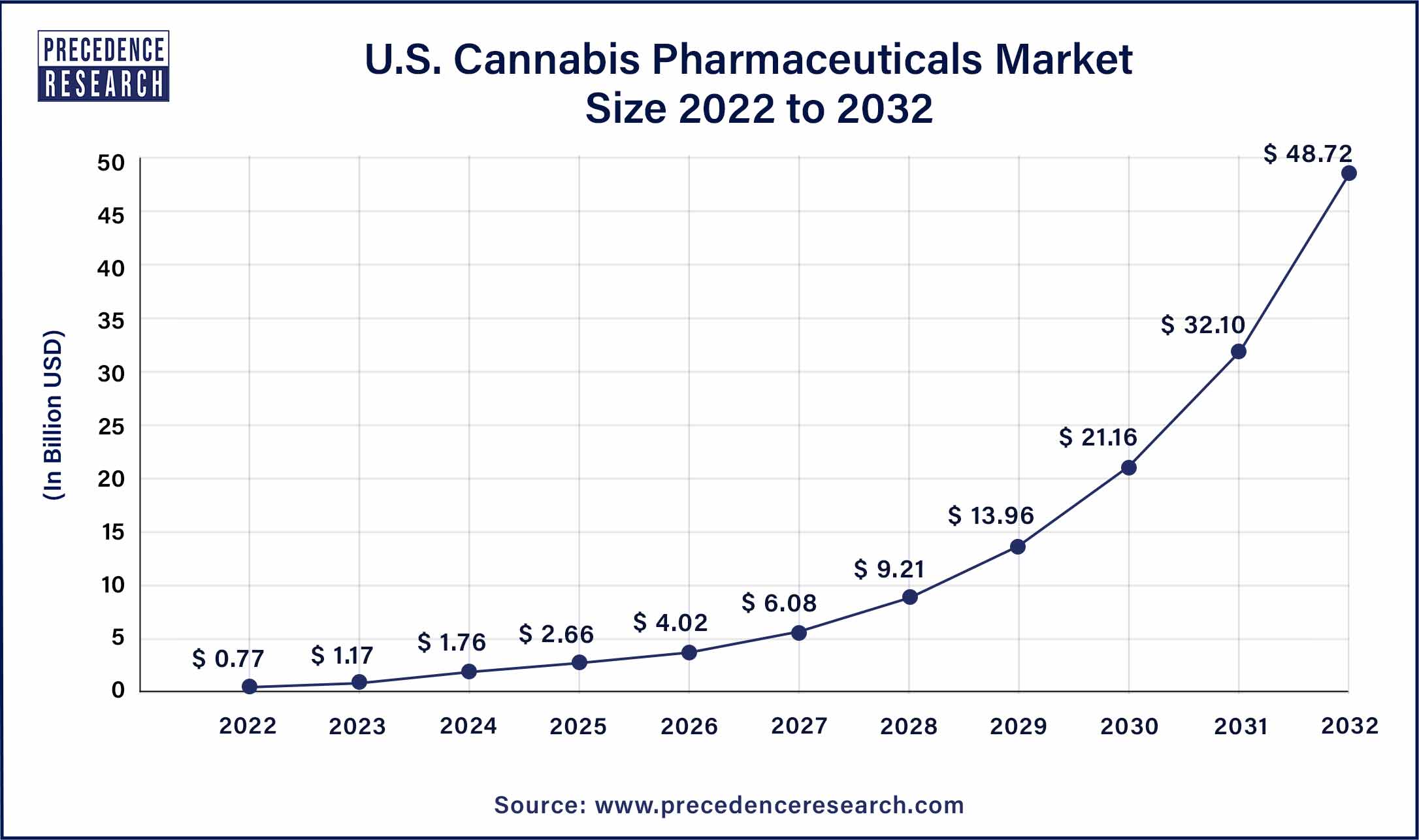 North America held the largest revenue share in cannabis pharmaceuticals in 2022. This is due to the increasing acceptance of medical cannabis. Legalization for medical use in various U.S. states and canadian provinces has spurred research and development. Epidiolex, Marinol, Sativex, and Cesamet are notable products. The region's robust healthcare infrastructure, rising patient awareness, and evolving regulatory frameworks contribute to market expansion.
Asia-Pacific is estimated to observe the fastest expansion in the cannabis pharmaceuticals market in 2022. This is because countries such as Australia, Thailand, and South Korea have legalized or initiated medical cannabis programs. The market is characterized by increasing patient demand, regulatory developments, and research initiatives. Epidiolex, Marinol, and Sativex are some of the products gaining attention. However, challenges include varying degrees of acceptance, regulatory hurdles, and the need for further clinical research to unlock the full medical potential of cannabis-derived medicines.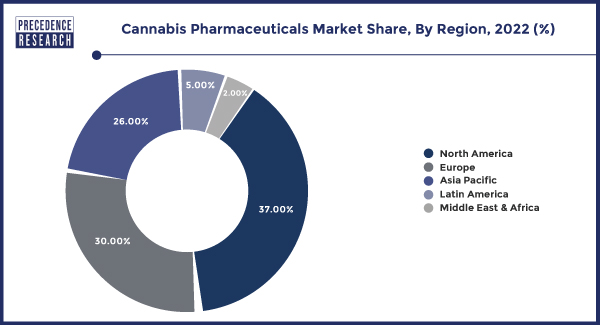 The European cannabis pharmaceuticals market is anticipated to grow at a high rate during the forecast period. This is due to the several European countries have adopted medical cannabis programs, facilitating the development and distribution of pharmaceutical products such as Epidiolex, Sativex, and Marinol. The region's mature healthcare infrastructure, increasing patient awareness, and evolving regulatory frameworks contribute to market expansion.
Cannabis Pharmaceuticals Market Overview
The cannabis pharmaceutical market is a sector of the pharmaceutical industry focused on the development, manufacture and distribution of medicinal products derived from the cannabis plant. Cannabis consists various active compounds such as cannabinoids that received significant attention due to their therapeutic potential in treating various medical conditions.
The market involves research institutes and pharmaceutical companies working to harness the medicinal properties of cannabinoids, such as cannabidiol (CBD) and tetrahydrocannabinol (THC), to create pharmaceutical drugs. Specific conditions such as epilepsy, multiple sclerosis, and chronic pain are the targets of these drugs. With an increasing number of countries legalizing medical cannabis and recognizing its therapeutic value cannabis pharmaceuticals market expected substantial growth during the forecast period.
In addition, the market is also seeing innovations in drug delivery methods, such as oral sprays, capsules, and transdermal patches, to optimize patient experience and outcomes. The growing landscape of cannabis pharmaceuticals holds promise for patients seeking alternative treatments and creates opportunities for companies to shape the future of cannabis-based medical therapies.
Growth Factors
The cannabis pharmaceutical market is expected to grow at a high rate during the forecast period, driven by various factors such as regulatory changes, increasing adoption, investments and changes consumer preferences, which will make it a dynamic sector in the pharmaceutical industry. The growing acceptance of medical cannabis as a sustainable treatment option for many medical conditions is one of the key factors driving demand in the medicinal cannabis market.
Clinical research and patient testimonials have demonstrated the effectiveness of cannabinoids like CBD and THC in controlling epilepsy, chronic pain, anxiety, and others. According to the report, globally around 15-40% of people with inflammatory bowel disease (IBD) rely on cannabinoids and cannabis to decrease the necessity for other medications, as well as increase appetite and relieve pain. Thus, this helps in surging number of countries and states are legalizing medical cannabis, forming a larger potential patient pool.
Moreover, changing regulatory landscapes and decreasing stigmas surrounding cannabis are encouraging pharmaceutical companies to invest heavily in research and development, leading to the creation of new cannabis-based pharmaceuticals. The development of standardized, pharmaceutical-grade products with precise dosing and delivery methods is a significant driver of growth within the industry. For instance, in August 2023, Department of Health and Human Services announced that it asked drug enforcement agency (DEA) to review of its classification under the Controlled Substances Act and consider easing restrictions on cannabis.
The DEA will may move cannabis to a Schedule III drug, alongside anabolic steroids, ketamine, and testosterone as a substance that has moderate to low potential for psychological or physical dependence. Investor interest and capital infusion are also bolstering the cannabis pharmaceuticals market. As the sector gains legitimacy, venture capital and pharmaceutical giants are entering the market, bringing substantial resources and expertise. This influx of investment is accelerating research, development, and commercialization efforts. Thus, these strategies will further drive demand across the market.
Cannabis Pharmaceuticals Market Scope
| | |
| --- | --- |
| Report Coverage | Details |
| Growth Rate from 2023 to 2032 | CAGR of 61.4% |
| Market Size in 2023 | USD 5.79 Billion |
| Market Size by 2032 | USD 430.51 Billion |
| Largest Market | North America |
| Base Year | 2022 |
| Forecast Period | 2023 to 2032 |
| Segments Covered | By Product and By Distribution Channel |
| Regions Covered | North America, Europe, Asia-Pacific, Latin America, and Middle East & Africa |

Cannabis Pharmaceuticals Market Dynamics
Driver
Increasing legalization and decriminalization of cannabis
As more countries and states legalize medical cannabis, a broader and more accessible patient base emerges. Patients who were previously unable to access cannabis-based therapies legally now have the opportunity to explore these treatments under the guidance of healthcare professionals. This expanded patient pool drives up demand for pharmaceutical-grade cannabis products designed to address specific medical conditions, from chronic pain and epilepsy to nausea associated with chemotherapy. Furthermore, the relaxation of legal restrictions fosters an environment conducive to robust research and development that further drive demand for the market.
For instance, in August 2023, Germany's government approved a proposal to ease its rules on cannabis. Also, Switzerland announced that it is allowing some people to buy recreational cannabis from pharmacies and the Czech government expected to propose a similar proposal to the one Germany has just approved. Moreover, pharmaceutical companies are gradually investing in cannabis-related research to create innovative, scientifically validated medications. This investment includes the development of precise dosing methods, standardized formulations, and novel delivery systems, enhancing the overall quality and safety of cannabis pharmaceuticals.
In addition, more healthcare providers are open to integrating cannabis-based treatments into their practice which further boosts demand for the cannabis pharmaceutical. Pharmaceutical companies and researchers are working closely with medical professionals to ensure that cannabis pharmaceuticals are prescribed and administered effectively and responsibly. Thus, the increasing legalization and decriminalization of cannabis are driving demand for the cannabis pharmaceuticals market by expanding the patient base, encouraging research and development, and fostering greater acceptance within the medical community.
Restraints
Quality control and standardization
The legalization of cannabis for medical purposes has opened up new opportunities, ensuring consistent quality and safety poses a significant challenge. Regulatory bodies are imposing stringent requirements on cannabis products, demanding rigorous testing and standardization protocols to guarantee the absence of contaminants and consistent dosages. This level of oversight can be expensive and time-consuming for companies operating in the cannabis pharmaceuticals sector, potentially driving up production costs.
Moreover, standardization may limit product variety and innovation. Cannabis is a complex plant with numerous chemical compounds, each potentially offering different therapeutic benefits. Strict standardization could stifle the exploration of novel cannabinoid combinations and formulations.
In addition, stringent quality control measures may deter potential investors and manufacturers, particularly smaller players, due to the high cost of compliance and fear of regulatory uncertainties. Thus, while quality control and standardization are essential for ensuring patient safety and product efficacy in the cannabis pharmaceuticals market, excessive regulatory burden and uniformity requirements may hamper market growth by increasing costs and limiting product diversity and innovation.
Opportunities
Investment in research and development
Cannabis pharmaceutical sector is distinctively placed to benefit from substantial research and development (R&D) investments due to the complex nature of the cannabis plant and its probable to transform medical treatments. R&D enables in-depth examination of the various cannabinoids, terpenes, and other compounds found in cannabis. This scientific understanding is expected to lead to the growth of extremely effective and targeted pharmaceuticals.
Furthermore, demanding clinical trials funded by R&D efforts offer empirical evidence of the efficacy and safety of cannabis pharmaceuticals. This data is vital for gaining regulatory approvals, which can lead to broader market access. Moreover, the investments may be directed towards keeping stringent quality control processes, guaranteeing consistent product quality, and compliance with developing regulatory standards, which is crucial for consumer trust. Thus, companies that invest significantly in R&D may establish themselves as industry leaders, gaining a competitive edge in a rapidly evolving market.
Impact of COVID-19
The COVID-19 pandemic has had a mixed impact on the Cannabis Pharmaceuticals Market. Initially, there was a surge in demand for cannabis products, including pharmaceuticals, as people sought relief from anxiety and stress during lockdowns. However, many cannabis pharmaceutical companies faced disruptions in their supply chains due to lockdowns and restrictions. This impacted the production and distribution of cannabis-based medications. The pandemic delayed regulatory processes, including clinical trials and approvals, making it harder for companies to bring new cannabis pharmaceuticals to market.
Furthermore, the pandemic accelerated the adoption of telemedicine, which provided a new channel for patients to access medical cannabis prescriptions and consultations. Moreover, some regions relaxed regulations on cannabis access during the pandemic, potentially expanding the market. Thus, COVID-19 initially boosted demand for cannabis pharmaceuticals but introduced challenges related to supply chain disruptions, regulatory delays, economic uncertainty, and shifting regulations.
Product Insights
According to the product, the sativex product has held highest revenue share in 2022. Sativex is an oromucosal spray that comprises a balanced grouping of THC and CBD. It is prescribed in several regions for managing spasticity in multiple sclerosis (MS) and is under analysis for other conditions, including cancer pain and neuropathic pain. It offers a consistent and controlled delivery system, enabling patients to titrate their dosage.
The epidiolex product is anticipated to expand at a significantly CAGR during the projected period. Epidiolex is an FDA-approved pharmaceutical formulation of cannabidiol (CBD) used mainly to cure rare forms of epilepsy, such as lennox-gastaut syndrome and dravet syndrome. It has extended recognition for its efficiency in dropping the severity and frequency of epileptic seizures in patients who do not respond well to other treatments. It is an important breakthrough in the medical cannabis field, indicating the potential for cannabinoids in treating specific neurological conditions.
Distribution Channel Insights
Based on the distribution channel, the hospitals segment held the largest market share in 2022. Hospitals assist as a significant distribution channel for cannabis pharmaceuticals, particularly for patients with critical medical conditions. Healthcare professionals in hospitals may prescribe cannabis-based medications like Epidiolex or Marinol to manage specific ailments such as epilepsy or chemotherapy-induced nausea. These pharmaceuticals are typically dispensed and administered within the hospital setting under strict medical supervision.
On the other hand, the retail sales is projected to grow at the fastest rate over the projected period. Some regions with legalized medical cannabis allow the sale of cannabis pharmaceuticals through retail dispensaries. These dispensaries are often regulated by state or local authorities to ensure product quality, safety, and proper labeling. Patients can visit these retail outlets with a prescription to purchase cannabis-based medications like Sativex or Cesamet.
Recent Developments
January 2023: Celadon Pharmaceuticals Plc announced that UK Medicines and Healthcare products Regulatory Agency (MRHA) for the Good Manufacturing Practiced (GMP) has registered its cannabis active pharmaceutical ingredient in Midlands's facility, UK.
February 2023: Aurora Cannabis Inc. partnered with MedReleaf Australia to launch a new medical cannabis brand for patients in the Australia, CraftPlant. It includes 3 new products available Greendale, Navana and HiVolt for doctors to prescribe. All 3 are produced from cultivars and are THC-dominant with high percentages of terpenes.
June 2023: Avicanna Inc., a Cannabinoid-based pharmaceutical company partnered with the Canadian consortium for the Investigation of Cannabinoids to create an education course available to the medical community in Canada.
August 2023: Avicanna Inc acquired Medical Cannabis by Shopper's Business from Shoppers Drug Mart® and pleased to announce the launch of an all-new medical cannabis care platform, MyMedi.ca.
September 2023: SOMAÍ Pharmaceuticals received authorization to manufacture, import, and export medicinal cannabis products to numerous global markets from the Portuguese Health Authority INFRAMED for its facility located in Lisbon, Portugal.
Cannabis Pharmaceuticals Market Players
GW Pharmaceuticals, AbbVie Inc.
Valeant Pharmaceuticals
Insys Therapeutics, Inc.
Corbus Pharmaceuticals
Teva Pharmaceutical
Johnson & Johnson
Avicanna, Solvay Pharmaceuticals
Cannabics Pharmaceuticals
Portola Pharmaceuticals
Kao Corporation
Ogeda S.A.
Pfizer
Bristol-Myers Squibb
Segments Covered in the Report
By Product
Epidiolex
Marinol
Cesamet
Sativex
By Distribution Channel
Hospitals
Online pharmacies
Retail
By Geography
North America
Europe
Asia-Pacific
Latin America
Middle East and Africa