The cannabis extract market size was estimated at US$ 9.24 billion in 2021 and is projected to hit over US$ 42.89 billion by 2030, with a CAGR of 18.6% during the estimate period 2022 to 2030.
Crucial factors accountable for market growth are:
Growing use of cannabis for medicinal purpose
Implementation of unambiguous legal framework related to marijuana use in developed nations
Increasing prevalence of cancer
Increasing use of marijuana as antidepressants
Increasing focus of companies on development of sustainable extractions methods
Increasing prevalence of arthritis and other chronic disorders
Increasing awareness regarding benefits of cannabis in developing regions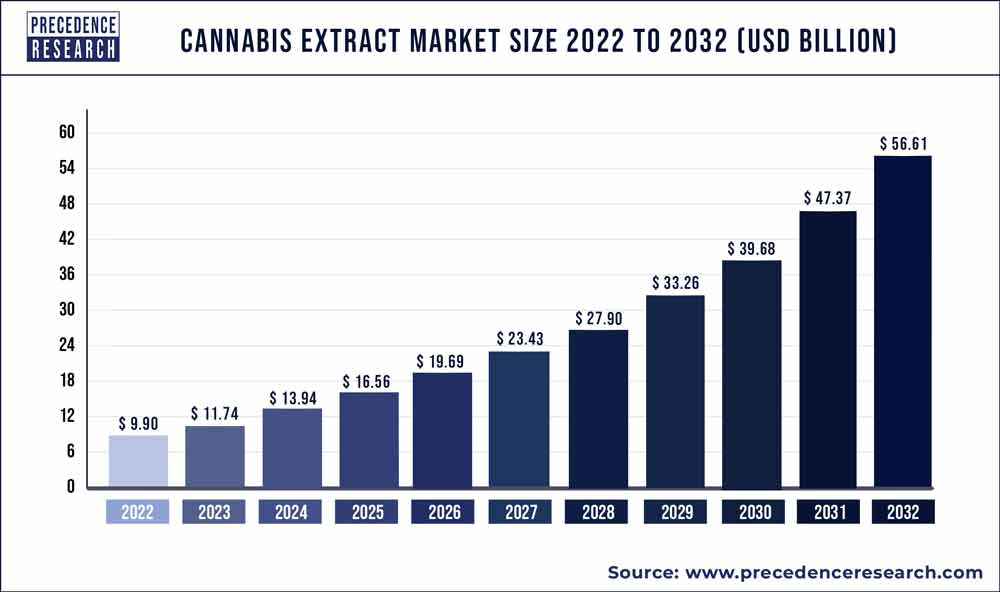 Major Trends in the Cannabis Extract Industry:
With the growing legalization of the use of cannabis in advanced countries, a familiar trend is being observed in the emerging nations too. For example, in November 2018, Narcotics Control Act of South Korea was revised and the usage of medicinal cannabis became permissible, making South Korea the first nation in the East Asian region to authorize medicinal cannabis. Moreover, Colombia, in July 2016, made a momentous leap by writing the bill of 1787 into a law. The key resolution of this law is to permit access to medical cannabis. Nevertheless, the lawmakers saw outside just medicinal access for the patients and formed a legal outline that permits extraction, cultivation, end product production, and exportation of cannabis-based products.
The cannabis consumer commodity companies and sellers are rapidly developing to fulfil the needs of conventional cannabis customers. The products arriving in the market progressively address the qualities demanded by the current consumer. To fascinate more clients, companies have retorted to these requirements with more sophisticated packing and publicity. The cannabis business provides a comprehensive range of investment prospects in both the private as well as public markets for investors.
In the U.S., the medicinal usage of cannabis is lawful in 33 states, the District of Columbia, and four among the five permanently populated U.S. regions. The recreational usage of cannabis is lawful in numerous states such as Colorado, Alaska, Maine, Illinois, Michigan, Massachusetts, Oregon, Nevada, Washington, and Vermont), the District of Columbia, and Guam. The U.S. Virgin Islands and another fifteen states have decriminalized cannabis.
In Argentina, cannabis is decriminalized for individual use in small quantities and for usage in private sites, the Supreme Court declared in 2009.
COVID-19 Impact on Global Cannabis Extract Market
Every industry is feeling the pain due to the economic slowdown as a result of the COVID-19 pandemic. Similarly, cannabis industries are facing a unique set of tests. Commercial operations, financials, and customer behavior are being scrutinized greater than ever as industries are seeking to place themselves through coronavirus pandemic and beyond when the pandemic situation will finally be over. However, the COVID-19 pandemic is also an occasion for several cannabis businesses to streamline their occupational model, eradicate inefficiencies and review launch or enlargement plans. Like numerous other sectors, the cannabis industry is anticipated to lose some income due to reasons like interrupted supply chains, shop closures, constrained movement, and general financial slowdown.
Report Scope of the Cannabis Extract Market
| | |
| --- | --- |
| Report Highlights | Details |
| Market Size | US$ 42.89 billion by 2030 |
| Growth Rate | CAGR of 18.6% From 2022 to 2030 |
| Base Year | 2021 |
| Historic Data | 2017 to 2021 |
| Forecast Period | 2022 to 2030 |
| Segments Covered | Type, Extraction Method, Application |
| Regional Scope | North America, Europe, Asia Pacific, Latin America, Middle East & Africa (MEA) |
| Companies Mentioned | Kynd Cannabis Company, Organa Brands, Colorado Cannabis Company, Peridot Labs, Canopy Growth Corporation, Aurora Cannabis, MARICANN INC., Aphria Inc. |
Significant Market Trends:
Conventional Segment Reported Foremost Market Stake in 2020
The conventional type displayed the major share in the worldwide cannabis extract market in 2020. Increasing applications of cannabis extracts such as CBD oil in pharmaceutical and cosmetic industries is expected to boost the demand for conventional cannabis extracts. The conventional type of cannabis is grown extensively as it enables high production output of cannabis extract.
Pharmaceutical Applications Dominated the Market Revenue
Cannabis extracts are being used in medications since many years. In 2018, Epidiolex (a seizure medication) became the inaugural Cannabis-derived CBD medication to be permitted in the United States. Moreover, numerous medical formulations comprising of cannabis extract are in the pipeline.
Solvent-based extraction method will dominate the Cannabis Extract Market Revenue By Extraction Method
The extraction method which involves the use of solvents is a preferred method of the cannabis extraction industry, especially in manufacturing extracts for personal care ingredients, pharmaceuticals, and food. Some solvents are favored due to their efficiency, effectiveness, and FDA-approval.
North America is Estimated to be the Largest Market for Cannabis Extract
The comprehensive research account covers substantial projections and inclinations of cannabis extract throughout chief regions encompassing Africa, Asia Pacific, Europe, Latin America, North America, Middle East, and. By region, cannabis extract market is led by North America due to increasing legalization of cannabis for medicinal usage and high awareness regarding medicinal benefits of cannabis extract products such as CBD oil. Europe accounted for subsequent highest take chiefly due to anticipated approvals for cannabis use. Latin America is also estimated to observea rapid progress rate, in consequence of increasing investment by key companies on latest technologies.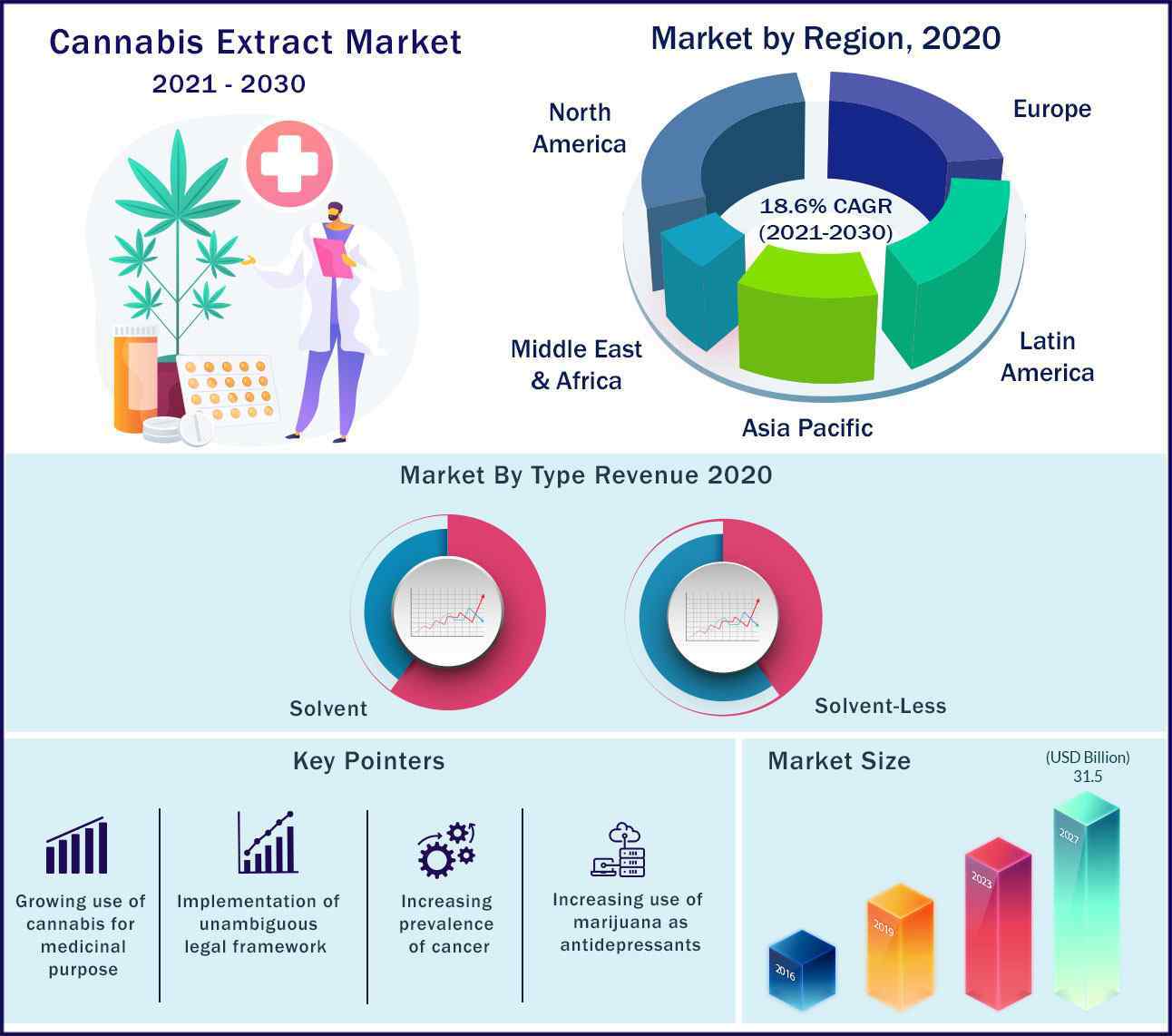 Top Players contending in the Market:
The companies focusing on research and development are expected to lead the global cannabis extract market. Leading competitors contending in global cannabis extract market are as follows:
Kynd Cannabis Company
Organa Brands
Colorado Cannabis Company
Peridot Labs
Canopy Growth Corporation
Aurora Cannabis
MARICANN INC.
Aphria Inc.
In order to well recognize the present status of cannabis extract, and policies implemented by the foremost nations, Precedence Research projected the future progress of the cannabis extract market. This research report bids quantitative and qualitative insights on cannabis extract market and valuation of market size and progress trend for probable market segments.
Major Market Segments Covered:
By Type
By Extraction Method
By Application
Textile
Cosmetic
Pharmaceutical
Paper
Others
By Distribution Channel
Hospital Pharmacies
Retail Pharmacies
Online Pharmacies
By Geography
North America
Europe

Germany
France
United Kingdom
Rest of Europe

Asia Pacific

China
Japan
India
Southeast Asia
Rest of Asia Pacific

Latin America

Brazil
Rest of Latin America

Middle East & Africa (MEA)

GCC
North Africa
South Africa
Rest of Middle East & Africa