The global solvents market size was evaluated at USD 26.32 billion in 2022 and it is predicted to hit around USD 52.01 billion by 2032, poised to grow at a CAGR of 7.1% from 2023 to 2032.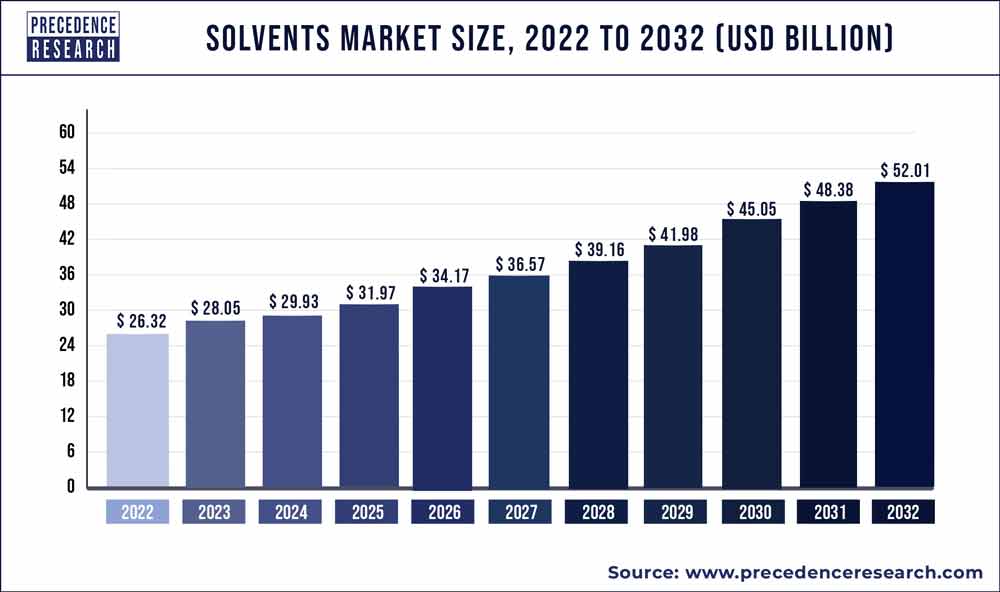 Access our Premium Real Time Data Intelligence Tool, Visit: Precedence Statistics
Chemical compounds known as solvents have the ability to extract, distribute, or dissolve other components to create solutions without undergoing any chemical reaction. Except for chlorinated solvents, they often have a disagreeable smell and are quite volatile and combustible.
Key Takeaways:
Asia Pacific region contributed more than 55% of the revenue share in 2022.
By product type, the alcohol segment generated the largest revenue share in 2022.
By application, the paints and coatings segment generated for the maximum market share of around 54% in 2022.
By source, the derived sources segment captured more than 86% of revenue share in 2022.
Growth Factor:
The majority of the solvents are liquids, but they can also take the shape of solids or gases and come in both conventional and organic varieties. They are often used as cleaning and degreasing agents as well as components of goods including nail polish removers, printing inks, varnishes, adhesives, cosmetics, fragrances, detergents, and spot removers. The key element fueling market expansion is the expanding number of product applications across various end-use industries. Solvents, for instance, are used in paints and coatings to dissolve pigments and binders, offer uniformity, and have several uses in the production of medicinal drugs. Additionally, there has been a significant increase in the use of cleaning and personal care products for the home.
Additionally, the increased use of solvents in pesticide formulations is spurring an increase in product demand. Additionally, customers are gravitating more and more toward eco-friendly and organic goods, which provide minimal or no risks to the environment and public health, as a result of growing environmental concerns. As a result, a number of big manufacturers are investing heavily and forming partnerships with the leading biotechnology firms in order to introduce eco-friendly and bio-based solvents and attain sustainability.
Additionally, the market is expanding due to the new solvent uses in deicers, cooling circuits, dry cleaning, and chemical production processes. Other reasons, such as quick urbanization and industrialization, strict government rules requiring the use of environmentally friendly solvents, continuous research and development (R&D) efforts, and technical breakthroughs, are also boosting market expansion.
Increasing demand for chemical solvents from a variety of end-use industries, including the pharmaceutical, building, and automotive sectors, among others.
One of the key factors fueling the expansion of the solvents market is the sector for paints and coatings, which is quickly expanding.
The main reason for boosting market expansion is the expanding product applications in various end-use industries.
This market's expansion is anticipated to be fueled by new product discoveries and rising spending in solvent research & development.
Report Scope of the Solvents Market
| | |
| --- | --- |
| Report Coverage | Details |
| Market Size in 2023 | USD 28.05 Billion |
| Market Size by 2032 | USD 52.01 Billion |
| Growth Rate from 2023 to 2032 | CAGR of 7.1% |
| Largest Market | Asia Pacific |
| Base Year | 2022 |
| Forecast Period | 2023 to 2032 |
| Segments Covered | By Product Type, By Application, By Source |
| Regions Covered | North America, Europe, Asia-Pacific, Latin America and Middle East & Africa |

Key Market Drivers:
Growing demand for green and bio solvents.
The terms "bio" and "green" solvents refer to ecologically friendly or biological solvents. These are made from agricultural crops that have been processed. More sectors, including engineering, pharmaceuticals, printing, and construction, are using solvents. Scientists began working on green or bio-based solvents since they are more environmentally friendly and safer for people to use. They also go by the name "agrochemicals." Their popularity as a substitute for solvents based on crude oil is rising. Therefore, rising demand for bio and green solvents is anticipated to propel market expansion.
Utilization of solvents in personal care, industrial coatings, and pharmaceutical products.
There are several applications for solvents. They are used by thousands of firms and industrial facilities to meet their manufacturing demands. A solvent is used as a cleaning and degreasing agent in routine household cleanings tasks, such as cleaning toiletries, floors, windows, or any other debris.
The Covid 19 epidemic has rekindled customers' interest in skin care within the beauty industry. People are being urged to enhance their general skin health and fairness by the current social media trend. As a result, the demand for critical skin products has increased at numerous cosmetics merchants and producers. Solvents are essential to many of the goods used on a daily basis, from medications to industrial coatings. The product's market is expanding as a result of the increasing demand for solvents from end-use industries.
Key Market Challenges:
Chemical solvents have risky side effects that limit the expansion of the solvent sector. Solvents made of chemicals can have a variety of negative effects on human health. They have a negative impact on both human and animal health in addition to the environment. Additionally, because of their repeated exposure to these chemicals, factory employees who work in chemical companies frequently struggle with serious health problems.
For instance, the U.S. department of labor states that the health risks linked to solvent exposure include cancer, dermatitis, liver and kidney damage, respiratory impairment, reproductive harm, and nervous system toxicity. These are a few of the elements that could prevent the product from being adopted.
Key Market Opportunities:
Increasing end-use industry demand.
In the majority of emerging regions, the population of cities is gradually growing. Less than 35% of people live in metropolitan centers in many APAC nations. Future predictions indicate that these economies will expand at a promising rate. The need for paints and coatings is being driven by the expansion of the construction sector, which is also fueling the market for solvents.
Additionally, the International Monetary Fund (IMF) predicts that the rapid growth rates of several developing economies will present opportunities for producers and suppliers of petrochemical-based solvents, particularly those serving the infrastructure and construction industries in emerging economies.
Increasing demand from the automotive and construction sectors.
Demand for solvents is increasing as a result of the strong demand in the automobile industry, which is creating profitable prospects for innovation in the paints and coatings aftermarket.
Due to their propensity to have a high solid content and low viscosity, ketones are frequently used in paints and coatings. Ester solvents are frequently used as an industrial cleaning and as a hardener in paints. In order to breakdown binders and pigments and provide uniformity, bio-based solvents are used in paints and coatings. Some spray paints and decorative paints contain solvents like glycol ether esters to prevent them from drying in midair.
Paints, thinners, and glues are just a few of the construction-related items that employ solvents. The expansion of the paints and coatings application category is anticipated to be aided by rising building activity in nations like China, India, the United States, and Brazil.
Solvents are used in a variety of ways in the automobile sector. Gasoline additives aid in preventing the separation of water from the fuel. Solvents also help the gasoline burn more efficiently, which can help lower exhaust emissions. Solvents help to clean carburetors, keep the engine cool, de-ice frozen door locks, and maintain clean upholstery and carpet.
Segments Insight:
Product Type Insights:
The market is divided into categories for alcohols, ketones, esters, and other products based on the kind of product. The market share that belonged to the alcohol industry was the greatest. The demand for ethanol, methanol, n-butanol and isopropanol for diverse uses is on the rise, which is the cause of the growth. Methanol is extensively used in inks and adhesive applications, whereas ethanol is consumed in fragrances, vegetable essences, and pharmaceuticals. Thus, throughout the projection period, the segment's expansion will be aided by the growing acceptance of these items. Ketones, on the other hand, are often used as solvents due to their low molecular weight.
They are used in printing inks, surface coatings, adhesives, and chemical intermediates. Additionally, during the projected period, the esters sector will experience considerable increase due to rising demand for ester products to remove organic solutes from aqueous solutions.
Application Insights:
Due to its extensive use in the construction sector, the paints and coatings category accounted for the largest market share of around 54% in 2022 and is anticipated to expand at the highest CAGR. The development of the paints and coating application segment is being fueled by the construction industry's explosive growth as well as improvements made to paints to make them more environmentally friendly. The second largest market sector is printing inks. In printing applications, solvents including methanol, ethyl acetate, and aromatic hydrocarbons are employed.
The industrial cleaning market will be driven by the increased production to remove dirt, greases, containments, flux, and baked-on oil in various sectors. The increased product demand from applications including composites, glass, metals, and plastic is blamed for the adhesive market's expansion.
Source Insights:
In 2022, the Derived Sources category accounted for 86% of the market for solvents. The majority of solvents come from synthetic compounds and petroleum. These derived sources are formulated appropriately to expand the solvent uses into fresh fields. Petroleum-derived hydrocarbon fractions used in industrial processes and commercial formulations to suspend, dissolve, or transport other components.
The development of refinery operations intended largely for the conversion of low-octane feedstock to high-octane fuels, as well as environmental restrictions and concerns, have resulted in a significant growth in the diversity of petroleum solvents in recent years.
Regional Insights:
Asia Pacific region generated more than 55% of the revenue share in 2022, followed by Europe and North America. Market expansion in the area is projected to be boosted by rising building expenditure in nations like China and India as well as their developing industrialization. In countries like China, India, Indonesia, Thailand, Vietnam, and Korea, end-user sectors including paints, coatings, and adhesives are booming, and this is projected to support product demand in the area over time.
In addition, the market for solvents is anticipated to expand as a result of rising urbanization and industrialization as well as high car demand.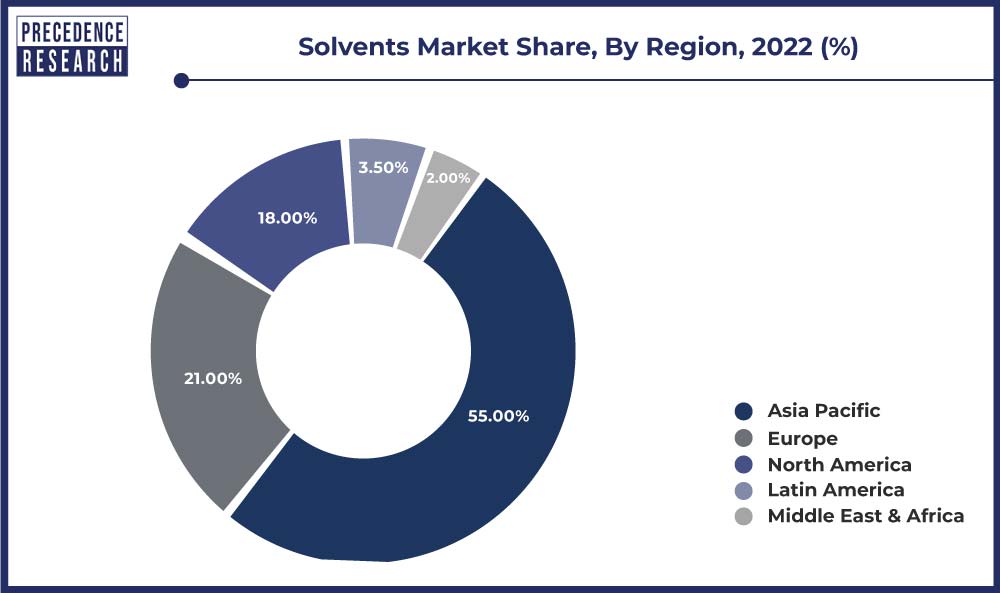 China possesses 28% of the region's proved gas reserves, which make up 10% of the global total, and 3% of the world's proven oil reserves. As a result, petrochemical output is increasing, which is predicted to further support the market expansion for solvents.
Additionally, the need for solvents in the paints and coatings application is anticipated to be driven by the fast expansion of building and construction activities and the increasing demand for vehicles. Additionally, the region's personal care industry is experiencing tremendous growth, which is feeding the solvents market's expansion.
The demand for solvents in the area is anticipated to rise throughout the projected period as a result of the aforementioned causes.
Recent Developments:
At its Verbund facility in Antwerp, BASF SE increased the capacity of its integrated ethylene oxide and derivatives complex in 2019. The business focuses on producing and selling chemicals.
Braskem and NXT LEVEL Biochem, a Dutch company, worked together in March 2021 to research the market for renewable solvents. This collaboration includes products for industries including paint and coatings, agrochemicals, personal care, home care, and institutional and industrial cleaning. The coordinated initiatives aim to introduce more environmentally friendly solvents manufactured from renewable raw resources in Latin America.
Key Market Players:
Ashland Global Holdings Inc.
BASF SE
BP plc.
Celanese Corporation
Chevron Phillips Chemical Company LLC
CITGO Petroleum Corporation
Eastman Chemical Company
Exxon Mobil Corporation
Honeywell International Inc.
Huntsman International LLC
INEOS AG
Kuraray Co., Ltd.
LyondellBasell Industries Holdings B.V.
Maruzen Petrochemical Co., Ltd.
Sasol Limited
Shell International B.V.
Solvay S.A.
The Dow Chemical Company
TotalEnergies SE
Segments Covered in the Report:
(Note*: We offer report based on sub segments as well. Kindly, let us know if you are interested)
By Product Type
Glycols
Hydrocarbons Solvents

Aliphatic Solvents
Aromatic Solvents
Halogenated Solvents
Methylene Chloride
Trichloroethylene
Perchloroethylene
Acetic Acid

Alcohols

Methanol
Ethanol
Propanol
Butanol

Esters

Ethyl Acetate
Butyl Acetate

Ketones
Chlorinated
Others
By Application
Printing inks
Paints and coatings
Pharmaceuticals
Adhesives
Cosmetics
Agriculture Chemicals
By Source
Natural Sources
Derived Sources

Petroleum Sources
Synthetic Sources
By Geography
North America
Europe
Asia-Pacific
Latin America
The Middle East and Africa