The global acetone market size surpassed USD 5.7 billion in 2022 and is projected to hit around USD 10.55 billion by 2032, registering a CAGR of 6.40% during the forecast period from 2023 to 2032.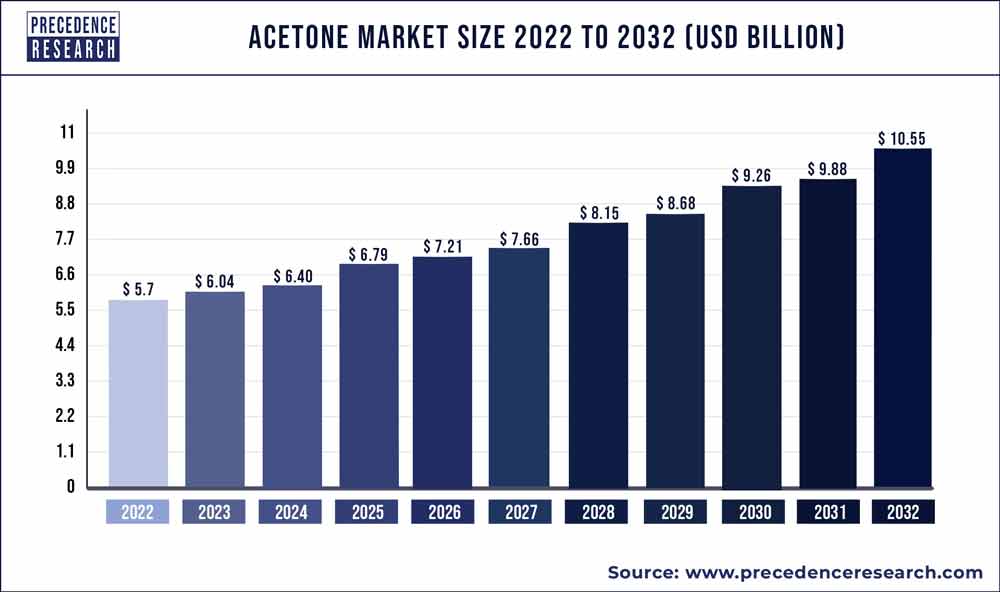 Access our Premium Real Time Data Intelligence Tool, Visit: Precedence Statistics
Key Takeaways
By region, Asia-Pacific contributed more than 48% of revenue share in 2022. Whereas Europe is estimated to expand the fastest CAGR between 2023 and 2032.
By application, the solvents segment has held the largest market share of 36% in 2022.
By grade, the technical grade segment generated over 96% of market share in 2022. On the other hand, the specialty grade segment is expected to expand at the fastest CAGR over the projected period.
By end-use, the plastic segment had the largest market share of 39% in 2022. On the other hand, the cosmetic & personal care segment is expected to expand at the fastest CAGR over the projected period.
Acetone Market Overview
The acetone market revolves around the chemical compound acetone, a versatile solvent and chemical intermediate widely used across diverse industries. It finds applications in pharmaceuticals, chemicals, plastics, and cosmetics. As a powerful solvent, it plays a key role in paint and coating production and is essential in the manufacturing of various consumer and industrial products.
Acetone's demand also stems from its use in the production of acrylic resins, fibers, and polycarbonates, contributing to the growth of the plastics industry. This market encompasses the production, distribution, and application of acetone, reflecting its importance in numerous industrial processes and product formulations.
Acetone Market in the Asia Pacific 2023 To 2032
The Asia Pacific acetone market size was valued at USD 2.74 billion in 2022 and is expected to grow to USD 5.02 billion by 2032, growing at a CAGR of 6.3% from 2023 to 2032.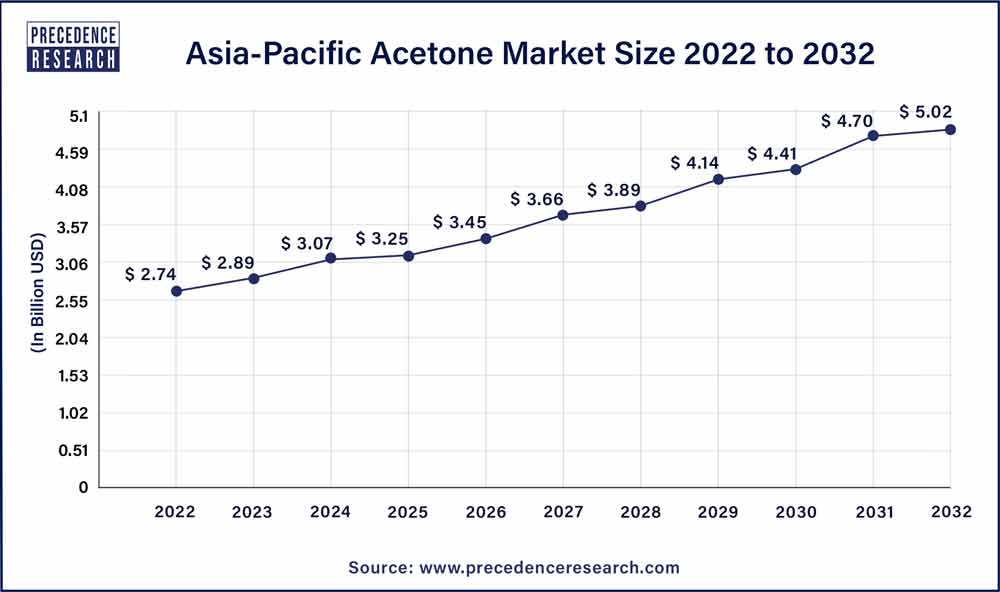 Asia-Pacific has held largest revenue share 48% in 2022. The Asia-Pacific acetone market is experiencing rapid growth, particularly in countries like China and India, driven by robust industrialization. This surge in industrial activity has created a heightened demand for acetone in chemical processes and plastics manufacturing. Additionally, the cosmetics and personal care sector is flourishing in the region, resulting in an increased utilization of acetone in nail polish removers and skincare products. The market in Asia Pacific is dynamic and continually evolving, adapting to the diverse needs of various industries and incorporating sustainable practices in the application of acetone.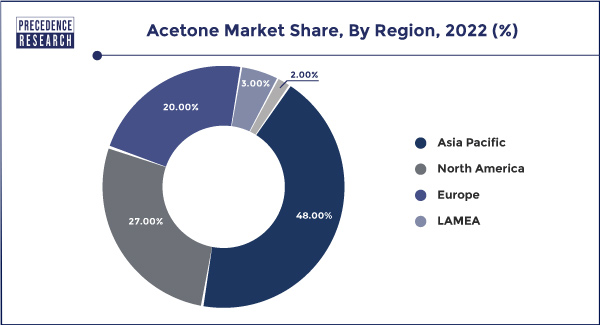 Europe is estimated to observe the fastest expansion. In Europe, the acetone market is characterized by a strong emphasis on sustainability and green chemistry practices. Stringent environmental regulations drive the adoption of eco-friendly acetone applications. The region's industrial sectors, including pharmaceuticals, chemicals, and cosmetics, rely on acetone for various processes. The acetone market in Europe reflects a balance between traditional applications and a growing commitment to environmentally responsible manufacturing practices.
In North America, the acetone market reflects a growing emphasis on sustainability and environmental regulations. The region's increasing focus on green chemistry and sustainable manufacturing practices has led to the rising use of acetone as an eco-friendly solvent. Furthermore, the pharmaceutical and cosmetics industries continue to drive demand for acetone as it plays a crucial role in drug formulation and personal care products. Additionally, the pharmaceutical sector's demand for acetone in hand sanitizers and other hygiene products experienced notable growth during the COVID-19 pandemic, further highlighting its versatility.
Growth Factors
The acetone market centers around the versatile chemical acetone, vital in various industries. Growth is propelled by expanding the chemical, plastics, cosmetics, and pharmaceutical sectors. Sustainability and innovation are key trends. Challenges include price fluctuations and environmental regulations. Opportunities lie in emerging markets, R&D, customized solutions, and strategic partnerships. This dynamic market demands adaptability, offering a wide array of applications and potential for sustained growth.
The expanding chemical sector, particularly in emerging economies, fuels the demand for acetone in chemical synthesis and industrial processes. The increasing use of acetone in the production of plastics, coupled with the rise in plastics consumption, drives the market growth.
The cosmetics industry's demand for acetone in nail polish removers and skincare products contributes to market expansion. Acetone's applications in pharmaceuticals, including drug formulation, further boost its demand. The market is witnessing a shift towards sustainable and eco-friendly manufacturing practices, impacting the choice of solvents like acetone.
Ongoing research and development efforts aim to discover new applications and optimize acetone's use in various industries, reflecting evolving market trends. Expanding into emerging economies with growing chemical and plastics industries presents opportunities for market diversification and increased sales.
Investing in R&D to explore innovative applications and improve production processes positions businesses for long-term growth in the Acetone Market. Acetone faces competition from alternative solvents and chemicals, necessitating innovation and cost-effectiveness to maintain market share.
Providing tailor-made acetone formulations to cater to specific industry needs offers a niche business opportunity. Collaborating with manufacturers and end-users to develop new applications and enhance product quality fosters market growth and innovation.
Acetone Market Scope
| | |
| --- | --- |
| Report Coverage | Details |
| Growth Rate from 2023 to 2032 | CAGR of 6.4% |
| Market Size in 2023 | USD 6.04 Billion |
| Market Size by 2032 | USD 10.55 Billion |
| Largest Market | Asia Pacific |
| Base Year | 2022 |
| Forecast Period | 2023 to 2032 |
| Segments Covered | By Application, By Grade, and By End Use |
| Regions Covered | North America, Europe, Asia-Pacific, Latin America, and Middle East & Africa |

Acetone Market Dynamics
Driver
Expanding chemical industry and plastic manufacturing
The acetone market experiences a substantial surge in demand due to the expansion of the chemical industry and the ever-growing plastics manufacturing sector. As the chemical industry expands, particularly in emerging economies, the need for acetone becomes paramount. This versatile compound serves as a critical solvent and precursor in various chemical processes.
It plays a vital role in manufacturing a wide array of chemical products, including pharmaceuticals, adhesives, and industrial chemicals. The escalating production of chemicals necessitates an abundant supply of acetone to cater to synthesis, purification, and formulation processes, contributing significantly to market growth.
Furthermore, the booming plastics manufacturing industry is a major driver of acetone demand. This is a crucial component in the production of plastics, especially in the manufacturing of acrylic resins, polycarbonates, and fibers. The ever-increasing consumption of plastics, driven by sectors like packaging, automotive, and construction, directly translates to higher demand for acetone. Its role in plastic production and the global demand for plastic materials position acetone as an indispensable element in the plastics manufacturing process, making it a key driver in the Acetone Market's growth.
Restraint
Supply chain disruptions
Supply chain disruptions and price volatility can significantly restrain the demand for the acetone market. Supply chain disruptions, as witnessed during the COVID-19 pandemic, can lead to uncertainties in the availability of acetone. Interruptions in the procurement of raw materials, transportation bottlenecks, and logistics challenges can disrupt the smooth flow of acetone to end-users. This uncertainty in supply can impact industries reliant on acetone, potentially leading to production delays and increased costs.
Price volatility is another significant restraint. Acetone prices can fluctuate due to factors like changes in feedstock prices, geopolitical events, and global economic conditions. Such price instability can pose challenges for industries that use acetone as a key raw material. It impacts production costs and can affect profit margins. In some cases, businesses may seek alternatives or adjust their production processes to mitigate these price fluctuations. As a result, the unpredictable nature of acetone prices can create uncertainties for both manufacturers and end-users, potentially dampening demand and impacting market growth.
Opportunity
Sustainability initiatives and customized solutions
Sustainability initiatives and customized solutions play pivotal roles in driving the demand for the acetone market. As the world increasingly embraces sustainable practices, the market responds by promoting the use of acetone as an eco-friendly solvent. This aligns with global sustainability trends and evolving regulations that emphasize the reduction of environmental impact. Companies in various industries seek acetone as a greener alternative, contributing to the compound's escalating demand.
Furthermore, the demand for customized acetone solutions is on the rise. Industries require tailored formulations that cater to their specific needs, be it in cosmetics, pharmaceuticals, or plastics manufacturing. Customization ensures that the solvent meets precise requirements, such as purity levels and application suitability.
Additionally, offering specialized acetone products presents businesses with opportunities to expand their customer base by addressing niche demands. By providing solutions designed to enhance product quality and optimize performance in various applications, companies can gain a competitive edge and foster long-term relationships with customers. The combination of sustainability initiatives and customized solutions positions the Acetone Market as a dynamic and adaptive industry, ready to meet the evolving needs of a conscious and diverse clientele.
Impact of COVID-19
The acetone market, like many others, faced significant disruptions due to the COVID-19 pandemic. The initial impact was a disruption in the supply chain, affecting the availability and distribution of acetone.
Lockdowns and restrictions hampered production and transportation, causing fluctuations in acetone prices. A temporary drop in demand occurred as various industries reduced or halted operations.
However, as the world adapted to the "new normal," certain trends emerged. The heightened focus on hygiene and personal care products during the pandemic increased the demand for acetone in cosmetics and sanitizers.
Additionally, the expansion of the packaging industry, which uses acetone in various applications, contributed to a resurgence in demand. Overall, the pandemic acted as a catalyst for certain sectors while highlighting the need for adaptability and agility in the acetone market. This industry demonstrated resilience and innovation in the face of unforeseen challenges.
Application Insights
According to the application, the solvents segment has held 36% revenue share in 2022. Acetone is a widely used solvent in the acetone market. It's favored for its ability to dissolve various substances, making it essential in paint and coating production. A significant trend in this application is the increasing demand for eco-friendly and low-VOC (volatile organic compounds) solvents. Acetone, with its relatively lower environmental impact, aligns with this trend, as industries prioritize greener alternatives.
The Methyl Methacrylate (MMA) segment is anticipated to expand at a significantly CAGR of 9.2% during the projected period. Acetone is a crucial component in the production of MMA, a versatile chemical used in the manufacture of acrylic resins, paints, and coatings. The trend in MMA production is toward enhancing efficiency and sustainability. Manufacturers are adopting innovative techniques to optimize acetone utilization, reducing waste and environmental impact. Additionally, the growth of the plastics and construction industries continues to drive the demand for MMA, and by extension, acetone.
Grade Insights
The technical grade segment held the largest market share of 96% in 2022. Technical grade acetone is typically utilized in industrial applications where a high degree of purity is not a stringent requirement. It may contain trace impurities and is mainly used as a solvent in processes such as cleaning, degreasing, and general industrial applications. Recent trends in the technical-grade acetone market have been significantly influenced by the resurgence of industrial activities, particularly in the chemical and manufacturing sectors. The demand for technical-grade acetone has witnessed a rise as these industries seek cost-effective solvents to facilitate various processes, reflecting the gradual recovery of industrial operations.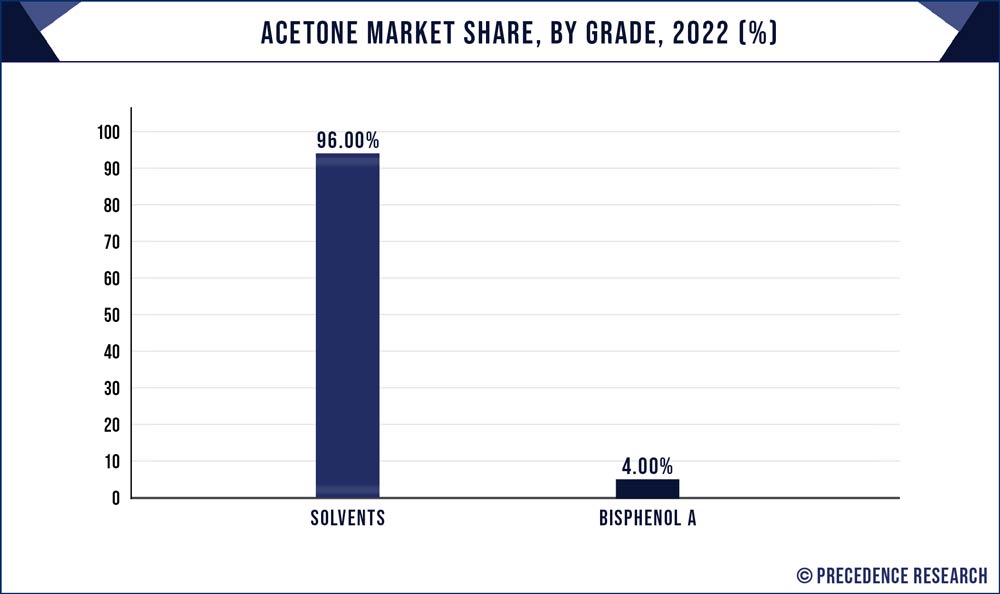 On the other hand, the specialty grade segment is projected to grow at the fastest rate over the projected period. Specialty-grade acetone, in contrast, stands out with its exceptionally refined quality and a significantly higher level of purity. This grade of acetone is paramount in critical applications, including pharmaceuticals, electronics, cosmetics, and other industries where precision and exceptional purity are non-negotiable.
The current trend in the specialty-grade acetone segment is characterized by a growing emphasis on quality and purity. This trend aligns with the global shift towards cleaner and more precise manufacturing practices and aligning with stringent industry standards. As a result, the specialty grade acetone market is experiencing a surge in demand, with manufacturers focusing on producing even higher purity levels to meet the exacting requirements of these specialized industries.
End-user Insights
In 2022, the chemical industry segment had the highest market share of 39% on the basis of the end user. In the acetone market, the chemical industry stands as a major end-user, highly reliant on acetone. This versatile solvent and chemical precursor play a pivotal role in various chemical processes, including the synthesis of pharmaceuticals and fine chemicals. Notably, a prevailing and influential trend in this sector is the surging emphasis on sustainability and environmental responsibility.
Companies within the chemical industry are proactively adopting eco-friendly and green chemistry practices. They are actively seeking solvents and chemicals that are not only effective but also environmentally responsible. This sustainability trend has significantly increased the demand for acetone, which is embraced for its eco-friendliness, thus emerging as a preferred choice in chemical synthesis, catalysis, and other applications.
The cosmetic and personal care segment is anticipated to expand at the fastest rate over the projected period. The cosmetic and personal care industry remains a significant consumer of acetone, leveraging its unique properties in product formulations. Acetone finds application in various cosmetics and personal care items, including nail polish removers and skincare products.
Notably, the ongoing trend in this segment is the heightened focus on hygiene and sanitization. This emphasis, particularly accentuated during the COVID-19 pandemic, led to a surge in the demand for acetone in the manufacturing of sanitizers and disinfectants. Furthermore, as consumers become increasingly conscious of the ingredients used in their personal care products, acetone is evolving in response to this awareness. Product formulations are adapting to meet cleaner and safer standards, reflecting the evolving expectations of consumers.
Recent Developments
In 2023, Olythe is expected to introduce a miniature gas sensor at SPIE Photonics West 2023. This sensor can measure acetone, enabling more effective detection and treatment of certain diseases and metabolic disorders in medical diagnostics.
In 2022, LG Chem Ltd. commenced exports of their first batch of bio-balanced phenol and acetone, certified by ISCC PLUS. These products use renewable sources like biomass and waste cooking oil, marking South Korea's largest export of ISCC PLUS certified products, with 4,000 tons of phenol and 1,200 tons of acetone.
Acetone Market Players
INEOS
Shell Chemicals
The Dow Chemical Company
SABIC (Saudi Basic Industries Corporation)
Mitsui Chemicals, Inc.
Formosa Chemicals & Fibre Corporation
Honeywell International Inc.
LG Chem
Reliance Industries Limited
Celanese Corporation
Perstorp Group
Chemanol (Chemanol Advanced Chemical Industries Company)
RadiciGroup
Altivia
Hindustan Organics Chemicals Ltd.
Segments Covered in the Report
By Application
Solvents
Bisphenol A
Methyl Methacrylate
By Grade
Technical Specialty
Specialty Grade
By End Use
Chemical
Pharmaceutical
Cosmetic & Personal Care
Paints & Coating
Others
By Geography
North America
Europe
Asia-Pacific
Latin America
Middle East and Africa