The global hand sanitizer market size was accounted at USD 1.61 billion in 2022 and it is expected to hold around USD 3.45 billion by 2032, expanding growth at a noteworthy CAGR of around 8.00% during the forecast period 2023 to 2032.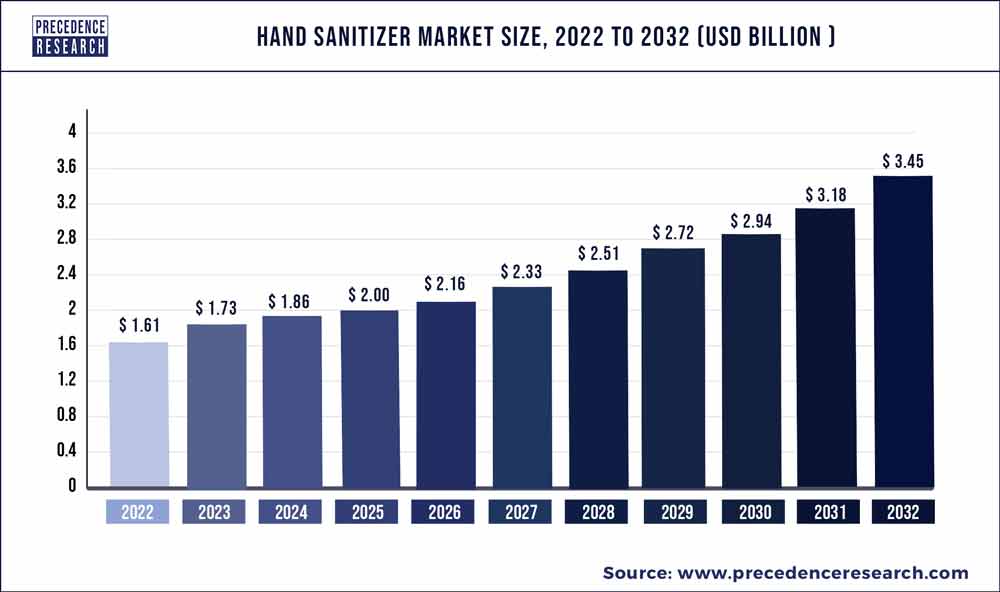 Growth Factors
Growing awareness concerning hand hygiene is achieving in order to limit the incidence of nosocomial infections. Thus, hand hygiene has emerged as most significant element of personal care. This growing importance of hand hygiene is prospering the growth of hand sanitizer market across the world. Further, government endorses the practice of hand care products to upsurge responsiveness and evade health issues amongst consumers. For example, FDA and the WHO have undertaken initiatives for making consumer aware of hand hygiene and the hazards related with not upholding the hygiene.
At present, global outbreak of coronavirus declared a pandemic since March 2020 as its rapid transmissibility has greatly affected consumer behavior and has led them to take more defensive procedures concerning personal hygiene maintenance, particularly hand hygiene. As per, WHO, the number of confirmed COVID-19 cases augmented quickly at the commencement of 2020, climbing from around 9,826 cases on 31st January to approximately 462,684 cases on 26th March 2020. As a result of cumulative number of deaths instigated by the virus activated an alarming response from consumers. This in turn augmented attention concerning hand hygiene as a precautionary measure from constricting the infection. Furthermore, the use of hand sanitizers is suggested by the doctors worldwide, Centre for Disease Control and Prevention, and World Health Organization appealing that the usage of alcohol-based hand rub is one of the most operative protections observed against the virus. Such facts are supporting the exponential demand for hand sanitizer across the globe.
Product Insights
Among different product segment of hand sanitizer market, gel based hand sanitizer emerged as prominent segment with around 50% share of the total market in 2022. Gel sanitizers are typically watery and thin in formulation and thus deliver the handiness of getting spread simply and enter into the skin to destroy most of the bacteria. Stress-free product obtainability and broader access to this kind of hand sanitizer are some of the reasons fueling their demand in global marketplace. Further, this product segment offers reduced microbial populations in many ways. Furthermore, the inclusion of different flavors upsetting the scent is also supporting growth of this type of product in the hand sanitizer market.
Distribution Channel Insights
Based on distribution channel the market is segmented into drug store, online, hypermarket & supermarket, and specialty store.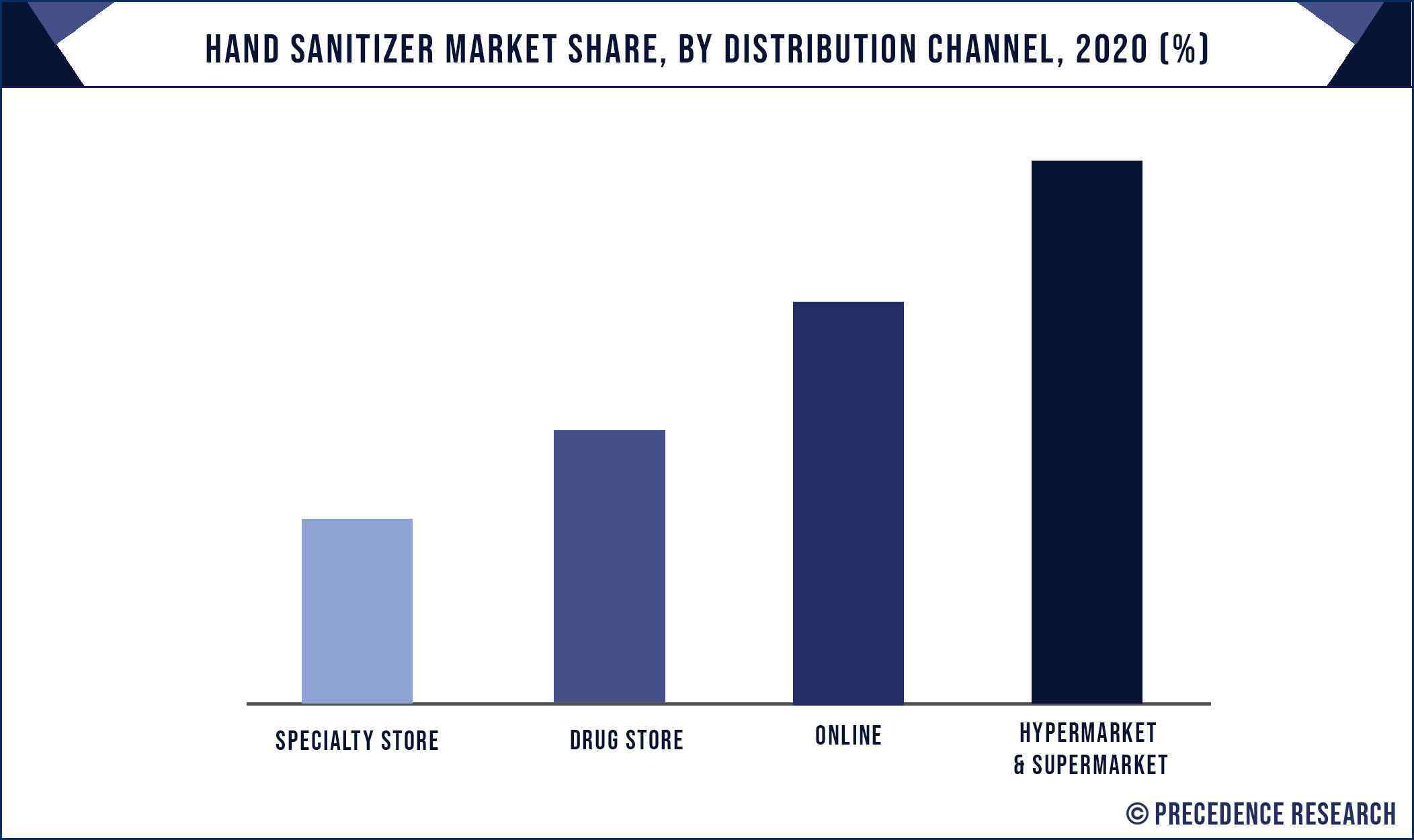 In 2022, out of different distribution channel, supermarket and hypermarket channels occupied prominent share around 40% of the global market. Escalating number of supermarkets and hypermarkets throughout different regions has observed a rush in the distribution of hand sanitizers in the market. Also, this channel offers the consumers with benefit of scanning the product before purchasing that aids them select the right product. Furthermore, this channel also gives swift access to the product than online channels where customers need to wait for the delivery of the product.
Regional Insights
Due to existence of great consumer awareness for hand hygiene, North America and Europe emerged as major contributors in the demand of hand sanitizer in 2022. Regulatory establishments such as WHO and FDA have commenced awareness movements to up keep the utilization of hand sanitizers in North America. Further, augmented government initiatives to upsurge production and improve the supply chain of hand sanitizers in the countries of these regions is anticipated to lift the growth of hand sanitizer in these regions during years to come. For illustration, trade associations like British Retail Consortium proclaimed that the disturbance to the supply chain of hand sanitizers has been restricted, and the obtainability of these products will remain good.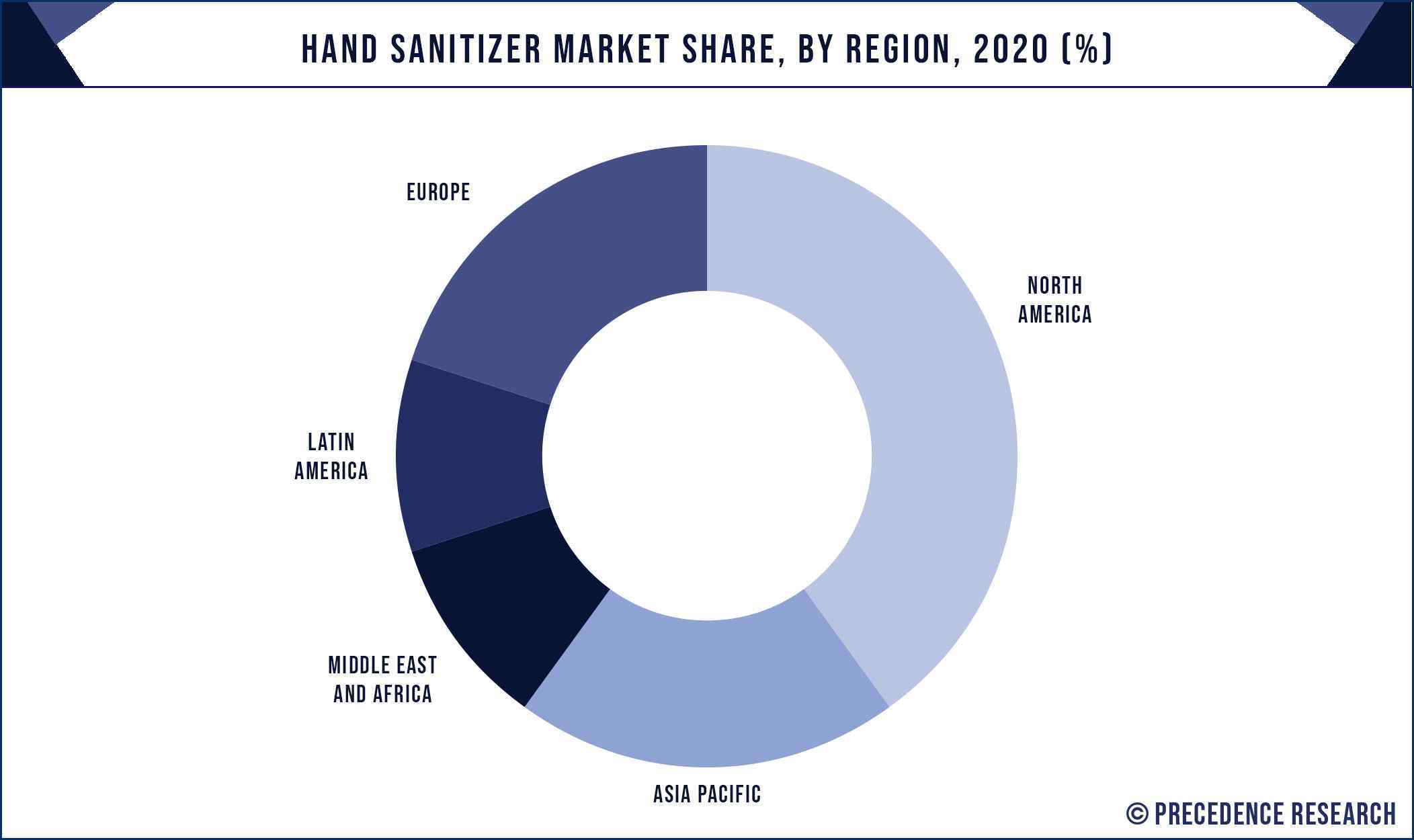 North America, with its larger number of market participants and uppermost penetration of diverse forms of hand sanitizers including foam based products, gel based products, spray, and wipes is generating great revenue in the market. The U.S. leads the hand sanitizer market with more inclination of consumers to pay for hygiene and personal care products.
Aggregate internet saturation in numerous countries like Mexico, India, China, and Brazil has established the online sales channels market since last few years. Furthermore, online retailers such as Walmart, Amazon, Alibaba and other similar service providers are concentrating on the uninterrupted obtainability of personal care products throughout the world. Online retail channels are extensively preferred in developed nations such as Germany, the U.S. and U.K., for buying consumer goods and exclusive personal care products.
Key Companies & Market Share Insights
The market is highly competitive with players in the market are concentrating on expanding their manufacturing capacity. Further, they are implementing groundbreaking technologies to cater growing demand for hand sanitizers. In the case of developing market participants, expansion of product offerings permits diversification and delivers access to steady cash flow. The customer shift toward hand sanitizers that are formulated by natural substances is causing the extension of product lines by the foremost companies.Some of the significant players in the hand sanitizer market include:
Unilever
Vi-Jon
Chattem, Inc.
Reckitt Benckiser Group plc
Procter and Gamble
The Himalaya Drug Company
GOJO Industries, Inc.
Best Sanitizers, Inc.
Kutol
Henkel AG and Company
Report Scope of the Hand Sanitizer Market
| | |
| --- | --- |
| Report Highlights | Details |
| Market Size in 2023 | USD 1.61 Billion |
| Growth Rate | CAGR of 8.00% from 2023 to 2032 |
| Largest Market | North America |
| Fastest Growing Market | Asia Pacific |
| Base Year | 2022 |
| Forecast Period | 2023 to 2032 |
| Segments Covered | Product, Distribution Channel, Regional Outlook |
| Companies Mentioned | Unilever, Vi-Jon, Chattem, Inc., Reckitt Benckiser Group plc, Procter and Gamble, The Himalaya Drug Company, GOJO Industries, Inc., Best Sanitizers, Inc., Kutol, Henkel AG and Company |
Segments Covered in the Report
This research report includes complete assessment of the market with the help of extensive qualitative and quantitative insights, and projections regarding the market. This report offers breakdown of market into prospective and niche sectors. Further, this research study calculates market revenue and its growth trend at global, regional, and country from 2016 to 2027. This report includes market segmentation and its revenue estimation by classifying it on the basis of end-use and region as follows:
By Product Type
By Distribution Channel
Drug Store
Online
Hypermarket & Supermarket
Specialty Store
By Regional Outlook
North America
Europe
Asia Pacific

China
India
Japan
South Korea

Middle East & Africa
Latin America