The global healthcare personal protective equipment market was valued at USD 10.5 billion in 2022 and is expected to reach USD 27.61 billion by 2032 with a CAGR of 10.2% during the forecast period 2023 to 2032.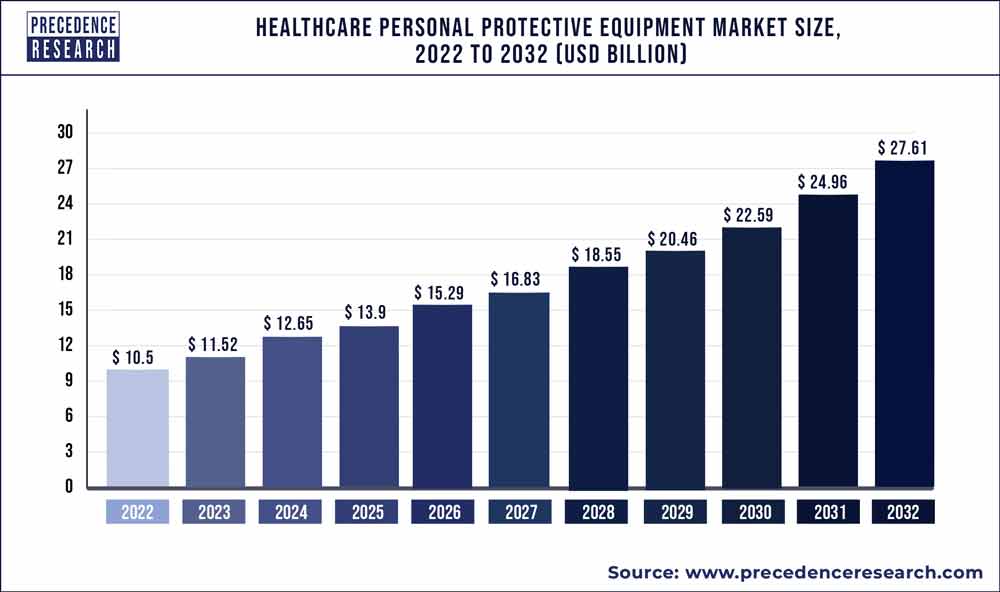 Growth Factors
Upsurge in population, and growing proliferation of chronic ailments and accidents are underlining the need of sophisticated healthcare services across the globe. Reasonable health care plans presented by government organization of numerous nations offer improved access to healthcare services. Further, population of baby boomers that are expected to pursue medical assistance is also snowballing. This intensification in figure of patient is enhancing the risk of healthcare workers receiving infection in the healthcare setting. Different kinds of personal protective equipment are broadly used in the healthcare services to generate a barrier amid infectious agent from the patient and healthcare workers and to decrease the risk of spreading micro-organisms from healthcare staff to patient.
Government authorities worldwide are growing inclination and concerns towards safety and health of workforces. In order todecrease uncertainties and accidents in industries, government organizations of many nations have issued multiple safety guidelines. Numerous government standards and guidelines force end-use sectors to employ protective equipment for employees in particular sort of work setting. At present, augmented demand for PPE comprising protective face and eye protection, clothing, masks is directly associated to the COVID-19 pandemic. Escalating investment from private and public participants in the creation of PPE kits to cater the growing requirement is flourishing the market growth.
In March 2020, World Health Organization called on governments and industry to upsurge production by 40% to address cumulative demand across the world. It further stated that severe disturbance to the global supply of personal protective equipment instigated by panic procurement; elevated demand, misuse and stockpiling are placing lives at danger from the COVID19 and other communicable diseases.
Report Scope of the Healthcare Personal Protective Equipment Market
| | |
| --- | --- |
| Report Highlights | Details |
| Market Size in 2023 | USD 11.52 Billion |
| Market Size by 2032 | USD 27.61 Billion |
| Growth Rate from 2023 to 2032 | CAGR of 10.2% |
| Largest Market | Asia Pacific |
| Fastest Growing Market | North America |
| Base Year | 2022 |
| Forecast Period | 2023 to 2032 |
| Segments Covered | Product, End User, Region |
| Companies Mentioned | DentsplySirona, Inc., 3M, Stryker Corporation, DePuySynthes, Inc., Boston Scientific Corporation, Ethicon, Inc., Derekduck Industry Corp., Baxter International Inc.BD, Medtronic |
Product Insights
Personal protective equipment find extensive application in averting different infectious diseases comprise gloves, medical masks, face shield, gowns, goggles, protective clothing or apron, and respirators like FFP2 and N95 standard/comparable. The workforces engaged in the distribution and management of personal protective equipment, public health specialists, healthcare setting, and other crucial services are need to use personal protective equipment to evade contamination from COVID-19.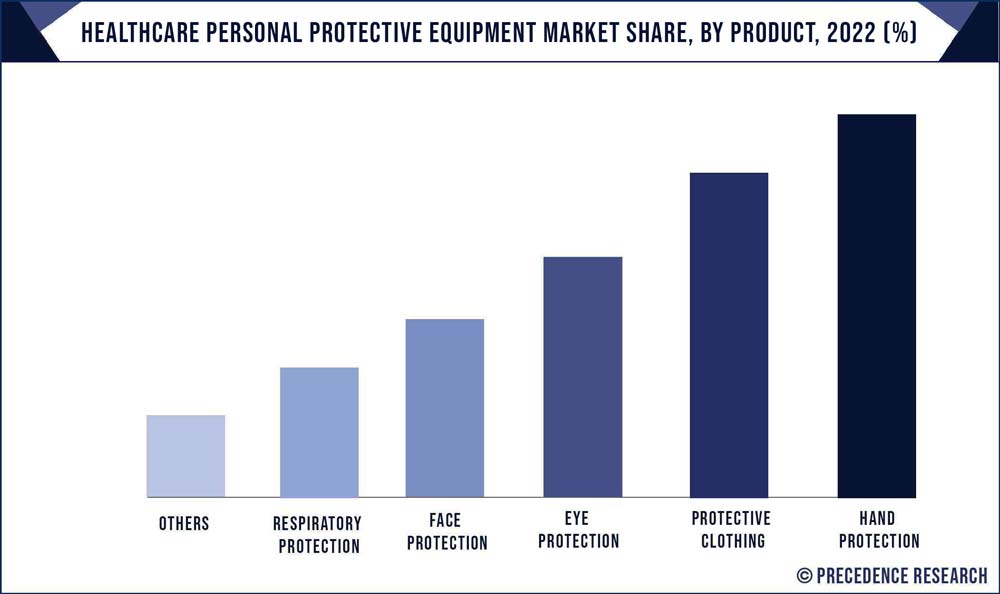 The sale for isolation gowns utilized by healthcare professionals during treatment of COVID-19 infected patients is estimated to record significant CAGR in the U.S. market on account of its benefits such as impermeable properties and fluid-resistance.
End-user Insights
The proliferation of personal protective equipment in hospitals segment is projected to observe substantial growth due to escalating occurrence of hospital-acquired contaminations and rising elderly populace across the world. Besides, the introduction of encouraging activities and improvements endorsing the usage of personal protective equipment in hospitals of government setting is predictable to motivate the progress of healthcare personal protective equipment market growth in the next few years.
Regional Insights
Proliferation in number of surgical procedures worldwide is projected to boost the global healthcare PPE market throughout the prediction period. The current outburst of COVID-19 pandemic has suggestively impelled the sale for different kinds of PPE worldwide. All nations across the globe are undergoing a scarcity of PPE, and their request is increasing constantly. Asia Pacific is anticipated to propagate noticeably in the overall market on account of progresses and growth in the smart hospitals, home care, and medical tourism among others. Beforehand the epidemic, China manufactured nearly half the world's face masks. As the contamination proliferated throughout China, their exports came to a stop, which has affected the global supply chain. The scarcities have led to appeals from distinct U.S. health care workers struggling to secure sufficient supplies of PPE.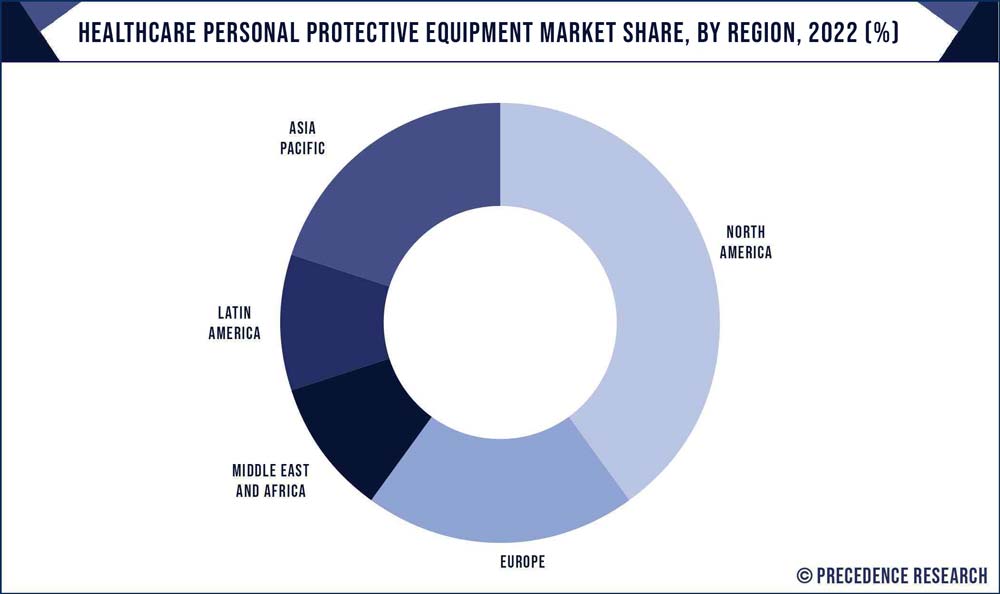 The U.S. and Europe healthcare industry in is projected to propagate at a robust growth rate than the GDP which will increase sale for medical products exponentially. Growing health concerns owing to unhealthy lifestyles are expected to drive the demand for healthcare services and thereby for personal protective equipment. Additionally, to raise health and safety awareness, the Occupational Safety and Health Act (OSHA) has teamed up with various health and safety organizations for unique ideas and solutions. Such initiatives by agencies in collaboration with market players to improve safety standards is anticipated to stimulate the market
Key Companies & Market Share Insights
The foremost corporations in the market are dedicated to augment the production of personal protective equipment and other medical supplies with the help of extended working hours to make sure uninterrupted supply of product plus to curtail price squeezing and forging in the epidemic. Company like DuPont has also augmented its capability to offer protective garments.
Certain noteworthy companies functioning in the healthcare personal protective equipment sector are as follows:
DentsplySirona, Inc.
3M
Stryker Corporation
DePuySynthes, Inc.
Boston Scientific Corporation
Ethicon, Inc.
Derekduck Industry Corp.
Baxter International Inc.BD
Medtronic
Zimmer Biomet Holdings, Inc.
Segments Covered in the Report
This research study comprises comprehensive assessment of the marketplace revenue with the help of prevalent quantitative and qualitative acumens, and forecasts of the market. This report presents breakdown of market into major and niche segments. Furthermore, this research study gauges market revenue growth and its drift at global, regional, and country from 2020 to 2032. This report includes market division and its revenue assessment by categorizing it depending on product, end-use and region as follows:
By Product
Face Protection
Eye Protection
Protective clothing
Hand protection

Durable Gloves
Disposable Gloves

Respiratory Protection

Surgical Masks
Respirator Masks

Others
By End-use
Hospitals
Primary Care Facilities
Home Healthcare
Others
By Regional Outlook
North America
Europe
Asia Pacific

China
India
Japan
South Korea

Middle East & Africa
Latin America