The global healthcare staffing market size reached USD 33.81 billion in 2022 and is projected to surpass around USD 50.12 billion by 2032, expanding at a CAGR of 4.02% during the forecast period from 2023 to 2032.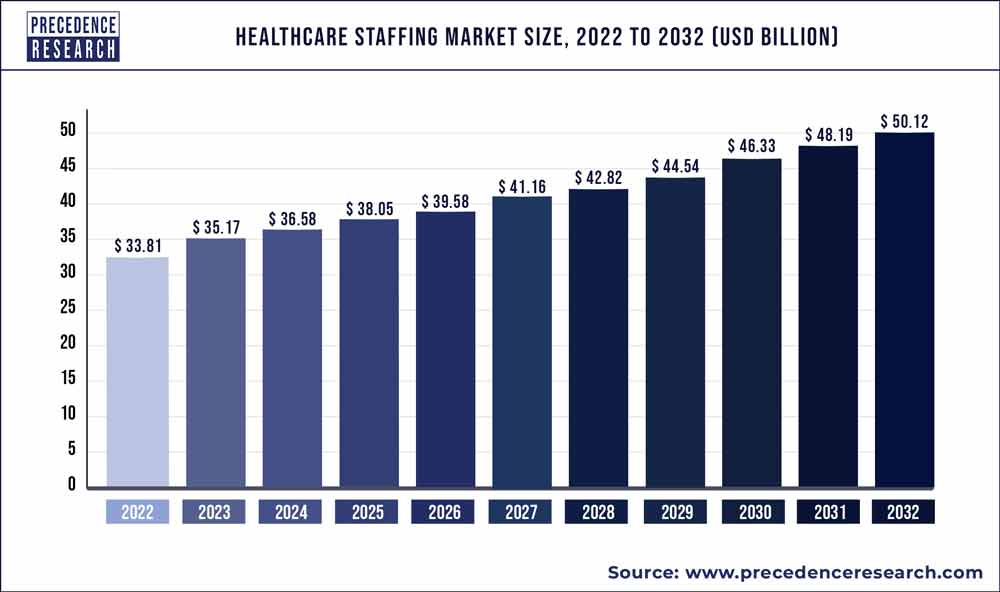 Access our Premium Real Time Data Intelligence Tool, Visit: Precedence Statistics
Key Takeaway
Based on service type, the travel nurse segment accounted market share of over 34.5% in 2022.
The locum tenens service segment is growing at a CAGR from 2023 to 2032.
North America accounted highest revenue share of over 59% in 2022.
The Asia Pacific market is growing faster over the forecast period
The U.S. healthcare staffing market was valued at USD 24.5 billion in 2022 and is expected to surpass around USD 35.1 billion by 2032 with a CAGR of 5.6% from 2023 to 2032.
Healthcare Staffing Market Overview
The substantial growth of the geriatric population is a major factor to drive the healthcare staffing market growth. In addition, rising awareness about benefits offered by job related perks, and temporary staffing is another factor expected to further boost the market growth over the forecast period. Healthcare firms are coming across the different challenges such as meet high turnover rates and increasing patient satisfaction rates. Approach for searching competent staff is developing to address the requirements of a new generation of nurses. Further, restructuring the hiring method from the time of application to recognition, to on-boarding is vital in this competitive environment. Though some of the organizations have figured out few short-term fix for dealing different compliance demands, most of the firms still find shortage of long-term resolutions that may scale with business. A centralized repository comprising credential data, plus availability and reflectiveness into expiration dates and credential statuses are critical for long-standing success. As financial margins constrict, technology resolutions are being expected to advance diagnostic approach, progress connectivity, communication and streamline workflows. Nursing professionals are confronted with remaining on topmost of the modern technologies at the same time upholding their place as the face of patient care.
In recent years, the healthcare industry is facing challenges including a lack of skilled practitioners across the globe. According to the World Health Organization (WHO), there was a shortage of around 7.2 million healthcare staff globally, in 2013 and is expected to reach 12.9 million by the end of 2035. The survey conducted by Avant Healthcare Professionals reported that in the U.S. around 50% of hospitals reported temporary hiring if nurses, as more than 60% of the hospitals were expected nurses' retirement in 2019. The shortage registered for nurses is expected to open new opportunities for market growth in the near future.
Due to the rapid spreading of COVID-19, hospitals are becoming overwhelmed in various countries including China, U.S., Italy, and India. These countries are facing severe nursing shortages which may have an adverse effect on patient's health during the outbreak of COVID-19. The Bureau of Labor Statistics' reported that registered nursing staff is expected to grow around 3.4 million, in 2019 which is increased by 15% from 2016. Factors such as an increase in patients infected with the coronavirus and a rise in nurse retirements are majorly responsible for the nursing shortage. In several nations, frontline staff in the hospitals have been infected and placed into quarantine. Therefore, hospital leaders are taking several important initiatives to overcome this shortage which is expected to propel the market growth.
Healthcare Staffing Market in the U.S. 2023 To 2032
The U.S. healthcare staffing market size accounted for USD 13.96 billion in 2022 and is expected to hit around USD 20.77 billion by 2032, growing at a CAGR of 4.1% between 2023 and 2032.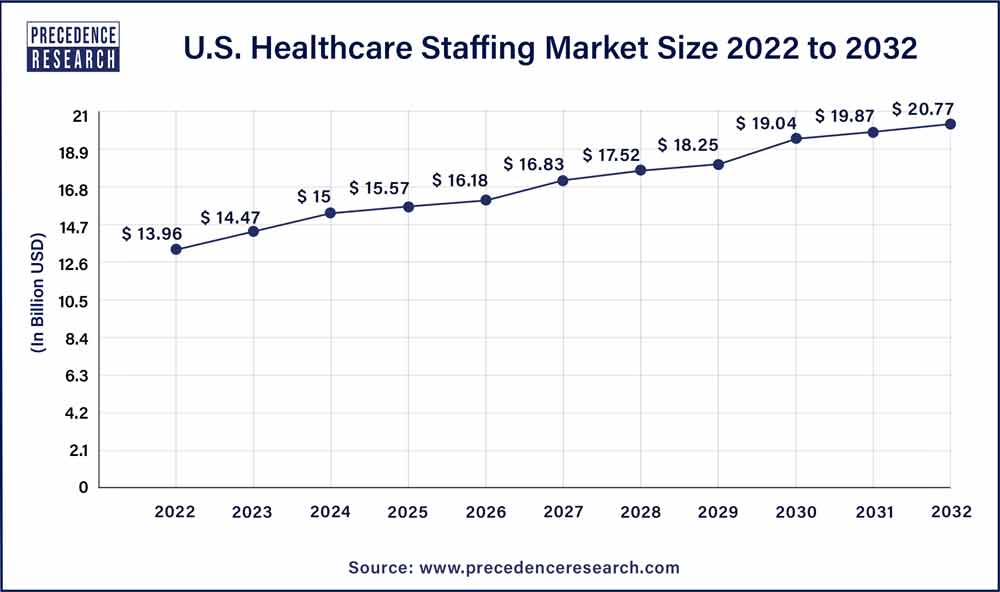 The market share for healthcare staffing worldwide is anticipated to be dominated by North America. A lack of nurses and other medical professionals is caused by the growing elderly population, which drives up demand for healthcare services. In the upcoming years, the market is projected to be driven by temporary staffing's cost-effectiveness.
The fastest-growing region in North America is the United States. Over the next few years, approximately 500,000 physicians will depart, as per the Bureau of Labor Statistics (BLS). The Association of American Medical Colleges predicts that by 2032, there will be a deficit of between 21,000 and 55,200 primary care physicians. The physician shortage will probably drive the market in the upcoming years. It is also anticipated that the demand for a workforce in-home care, including nutritionists, dieticians, nurses, home care aides, and therapists, will increase.
A significant expansion in government and non-government hospitals, long-term care facilities, acute care centers, and other medical institutions is also predicted to influence market expansion considerably. The number of hospitals in this area is rising due to rising public health investment and better medical infrastructure.
Asia Pacific is estimated to register the highest growth during the forecast period on account of increasing demand for contract staffing. In addition, contract staffing comprises no liabilities which are generally associated with permanent staffing. The afore-mentioned factors are gaining traction in developing countries, thereby expected to fuel the regional market growth in the forthcoming years
Healthcare Staffing Market Scope
| | |
| --- | --- |
| Report Highlights | Details |
| Market Size in 2023 | USD 35.17 Billion |
| Market Size by 2032 | USD 50.12 Billion |
| Growth Rate from 2023 to 2032 | CAGR of 4.02% |
| Largest Market | North America |
| Fastest Growing Market | Asia Pacific |
| Base Year | 2022 |
| Forecast Period | 2023 to 2032 |
| Segments Covered | Service, End User, Region |
| Companies Mentioned | CHG Management, Inc., AMN Healthcare, Almost Family, Envision Healthcare Corporation, inVentiv Health, TeamHealth, Maxim Healthcare Services, Inc., Cross Country Healthcare, Inc. |

Healthcare Staffing Market Dynamics
Driver:
Increasing Healthcare Staffing Platforms:
Through early 2022, there has been a significant need for healthcare staffing services due to severe labour supply and demand instabilities, enhanced healthcare usage, and increased clinician turnover. Hospitals continue to face severe staffing shortages even as the impacts of COVID-19 and its derivatives fade. Significantly, according to Quartz, 24% of American hospitals experienced a severe labour shortfall in January, indicating the demand for a quick expansion of the healthcare labour market.
Additionally, the strain of caring for patients throughout the epidemic and the general increase in workload have made it difficult for healthcare professionals to retain staff. According to a recent survey from Cross Country Healthcare and Florida Atlantic University's College of Nursing, employee tiredness has increased open positions, with 37% of surveyed healthcare providers indicating that they are overworked.
Leading staffing companies have experienced significant growth due to the high need for healthcare experts, which has fueled higher labour volumes and bill rates. Hospitals have relied heavily on travel nurse professionals to bridge labour gaps. Since talent is in short supply and demand is outpacing supply, healthcare providers increasingly turn to staff companies to provide nursing solutions. Thus, as mentioned earlier, these factors propel the healthcare staffing market growth.
Restraint:
Lack of Remuneration:
Many healthcare professionals feel underpaid, especially considering the time they invest in their jobs. Over the years, the Bureau of Labor Statistics has documented a consistent rise in pay, but many workers do not consider these figures higher. Nurses can earn up to $43 per hour, and other medical assistants can earn between $12 and $21, according to PayScale. Given the profession's requirements, this frequently does not result in fair compensation. Therefore, the professionals' low remuneration may hamper the growth of the healthcare staffing industry.
Opportunity:
Increase in the Geriatric Population:
The main factor influencing the target market in recent years is the massive increase in older adults. The global population of individuals 60 and above was 1 billion in 2020. This number is expected to rise to 1.4 billion by 2030, according to the World Health Organization statistics report on Aging and Health, issued in October 2021. As a result, illnesses and infections that require prolonged hospitalization are more likely to affect the elderly population. Thus, there will be a rise in outsourcing healthcare personnel, contributing to market expansion. The sector is expanding due to several causes, including employment-related incentives, increased public knowledge of the advantages of temporary work, and the opportunities available globally.
Service Insights
Based on services, the healthcare services market is classified into locum tenens, travel nurse, per diem nurse, and allied healthcare. The travel nurse segment accounted for the largest market share, in 2021. Due to growing healthcare costs, hospitals are enforced to reduce their working staff, wherein travel nurses play an important role in available when workload increased.
On the other hand, the locum tenens service segment is projected to exhibit with the fastest CAGR from 2023 to 2032. Several benefits such as cost efficiency and high preference of physicians to work as locum tenens are anticipated to augment the segment growth in the next few years.
The travel nurse staffing service is the market leader in these categories. Registered nurses (RNs) can operate in several healthcare areas and locations across the United States and abroad through travel nursing services. These programs allow individuals to accept temporary jobs, travel, gain clinical experience in various settings and set their hours. The sector is expanding because of escalating public awareness of the advantages of short-term work and the benefits related to specialized jobs.
In addition, hospitals had to reduce their staff due to increased healthcare costs. To guarantee that nurses are available as workloads increase, healthcare service providers are resorting to "staffing" firms. The utilization of travel nurses increased by 35%, according to an October 2021 AMN Healthcare poll. The study results indicate that this tendency is likely to persist soon. Therefore, such variables are anticipated to benefit the segment's growth during the projection period.
By End User
As hospitals with high patient volumes need a lot of qualified healthcare professionals, the hospital segment is anticipated to dominate the market. It is expected that a significant increase in the number of government and private hospitals will significantly accelerate market expansion. Since public health spending is being increased and the healthcare structure is being improved, there are more hospitals. New rules are expected to give associated employees, especially nurses, the power to act as the patient's primary advocates by launching health plans to facilitate improved care. These rules maintain and promote the right of individuals to make wise health decisions.
Additionally, most hospitals are expanding their employment according to the rules set forth by the government. Hospitals must adhere to standards for the standard health care professional ratio that various government agencies have established. Hospital staffing levels are rising due to legislation and regulations that put patients first.
Key Companies & Market Share Insights
The key market players are implementing some marketing strategies such as partnerships, mergers, and acquisitions in order to expand their service portfolio and geographical presence. For example, in 2018, TeamHealth announced the acquisition of an emergency medical staff provider, Emergency Medicine Consultants (EMC). This acquisition will help the former to add 330 physicians and 80 advanced practice clinicians.
Growing a large number of healthcare staff providers and the rising influence of newly established service providers through mergers and acquisitions are projected to propel the market growth in the next few years. For example, in 2017, Novation Companies, Inc. acquired a provider of healthcare Healthcare Staffing, Inc. (HCS). This acquisition is expected to help Novation Companies, Inc. to expand its geographical reach and service portfolio.
Some of the prominent players in the healthcare staffing market include:
CHG Management, Inc.
AMN Healthcare
Almost Family
Envision Healthcare Corporation
inVentiv Health
TeamHealth
Maxim Healthcare Services, Inc.
Cross Country Healthcare, Inc.
Segments Covered in the Report
This research report estimates revenue growth at global, regional, and country levels and offers an analysis of present industry trends in every sub-segment from 2023 to 2032. This research study analyzes market thoroughly by classifying global healthcare staffing market report on the basis of different parameters including service type and region as follows:
By Service Type
Travel Nurse Staffing
Per Diem Nurse Staffing
Locum Tenens Staffing
Allied Healthcare Staffing
By End User
Hospitals
Clinics
Ambulatory Surgical Centers
Home Care Settings
Private Sector
By Geography
North America
Europe
Asia-Pacific

China
India
Japan
South Korea
Malaysia
Philippines

Latin America

Brazil
Rest of Latin America

Middle East & Africa (MEA)

GCC
North Africa
South Africa
Rest of the Middle East & Africa