The global hospital services market was valued at USD 10.44 trillion in 2021 and is expected to reach around USD 19.61 trillion by 2030 and poised to grow at a compound annual growth rate (CAGR) 8.7% during the forecast period 2022 to 2030.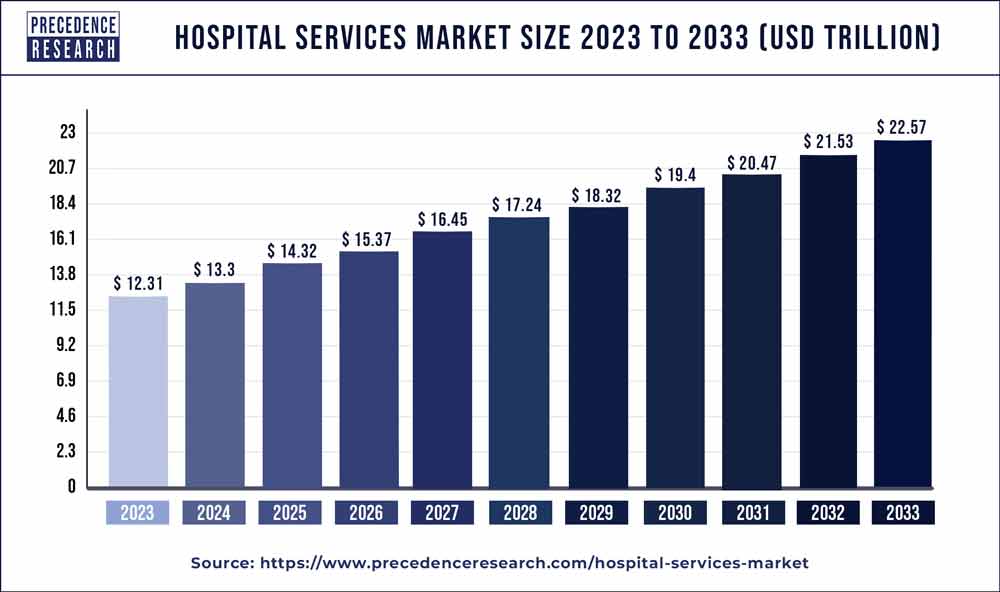 Growth Factors
Rising cancer incidence globally, increasing number of knee replacement surgeries, and availability of next-generation stents are key factors that are anticipated to drive the global hospital services industry over the forecast period. However, high cost of surgical procedures coupled with lack of insurance coverage will subsequently restrain the market growth.
Cost of medical facilities have seen spike in past few decades. Advanced diagnostic technologies have paved their way for early and improved detection of disease as well as supported research for terminal disease treatment such as cancer. Increasing affordability and awareness among people medical services market expected to spur, which is already evident in many countries, as it contributes significantly towards the growth of Gross Domestic Product (GDP).
With increasing cost of healthcare facilities, several developed nations have established health insurance plans. In North America, healthcare insurance is an integral and the most important sector of healthcare industry. Its rising influence among consumers and public projected to spur their demand over the coming years. In addition, healthcare service contributes significantly towards revenue in the overall healthcare industry. Pharmaceutical companies, term care services, medical devices sector, medical consumables industry, and healthcare facility management services together contribute prominently toward the healthcare services market. As an end-use segment, hospitals capture significant consumer base in the healthcare industry.
Hospitals, therefore, are an integral part of healthcare industry as well as a major revenue source for the overall industry that also fuels research & innovation in the stream. Various healthcare product manufacturers invest prominently in terms of both marketing strategies and revenue to promote their product and services among hospitals. Hence, strategic decisions within the hospital sector affects notably to the other associated industry within healthcare steam.
Report Scope of the Hospital Services Market
| | |
| --- | --- |
| Report Highlights | Details |
| Market Size | USD 19.61 Trillion by 2030 |
| Growth Rate | CAGR of 8.7% from 2022 to 2030 |
| Largest Market | North America |
| Fastest Growing Market | Asia Pacific |
| Base Year | 2021 |
| Forecast Period | 2022 to 2030 |
| Segments Covered | Service Class, Hospital Type, Service Area, Region |
| Companies Mentioned | Mayo clinic, HCA Healthcare, Cleveland clinic, Spire Healthcare Group plc, Ramsay Health Care, Ascension Health, Community Health Systems, Inc., Tenet Healthcare, and Fortis Healthcare |
COVID-19 Impact
The COVID-19 pandemic resulted in placing unparalleled demands on healthcare systems, however, the industry has exhibited resilience and the ability to bring innovations to the market rapidly. Nonetheless, the various sub-segments of the healthcare sectors are being affected by COVID-19. There was tremendous pressure on pharmaceutical companies to manufacture vaccines. Post the clinical trials, these companies are now facing production pressures to meet the demand across the globe. They are being challenged by complex supply chains, new models for engagement with healthcare professionals, a largely remote workforce, and disruption to many clinical trials. Similarly, hospitals are caring for COVID-19 patients with evolving protocols while maintaining continuity of care for others, often against the backdrop of vulnerable staff, supply and equipment shortages, and, for some, accelerating financial headwinds.
Private hospitals and clinics are experiencing a reduction of in-patient footfalls due to nationwide lockdown and several other factors as well which are leading to inadequate utilization of health‑care services by the patients and decrease in medical services volumes which resulted in acute economic crisis.
The high requirement of isolation wards and patient beds has resulted in the majority of the non-emergency care facilities being converted to dedicated wards for corona infected patients. Furthermore, the healthcare supply chain has been disrupted due to the exponential demand for hand sanitizers, personal protection equipment, face masks, and other protective gear. Lockdowns for extended periods across economies have affected all other industries and over the last year, the focus of the economy has shifted to focus only on healthcare facilities catering to the infection.
Regional Insights
In 2020, North America emerged as a global leader accounting for a revenue share of 50% in the global hospital services market. Rising incidence of cancer along with increasing cost of medical services in the region expected to propel the market growth of the region. In addition, the region anticipated to maintain its dominance during the forecast period owing to developed medical centers and healthcare facilities. Upcoming economies of Middle East, Africa, Latin America, and Asia Pacific are expected to drive the regional market growth during the forecast period due to high potential government investments for improving their healthcare infrastructure.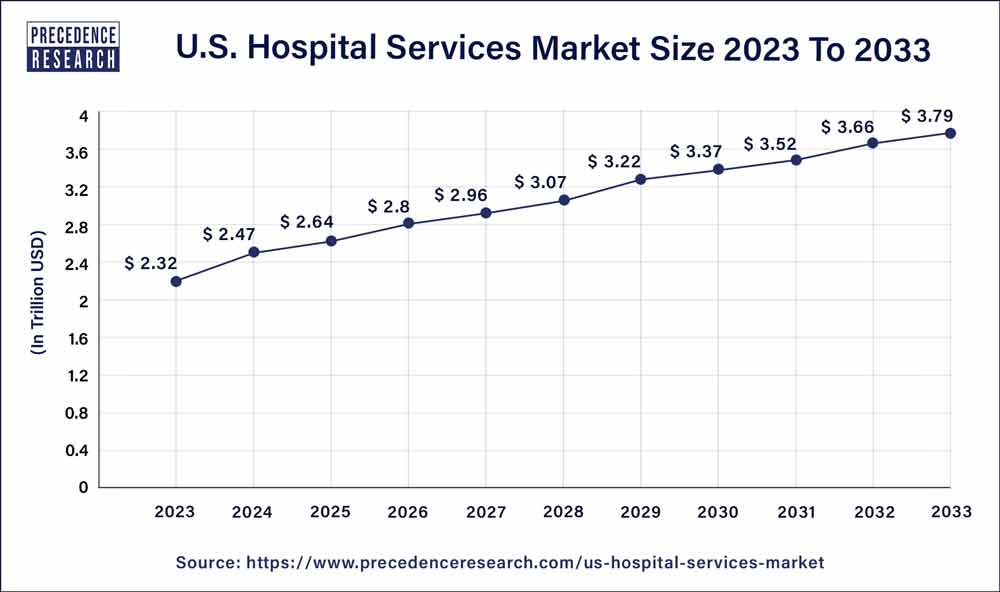 The global hospital services market is highly fragmented due to the presence of several large and small firms with a global and regional focus. HCA Healthcare, Ascension Health, Tenet Healthcare Corporation, Mato Clinic, and Community Health Systems, Inc. are some of the largest hospital service providers in the world with a global presence. Several of these firms have hospital networks across North America and Europe. Over the last few years, these companies have been focusing on various strategies such as acquisitions, and expansions & investments.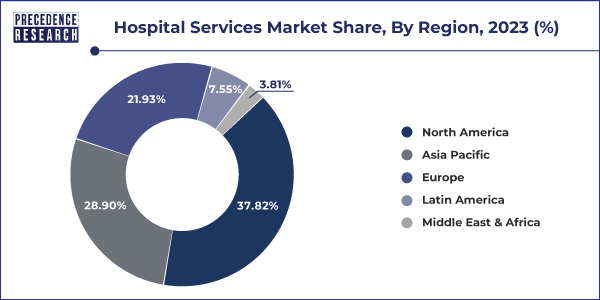 Hospital Type Insights
Hospital service structure differs by region, in the U.S. and UK the market structure was influenced by the private hospitals. This was mainly due to several retail clinics comes under the network of private hospitals. In addition, the overall growth of the hospital services market was controlled by the private and community hospitals.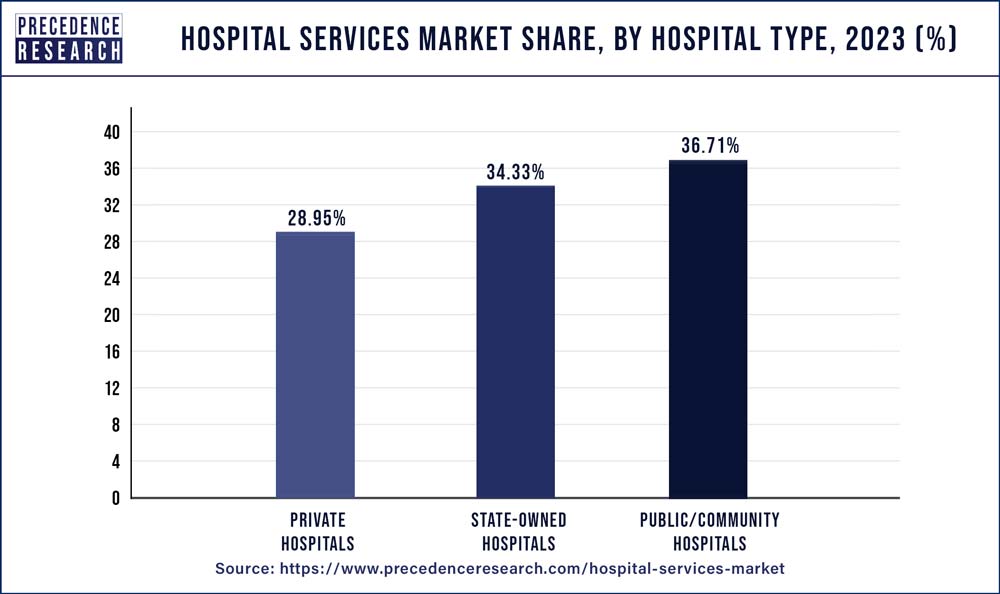 In 2020, public/community hospitals accounted for the largest market share at 37.1%, whereas, state-owned hospitals accounted for the second-largest market share. Both these segments are expected to lose their shares to the private hospital segment on account of advanced hospital services offered by them. Furthermore, the presence of superspecialty procedures in private hospitals is expected to increase the footfall of patients. These types of hospitals have the largest capacity of patient beds and cater to various medical conditions or service areas though specialized departments. Philanthropist organizations, crowd-funded communities, and corporations are the significant promoters of community hospitals.
On the other hand, private hospitals seek lucrative growth over the forecast period. As per analysis in the hospital sector, growth of private hospitals is mainly due to expansion of specialist capabilities as well as specifically caters to the critical patients suffering from chronic disease such as cardiovascular care & cancer. Besides this, state-owned hospitals mainly focus on the patients that require acute care such as accident/trauma and infection control treatments. In the wake same, these hospitals observed to have a plummeting market share in the coming years, specifically in the developed countries.
Service Type Insights
In 2020, inpatient services accounted for 59.6% of the global hospital service market share, whereas outpatient services accounted for the remaining share. This was mainly because of hospitalization procedures that require long hospital stay.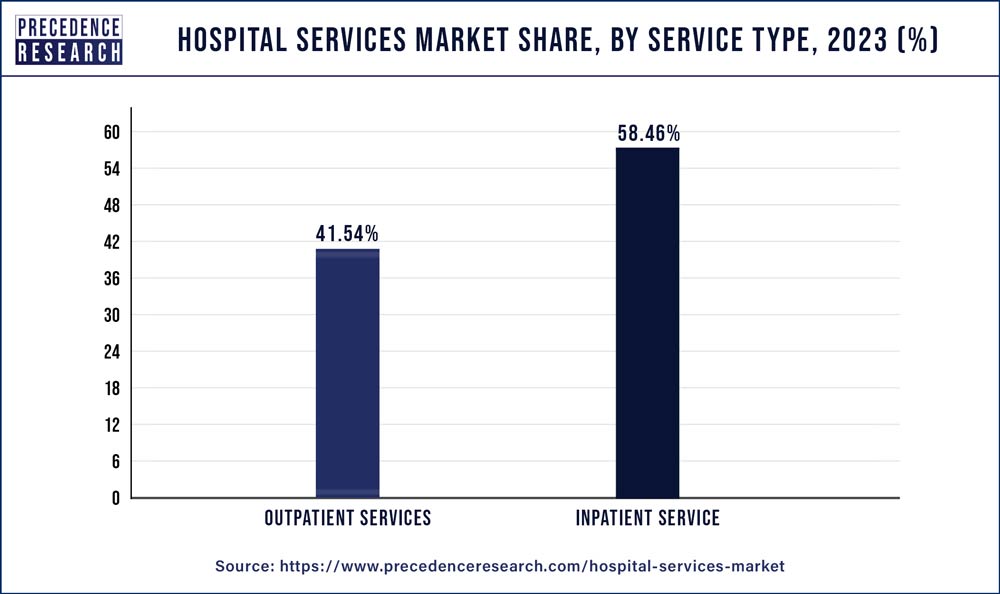 The high costs of inpatient services along with limited insurance coverage are expected to result in patients opting for outpatient services during the forecast period. Thus, the inpatient services segment is expected to lose a notable chunk of its share to the outpatient services segment. However, with the advancement in the wound healing capability along with quick recovery from surgeries have significantly reduced the duration of hospital stay.
Service Areas Insights
Cardio vascular services accounted for the largest market share in 2020, followed by the diagnostics & imaging segment. Although neurorehabilitation & psychiatry services accounted for a 12.2% market share in 2020, the segment is expected to witness the highest growth on account of rising patient awareness regarding mental health. Cancer care is anticipated to be the second-fastest growing segment due to the rising prevalence of cancer, especially among women.
Conversely, development in the communication technology anticipated to spur the growth of outpatient service over the analysis period. Developed communication technology has paved the way for growth in remote consultation procedures and telemedicine. Consequently, shorter hospital stays and high cost for inpatient service have made outpatient service as the most opportunistic segment among the hospital service providers.
Key Companies & Market Share Insights
The global hospital services market players are largely focusing on merger & acquisition and regional expansion strategy to establish their retail clinic chain in various parts of the country or the region. According to the hospital merger report published by the Journal of the American Medical Association (JAMA), merger & acquisition among hospital sectors have paved way for large institutions, although resulted in increased cost.
Certain of the leading players in the hospital services sector are as below:
Mayo clinic
HCA Healthcare
Cleveland clinic
Spire Healthcare Group plc
Ramsay Health Care
Ascension Health
Community Health Systems, Inc.
Tenet Healthcare
Fortis Healthcare
Segments Covered in the Report
This research study comprises complete assessment of the market by means of far-reaching qualitative and quantitative perceptions, and predictions regarding the market. This report delivers classification of marketplace into impending and niche sectors. Further, this research study calculates market size and its development drift at global, regional, and country from 2017 to 2030. This report contains market breakdown and its revenue estimation by classifying it on the basis of hospital type, service type, service areas, and region:
By Hospital Type
State-owned Hospital
Private Hospital
Public/ Community Hospital
By Service Type
Outpatient Services
Inpatient Service
By Service Areas
Cardiovascular
Acute Care
Cancer Care
Diagnostics, and Imaging
Neurorehabilitation & Psychiatry Services
Gynecology
Others
By Regional Outlook
North America
Europe
Asia Pacific

China
India
Japan
South Korea

Rest of the World