The global clinical trials market size was valued at USD 53.87 billion in 2022 and is predicted to hit USD 84.43 bn by 2030 with a registered CAGR of 5.7% during the forecast period 2022 to 2030.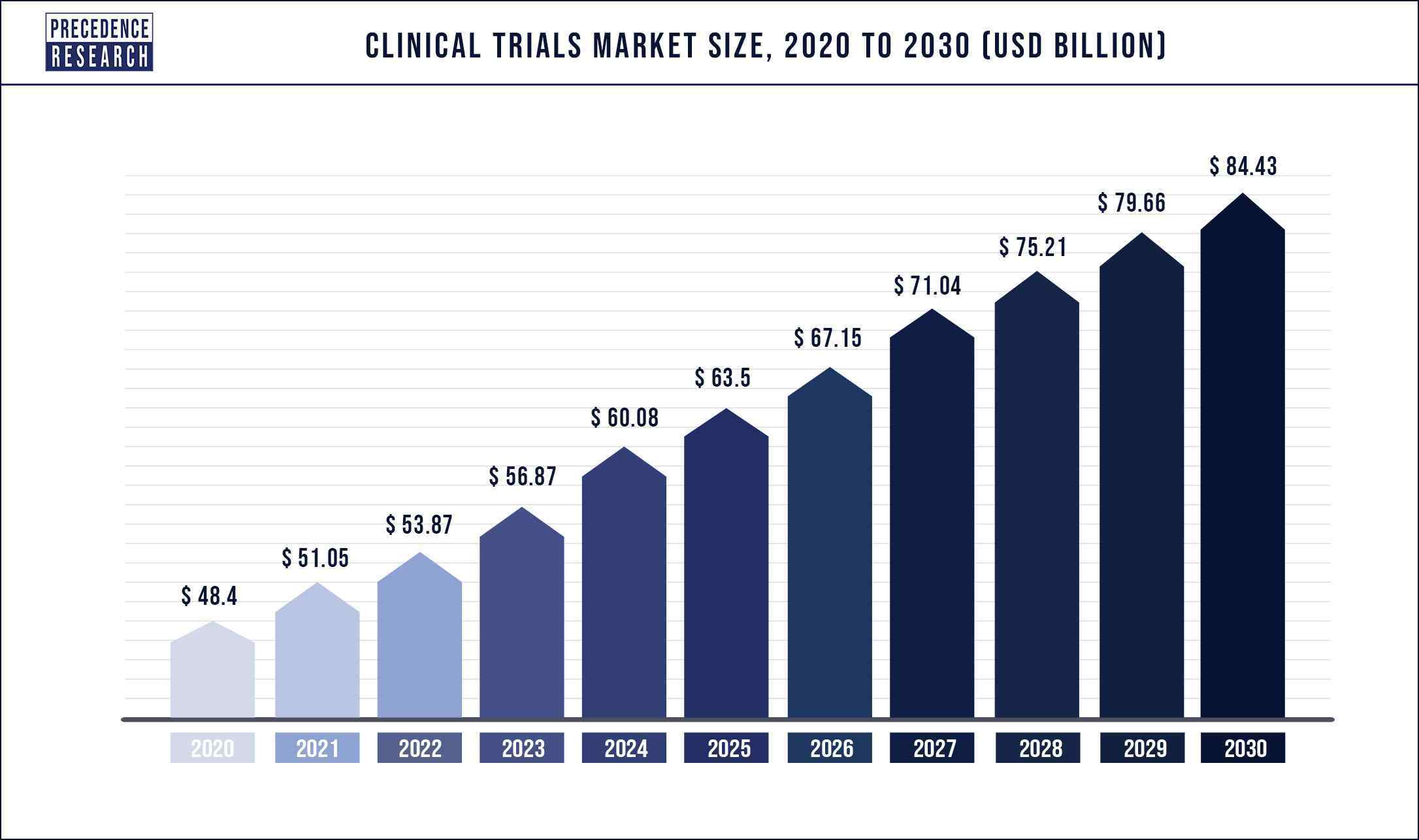 Key Takeaway:
North America has hed 51.4% of the total market share in 2021.
Asia Pacific region is growing at the CAGR of 6.8% during the forecast period.
By indication, the oncology segment has held market share of around 24.5% in 2021.
The cardiovascular condition segment is growing at a CAGR of 6.3% during the forecast period.
By sponsor, The pharmaceutical & biopharmaceutical companies has generated largest revenue share of around 71% in 2021.
By Indication by study design, the interventional trials market for autoimmune/inflammation has captured 83% market share in 2021.
By study design, the interventional design segment has accounted revenue share of 46% in 2021.
The expanded access trials segment is projected to register at a CAGR of 6.3% over the forecast period.
Key market Insights:
Clinical trials are a process of clinical research that is governed by a defined protocol which is carefully established to answer a precise patient care query. Clinical trials can be divided into five phases, with every phase playing a distinct purpose within the clinical trial. Every trial adheres to a procedure that designates what types of individuals may participate in the study.
The trials also outline exact plan of procedures, tests, medications, and doses within the trial apart from specifying the span of the study. In recent years, the costs associated with drug development have increased significantly, driving pharma and biotech companies to look for modernizations and smarter ways of conducting business.
One important trend is the outsourcing of clinical research activities by manufacturers. By subcontracting their R&D activities, pharma and biotech companies are reforming the drug development facilities business. The R&D service providers have risen from just a few establishments providing restricted clinical trial facilities to big conglomerates offering a extensive range of facilities like study design, preclinical evaluations, clinical trial management and planning, autonomous safety data audit, bio-statistical analysis and several more. CROs (Contract Research Organizations) started off by providing preclinical & clinical trial services, however they are now venturing into project administration.
Report Scope of the Clinical Trials Market
| | |
| --- | --- |
| Report Highlights | Details |
| Market Size | USD 84.43 Billion by 2030 |
| Growth Rate | CAGR of 5.7% from 2022 to 2030 |
| Largest Market | North America |
| Fastest Growing Market | Asia Pacific |
| Base Year | 2021 |
| Forecast Period | 2022 to 2030 |
| Segments Covered | Phase, Study Design, Indication |
| Companies Mentioned | Parexel, IQVIA, Charles River Laboratory, Omnicare, Kendle, Chiltern, and Pharmaceutical Product Development, LLC. |
Crucial factors accountable for market growth are:
Growing prevalence of chronic disorders
Increasing number of clinical trials in developing regions
Growing number of biologics
Increasing demand for advanced treatments such as personalized medicines
Significant Market Trends:
Phase 3 Segment Reported Foremost Market Stake in 2022
Phase 3 segment recorded the major market stake in the worldwide clinical trials market in 2022 and has garnered revenue share 54.6%. Implementation on a large scale is the major reason for high market share of phase 3. Other factors such as high cost and increasing trend of outsourcing are expected to boost the demand over the estimate period.
The Phase 2 clinical trials are anticipated to advance at the maximum CAGR through the forecast period. The Phase II segment held market share for 19.5% in 2021.
Interventional Study is Projected to Dominate the Study Design Segment of Clinical Trials Market Revenue
The requirement of clinical trials in developing diagnostic tests and vaccines for viral diseases such as the SARS CoV-2 has augmented the demand for clinical trials exponentially. Thus, high incidence of novel viral diseases and ongoing technological improvements in clinical trials are major reason for the high revenue share of interventional study. Interventional study segment is expected to grow at a CAGR of 5.4% from 2022 to 2030. The interventional design segment accounted largest market share 46% in 2022.
Oncology is Projected to Dominate the Indication Segment of Clinical Trials Market Revenue
Constant research on cancer treatment and increasing demand for precision medicine are the major reasons responsible for high market share of oncology. The oncology segment was valued at USD 25 billion by 2030. The oncology segment accounted revenue share 24.5% in 2022 and expected to witness growth at a CAGR of 6.4% over the forecast period 2022 to 2030.

North America is Estimated to be the Largest Market for Clinical Trials
The research study covers key prospects and trends of clinical trials products throughout different regions including Europe, North America, Asia-Pacific, Middle East and Africa, and Latin America. Regionally, clinical trials market is dominated by North America due to high incidence of chronic disorders and presence of latest healthcare infrastructure. The North America clinical trials market was valued USD 24 billion in 2021. North America accounted largest revenue share 51.4% in 2022.
On the other hand, Asia-Pacific is anticipated to witness the rapid growth rate 7.2%, on account of increasing investment by governments in research and growing awareness regarding precision medicine.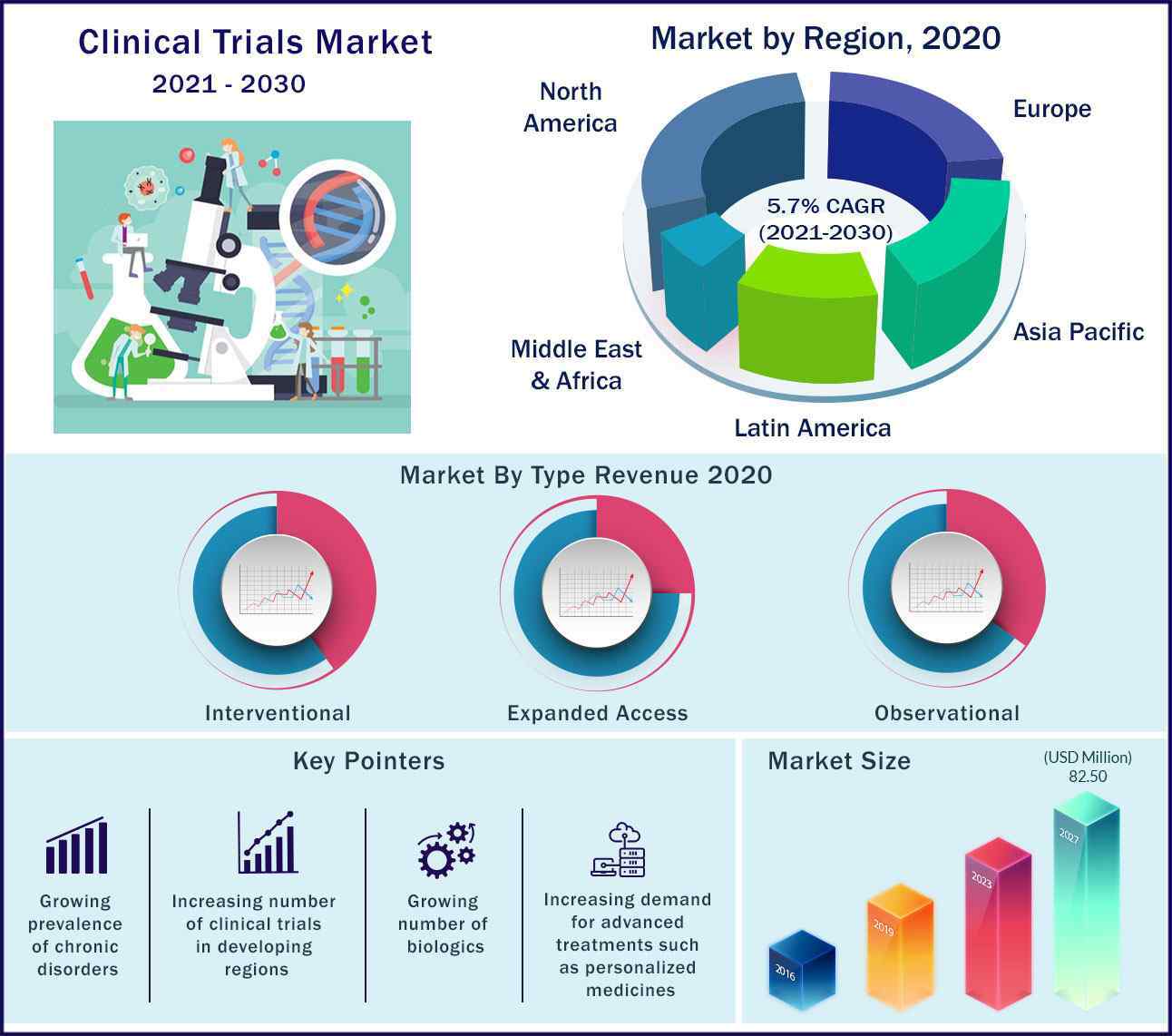 Top Players contending in the Market:
Parexel
IQVIA
Charles River Laboratory
Omnicare
Kendle
Chiltern
Pharmaceutical Product Development, LLC
In order to better recognize the current status of clinical trials, and policies adopted by the foremost countries, Precedence Research predicted the future evolution of the clinical trials market. This research study bids qualitative and quantitative insights on clinical trials market and assessment of market size and growth trend for potential market segments.
Major Market Segments Covered:
By Phase
Phase 1
Phase 2
Phase 3
Phase 4
By Study Design
Observational
Interventional
Expanded Access
By Indication
Autoimmune/Inflammation

Rheumatoid arthritis
Multiple Sclerosis
Osteoarthritis
Irritable Bowel Syndrome (IBS)
Others

Pain Management
Oncology

Blood Cancer
Solid Tumors
Other

CNS Condition

Epilepsy
Parkinson's Disease (PD)
Huntington's Disease
Stroke
Traumatic Brain Injury (TBI)
Amyotrophic Lateral Sclerosis (ALS)
Muscle Regeneration
Others

Diabetes
Obesity
Cardiovascular
Others
By Service Type
Protocol Designing
Patient Recruitment
Laboratory Services
Site Identification
Bioanalytical Testing Services


Cell-based Assays
Virology Testing
Method Development, Optimization, & Validation
Serology, Immunogenicity, & Neutralizing Antibodies
Biomarker Testing Services
PK/PD (Pharmacokinetics/Pharmacodynamics) Testing Services
Other Bioanalytical Testing Services

Analytical Testing Services
Clinical Trial Supply & Logistic Services
Clinical Trial Data Management Services
Decentralized Clinical Services
Medical Device Testing Services
Others
By Sponsor
Pharmaceutical & Biopharmaceutical Companies
Medical Device Companies
Others
By End User
Hospital
Laboratories
Clinics
By Application
Vaccine
Cell & Gene Therapy
Small Molecules
Other Applications
By Geography
North America
Europe

Germany
France
United Kingdom
Rest of Europe

Asia Pacific

China
Japan
India
Southeast Asia
Rest of Asia Pacific

Latin America

Brazil
Rest of Latin America

Middle East & Africa (MEA)

GCC
North Africa
South Africa
Rest of Middle East & Africa