The global eClinical solutions market size was valued at USD 8.25 billion in 2022, and is expected to hit around USD 27.39 billion by 2032 with a compound annual growth rate (CAGR) of 12.8% over the forecast period 2023 to 2032.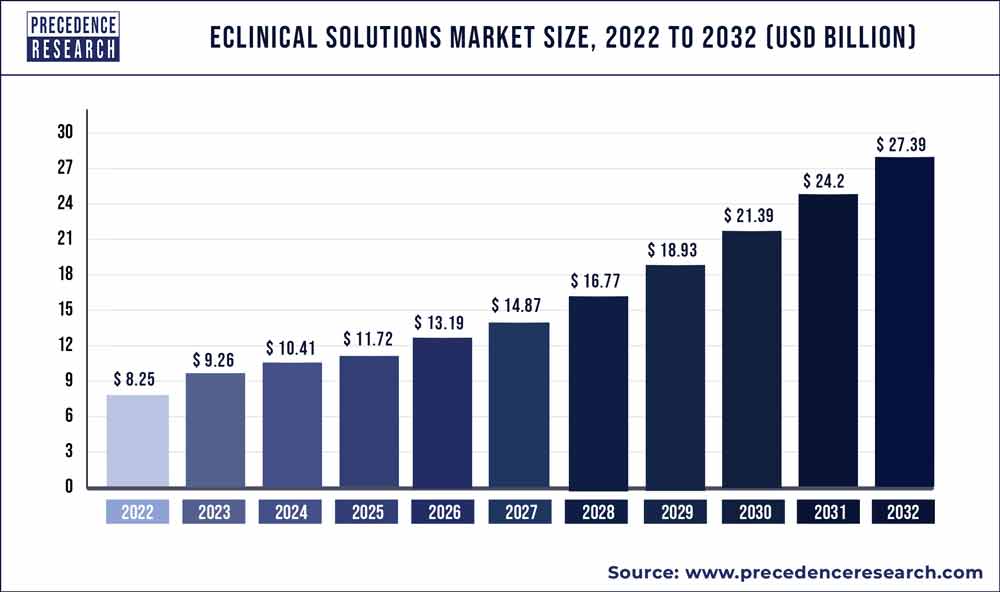 Access our Premium Real Time Data Intelligence Tool, Visit: Precedence Statistics
Key Takeaways:
North America led the eClinical solutions market with the largest market share of 52% in 2022.
The CTMS segment dominated the eClinical solutions market and accounted for the largest revenue share of over 22% in 2022.
By Delivery Mode, the web-hosted segment dominated the market with the largest revenue share of over 75% in 2022.
By Development Phase, the phase III segment dominated the eClinical solutions market and accounted for the largest revenue share of over 54% in 2022.
The CROs segment dominated the market for eClinical solutions and held the largest revenue share of over 37.06% in 2022.
eClinical Solutions Market in the U.S. 2023 To 2032
The U.S. eClinical solutions market size was valued at USD 3 billion in 2022 and is expected to reach USD 10.06 billion by 2032, poised to grow at a CAGR of 12.9% from 2023 to 2032.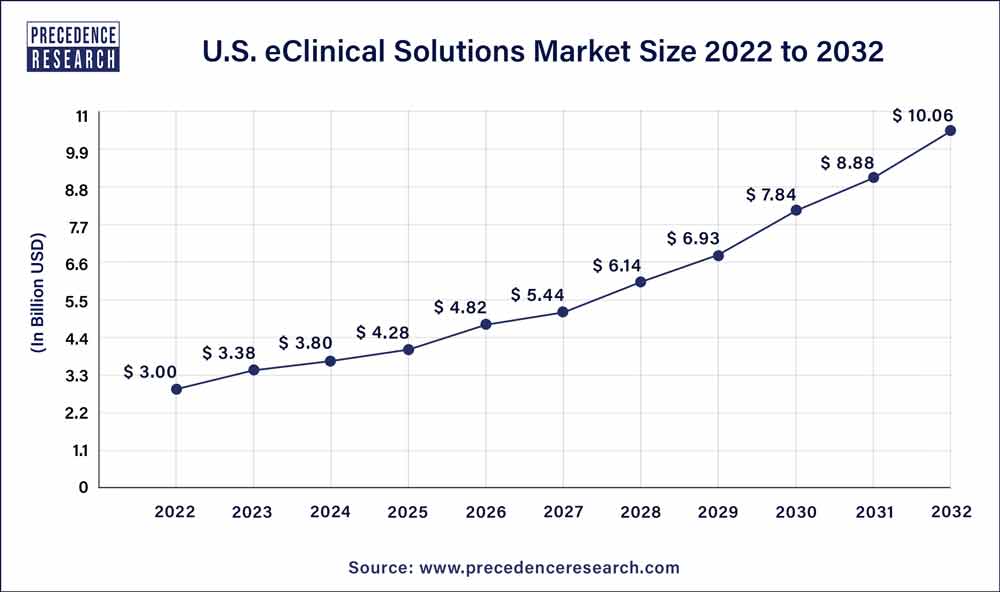 North America led the global eClinical solutions market in terms of revenue in the year 2022. Rising prevalence of lifestyle accompanied with several diseases such as cardiac disorder and diabetes along with increasing number of target population are the key factors that poised to stimulate the demand of eClinical solutions in the region. Apart from this, the Asia Pacific exhibits lucrative growth over the analysis period owing to rising prevalence of chronic diseases that include cardiovascular conditions, cancer, and infectious diseases. Furthermore, many Asian countries such as India, China, Japan, and Korea outsources large number of clinical trials due to large patients population in the countries, thereby boosting the adoption of eClinical solutions in above mentioned regions.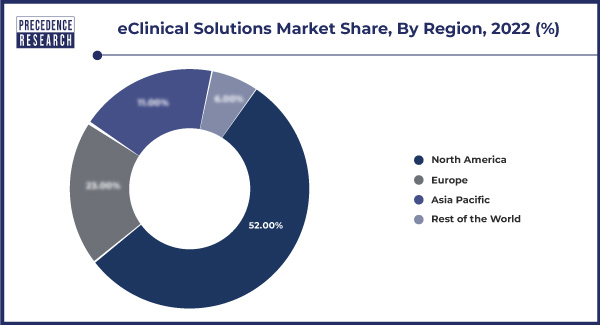 Growth Factors
Integration of software solutions in clinical trials provides tremendous market growth. Further, rising trend of clinical trial outsourcing services to Contract Research Organizations (CROs) coupled with rising number of life sciences organizations and CROs poised to help the market to gain significant traction over the forecast period. Increasing research activities in Asian countries for the development of cost-effective solutions or modules expected to spur the market growth.
Presence of strict regulations for clinical trial together with rising need for safety monitoring plays a vital role in the fuelling adoption of eClinical solutions especially in the developed countries such as the United States. For instance, the National Institutes of Health and the U.S. Department of Health and Human Services have issued stringent regulations on clinical trial registration requirements; additionally they promote clinical data sharing.
Biopharma and pharma companies seeks surge in demand of software solutions for clinical trials that accounts as one of the primary factor to stimulate the overall market growth. Apart from this, favorable government policies to expand the end-users of eClinical solutions as well as offer grants to substantiate trials are likely to propel the market growth during the analysis period.
Market Dynamics :
Driver :
Enormous demand for real-time data access
The advancements in the healthcare sector across the globe have forced providers to adopt remote monitoring, real-time data access supports remote monitoring of patients participating in clinical trials. With the use of eClinical solutions, patients can report data remotely through electronic patient-reported outcome tools or wearable devices. Real-time data access enables healthcare professionals, researchers, and sponsors to make informed decisions promptly. With eClinical solutions, data collected during a clinical trial is instantly available, allowing stakeholders to monitor patient safety, track study progress, and make critical decisions in real-time. This facilitates faster intervention, adjustment of trial protocols, and immediate response to safety concerns or adverse events. Considering the factors that offer real-time data with eClinical solutions, the element is observed to act as a driver for the market.
Rising number of clinical trials
With the increasing number of clinical trials, collaboration among various stakeholders becomes crucial. eClinical solutions facilitate seamless communication and collaboration between sponsors, investigators, CROs, regulatory authorities, and other involved parties. These solutions provide centralized platforms for real-time data sharing, document exchange, and remote monitoring. Enhanced collaboration accelerates decision-making, promotes transparency, and ensures effective coordination among trial participants. The growing number of clinical trials generates vast amounts of data that require analysis and reporting. eClinical solutions provide advanced analytics capabilities to extract valuable insights from the collected data. These solutions offer tools for data visualization, statistical analysis, and generation of reports, enabling researchers and trial sponsors to make informed decisions and communicate trial outcomes effectively. Thus, the requirements for data analysis along cost efficiency offered by eClinical solutions for clinical trials makes it a driving factor for the market.
Restraint :
Risk of errors
Errors can occur during the data entry process, leading to inaccuracies and inconsistencies in the data. Human errors, such as typos, incorrect data input, or data mapping mistakes, can negatively impact the integrity and reliability of the collected data. Even small errors in data entry can have significant consequences, affecting the outcomes of clinical trials and potentially compromising patient safety. Moreover, ensuring compliance can be challenging, and non-compliance can lead to penalties, legal issues, or data integrity concerns, posing a restraint to the adoption of eClinical solutions.
Lack of standardization
In clinical trials, data is generated from multiple sources, including different sites, investigators, devices, and systems. Without standardized data models and formats, the process of integrating and harmonizing data becomes complex and time-consuming. This lack of standardization can result in data inconsistencies, errors, and difficulties in performing cross-study analysis, meta-analysis, or comparative effectiveness research. In the absence of standardized data collection methods and formats, there is a higher risk of data quality issues, including errors, inconsistencies, and missing data. This lack of standardization can impact the reliability and integrity of clinical trial data, potentially leading to flawed analysis, biased results, or inaccurate conclusions. Thus, lack of standardization creates a restraint for the market.
Opportunity :
Technological advancements
The integration of big data analytics and eClinical solutions allows for in-depth analysis of vast amounts of clinical and non-clinical data. It enables the identification of novel biomarkers, identification of patient subgroups, optimization of trial design, and predictive modeling. These insights can lead to more personalized and targeted interventions, improved trial outcomes, and enhanced patient care. Advanced communication and collaboration tools facilitate seamless interactions among study teams, investigators, and sponsors. Virtual trial platforms enable decentralized or hybrid trial models, eliminating the need for physical site visits and reducing logistical challenges. These technologies enable broader participant recruitment, faster trial execution, and cost savings; all these are observed to offer technological advancements in the market.
Global expansion of clinical services
The use of real-world data in clinical research is expanding, enabling the evaluation of treatment outcomes and safety profiles in real-life settings. The global expansion of clinical services necessitates collaboration among various stakeholders, including pharmaceutical companies, CROs, research institutions, regulatory bodies, and technology providers. eClinical solutions offer platforms and tools that enable seamless collaboration, data sharing, and secure communication among these entities. The opportunity lies in fostering partnerships and alliances to deliver integrated eClinical solutions that meet the specific needs of global clinical trials and research endeavors.
Challenge :
Complexities in adoption in underdeveloped areas
Underdeveloped areas may have limited access to modern technology and digital devices. Clinical research sites, healthcare facilities, and research organizations in these areas may not have the necessary resources to invest in eClinical solutions or update their existing technology infrastructure. The lack of access to computers, tablets, or smartphones can impede the adoption of eClinical solutions, as these tools are essential for data capture, entry, and communication. Thus, complicated adoption in underdeveloped areas is observed to create a challenge for the market.
Product Insights
Electronic Clinical Outcome Assessment (eCOA) estimated as the fastest growing product segment during the forecast period due to rising importance of high-quality clinical data. eCOA enables preservation of overall quality and is being largely integrated in the measurement of clinician-reported, patient-reported, and observer-reported outcomes. Data capturing process via eCOA platforms enhances the streamlines data collection procedures, quality of information captured, and also offers an effective data analysis.
Delivery Mode Insights
Web-hosted eClinical solutions captured maximum market value share in 2022. The dominance of the segment is mainly due to its associated benefits that include usability, easy accessibility, and lower investments required. Further, the web-hosted solutions can be easily customized because of which providers can customize their offering as per the user group. Further, these solutions have higher level of interoperability. The aforementioned factors help the segment to maintain its position during the forecast period.
However, Cloud-based solutions predicted to exhibit strong growth rate during the analysis period due to integrated features such as negligible handling costs, high accessibility, flexibility, and easy data backup. Real-time data obtained through these systems that enable users to make quick decisions along with it also provides high-quality information for risk monitoring. The above associated advantages projected to bolster the demand for cloud-based solutions during the forecast period.
End-use Insights
In 2022, CROs dominated the global eClinical solutions market and anticipated to witness remarkable growth in the coming years. This is attributed to the rising concern of pharmaceutical companies to reduce their overall expenditure. Moreover, increasing application of eClinical solutions in research activities has further broadened the scope of the segment. Benefits of outsourcing clinical trials to CROs comprise enhanced productivity, increased efficiency of services, cost advantages, and increased focus on core areas of development that are critical for a company's growth.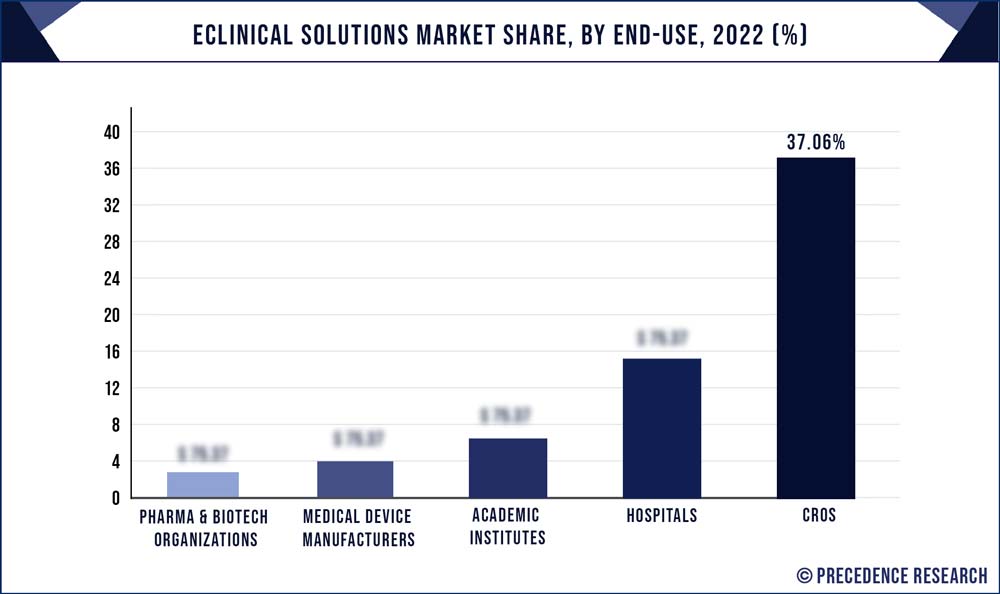 On the other hand, pharmaceutical and biotechnology companies expected to witness prominent growth over the forecast period. The eClinical solutions not only enhances the efficiency of the trial but also reduce the time and cost required during a drug development.
Key Companies & Market Share Insights
The global eClinical solutions market encounters huge competition among the market players owing to a race among players to capture the untapped market opportunity. These players adopt various growth strategies that are mergers & acquisitions, new product development, and collaborations that help them to consolidate their position in the market. For example, in September 2019, Anju Software Inc. acquired OmniComm Systems to enrich its portfolio of eClinical solutions with innovative data analytical capabilities.
Some of the prominent players in the eClinical solutions market include:
PAREXEL International
Oracle Corp.
Bioclinica
Medidata Solution
DATATRAK
ERT Clinical
CRF Health
eClinicalWorks
OmniComm Systems
IBM Watson Health
eClinical Solutions
Segments Covered in the Report
This research study comprises complete assessment of the market by means of far-reaching qualitative and quantitative perceptions, and predictions regarding the market. This report delivers classification of marketplace into impending and niche sectors. Further, this research study calculates market size and its development drift at global, regional, and country from 2020 to 2032. This report contains market breakdown and its revenue estimation by classifying it on the basis of product, development phase, delivery mode, end-use, and region:
By Product
EDC & CDMS
eCOA
Clinical Data Integration Platforms
CTMS
Safety Solutions
RTSM
Clinical Analytics platforms
eTMF
By Development Phase
Phase IV
Phase III
Phase II
Phase I
By Delivery Mode
Licensed Enterprise
Web-hosted
Cloud-based
By End-Use
CROs
Hospitals
Academic Institutes
Medical Device Manufacturers
Pharma & Biotech Organizations
By Regional Outlook
North America
Europe
Asia Pacific

China
India
Japan
South Korea

Rest of the World