The global track and trace solutions market size was estimated at USD 4.9 billion in 2022 and it is projected to hit over USD 28.9 billion by 2032 and growing at a CAGR of 19.42% from 2023 to 2032. U.S. track and trace solutions market was valued at USD 1.4 billion in 2022.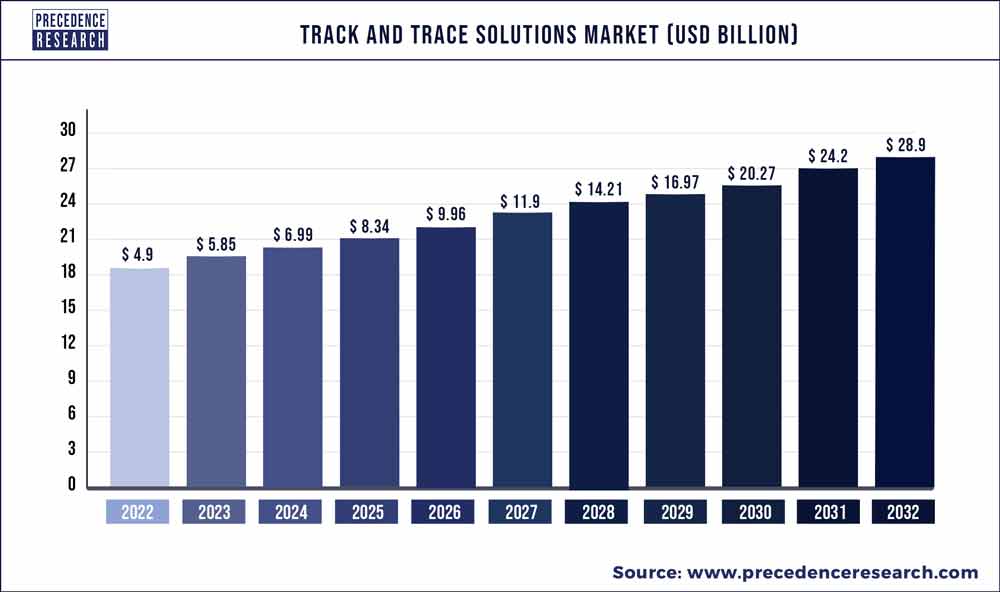 Key Takeaway:
North America Market has accounted market share of around 37% in 2022.
By product, software solutions has generated highest market share of 52% in 2022.
The hardware systems segment has held 48% market share in 2022.
By application, the serialization solutions segment has garnered market share of 56% in 2022.
By technology, barcode technology has captured market share of 81% in 2022.
By end-use, pharmaceutical companies had highest market share of around 27% in 2022.
Growth Factors
The global track and trace solutions market is estimated to experience momentous growth during the estimate period owing to aspects such as upsurge in adoption of track and trace solutions by pharmaceutical and medical device manufacturers to resolve the problem of drug counterfeit and organized regulatory framework & execution of standards. Though these influences develop the growth of the track and trace solutions market, great installation cost related with aggregation and serialization solutions greatly obstruct the market growth.
Report Scope of the Track and Trace Solutions Market
| | |
| --- | --- |
| Report Highlights | Details |
| Market Size | USD 28.9 Billion by 2032 |
| Growth Rate | CAGR of 18% from 2023 to 2032 |
| Largest Market | North America |
| Fastest Growing Market | Asia Pacific |
| Base Year | 2022 |
| Forecast Period | 2023 to 2032 |
| Segments Covered | Product, Technology, Application, End User, Region |
| Companies Mentioned | Adents International, Mettler-Toledo International, Inc, Axway, TraceLink, Inc, Optel Vision, Siemens AG, SeidenaderMaschinenbau GmbH |
Application Insights
As of 2022 serialization solutions occupied major share in terms of revenue in the global track and trace solutions marketplace. This is attributed to the growing focus of regulatory bodies and execution of the same. Country governments, federal agencies, and the healthcare sector are taking actions to reduce product diversion and drug forging. Serialization is a major step to obey with new ePedigree regulations that are mandatory for product traceability throughout the supply chain. Furthermore, augmented focus on patient security and brand safety by producers is anticipated to push segment growth throughout the study period.
Product Type Insights
Among different product type, software solutions dominated market with huge share of track and trace solutions market revenue in 2022. This is on account of mounting adoption in healthcare companies, such as biopharmaceuticals, pharmaceuticals, and medical devices corporations. These software solutions are employed for uninterrupted management of product lines, manufacturing facilities, case, and warehousing, bundle tracking, and shipping. Establishments developing this software are capitalizing in R&D for improved product improvement, which is anticipated to thrust market growth during years to come.
Technology Insights
Among technology segmentation of the market, as of 2022, barcodes technology garnered major share of the total revenue in the track and trace solutions market. 2D barcode has appeared as leading sub-segment and is anticipated to uphold its position during the estimate period. Augmented application of 2D barcodes in biopharmaceutical and pharmaceutical product packaging is a main aspect that backed to the great revenue share. Furthermore, plenty data storage capacity of 2D barcodes above linear barcodes plus its greater popularity in the market, lifts the sale of 2D barcode-based track and trace solutions.
End-user Insights
In 2022, out of different end users of the market pharmaceutical companies lead the market with significant revenue share. Guaranteeing safe product track and trace abilities through several entities during the supply chain by employing serialization is a decisive step to meet the issues confronted by pharmaceutical firms. Presently, it is binding for pharmaceutical producers to obey with state and federal regulations for track and trace solutions, which is further flourishing the demand for these solutions.
Regional Insights
North America dominated the global track and trace solutions market in 2022 with significant revenue share, trailed by Europe. Causes including the existence of a huge number of biotechnology and pharmaceutical corporations and medical device producers, strict regulations concerning serialization, and the increasing medical devices market, are driving the growth of the track and trace solutions market growth in this region.
Asia Pacific market for track and trace solutions offer great potential and projected to register fastest growth rate throughout the forecast period. The intensifying pharmaceutical market and the enactment of rigorous regulations to improve the consistency and quality of pharmaceutical medicine are the important factors for market growth in this region. Additionally, escalating pressure to limit high occurrence of fake drugs in emerging Asian nations such as China and India further drives the market growth. China's track and trace regulations and laws authorized serialization and tracking during the supply chain and vital compliance reporting to the China Food and Drug Administration for whole pharmaceuticals. These rigorous regulations are anticipated to lift the growth of the market in these nations in the nearby future.
Key Companies & Market Share Insights
Rising numbers of companies are facing frequent issues on account of the increasing diversity and complexity in serialization necessities, mostly in the pharmaceutical business. Disparities in regulations and standards across nations along with the management of accumulated complex data makes it tough for companies to implement serialization in track and trace. Nevertheless, cumulative rate of forging of pharmaceuticals and other healthcare produces pushes the acceptance of serialization in the supply chain.
Some of the important companies operating in the global track and trace solutions market include:
Adents International
Mettler-Toledo International, Inc
Axway, TraceLink, Inc
Optel Vision
Siemens AG
SeidenaderMaschinenbau GmbH
Others
Segments Covered in the Report
This research report includes complete assessment of the market with the help of extensive qualitative and quantitative insights, and projections regarding the track and trace solutions market. This report offers breakdown of market into prospective and niche sectors. Further, this research study calculates market revenue and its growth trend at global, regional, and country from 2020 to 2032. This report includes market segmentation and its revenue estimation by classifying it on the basis of various parameters including product type, application, technology, end user, and region as follows:
By Technology
By Product
Hardware Systems

Monitoring & Verification Solutions
Printing & Marking Solutions
Labeling Solutions
Others

Software Solutions

Bundle Tracking Software
Plant Manager Software
Line Controller Software
Others
By Application
Aggregation Solutions

Bundle Aggregation
Case Aggregation
Pallet Aggregation

Serialization Solutions

Carton Serialization
Label Serialization
Bottle Serialization
Data Matrix Serialization
End-User
Medical device Companies
Pharmaceutical Companies
Food and Beverage
Healthcare
Consumer Packaged Goods
Luxury Goods
Others
By Regional Outlook
North America
Europe
Asia Pacific

China
India
Japan
South Korea

Middle East & Africa
Latin America