The global health and wellness market was valued at USD 4,886.70 billion in 2022 and is expected to reach over USD 7,656.7 billion by 2030, growing at a CAGR of 5.5% from 2021 to 2030.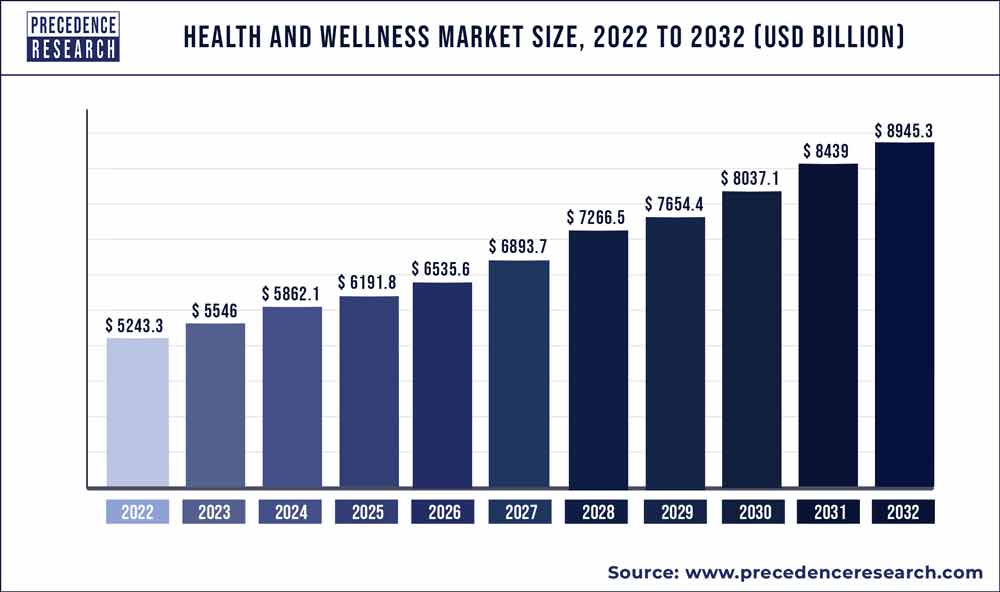 Growth Factors
The global health and wellness market is primarily driven by the increased consumer expenditure of a wide variety of health and wellness products and services across the globe. The growing burden of physical and mental diseases such as cancer, depression, anxiety, and numerous others has a significant role in the development of the trillion dollars health and wellness industry. The rising personal disposable income, increased awareness regarding the health and wellness products and services among the consumers, rising government expenditure on the development of sophisticated healthcare infrastructure, and desire for healthy and active lifestyle among the population are several important factors that drives the growth of the global health and wellness market.
The increased demand for the healthy products and increased awareness regarding the importance of personal hygiene has boosted the growth of the personal care products globally. The sedentary lifestyle of the consumers, busy and hectic schedules, and growing prevalence of various chronic diseases such as asthma, blood pressure, diabetes, cancer, arthritis, and various mental disorders are the major drivers of the health and wellness market. The rising popularity of wellness tourism is expected to be a significant contributor to the global health and wellness industry. Wellness tourism is associated with undertaking tourism activities for the physical and mental well-being. The wellness tourism includes activities such as meditating at destinations, practicing yoga, visiting agricultural fields, and various recreational activities.
The integration of digital devices and latest technologies in the health and wellness industry has led to the emergence of fitness bands, trackers, and other wearable devices. Furthermore, the increasing women population is fostering the growth of beauty and anti-aging products. The cosmetics industry is an exponential contributor to the global health and wellness industry. Further, the rapidly growing sales of men cosmetics is boosting the market growth. The rising demand for the functional and healthy food products is another major contributor. The increased health consciousness has compelled the consumers to increasing adopt the consumption of healthy food products. The rapid increase of the fast food chains in the developed and developing nations had resulted in unhealthy food habits of the consumers. Moreover, the processed meat consumption is carcinogenic, according to the World Health Organization. Hence, the rapidly growing demand for the healthy and functional food and beverages is expected to boost the growth of the global health and wellness market, during the forecast period.
Market Drivers
The rise in the prevalence of chronic lifestyle diseases across the globe is a key factor driving the market
Chronic diseases, also known as non-communicable diseases, commonly appear in mid-thirties after long exposure to unhealthy habits, which include lack of regular exercise, tobacco use, and intake of diets that are rich in oversaturated fats, artificial sweeteners, and salt, mainly characterized by "junk foods." This lifestyle leads to higher levels of adverse outcomes, such as hypertension, hyperlipidemia, diabetes, and being overweight that work individually and additively. In health services that are intended to treat acute diseases, the risk factors are commonly misdiagnosed or poorly treated.
Our overall health, physical fitness, and quality of life can all benefit from regular physical activity. Additionally, it lowers our risk of developing chronic illnesses like type 2 diabetes, cardiovascular disease, numerous cancers, stress, anxiety, and Alzheimer's.
Strengthening your muscles through heavy training can increase your strength and stamina, make it easier to carry out daily tasks, delay disease-related losses in muscle strength, and stabilize joints. Stability workouts may help in lowering overall chance of falling, while exercise may help us have the best possible range of motion around our joints so they can work as efficiently as possible.
DEMAND FOR HIGH-PERFORMANCE INGREDIENTS IN SKINCARE PRODUCTS AND ANTI-AGING FACIAL TOOLS IS GROWING
Customers today want skincare products that will produce noticeable, long-lasting results. The potency of a product's ingredients and their quantity raise the status of its cosmetics. The name combines the words "pharmaceuticals" with "cosmetics." An essential skin care product called a cosmeceutical comprises a physiologically active ingredient that has a medicinal effect on the skin. By influencing the structure and function of the skin, the high-performance extract and ingredient may improve the appearance of skin.
A person's life is significantly impacted by anti-aging cosmetics because they provide their skin a tremendous radiance and amount of moisture. The cosmetics market deals with a variety of anti-aging cosmetics containing antioxidants like vitamin C and vitamin E that serve to slow down the skin's natural degenerative process, during older age. These goods can be found widely in a variety of areas, including skincare, eye care, haircare, and others. Skin aging and other skin-related issues are mostly caused by a number of causes, including an unhealthy lifestyle, tobacco and alcohol use, and incorrect climatic exposure to the skin. These factors also make anti-aging cosmetic solutions necessary. Among the crucial elements for businesses in the antiaging cosmetics sector are technological innovation, product diversity, the adoption of a customer-centric strategy, as well as marketing and branding success.
RISING DEMAND FOR THERMAL & MINERAL SPRINGS AND SPAS
An increasing number of customers who want to interact with nature, experience traditional culture, and study alternative therapies for healing, treatment, and prevention are attracted to thermal and mineral springs bathing experiences. In response to these trends, governments and private investors alike are making investments in the industry in numerous nations. Hot springs, both thermal and natural, are well-liked tourist destinations worldwide.
Thermal water is regarded as the detox water that purifies and strengthens the body. Water's mineral content aids in the removal of toxic substances from the body. Our body absorbs traces of minerals from the thermal water as continues to soak, which improves circulation and aids in cleansing. Natural springs called mineral springs create water that contains minerals, it can also alter its flavor or offer curative benefits. According to scientific research, unwinding in a mineral spring, benefits our bodies as well as how it feels. According to one study, visitors to hot springs spas experienced a decrease in pharmacological drug use, sick days, and hospitalizations.
The hydrostatic pressure increases all over the body in a hot spring. This is partly caused by the water's high mineral content. But since hydrostatic pressure is such a huge, sophisticated term, let's explain what it actually means. In essence, it occurs when your body stimulates blood flow through your veins, increasing cardiac output and enhancing metabolism. And as we are all aware, healthy circulation is essential for the proper operation of our body's major organs, including the heart.
RESTRAINTS
HIGH COST OF PRODUCTS, AND SERVICES
Tablet-based supplements are less expensive to make than capsule-based ones. However, these have some disadvantages, such as the fact that the binders and fillers make them more difficult to digest. Although tablets are superior than capsules in quality, liquid supplements—which are frequently more expensive are favored. This is due to the higher absorption and lack of chemicals in liquid supplements. The origin (natural or synthetic) and availability of the ingredients have a significant impact on the price of a supplement.
The production costs of synthetic ingredients are lower, and they don't require managing the natural materials from which the essential elements are to be taken. However, the quality of synthetic raw materials falls short of that of natural ingredients.
Another element that may affect the final cost of project is the bioavailability of the product's raw ingredients. Additionally, the availability of most natural components varies throughout the year, and their costs may rise in some months. These issues have an impact on the cost of producing supplements.
HEALTH HAZARDS WILL RESTRICT THE MARKET GROWTH
Health issues associated with chemical components in hand sanitizers and surgical scrubs are hindering the development of skincare products. Skin damage can result from excessive alcohol consumption, frequent use of sanitizers, and wearing surgical scrubs.
Face and body lotion, foundation and eyeliner, soaps and shampoos, deodorant, hair styling products, hair colors, toothpaste, and nail polish are examples of cosmetics and personal care products. Although they are regarded as safe, there are still hazards involved with using them, especially if you don't utilize them properly. Eye infections, spreading microorganisms on the skin, eye irritation and scratches, allergic reactions or sensitivity to chemicals are some of the potential safety issues with cosmetics and personal care products. Fire risks associated with aerosol goods like hairspray is also expected to restrain the market growth.
OPPORTUNITY
SUSTAINABILITY AND HAND CARE PREMIUMIZATION ARE ESSENTIAL FOR PERSONAL CARE PRODUCTS
The market for health and wellness is experiencing rapid expansion due to rising demand for environment friendly organic food items as well as rising demand for sustainable health and wellness goods and services. In order to meet product demand, existing manufacturers are also increasing technological partnerships, acquisitions, and product developments; this aspect is further anticipated to fuel market expansion in the near term.
Esters can enhance smell, texture, and performance in a variety of personal care products, from body lotions and creams to baby cleansers and hair care items. Synthetic chemicals and compounds can often provide these same effects, but they could also have harmful qualities. Esters on the other hand, are dermatologically safe in personal care products. They are an environment sustainable element because they are biodegradable as well. The current consumer is very drawn to cosmetics that use bio-based oleochemicals rather of the synthetic ingredients that are included in the majority of conventional cosmetics. Most people throughout the world are prepared to pay more for brands that are dedicated to sustainability. Particularly evident among Millennials is this penchant for purportedly "green" products.
AN EMERGING TREND WITH AN ELECTRONIC DEVICE
Many of the well-known wearables on the market today, such as Fitbit and the Apple Watch, are made to promote better health and fitness. However, many companies are taking things a step further and looking into wearable technology that monitors and addresses medical conditions. An artificial pancreas that can automatically release insulin and monitor blood sugar levels is being developed for diabetics. To advance this concept, the medical industry is exploring, creating wearables that can be placed under the skin. The majority of individuals are currently unable to monitor all medical actions, but users would be able to do so. This could entail pharmaceutical effects, blood tests, and a number of other vitals. Although it might take some time before this kind of technology becomes widely available, it has the potential to drastically alter many people's lives.
Sector Insights
Based on sector, the personal & beauty & anti-aging segment dominated the global health and wellness market in 2021, in terms of revenue and is estimated to sustain its dominance during the forecast period. This segment accounts for around 24% market share. This segment was followed by the nutrition & weight loss segment that accounted for around 15.6%. This can be attributed to the increasing youth population, who are more concerned about their physical appearances. Young population desires to look presentable at all times that propels them to opt for beauty, personal care, nutrition, and weight loss products and services. Moreover, the increased penetration and burgeoning popularity of social media platforms has fostered the adoption of personal care and beauty products among the population all over the globe. This trend is expected to rise in the upcoming future and hence boost the growth of this segment during the forecast period.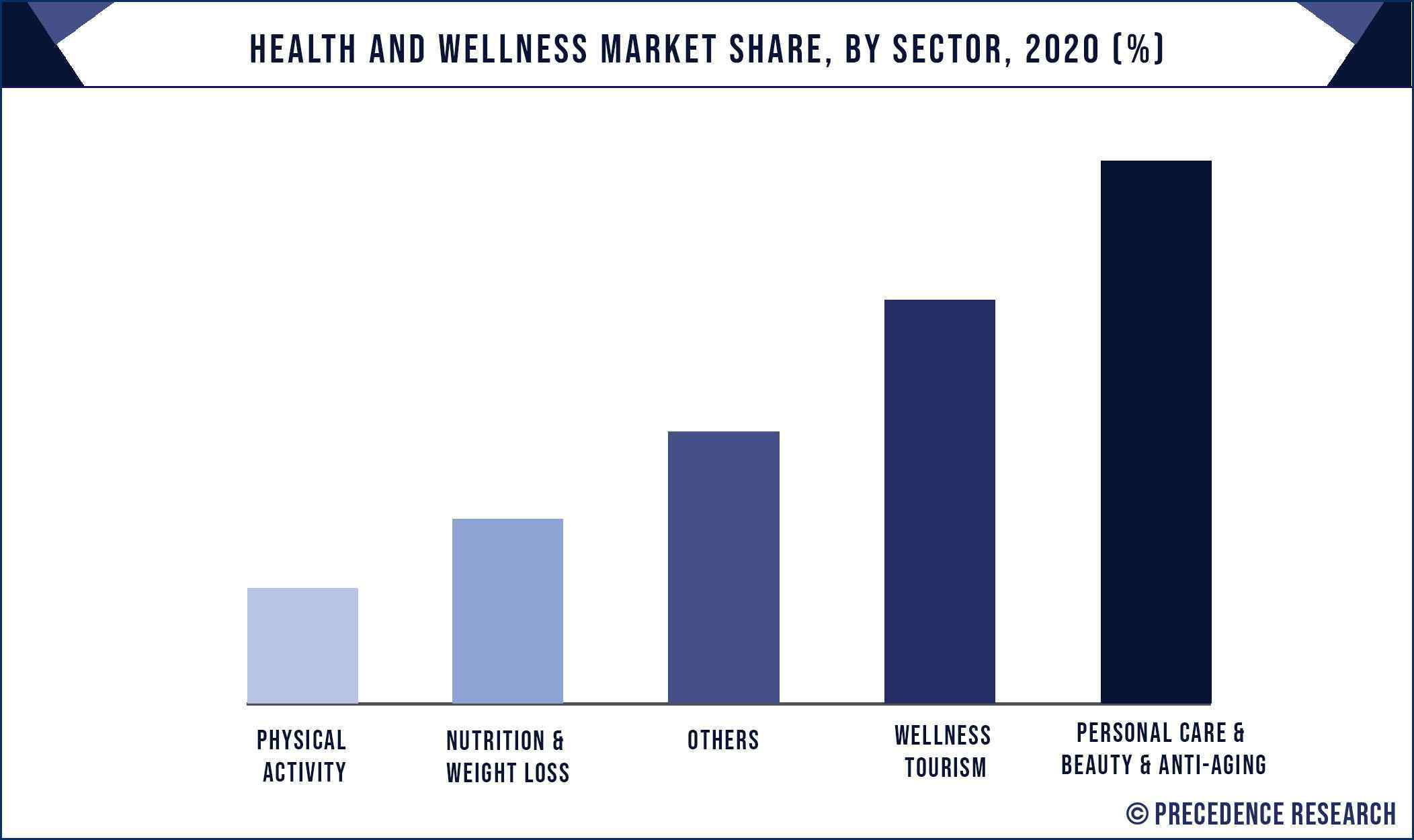 On the other hand, wellness tourism segment, which accounts for around 6% of the market share, is estimated to be the fastest-growing segment during the forecast period. The rising awareness regarding the wellness tourism, rising disposable income, rapidly growing tourism industry, and increased consumer expenditure on health and wellness services are the various factors that may be held accountable for the growth of this segment in the foreseeable future. The wellness tourism involves recreational activities, yoga, meditation, spa therapies, and other well-being activities that the tourists undertake at the destinations. The rising government initiatives to boost the tourism sector for generating employment and revenue streams for the economy is a major factor that boosts the growth of this segment globally.
Health and Wellness Market, By Sector, 2021-2030 (USD Billion)
| | | | | | |
| --- | --- | --- | --- | --- | --- |
| Sector | 2021 | 2022 | 2023 | 2030 | CAGR % (2022-2030) |
| Personal Care & Beauty & Anti-Aging | 1,061.1 | 1,127.6 | 1,197.5 | 1,789.1 | 5.9% |
| Nutrition & Weight Loss | 702.3 | 747.9 | 795.8 | 1,205.7 | 6.2% |
| Physical Activity | 845.3 | 895.6 | 948.3 | 1,387.4 | 5.6% |
| Wellness Tourism | 630.2 | 665.1 | 701.4 | 997.9 | 5.2% |
| Preventive & Personalized Medicine | 570.5 | 603.3 | 637.5 | 919.7 | 5.4% |
| Spa Economy | 113.0 | 119.2 | 125.5 | 177.3 | 5.1% |
| Others | 1,031.1 | 1,084.6 | 1,140.0 | 1,580.6 | 4.8% |
| Total | 4,953.5 | 5,243.3 | 5,546.0 | 8,057.7 | 5.5% |
Region Insights
Based on region, North America dominated the global health and wellness market in 2021, in terms of revenue and is estimated to sustain its dominance during the forecast period. North America is characterized by increased disposable income of the consumers, increased health consciousness, increased demand for the healthy products, and increased consumer awareness regarding the health and wellness products. Moreover, the presence of numerous top industry players and various developmental strategies adopted by them has a significant role in the growth of the North America health and wellness market.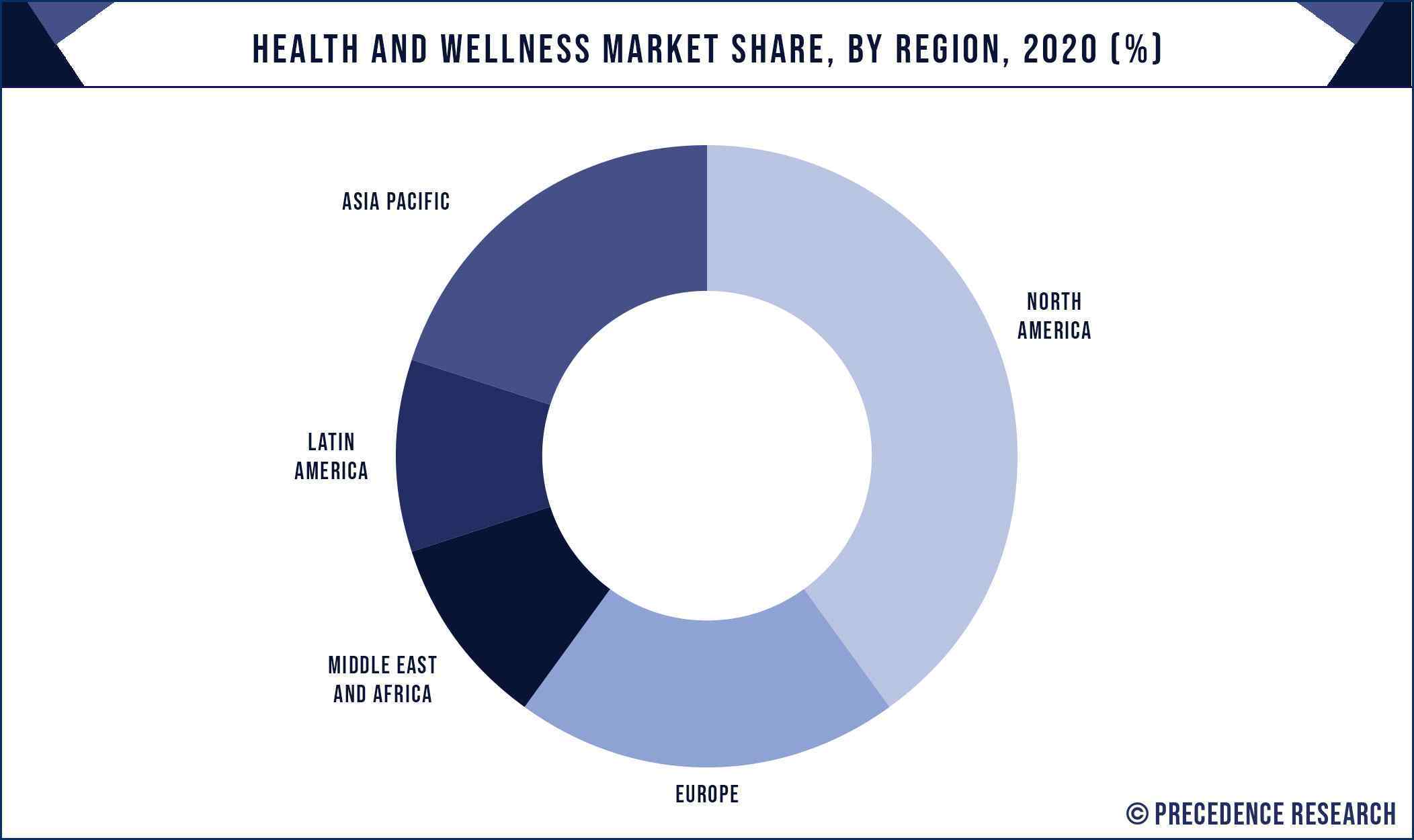 Asia Pacific is estimated to be the most opportunistic market during the forecast period. Asia Pacific, owing to the presence of huge population, rising urbanization, rapid industrialization, favorable government policies to attract FDIs, and huge potential for growth of various sectors of the health and wellness industry has become the most lucrative market. The major economies such as China, India, Japan, and South Korea are the major contributors to the growth of the health and wellness market.
Health and Wellness Market, By Region, 2021-2030 (USD Billion)
| | | | | | |
| --- | --- | --- | --- | --- | --- |
| Region | 2021 | 2022 | 2023 | 2030 | CAGR % (2022-2030) |
| North America | 1,531.4 | 1,622.6 | 1,718.0 | 2,513.6 | 5.6% |
| Europe | 1,285.4 | 1,353.7 | 1,424.8 | 1,998.6 | 5.0% |
| Asia Pacific | 1,641.2 | 1,749.5 | 1,863.6 | 2,845.1 | 6.3% |
| LAMEA | 495.6 | 517.4 | 539.6 | 700.4 | 3.9% |
| Total | 4,953.5 | 5,243.3 | 5,546 | 8,057.7 | 5.5% |
Key Companies & Market Share Insights
The market is moderately fragmented with the presence of hugenumber of market players. These market players are striving to gain higher market share by adopting strategies, such as investments, partnerships, and acquisitions & mergers. Companies are also spending on the development of improved products and services. Moreover, they are also focusing on maintaining competitive pricing.
In June 2021, Unilever entered into a partnership agreement with the food-tech company, ENOUGH to produce plant-based meat products in the market
In June 2020, L'Oreal acquired Thayers Natural Remedies, a US based skincare brand, to integrate it into L'Oreal's Consumer Products Division.
The various developmental strategies like acquisitions, partnerships, and new product launches with latest and innovative features fosters market growth and offers lucrative growth opportunities to the market players.
Some of the prominent players in the global health and wellness market include:
Amway Corp.
Bayer AG
Danone
David Lloyd Leisure Ltd.
Fitness First
Herbalife Nutrition Ltd.
Holland & Barrett Retail Limited
L'Oréal SA
Nestlé SA
Procter & Gamble
Unilever Plc
Vitabiotics Ltd.
Scope of the Health and Wellness Market Report
Report Highlights
Details
Market Size
USD 7,656.7 Billion by 2030
Growth Rate
CAGR of 5.5% From 2021 to 2030
Largest Market
North America
Fastest Growing Market
Asia Pacific
Base Year
2021
Forecast Period
2021 to 2030
By Sector

Personal Care & Beauty & Anti-Aging
Nutrition & Weight Loss
Physical Activity
Wellness Tourism
Preventive & Personalized Medicine
Spa Economy
Others

By Geography

North America
Europe
Asia Pacific
Rest of the World

Companies Covered
Amway Corp., Bayer AG, Danone, David Lloyd Leisure Ltd., Fitness First, Herbalife Nutrition Ltd., Holland & Barrett Retail Limited, L'Oréal SA, Nestlé SA, Procter & Gamble, Unilever Plc, Vitabiotics Ltd.
Segments Covered in the Report
By Sector
Personal Care & Beauty & Anti-Aging
Nutrition & Weight Loss
Physical Activity
Wellness Tourism
Preventive & Personalized Medicine
Spa Economy
Others
By Geography
North America
Europe
Asia Pacific

China
India
Japan
South Korea

Rest of the World