The global digital health market size was valued at USD 181.8 billion in 2020 and expected to reach USD 551.1 billion by 2027, with a CAGR of 16.5% from 2020 to 2027. Increasing penetration of smartphones along with numerous smartphone applications related to health and fitness across the globe expected to be a key factor that drives the market growth.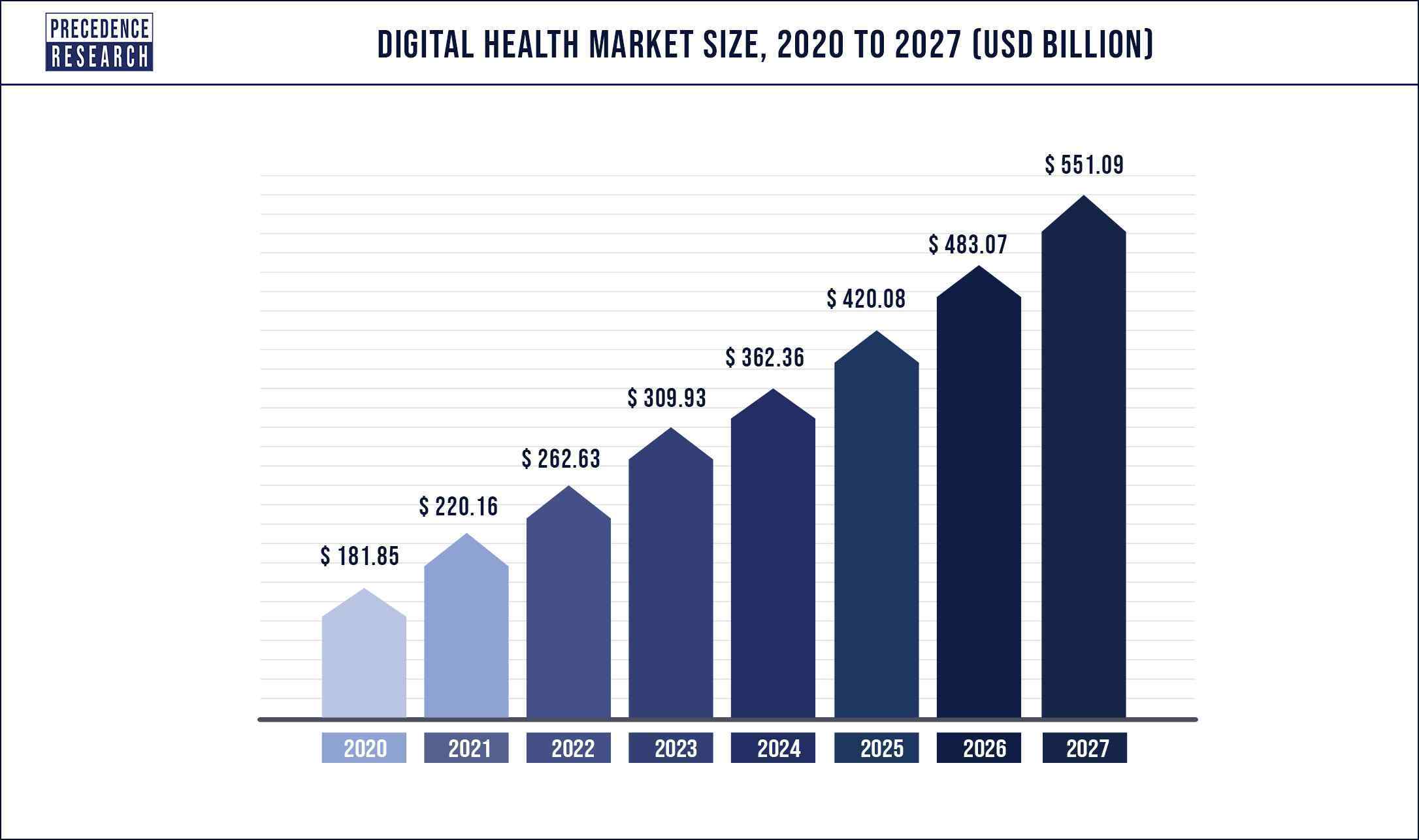 Rapid investment in the healthcare IT infrastructure particularly in the developing and developed nations estimated to be conducive to the market growth. For instance, in April 2020, the Asian Infrastructure Investment Bank (AIIB) awarded its first health infrastructure investment in order to recover the crisis of USD 5 Billion because of COVID-19.This expected to provide aid to the private and public entities that are suffering from the pandemic situation.
Apart from this, the outbreak of COVID-19 has imposed stringent social distancing norms and lockdowns by the governments across the globe. In this situation, digital health technologies for example telehealth provide enormous opportunities for the care service providers to treat patient by following the lockdown measures. This in turn further expected to drive the product adoption along with this also favors the market growth positively in the upcoming years.
Digital health is a simple concept that uses technology to help people improve their health and wellness.Wearable devices to ingestible sensors, mobile health apps to artificial intelligence, robotic caretakers to electronic records are all examples of digital health. In other words, it's about bringing the digital revolution to the healthcare sector through disruptive technology and cultural change. However, at present, there is no universal definition of digital health. The different components of digital health are:
1.1.1 Big data
Large and/or complex data sets that typical data processing models can't handle. Patterns, trends, and relationships related to health in relation to human behavior and interactions can be revealed through computer analysis and predictive analytics. Data acquisition, analysis, curation, sharing, storage, transport, visualization, updating, and information privacy are all issues that Big Data presents.
1.1.2 Cloud computing
Outsourcing IT activities to one or more third parties with large pools of resources to satisfy the needs of the organization quickly and efficiently. Instead of owning and administering their own IT software, hardware, and general infrastructure, cloud computing users are charged for their use of third-party infrastructure.
1.1.3 Connected health
A model of health and care delivery in which the equipment, services, and interventions employed are tailored to the patient's unique needs, and their health data is used to inform and share care most proactively and efficiently possible.
1.1.4 eHealth
When it was first coined, the term "eHealth" referred to the use of electronic processes and information technology (ICT) throughout the entire range of functions influencing health and care. Currently, eHealth refers to the discipline of medical informatics, which uses the internet and related technologies to organize and distribute health services and information.
1.1.5 ePatients
Patients who are completely engaged in their health and care are referred to as ePatients. They know everything there is to know about their health and health care. They may be involved in their health and care, as well as the health and care of people they care for. In contrast to eHealth, the letter 'e' can stand for electronic, equipped, empowered, engaged, equal, and other words.
1.1.6 Gamification
The application of game design features and principles to non-game situations. User engagement, simplicity of use, productivity, recruiting, and assessment all benefit from it. Its primary usage in health and wellbeing has been to motivate consumers to exercise more and adopt lifestyle changes that will improve their overall health. The use of gamification in health and fitness apps has become commonplace.
Scope of the Digital Health Market Report
| | |
| --- | --- |
| Report Highlights | Details |
| Market Size in 2027 | USD 551.1 billion |
| Growth Rate | CAGR of 16.5% From 2020 to 2027 |
| Base Year | 2020 |
| Historic Data | 2017 to 2020 |
| Forecast Period | 2021 to 2027 |
| Segments Covered | Components, Products |
| Regional Scope | North America, APAC, Europe, Latin America, MEAN, Rest of the World |
| Companies Mentioned | BioTelemetry Inc, eClinicalWorks, Allscripts Healthcare Solutions Inc, iHealth Lab Inc, AT & T, Honeywell International Inc, Athenahealth Inc., Cisco Systems, McKesson Corporation, Koninklijke Philips N.V., AdvancedMD Inc. |
Market Drivers
Rising demand for mobile health apps
The potential of mobile apps is being used to improve patient treatment in a variety of ways, including diagnosing illness, employing wearables, and ingestible sensors.We have become increasingly reliant on our smart devices now that we have entered the digital world. We continue to rely on smartphones to manage our calendars, coordinate our work and business operations, keep informed and connected through social media, and arrange doctor visits and healthcare check-ups. Healthcare app development has become both a need and a luxury.
The healthcare industry has seen significant changes as a result of technology advancements and meddling. We can see how mobile app development has aided in the evolution of the healthcare sector in recent years. The COVID-19 pandemic is still ongoing, and healthcare mobile apps have paved the path for great growth during this time of crisis, transforming people's perceptions of the health industry worldwide.
Medical app downloads increased by 50% between 2019 and 2020, owing to increased demand for COVID-tracing and healthcare apps. The total number of downloads for mobile healthcare apps has topped 3.2 billion.
In 2020, a total of USD 21.6 billion were invested in the digital health industry, the highest sum ever.
According to Accenture, the use of digital healthcare solutions is growing at a rapid pace, with 74% of patients satisfied with their digital health services.
The COVID crisis has brought with it a digital approach for various industries. Through mobile app solutions, the healthcare industry has improved its patient-centered strategy and is maintaining patient health while providing a smooth user experience. These applications offer it all, whether it's shopping for medical supplies, researching a healthy lifestyle, or finding certified doctors. The introduction of healthcare applications has been critical in providing patients with instant access to information.
One can use mhealth to find a doctor, schedule an appointment, and examine all of your medical test results from the convenience of your own home. People were also able to video call their doctors and nutritionists to discuss health issues online due to the ongoing global pandemic. People also feel more at ease when they use healthy lifestyle apps and health monitoring apps to keep track of their health daily.Not only can mobile apps benefit patients, but they also make it easier for doctors to collect and preserve personal health data. Patients can submit their insurance cards and other information directly to mobile apps, which helps healthcare providers eliminate administrative errors.
Additionally, medical practitioners' jobs have been made easier by mobile apps in the healthcare industry. Every aspect of healthcare is covered with AI for healthcare providers to transform the industry, whether it's emergency response, health surveillance and administration, maintaining health records, clinical documentation, treatment monitoring, or ensuring direct touch-points with patients regularly.
Healthcare facilities that deploy mobile app services, for example, can handle emergency cases much more quickly. When you use the app, it alerts the doctors to the emergency, and all of the vital information is delivered to the doctor's mobile. This saves a lot of time, and the doctor can plan ahead of time for such an emergency. Furthermore, mobile apps assist healthcare providers in expediting the paperwork and treatment process, which can be lifesaving in emergency cases.
The increasing sales of smartphones are expected to drive the demand for mobile apps. In 2020, global smartphone sales stood at 1.38 billion units. The recovery in the economy over the next few years is expected to drive the sales of smartphones. Furthermore, the growing sales of smartphones coupled with the rising awareness regarding the benefits of mobile health apps are expected to augment the growth of the global digital health market.
Market Opportunities
Increasing penetration of digital health in emerging economies
The healthcare ecosystem is witnessing a paradigm shift in the way the services are being delivered and consumed.This is fueled by the urgent need for a healthcare delivery model that is inclusive, high-quality, cost-effective, and decentralized. While these demands contribute to the creation of lofty goals for our society and government, the enterprising side of society is hard at work developing solutions and models to assist us to get there. The digital health model is one such alternative. From birth to death, from well to sick, digital health will dramatically improve the continuum of care by providing solutions that help individuals from birth to end of life.Digital health will aid in the achievement of several goals, including moving healthcare delivery from curative to preventive, increasing accessibility, lowering costs, improving quality, and increasing resource efficiency.
The healthcare sector is moving from a provider-driven to a consumer-driven business as a result of increased earnings, lifestyle changes, and shifting consumer behavior toward wellness. Additionally, efforts are being undertaken to transition healthcare to a consumption-based model due to rising healthcare prices and inadequate healthcare infrastructure. Healthcare is moving toward a proactive "Predict and Prevent Model" that targets the underlying causes of health problems and focuses on preventing future problems through major lifestyle changes, behavioral adjustments, or preventative interventions.The underlying need to provide patients with empowerment, convenience, and a better experience drives these innovations, and their growth is propelled by technology and entrepreneurship.
In emerging nations, the new digital health model will be critical in overcoming many of the issues that currently impede healthcare delivery, such as enhancing access, affordability, quality, and safety. A severe lack of resources and infrastructure has impeded the delivery of healthcare services in many developing countries, particularly in rural areas.
62% of Africa's total population lives in rural areas with little access to medical care. Hospitals in South Africa are finding it difficult to sustain continuous services, particularly in their critical care units, due to a constant power outage.
India's public healthcare system is patchy, with underfunded hospitals and clinics and inadequate health-related programs, with an average of 0.7 hospital beds per 1,000 people. While 70% of the population lives in rural regions, India's limited healthcare resources are highly skewed towards urban areas (65-70% of infrastructure and staff).
Despite the government's massive investment in healthcare infrastructure, there is still a need for enhanced healthcare infrastructure in China's tier II and III cities. To maintain and use such infrastructure, skilled doctors, clinicians who know how to run diagnostics, and other medical competencies are still required.
If done in a new way, digitization of health services can help to improve the quality of and access to care while lowering costs. The majority of developed countries have moved away from paper-based healthcare solutions in favor of 'traditional' digital healthcare models, which they have accepted or are in the process of adopting.
Digital technologies are assisting in the development of novel diagnostic and treatment alternatives, as well as improving process efficiency and lowering costs. Technology developments are also bridging the gap between developed and developing economies, as well as participants throughout the healthcare value chain. This is also shown by the fact that digital health firms in the United States alone raised over USD 4.5 billion in funding over the last year. There were also 302 finance deals in the segment, with an average size of USD 14.8 million.However, as the convergence of healthcare and technology continues, regulatory frameworks are still evolving, and as a result, businesses are rapidly being stuck in a maze of unique legal challenges enforced by unfamiliar authorities, such as patient privacy, consumer protection, fraud, and patient safety.
In recent years, advancements in health technology have increased by leaps and bounds. In the digital space, a plethora of gadgets and technologies have arisen, hastening the rate of expansion in consumer and institutional healthcare delivery.
Component Insights
Based on component, services captured the major market revenue accounting 64.58% market share in 2020. This is mainly attributed to the significant rise in the software upgradation along with rapid advancements in various software and hardware. These services include training & integration, installation, and upgradation. Further, increasing investment on digital healthcare infrastructure predominantly in the developing countries drives the demand for services during the upcoming years. Moreover, increasing demand for platforms such as Electronic Health Records (EHR) that further propels the demand for service as moat of the companies are prominently focusing on acquiring post-installation services such as staffing, optimization, training, and many other services.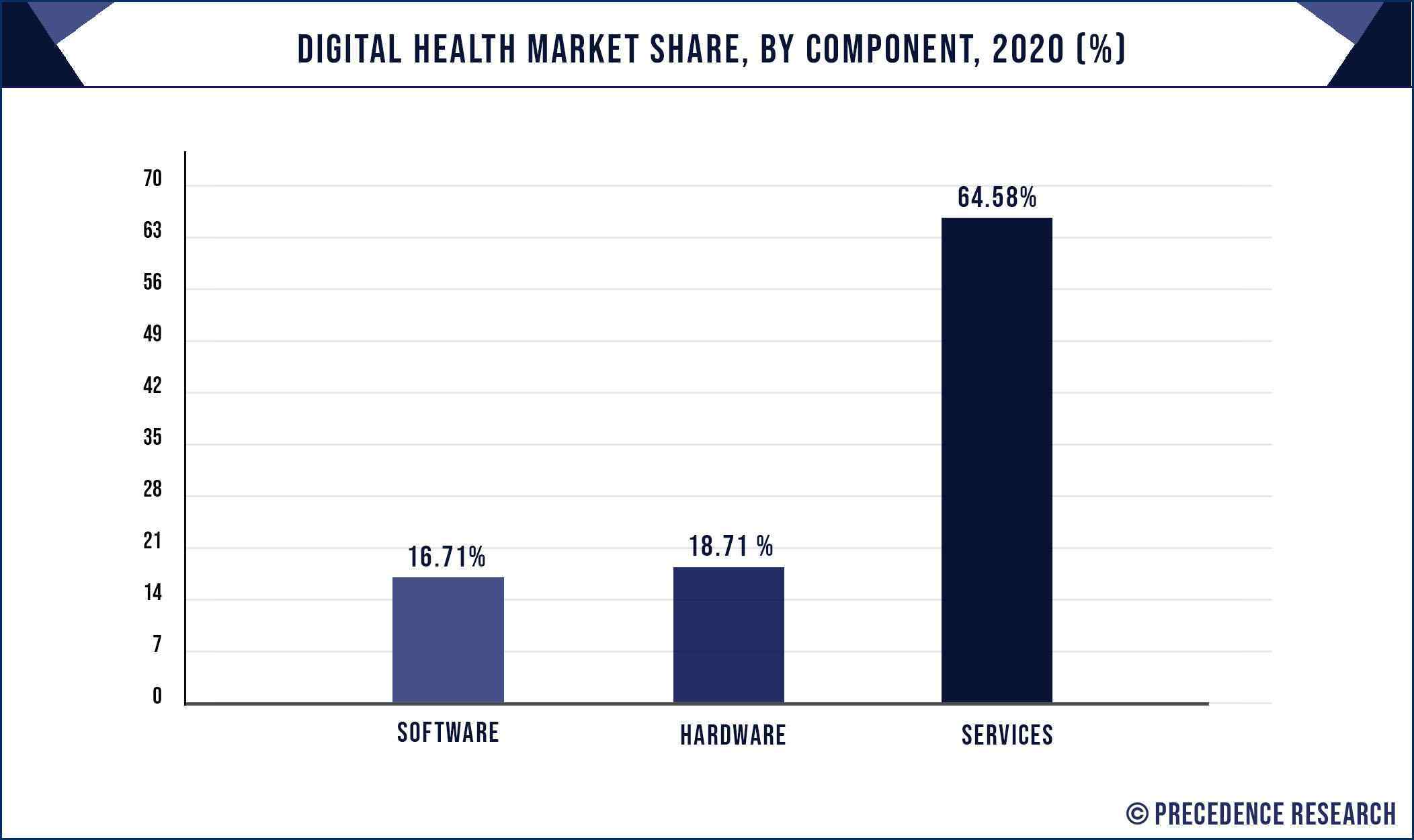 Besides this, software segment accounted for nearly 18.71% of the total market value and expected to show robust growth over the forthcoming years. The significant growth of the segment is majorly because of increasing demand for healthcare software, fitness apps, and various healthcare analytics platform. The outbreak of COVID-19 anticipated to have a positive impact on the digital health market as it boosted the need for analytics platform to track and monitor the total number of cases across the globe. In addition to this, lockdown measure adopted by the government to control the corona cases has significantly triggered the demand for personal healthcare solutions and fitness apps that further provides impetus to the growth of the segment.
Technology Insights
In 2020, telehealthcare held the leading market position and accounted for a revenue share of more than 38.40%. The prominent growth of the segment is majorly due to the rising penetration of internet and smartphones across the globe along with the availability of large number of health related apps in the market. Furthermore, increasing prevalence of chronic diseases along with the advancements in wearable devices significantly triggers the market growth for mHealth.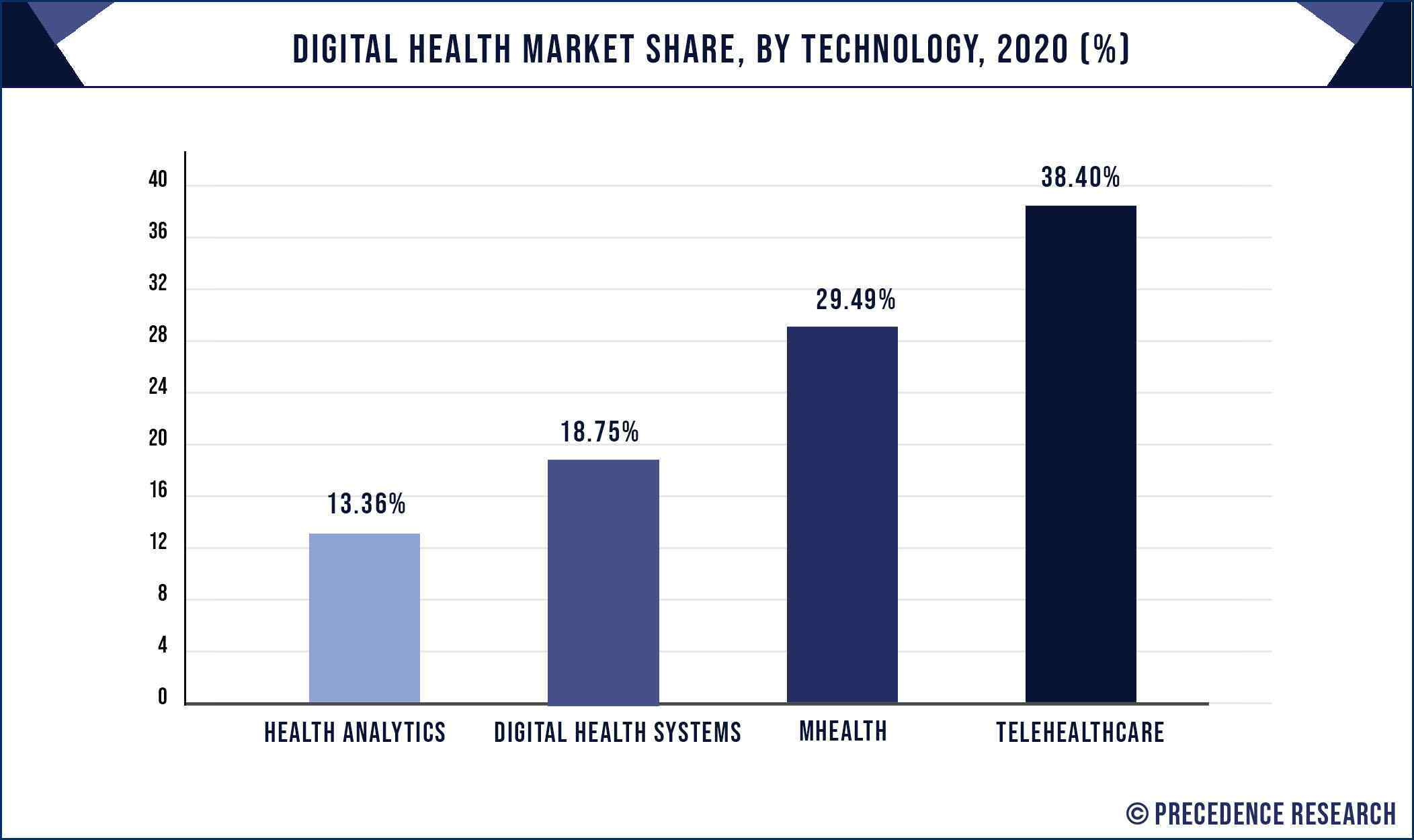 On the other side, health analytics expected to be the fastest growing segment over the forecast timeframe because of increasing advancements in the analytics platforms such as big data and other analytics software. The healthcare analytics has gained significant importance over the past few years owing to the need for monitoring and tracking the most prevalent diseases across the globe such as cancer and diabetes. Apart from this, the outbreak of COVID-19 has significantly triggered the need for analytics platform to track the disease and take preventive measures accordingly.
Regional Insights
North America dominated the digital health market with a revenue share of around 36.34% in 2020. The growth of the region is mainly due to increasing number of geriatric population along with rising prevalence of chronic diseases across the region. As per the United Nations World Population Ageing report published in 2015, total population with age more than 60 years expected to reach around 28% by the end of 2050. Europe accounted the revenue share of around 26.33% in 2020.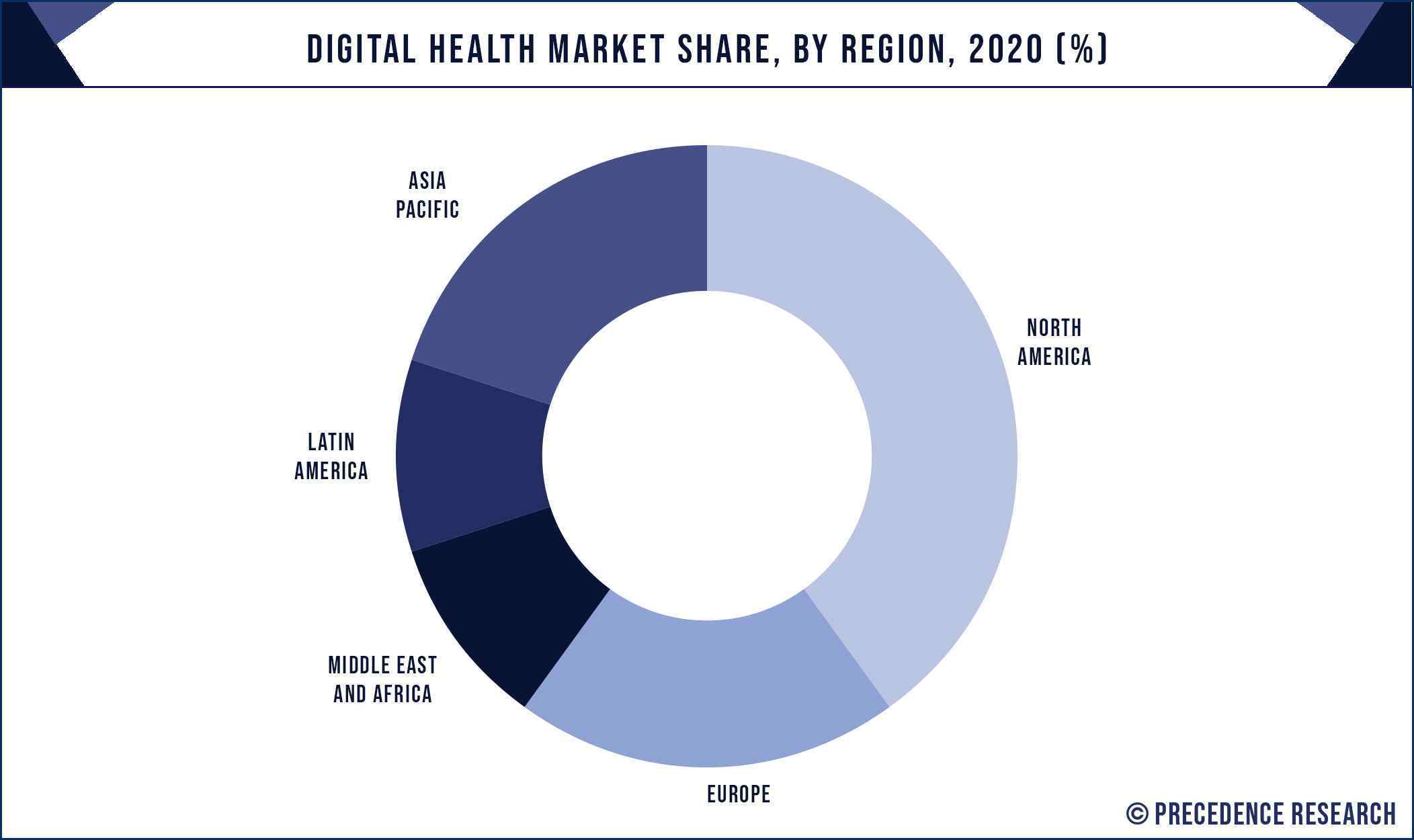 However, the Asia Pacific exhibits the fastest growth over the forecast timeframe owing to increasing spending on healthcare infrastructure and software to promote awareness among the public. The Asia Pacific digital health market is expected to generate revenues worth USD 161.3 billion by 2027.
Key Companies & Market Share Insights
The global digital health market seeks intense competition among the market participants owing to the strategic initiatives adopted by them to gain maximum market share on the global scale. Further, product innovation and regional expansion are the prime motive of these market players for cementing their foothold in the market.
Some of the prominent players in the digital health market include:
BioTelemetry Inc
eClinicalWorks
Allscripts Healthcare Solutions Inc
iHealth Lab Inc
AT & T
Honeywell International Inc
Athenahealth Inc.
Cisco Systems
McKesson Corporation
Koninklijke Philips N.V.
AdvancedMD Inc.
Cerner Corporation
Segments Covered in the Report
This research study comprises complete assessment of the market by means of far-reaching qualitative and quantitative perceptions, and predictions regarding the market. This report delivers classification of marketplace into impending and niche sectors. Further, this research study calculates market size and its development drift at global, regional, and country from 2016 to 2027. This report contains market breakdown and its revenue estimation by classifying it on the basis of component, technology, and region:
By Component
Software
Hardware
Services
By Technology
Telehealthcare

Telehealth

Video Consultation
LTC Monitoring

Telecare

Remote Medication Management
Activity Monitoring

mHealth

Apps

Fitness Apps
Medical Apps

Wearables

Glucose Meter
BP Monitor
Pulse Oximeter
Neurological Monitors
Sleep Apnea Monitor
Others

Digital Health Systems

E-prescribing Systems
Electronic Health Records

Health Analytics
By Regional Outlook
North America
Europe
Asia Pacific

China
India
Japan
South Korea

Rest of the World