The global anti-aging market was estimated at US$ 64 billion in 2022 and is expected to surpass around US$ 121.8 4billion by 2032, poised to grow at a CAGR of 6.70% during the forecast period 2023 to 2032.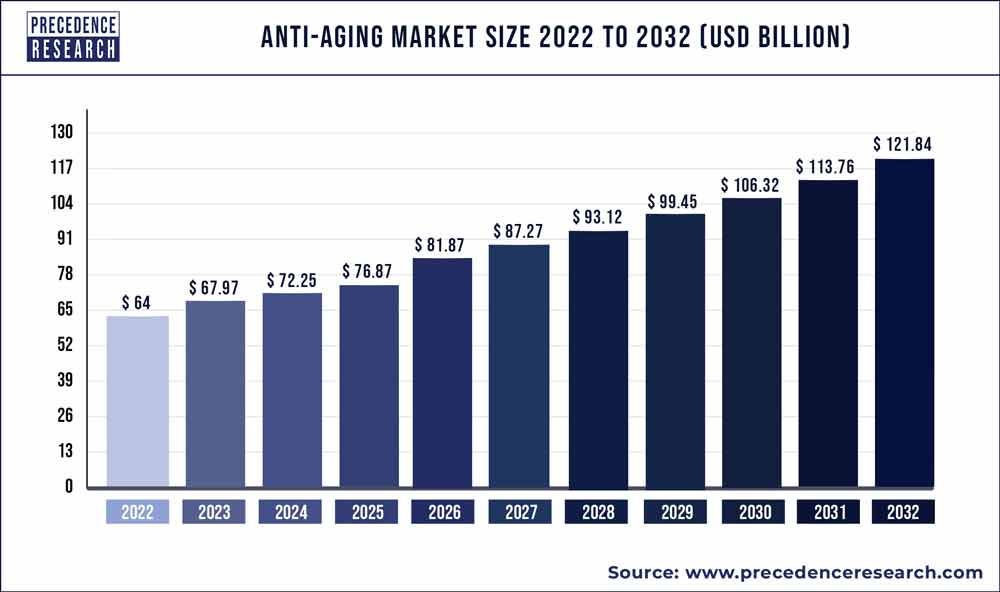 Access our Premium Real Time Data Intelligence Tool, Visit: Precedence Statistics
Anti-aging Market Size in U.S. 2023 To 2032
The U.S. anti-aging market was valued at US$ 17.92 billion in 2022 and is predicted to hit over US$ 34.11 billion by 2032, at a CAGR of 7.9% between 2023 to 2032.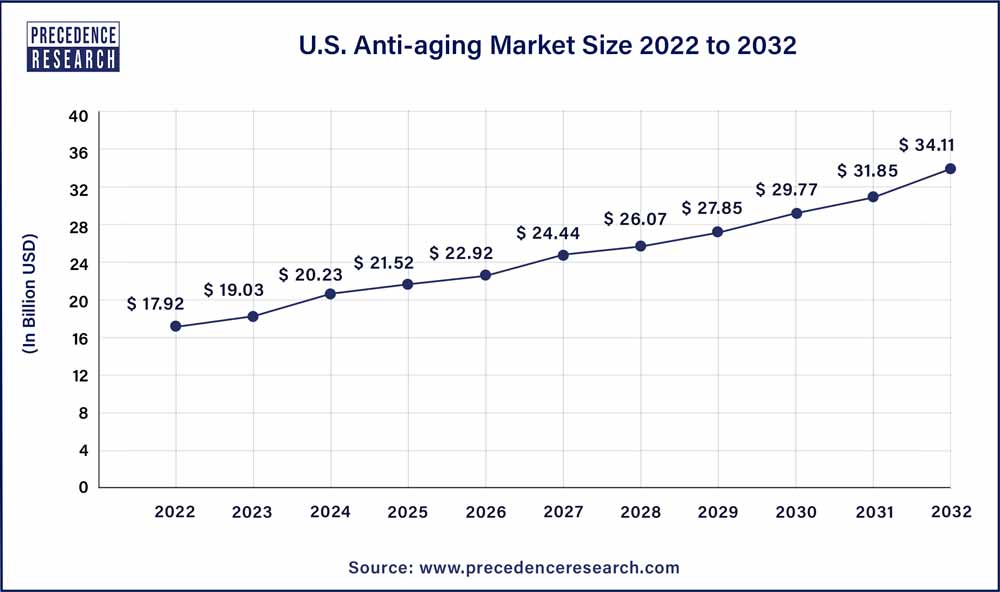 North America dominated the anti-aging market in 2022. This is attributed to the increased awareness of ageing indications, sedentary lifestyles, and rising obesity.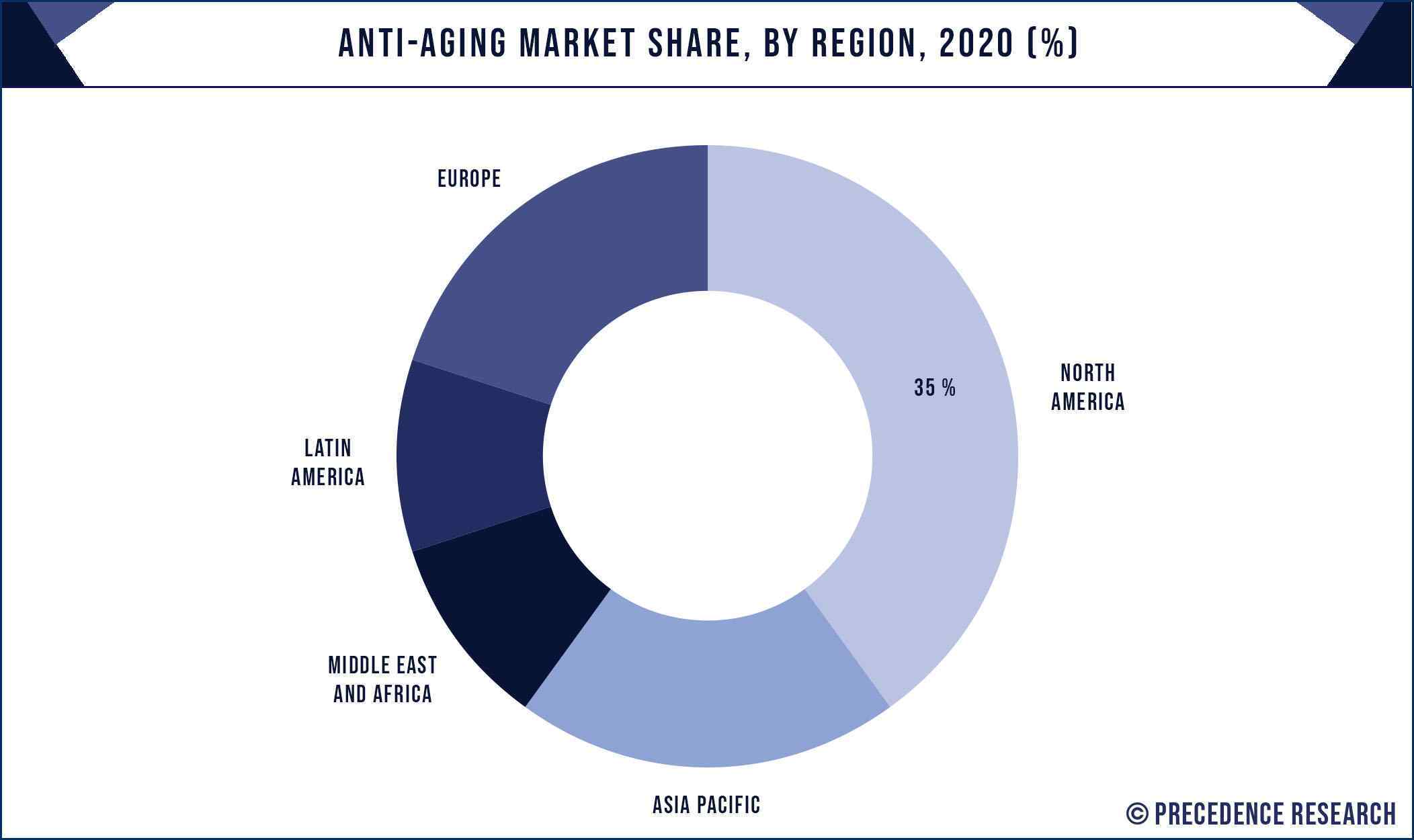 Asia-Pacific is expected to develop at the fastest rate during the forecast period. This is due to an increase in the number of cosmetic treatments performed, surge in the number of seminars and conferences held to promote consumer awareness, and an increase in the older population.
Growth Factors
Skin aging is a complicated biological process that is impacted by a variety of internal and external variables. The anti-aging products are mainly popular among women. The reason being, women highly focus on their health and skin beauty. Thus, variety of products and techniques of anti-aging have been launched since a decade. Nowadays, people are becoming more aware of their skin and health. Also, utmost importance is given to the physical appearance. In addition, a person with good personality is cherished by everyone. As a result, all of these aforementioned factors are creating need for the anti-aging products in the market. Furthermore, the key market players are adopting innovative technologies for the production of anti-aging products. Thus, the growing demand for anti-aging techniques and products is driving the growth of the global anti-aging market during the forecast period.
The effects of aging are observed as skin elasticity loss, collagen, hair follicles, and melanin synthesis. This is mostly seen in women. As a result, the concept of anti-aging is gaining momentum in the market during the projection period. One of the latest techniques in the anti-aging market is cosmetic surgeries. These surgeries help the people to change their appearance with accurate and effective measures.
The consumers are typically cautious of the products and services offered by the anti-aging market, which is still considered to be in its early stages. However, due to significant technical developments of strict restrictions for these items, the issues have been minimized to some extent. To a large extent, this has re-established customer trust.
Report Scope of the Anti-aging Market
| | |
| --- | --- |
| Report Coverage | Details |
| Market Size by 2032 | USD 121.84 Billion |
| Growth Rate from 2023 to 2032 | CAGR of 6.70% |
| Largest Market | North America |
| Fastest Growing Market | Asia Pacific |
| Base Year | 2022 |
| Forecast Period | 2023 to 2032 |
| Segments Covered | Product, Treatment, Demography, Devices, End User, Geography |
| Companies Mentioned | Unilever Group, GALDERMA LABORATORIES L.P., Procter & Gamble (P&G) Company, Nu Skin Enterprises Inc., Hologic Inc., Pierre Fabre S.A., Shiseido Company Limited, Candela Corporation, Home Skinovations Ltd., Estee Lauder |
The rise in average life expectancy has resulted in the emergence of the geriatric population. The rise of beauty consciousness among the general public has aided the expansion of this massive industry, which caters to a variety of issues that people may have with their looks. The safer and more efficient services have been provided as a result of technological advancements, and they have become quite popular.
The anti-aging market is predicted to grow due to technological developments and increased investment in research and development by major companies for the creation of extremely safe and effective skin care treatments. As a result, there is a potential market for anti-aging gadgets and cosmetic plastic surgery operations over the projection period, due to rising awareness and acceptance of anti-aging remedies. On the other hand, over the projected period, the anti-aging market is expected to be hampered by strict regulatory standards for devices and societal stigma in particular populations.
Previously, expensive anti-aging products were only sold at department stores, but specialist companies have made them more widely available and accessible. The online retailers, specialty retail shops, spas, salons, and direct response television such as home shopping channels and infomercials are now selling these products. The high expense of anti-aging goods and treatments as well as the prevalence of counterfeit products containing harmful ingredients, provide a significant barrier to the anti-aging market expansion.
Products Insights
In 2022, the anti-wrinkle segment dominated the anti-aging market. Due to rising awareness of product availability and an ageing population, anti-wrinkle products are expected to expand at a significant rate.
The anti-stretch mark segment, on the other hand, is predicted to develop at the quickest rate in the future years. The rising demand for anti-stretch mark products, due to the rising incidence of obesity, particularly among the elderly and key firms' increased focus on the production of new equipment and products for the treatment of stretch marks are expected to propel the segment forward.
Treatment Insights
The hair restoration segment dominated the anti-aging market in 2022. The increase in the number of hair treatments due to the rise in prevalence of hair loss and baldness among adults will be the primary cause.
The adult acne therapy segment is fastest growing segment of the anti-aging market in 2022. The inflammation and blocked pores are the root causes of nearly all adult acne. This factor is boosting the adoption of adult acne therapy as anti-aging treatment.
Devices Insights
The microdermabrasion devices segment dominated the anti-aging market in 2022. The consumers can perform microdermabrasion at home using microdermabrasion devices. People can benefit from the benefits of microdermabrasion at a lesser total cost by using such equipment in the comfort of their homes.
The laser aesthetic devices segment is fastest growing segment of the anti-aging market in 2022. Many people who want to nurture or renew their appearance utilize these gadgets to improve the physiology of wrinkled and ageing skin. There is variety of technical approaches used to correct the aesthetic therapy process.
Key Developments
Galderma SA gained licenses from China's National Medical Products Administration (NMPA) in April 2020 for three products such as Restylane Vital, Restylane Lyft Lidocaine, and Restylane Lidocaine, allowing the Restylane portfolio to expand in China. These products were created to improve the appearance of the skin while also acting as a skin booster.
Hologic Inc's Cynosure subsidiary released StimSure, a non-invasive electromagnetic device, throughout Europe and the Middle East in October 2019. By stimulating or contracting muscles in the abdominal, thigh areas, and gluteal, the technology tighten and compact them.
Merck KGaA announced a strategic partnership with Pechoin Group, a Chinese cosmetics company, to develop herbal technology and introduce new product line, Pechoin Zhenyan anti-wrinkle repair series, in August 2020.
Lancer Skincare will release the Pro Polish microdermabrasion device in July 2020.
To strengthen their product portfolio across all sectors, the major market players are focusing on research and development by producing organic and natural anti-aging products in product portfolio with changing consumer demands. Additionally, the key market players are collaborating and forming strategic alliances to expand their online and offline distribution networks. The market players are also implementing unique strategies to educate customers and raise consumer knowledge about anti-aging products.
Some of the prominent players in the global anti-aging market include:
Unilever Group
GALDERMA LABORATORIES L.P.
Procter & Gamble (P&G) Company
Nu Skin Enterprises Inc.
Hologic Inc.
Pierre Fabre S.A.
Shiseido Company Limited
Candela Corporation
Home Skinovations Ltd.
Estee Lauder
Segments Covered in the Report
By Products
Anti-wrinkle
Hair color
Ultraviolet absorption
Anti-stretch mark
By Treatment
Hair restoration
Anti-pigmentation
Adult acne therapy
Breast augmentation
Liposuction
Chemical peel
By Demography
Generation X
Baby Boomers
Generation Y
Generation Z
By Devices
Anti-cellulite treatment
Laser aesthetic devices
Microdermabrasion devices
Radio frequency devices
Others
By End User
Hospitals
Clinics
Home healthcare
By Geography
North America
Europe
Asia-Pacific

China
India
Japan
South Korea
Malaysia
Philippines

Latin America

Brazil
Rest of Latin America

Middle East & Africa (MEA)

GCC
North Africa
South Africa
Rest of the Middle East & Africa