The global personalized medicine market was valued at US$ 2.12 trillion in 2021 and is expected to reach over US$ 5.7 trillion by 2030, poised to grow at a notable CAGR of 11.6% from 2022 to 2030.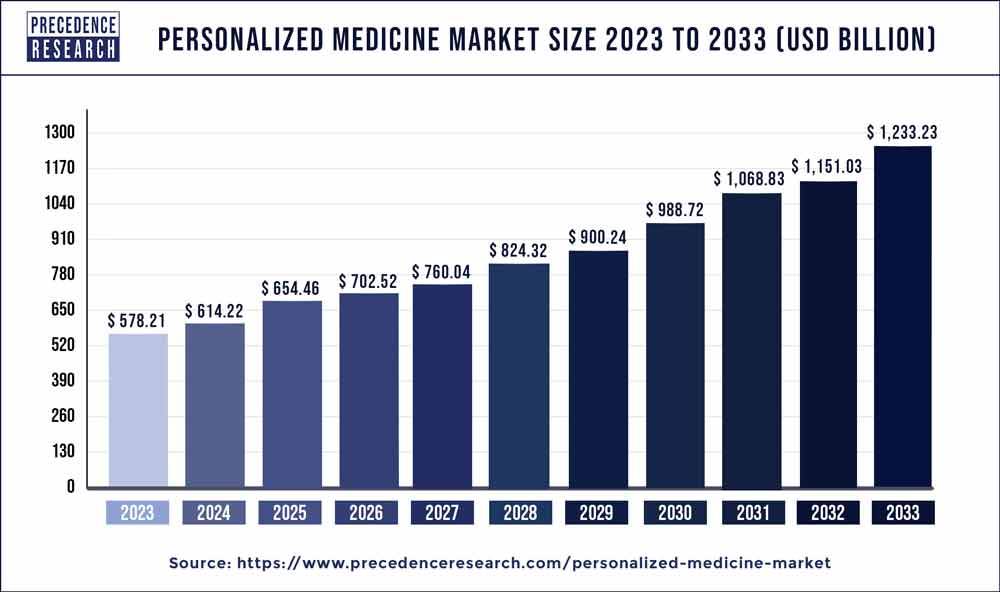 Key Takeawy:
By product, the personalized nutrition and wellness segment has captured revenue share of over 61% in 2021.
The personalized medicine therapeutics segment is growing at a faster rate from 2022 to 2030.
North America has accounted revenue share of over 48.9% in 2021.
The Asia Pacific region is growing faster during the forecast period.
Growth Factors
Personalized medicine is a sort of treatment that focuses on each patient's unique physiological characteristics. Personalized medicine offers a big potential in leading the healthcare business with significant changes and adaptations, which a focus an illness understanding and management using advanced analytics, customized medicines, patient data, and other options.
The primary growth drivers of the global personalized medicine market are the development of efficient and advanced technology, increased public awareness about personalized medicine, increasing government initiatives around the world, and the growing development of genetic databases. Furthermore, rising customized medicine usage in neurology, pulmonary, antiviral, and psychiatry, as well as emerging economies, would open up new potential for the global personalized medicine market. On the other hand, the global personalized medicine market is restrained by increased research and development costs and a higher risk of negative effects.
The rise in the number of patients suffering from chronic diseases such as diabetes and cancer, as well as the demand for rapid onset action treatment procedures, the rise in the use of combined drug therapies, the global ageing population, and the increase in clinical trials for personalized medicine in neurology departments, are all driving the growth of the personalized medicine market during the forecast period.
Moreover, the personalized medicine market is expected to grow due to an increase in the adoption of advanced healthcare facilities, an increase in the costs of developing advanced infrastructures, the benefits and effectiveness associated with the use of personalized medicines, research institutes' development of efficacy and quality of personalized drugs, and recent advances in pharmacogenomics.
The personalized medicine market's expansion is hampered by the high cost of customized pharmaceuticals. On the other hand, favorable government reimbursement rules and a minimal chance of medical defects and side effects are likely to provide profitable market expansion potential.
The global market for personalized medicine is predicted to be fueled by the growing domination of various types of cancer, the affordability of personalized medicine therapy in cancer medications, and several other illness indications. Cancer is the biggest cause of mortality worldwide, according to the World Health Organization (WHO), with an estimated 9.6 million deaths in 2018. This means that cancer is responsible for around 1 in every 6 deaths worldwide.
The scope of personalized medicine is likely to rise enormously over the projection period, as it has helped target malignant tissues. Aside from that, fewer side effects and a high acceptance rate in developed markets will improved the global market for personalized medicine. The use of customized medicine opens up the possibility of designing specific therapeutic solutions for various patients based on their immunophenotype.
However, each treatment has its own set of benefits and drawbacks. Personalized medicine market faces number of problems such as limited number of marketing strategies, lack of consumer awareness, stringent government regulatory framework, and limited ability to integrate data sources.
In Asia-Pacific and Latin America, the personalized medicine market is growing. During the forecast period, this tendency is expected to continue. The presence of big patient pool, the expansion of the healthcare industry, and increased government investments in healthcare enhancement are expected to boost the personalized medicine market in these regions.
Due to increased public awareness about the use of personalized medicine therapy to treat various types of cancer and rapid innovations in personalized medicine for various other disorders, the personalized medicine market in emerging nations is expected to grow at a significant rate during the forecast period.
Scope of the Personalized Medicine Market
| | |
| --- | --- |
| Report Coverage | Detials |
| Market Size | US$ 5.7 Trillion by 2030 |
| Growth Rate from 2021 to 2030 | 11.6% |
| Largest Market | North America |
| Fastest Growing Market | Asia Pacific |
| Base Year | 2021 |
| Forecast Period | 2022 to 2030 |
| Segments Covered | Product, Application, End Use, Region |
| Companies Mentioned | Illumina Inc., Precision Biologics, Danaher Corporation, GE Healthcare, Celera Diagnostics LLC, Decode Genetics Inc., Exact Sciences Corporation, IBM Corporation, Exagen Inc., Biogen |
Product Insights
The personalized nutrition and wellness segment dominated the personalized medicine market in 2021. The segment's rise is due to strong utilization rates and market penetration. Furthermore, the high over the counter nature of these drugs' sales increases their access to customers while reducing regulatory effects, making them more consumer friendly.
The personalized medicine therapeutics segment is fastest growing segment of the personalized medicine market in 2021. The segment's rise can be attributed mostly to the increased development genomic medicines and biopharmaceuticals based on specific sequencing data.
Region Insights
North America dominated the personalized medicine market in 2021. The increased adoption rate of healthcare information technology systems in clinical workflows, as well as next generation sequencing technologies, which help generate tailored and pharmacogenomic data quickly and easily are contributing to the growth of the personalized medicine market in the North America region.
Asia-Pacific, on the other hand, is expected to develop at the fastest rate during the forecast period. This is due to the low cost of conducting clinical trials of newly created precision medicines and diagnostics in this region, which draws foreign investment in the Asia-Pacific.
Key Developments
Illumina, Inc. announced a national level pilot program agreement with the Belgian Society of Medical Oncology in February 2021 to evaluate Comprehensive Genomic Profiling in advanced metastatic cancer patients.
Personalized Lifestyle Medicine Center, a clinical research laboratory and patient clinic, opened Gig Harbor, Washington, in January 2019. The Center will test a tailored lifestyle medicine approach, tailoring therapy treatments to each patient's unique needs.
PERSONA nutrition, a division of Vitamin Packs, Inc. will launch new vitamin supplements for individualized health in March 2019. The most recent supplements include a combination product to help subscribers minimize the number of capsules they take each day, as well as new vegan soft gels and a program tailored to bariatric patients.
FabRx will release the M3DIMAKER 3D Printer for customized medicine in 2020. This gadget can produce printlets, which are 3D pills containing a precise dose of medicine. Furthermore, this printer is capable of combining multiple medications into a single tablet as prescribed by medical authorities.
Infosys will introduce an SAP-based personalized medicine solution for pharmaceutical companies in 2020. This technology aids pharma companies in the preparation of customized medicines based on patient needs and drug quantities.
Precision Therapeutics Inc. and Helomics Holding Corporation announced a merger agreement in June 2018. This agreement will bring together both companies' precision diagnostic and integrated contract research organizations' capabilities, with the goal of improving patient care and advancing the development of new clinical products and technology for the treatment of cancer and other diseases.
The discovery of innovative treatment solutions is being aided by the expanding number of customized medicine collaborations involving corporations and organizations. The various developmental strategies such as business expansion, investments, new product launches, acquisition, partnerships, joint venture, and mergers fosters market growth and offers lucrative growth opportunities to the market players.
Some of the prominent players include:
Illumina Inc.
Precision Biologics
Danaher Corporation
GE Healthcare
Celera Diagnostics LLC
Decode Genetics Inc.
Exact Sciences Corporation
IBM Corporation
Exagen Inc.
Biogen
Segments Covered in the Report
By Product
Personalized Medicine Diagnostics

Genetic Testing
DTC Diagnostics
Esoteric Lab Services
Esoteric Lab Tests

Personalized Medicine Therapeutics

Pharmaceutical
Genomic Medicine
Medical Devices

Personalized Medical Care

Telemedicine
Health Information Technology

Personalized Nutrition and Wellness

Retail Nutrition
Complementary & Alternative Medicine
By Application
Oncology
CNS
Immunology
Respiratory
Others
By End-use
Hospitals
Diagnostic Centers
Research & Academic Institutes
Others
By Geography
North America
Europe
Asia-Pacific

China
India
Japan
South Korea

Rest of the World