The global personalized medicine biomarkers market size was valued at USD 14.22 billion in 2022 and is projected to hit around USD 61.29 billion by 2032, poised to grow at a CAGR of 15.73% during the forecast period from 2023 to 2032. By application, U.S. personalized medicine biomarkers market was valued at USD 5.8 billion in 2022. Unique analytes known as biomarkers can be used to enhance diagnosis, predict therapy results, and guide treatment choices. They are essential for individualized treatment.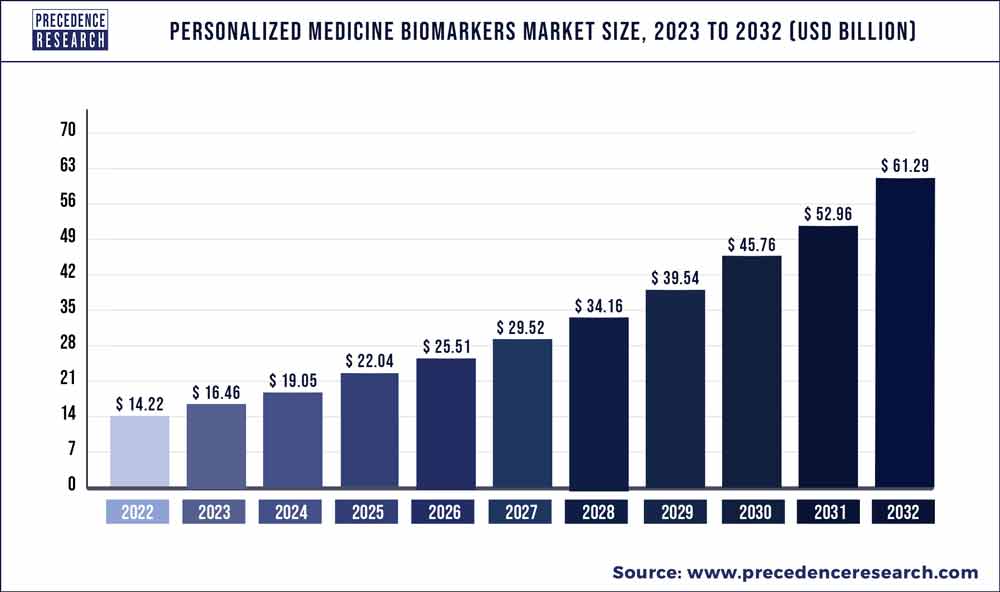 Key Takeaways:
Growth Factor:
The rise in chronic disease incidence, the rising demand for customized medicine, and technical improvements in the identification and tracking of chronic illnesses can all be linked to the increase. The development is further fueled by the life-saving advantages provided by biomarkers, such as their capacity to identify illnesses in their earliest phases, increase patient survival, and lower treatment costs.
Most hospitals and community health facilities place a high emphasis on increased screening. The COVID-19 epidemic has resulted in a marked decline in pandemic-related screening rates. The number of screenings for other illnesses considerably decreased in 2020 as the coronavirus epidemic increased. People were also reluctant to seek non-emergency medical treatment in hospitals and other healthcare facilities out of concern that they might acquire COVID-19. However, as things returned to routine, the testing rates increased.
Modern diagnostic methods are also hastening the transition to precision or tailored treatment for many illnesses. This method allows doctors to find and quantify a wide range of biomarkers in order to divide their patient populations into subsets with varying tendencies. This includes a patient's susceptibility to contracting a disease, their unique mutation to do so even after receiving effective treatment, and their propensity to react to a given therapy.
A key component of customized medicine is the use of tests to ascertain the effect of a biomarker in connection to direct medication use. The FDA's Center for Devices and Radiological Health (CDRH) authorized numerous applications for in vitro diagnostic testing in 2021 that support personalized therapy approaches. The tests manual concentrated on the selection of treatments to boost medication effectiveness and safety through new clearances and broader indications.
However, as the need for personalized treatment increases significantly, technical advances in the creation of biomarkers are increasing quickly. Thus, a reimbursement structure must be established to account for the evolving state of healthcare in order to guarantee patient access to these new tools. As reimbursement policies have a direct effect on the growth and development of diagnostic and prognostic instruments, this may motivate manufacturers to engage in new goods.
The innovative multi cancer early detection (MCED) screening device, which is presently in the advanced stages of research, is anticipated to significantly alter cancer screening and care. Molecularly guided excision biopsy (MCED), which may be the most sophisticated application of the liquid biopsy method to date, is the discovery of tumors using biomarkers circulating in human fluids (such as blood), such as circulating tumor cells and circulating cell-free tumor DNA. (ctDNA). The purpose of MCED screening is to greatly expand the range of cancers for which screening techniques are accessible as well as the population of individuals who can be identified with cancer even in the absence of symptoms.
The use of personalized medicine biomarkers as a crucial tool for patient screening and matching the right patient with the right therapy is fueling the demand for these tools.
The rise is ascribed to increased knowledge, the significance of prognosis prediction, and dosage choice.
Clinical studies frequently use biomarkers to improve patient results, and their application in clinical practice is growing rapidly.
Report Scope of the Personalized Medicine Biomarkers Market:
| | |
| --- | --- |
| Report Coverage | Details |
| Market Size in 2023 | USD 16.46 Billion |
| Market Size by 2032 | USD 61.29 Billion |
| Growth Rate from 2023 to 2032 | CAGR of 15.73% |
| Largest Market | North America |
| Fastest Growing Market | Asia Pacific |
| Base Year | 2022 |
| Forecast Period | 2023 to 2032 |
| Segments Covered | By Application and By Indication |
| Regions Covered | North America, Europe, Asia-Pacific, Latin America and Middle East & Africa |

Key Market Drivers:
Growing uses of biomarkers in diagnostics
Biomarkers are widely used in customized medicine, companion diagnostics, illness risk evaluation, and drug research. One of the key variables anticipated to significantly contribute to the market development during the projection period is the growing use of biomarkers in disease diagnosis.
The use of biomarkers in personalized medicine is significant, with various applications, such as diagnosis, prognosis, and targeted therapies for different diseases. The limitations in traditional disease diagnosis and treatment methods have led to the recognition of personalized medicine. Patients with cancer and immunological disorders are increasingly opting for customized treatments based on their clinical and genetic characteristics. As a result, the demand for personalized medicine is on the rise, which is a significant driving factor for the biomarker market's growth.
Key Market Challenges:
Lack of knowledge
The market's expansion is being hampered by factors like the population's ignorance of personalized treatment in impoverished nations. Additionally, the expensive cost of the treatments prevents people in developing nations from accessing them, which further inhibits market development.
Key Market Opportunities:
Increasing prevalence of cancer worldwide
With the growing prevalence of unhealthy lifestyle habits, such as smoking, poor dietary choices, and physical inactivity, among others, the future burden of cancer is expected to increase substantially. Cancer is a complex disease that develops through multiple molecular pathway events, making it challenging to diagnose, prognose, and treat. Biomarkers can indicate various health or disease characteristics, but a single marker is not sufficient due to the differences in molecular profiles among various types of cancer.
The discovery of new biomarkers offers opportunities to develop therapeutic strategies aimed at reversing cancer dysregulation. As the prevalence of cancer continues to rise globally, biomarker research will play an increasingly critical role, driving growth in the global market.
The prevalence of unhealthy habits such as smoking, poor dietary choices, and physical inactivity is expected to contribute to a significant increase in the burden of cancer in the future. Biomarkers have the potential to indicate a range of health or disease characteristics. However, the complex nature of cancer, which develops through a multi-stage carcinogenesis process involving multiple molecular pathway events, presents a challenge in terms of diagnosis, prognosis, and therapy.
A single marker is insufficient to address this complexity, and each type of cancer has a distinct molecular profile. The discovery of new biomarkers offers opportunities to develop therapeutic strategies that can help reverse dysregulation in cancer. As the incidence of cancer continues to rise, biomarker research will play a crucial role in driving the market growth.
Segments Insight:
Product Type Insights:
In 2022, the treatment selection sector had the biggest share. The best individuals for early-phase clinical studies are selected using personalized medicine indicators based on the molecular features of the tumor. Additionally, they offer details on how a specific medication works. As a result of the discovery of specific mutations that effectively carry out the prediction for a given drug in a molecularly defined patient group, the focus of cancer/oncology drug development programs has shifted from the creation of non-specific cytotoxic chemotherapies to the creation of molecularly targeted therapeutics. Additionally, the likelihood of treating the disease rises with a wider variety of treatments.
Over the forecast period, the early detection/screening sector is anticipated to experience profitable development. The requirement for early therapy can be linked to the segment's expansion. The path of therapy affects the likelihood of life for patients who exhibit the biomarker connected to a therapy's reaction. As an illustration, the HER2/neu protein expression is a predictive indicator of breast cancer.
Additionally, KRAS is a biomarker for resistance to anti-EGFR monoclonal antibody treatment and a commonly mutated oncogene in colorectal cancer. The creation of innovative technologies that aid in the early discovery of various conditions also contributes to the market's expansion.
Indication Insights:
Due to the increased use of biomarker-based tests for early diagnosis and therapy selection in customized medicine, the oncology sector led the market in 2022. The choice of suitable therapy options frequently improves patient health. For instance, the Oncotype DX test can assess the activity of 21 distinct genes to forecast whether chemotherapy will be appropriate in instances of breast cancer. Due to their crucial function in assisting doctors in selecting the most suitable course of therapy, personalized medicine biomarkers present significant possibilities in this sector.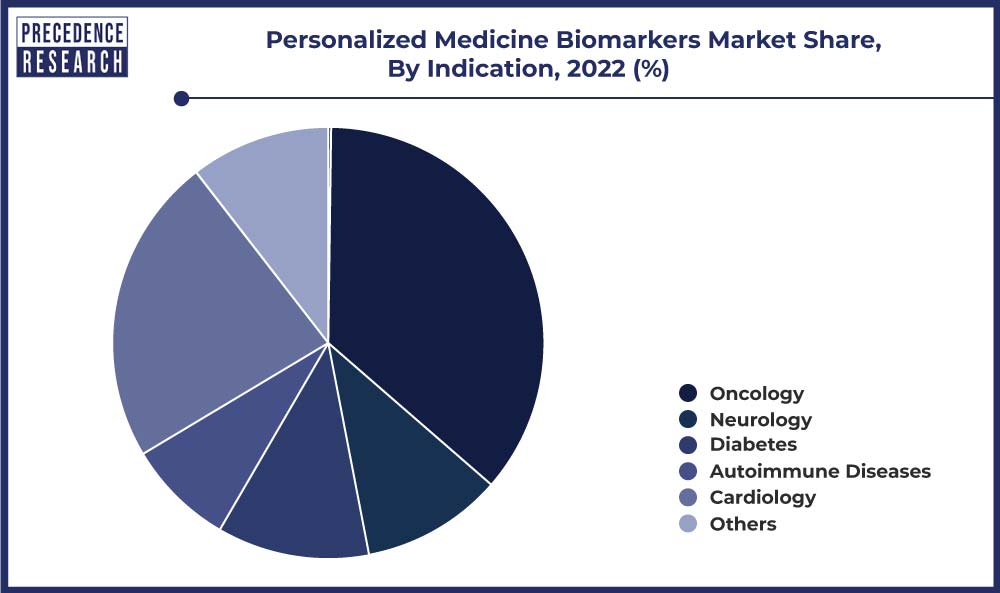 EpiSwitch Explorer is an array kit that can be used for biomarker finding and is an essential part of the creation of customized medicine. In March 2021, Oxford BioDynamics inked a reselling and supply deal with Agilent Technologies, Inc. Furthermore, cfDNA's non-invasive technique for identifying progression or return, simplifying prognosis, and discovering new genomic abnormalities continues to hold out a lot of promise. Additionally, it offers the ability to monitor tumors with molecular profiles in real-time at different time periods and can identify patients who are related to drug resistance.
Due to the rising incidence of autoimmune diseases among the global population, the segment for autoimmune diseases is predicted to expand at a profitable CAGR over the projection period. A hopeful development driver is the rising knowledge of the advantages of early treatment among doctors. The United States Autoimmune Association estimates that 100 different autoimmune illnesses will exist in 2021 and will impact 4-5% of the world's population.
Furthermore, the absence of a singular, highly accurate diagnostic test that can definitively rule out the existence of a particular autoimmune condition makes it difficult to identify the onset of autoimmune disease in a patient. This further raises the need for autoimmune disease diagnosis and tracking using minimally invasive techniques that could be used to detect disease onset and offer suitable therapy.
Regional Insights:
Due to higher financing for biomarkers, North America led the global industry in 2022. Technology advancements, high disposable income, and the existence of significant market actors working in the area all contribute to this. Due to greater commercial and governmental efforts and high general knowledge of chronic diseases and treatments, the U.S. owned the biggest share of personalized medicine in the area. Furthermore, major players are concentrating on creating innovative goods to keep control of the industry. For instance, Foundation One CDx was given FDA clearance in February 2022 as a Keytruda companion diagnostic to identify individuals with solid tumors that have high levels of microsatellite instability.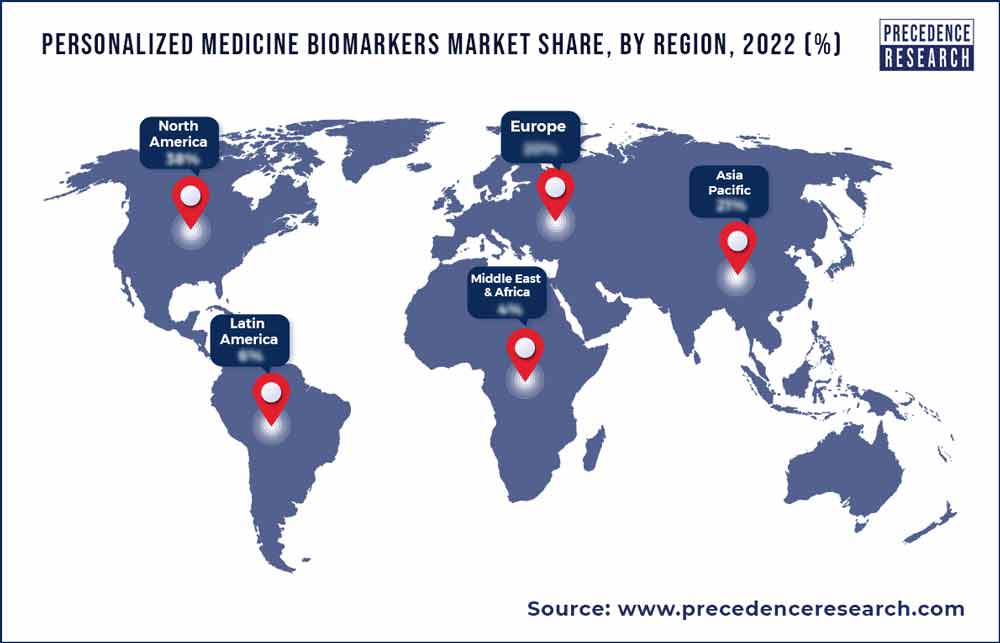 Over the forecast term, Asia Pacific is anticipated to experience the fastest development. The region's expanding healthcare changes are to blame for the market expansion. Improved healthcare facilities, an expanding population, and a rise in new businesses joining the market all support this. itszsssg. It's ag. It has thess. It's a. According to Global Cancer Statistics 2020, Asia was home to an expected 58.3% of cancer fatalities and approximately half of all cancer cases in 2020. As a result, the use of cancer screening tests has grown over the past few years as a result of expanding government programs, such as free breast cancer screening and greater collaborations for the production and distribution of these tests.
Furthermore, the region's development is further fueled by government funding and projects that are present there. For example, the Chinese Personal Medicine Initiative, which is anticipated to receive USD 9 billion in funding by 2030, seeks to improve healthcare, particularly for cancer.
Recent Developments:
In order to develop companion diagnostic tools that would allow the treatment of early-stage cancer, GRAIL and AstraZeneca joined forces in June 2022 to establish a strategic alliance.
Therascreen KRAS PCR Mutation Analysis for all Solid Malignancies, a partner test for Amgen's lung cancer treatment, was introduced by Labcorp in July 2021.
Key Market Players:
Laboratory Corporation of America Holding
Quest Diagnostics Incorporated
Agilent Technologies, Inc.
Genome Medical, Inc.
Coriell Life Sciences.
Thermo Fisher Scientific Inc.
NeoGenomics Laboratories
FOUNDATION MEDICINE, INC.
Illumina, Inc.
Guardant Health
Laboratory Corporation of America Holding
Quest Diagnostics Incorporated
Agilent Technologies, Inc.
Genome Medical, Inc.
Coriell Life Sciences.
Thermo Fisher Scientific Inc.
NeoGenomics Laboratories
FOUNDATION MEDICINE, INC.
Illumina, Inc.
Guardant Health
Segments Covered in the Report:
(Note*: We offer report based on sub segments as well. Kindly, let us know if you are interested)
By Application
Early Detection/Screening
Diagnosis
Treatment Selection
Monitoring
By Indication
Oncology

By Type

Breast Cancer
Lung Cancer
Colon Cancer
Others

By Circulating Biomarkers

Circulating Tumor Cells (CTCs)
Circulating Cell-free DNA (cfDNA)
Extracellular Vesicles (EVs)
Other Circulating Biomarkers

Neurology
Diabetes
Autoimmune Diseases
Cardiology
Others
By Geography
North America
Europe
Asia-Pacific
Latin America
Middle East and Africa