The global diagnostic testing market size was valued at USD 165.58 billion in 2021 and is projected to surpass around USD 348.75 billion by 2030, registering a CAGR of 8.63% over the forecast period of 2022 to 2030.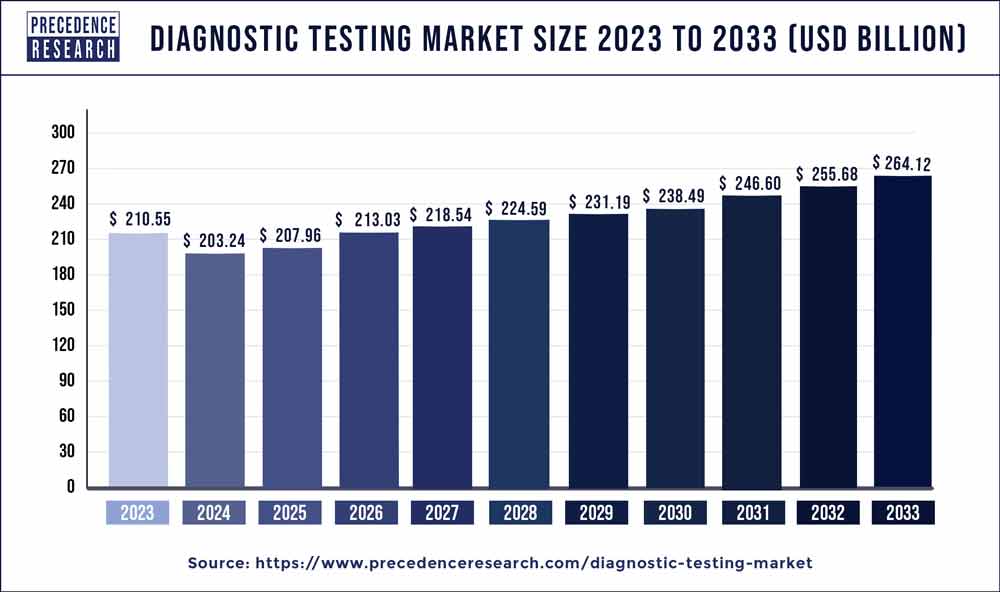 Access our Premium Real Time Data Intelligence Tool, Visit: Precedence Statistics
Diagnostic tests are the kinds of medical examinations carried out to assist in the recognition or diagnosis of any illness. These tests are essential for the management, monitoring, and prevention of any disease. These tests help to improve patient treatment, consumer safety, and healthcare costs. According to the Non-communicable Illnesses Key Facts report from the World Health Organization (WHO), chronic diseases would account for about 41 million deaths annually by April 2021, or 71 percent of all fatalities globally. As a result, diagnostic tests have demonstrated value in the management of chronic illness conditions as well as in the prevention, identification, and diagnosis of disease. Clinical diagnostics open up new possibilities for early prevention and intervention by identifying individual risk factors and early warning indications. As a result, it is anticipated that the entire market would continue to grow as the frequency of chronic illnesses rises.
Due to the COVID-19 pandemic, lab testing has increased, which has caused the demand to rise even faster to keep up with the suspected COVID-19 cases. The COVID-19 test count increased dramatically worldwide, from 760,441 tests in September 2020 to 964,792 new tests in October 2020, according to the Atlantic Monthly Group. As a result, the increasing number of tests due to the ongoing increase in patients and government financing are the factors that are anticipated to increase demand for COVID-19 test kits and fuel the overall market's exponential expansion.
Growth factors
Use of Point of Care Diagnostic Products
The market is anticipated to be driven by the rising popularity of decentralised health systems. Additionally, it is anticipated that the market would grow during the forecast period due to the adoption of new breakthroughs and technical improvements in the sector by major market players. In the upcoming years, growth in the point of care diagnostics market is anticipated as a result of these factors.
Globally, the ageing population is increasing the chance of developing a wide range of illnesses, including diabetes, cancer, cardiovascular disease, obesity, and neurological problems. A UN research estimates that 727 million people worldwide will be 65 years of age or older in 2020. Additionally, it is anticipated that by 2050, there will be twice as many people aged 80 and older than there are today, or more than 1.5 billion people. The forecasted increase in the worldwide geriatric population over the course of the projected period is likely to have a significant influence on the market.
Report Scope of the Diagnostic Testing Market
| | |
| --- | --- |
| Report Coverage | Details |
| Market Size in 2022 | USD 179.87 Billion |
| Market Size by 2030 | USD 348.75 Billion |
| Growth Rate from 2022 to 2030 | CAGR of 8.63% |
| Base Year | 2021 |
| Forecast Period | 2022 to 2030 |
| Segments Covered | Type, Application, Approach, Solution, Technology, Mode of Testing, Sample Type, Testing Type, Age, Distribution Channel, End User, Geography |
| Companies Mentioned | F-Hoffman La-Rcohe Ltd. (Switzerland), Danaher (US), BD (US), Thermo Fisher Scientific Inc. (US), ACON Laboratories Inc. (US), Hemosure, Inc. (US), MicroGen Diagnostics (US), Grifols, S.A (Spain), BODITECH MED INC. (South Korea), Chembio Diagnostic Systems, Inc. (US), Nanoentek (South Korea), DiaSorin S.p.A. (Italy), Bio-Rad Laboratories, Inc. (US), BIOMEDOMICS INC (US), EKF Diagnostics Holdings plc (UK), Siemens Healthcare GmbH (Germany), PerkinElmer Inc. (US), bioMérieux SA (France), ARKRAY USA, Inc. (US), Biohit Oyj (Finland), Quidel Corporation (US), Illumina, Inc. (US) |

Type Insights
At order to diagnose or identify any illness or other medical disorders, clinical diagnostics encompasses all medical tests carried out in a pathology lab, diagnostic centre, hospital, or any other type of medical institution. These tests aid in the early identification of diseases and the identification of risk factors linked to such diseases, providing chances for both prevention and therapy. The rise in sedentary-related illnesses including diabetes, cardiovascular disease, high blood pressure, and lipid disorders, among others, is what motivates the development of clinical diagnostic tests. Additionally, it is anticipated that the number of patients with cancer and chronic renal disease would rise in the next years, propelling the market for clinical diagnostics. Additionally, advantages related to clinical diagnostics are predicted to drive the market through 2026, including rapid test results, simple testing procedures, simplicity of obtaining samples, and reduced discomfort.
Home diagnostics, often known as at-home diagnostics, allows patients or users to do various tests on-site at their homes. These test kits are often used to monitor an existing medical condition, identify a medical disease that has gone undetected, or provide information about a person's specific health characteristics. The continuous efforts to increase people's involvement in their healthcare benefit greatly from these testing. It is crucial that the findings are precise and simple for people to acquire. The global market for home diagnostic tests is largely driven by the expanding need for diagnostics brought on by the global geriatric population as well as the rising prevalence of different chronic illnesses. The popularity of diagnostic kits for at-home usage has expanded as a result of technical developments. The market for home diagnostics is fuelled by a number of factors, including the increasing use of telemedicine, the decline in healthcare costs, and the convenience of at-home use.
Approach Insights
The diagnostic tests market is divided into molecular diagnostic tools, in-vitro diagnostic tools, and point-of-care testing tools based on technique. Since in-vitro diagnostics are increasingly used to test samples like blood and saliva to diagnose illnesses or other disorders, the in-vitro diagnostic instrument sector is predicted to dominate the market. Additionally, the frequency of infectious and chronic illnesses is anticipated to rise during the projection period along with the ongoing expansion in the senior population.
The global response to the pandemic has been greatly aided by molecular diagnostic testing for COVID-19. Government agencies from all around the world are assisting laboratories in expediting COVID-19 testing procedures since testing is still an essential step in slowing the disease's fast spread. Accordingly, regulatory agencies used techniques to hasten the licencing of molecular diagnostic tools. As diagnostic testing continues to be the foundation of the COVID-19 response, supporting containment efforts to reduce the outbreak, significant corporations have also made strategic innovations to deploy COVID-19 quick tests and neutralise the influence of COVID-19 on their operating capabilities. Additionally, due to the severity of the crisis and growing capacity problems with PCR-based testing, diagnostic solutions were developed more quickly to fulfil the need for mass testing.
Tests for in-vitro diagnostics are conducted using human blood or tissue samples. This kind of diagnostic testing is mostly used to find infections, illnesses, and disorders. In-vitro diagnostics are used in precision medicine today to identify individuals who need certain medications or treatments. With the availability of trained experts and infrastructure development, in-vitro diagnostics tests are often performed in laboratories and healthcare institutions. In the upcoming years, a growing number of pathology laboratories and services outfitted with cutting-edge diagnostic equipment are anticipated to fuel market expansion.
The research (diagnosis & monitoring) of a variety of diseases, such as cancer, diabetes, heart disorders, and others, uses point-of-care (POC) diagnostics, which are medical tools used to obtain an instantaneous response. Due to the frequency of chronic and infectious illnesses in developing nations, the point-of-care diagnostics market is expanding. Globally, the prevalence of chronic illnesses including diabetes, rheumatism, and cancer is rising for a number of reasons, including an ageing population, sedentary lifestyles, poor dietary habits, and environmental factors.
Application Insights
The diagnostic tests market is divided into categories based on application, including cardiology, oncology, neurology, orthopaedics, gastrointestinal, gynaecology, odontology, and others. Due to the global rise in heart patients and other cardiovascular disorders, the cardiology segment is predicted to dominate the market. The majority of cardiovascular disorders require diagnostic testing in order to be identified and treated. Cardiovascular diagnostic testing can reveal details about the electrical activity of the heart, the rhythm of the heartbeat, the efficiency with which blood pumps through the heart's chambers and valves, the ease with which blood flows through the coronary arteries to the heart muscle, and the presence of tumours or structural abnormalities in the cardiovascular system. The risk factors for heart disease are found via laboratory testing. These include the measurement of blood lipids such as LDL, HDL, and triglycerides as well as fats, cholesterol, and lipid components. For the diagnosis of diabetes, blood sugar and glycosylated haemoglobin levels are tested.
End User Insights
The diagnostic tests market is divided into hospitals, diagnostic centres, research laboratories and institutes, research institutions, homecare, blood banks, specialised clinics, ambulatory surgery centres, and others based on the end user. As hospitals perform a variety of diagnostic tests, including glucose tests, infectious diseases tests, cytology tests, CBC tests, blood culture tests, syphilis tests, urea tests, C-reactive protein tests, antigen tests, and HBA1C tests, causing for the detection and treatment of serious diseases or other major conditions, the hospitals segment is anticipated to dominate the market.
Geography Insights
The market for diagnostic tests is dominated by North America due to the region's growing elderly population. According to the Centers for Condition Control and Prevention (CDC), six out of ten individuals in the United States have at least one chronic disease, and four out of ten persons have two or more. The top causes of mortality and disability in the United States are chronic illnesses like cancer, heart disease, and diabetes, which also account for the majority of the USD 3.8 trillion in yearly health care expenses. As a result, there is now a greater need in the United States for better care that is managed effectively. Therefore, it is anticipated that the rising incidence of infectious and chronic illnesses as well as increased recognition of the importance of laboratory testing will drive market expansion in the nation.
Due to the availability of affordable diagnostic tests for chronic illnesses in the area, Asia-Pacific (APAC) is anticipated to have considerable growth during the forecast period of 2022 to 2030.
Key market developments
In January 2021, Roche introduced its Cobas Pulse System in a few nations that accepted the CE Mark. The item is a networked point-of-care solution from Roche Diagnostics' most recent generation. The most recent release provides expert blood glucose management.
In September 2021, Ortho Clinical Diagnostics announced that Immediate Spin Crossmatch (ISXM), a tool for identifying recipient and donor incompatibility in blood transfusions, will be made available on the company's Ortho Vision and Ortho Vision Max Analyzers.
Key market players
F-Hoffman La-Rcohe Ltd. (Switzerland)
Danaher (US)
BD (US)
Thermo Fisher Scientific Inc. (US)
ACON Laboratories Inc. (US)
Hemosure, Inc. (US)
MicroGen Diagnostics (US)
Grifols, S.A (Spain)
BODITECH MED INC. (South Korea)
Chembio Diagnostic Systems, Inc. (US)
Nanoentek (South Korea)
DiaSorin S.p.A. (Italy)
Bio-Rad Laboratories, Inc. (US)
BIOMEDOMICS INC (US)
EKF Diagnostics Holdings plc (UK)
Siemens Healthcare GmbH (Germany)
PerkinElmer Inc. (US)
bioMérieux SA (France)
ARKRAY USA, Inc. (US)
Biohit Oyj (Finland)
Quidel Corporation (US)
Illumina, Inc. (US)
Lamdagen Corporation (US)
LifeSign LLC. (US)
Medixbiochemica (Finaland)
Nova Biomedical (US)
Ortho Clinical Diagnostics (US)
Sannuo Biosensing Co., Ltd. (US)
STRECK (US)
Sysmex Corporation (Japan)
Segments covered in the report
(Note*: We offer report based on sub segments as well. Kindly, let us know if you are interested)
By Type
Clinical Diagnostic
Home Diagnostic
By Application
Cardiology
Oncology
Neurology
Orthopedics
Gastroenterology
Gynecology
Odontology
Others
By Approach
Molecular Diagnostic Instrument
In-Vitro Diagnostic Instrument
Point Of Care Testing Instrument
By Solution
By Technology
Immunoassay-Based
PCR-Based
Spectroscopy-Based
Chromatography-Based
Substrate Technology
Others
By Mode of Testing
Prescription Based Testing
OTC Testing
By Sample Type
Urine
Saliva
Blood
Hair
Sweat
Others
By Testing Type
Biochemistry
Hematology
Microbiology
Histopathology
Others
By Age
Pediatric
Adult & Geriatric
By Distribution Channel
Direct Tenders
Retail Sales
Online Sales
By End User
Hospitals, Diagnostic Center
Research Labs and Institutes
Research Institute
Homecare
Blood Banks
Specialty Clinics
Others
By Geography
North America
Europe
Asia-Pacific

China
India
Japan
South Korea
Malaysia
Philippines

Latin America

Brazil
Rest of Latin America

Middle East & Africa (MEA)

GCC
North Africa
South Africa
Rest of the Middle East & Africa