The global stroke diagnostic and therapeutic market size was valued at USD 31.3 billion in 2022 and is predicted to hit over USD 67.25 billion by 2032, poised to grow at a compound annual growth rate (CAGR) of 8% during the forecast period 2023 to 2032.
Crucial factors accountable for market growth are:
Increasing number of patients at risk of developing stroke
Increasing patient awareness
Increased health care expenditure
Large pool of geriatric population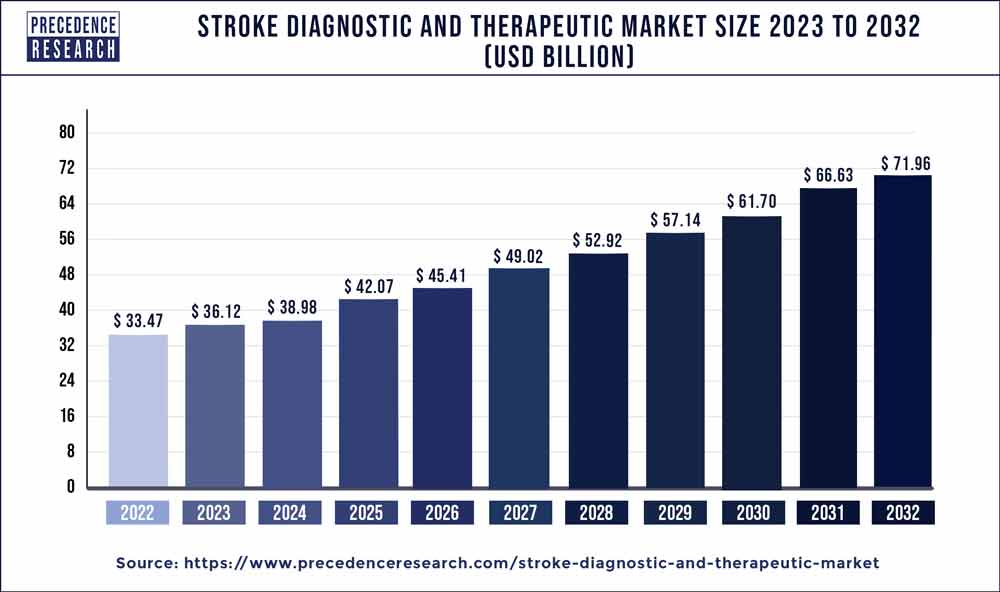 Access our Premium Real Time Data Intelligence Tool, Visit: Precedence Statistics
Key market Insights:
Growing ongoing research & development in the healthcare sector technologies for the stroke can create lucrative growth opportunities for the key players operating in the global market. In the developed countries such as U.S and Canada the healthcare treatment, service costs are relatively high owing to availability of advanced healthcare infrastructure. Due to the ongoing healthcare technology advancements highly sophisticated tools and apps are used every day, around the globe. Scientific and technical developments give rise to more powerful methods for disease prevention and recovery. Despite various technical advancements benefiting different medical fields, it's no wonder that such innovations often create waves in stroke management. In addition to defining and recognizing the symptoms of this disease, both IT and mobile health apps provide valuable resources to resolve the issues that occur in this field. Technology also benefits healthcare providers, and without complex procedures, patients can monitor their heart health. Advanced technology also assists with prevention, diagnosis, and recovery. Further, growth in emerging economies is another factor to creating growth opportunity for the key players in the global market.
COVID-19 Impact on Global Stroke Diagnostic and Therapeutic Market
The effects of Covid-19 pandemic will be played out and analyzed on the overall industry including both the demand side and supply side perspectives. In recent research studies of Covid-19 pandemic, it has been observed that the individuals having stroke disorder are at high risk of getting infected. The stroke patients are highly susceptible to develop fever, which is a key factor keeping stroke patient at high risk during Covid-19 pandemic. Moreover, according to some researches, the infection of Covid-19 can cause blood clotting and this may lead to stroke especially, in the old age population.
Future of Global Stroke Diagnostic and Therapeutic Market
Key companies like Medtronic plc and cerebrotech Medical Systems, Inc. are aiming towards profitable development by accepting strategies like mergers and acquisitions, weighty investments in the industrial facilities that is expectable to fuel the worldwide market growth in near future. This tendency is likely to continue and will enhance growth of the aiming industry in forecast time frame. In 2019, the leading player Boston Scientific Corporation introduced the Vercise Gevia Deep Brain Stimulation System as well as Vercise Primary Cell.
Scope of the Stroke Diagnostic and Therapeutic Market
| | |
| --- | --- |
| Report Highlights | Details |
| Market Size | USD 67.25 Billion by 2032 |
| Growth Rate | CAGR of 8% From 2023 to 2032 |
| Base Year | 2022 |
| Historic Data | 2018 to 2021 |
| Forecast Period | 2023 to 2032 |
| Segments Covered | Type, Application |
| Regional Scope | North America, Europe, Asia Pacific, Latin America, Middle East & Africa (MEA) |
| Companies Mentioned | Neural Analytics, Cordis Corporation, Cerebrotech Medical Systems, Inc., Koninklijke Philips N.V., Medtronic plc., Boston Scientific Corporation, GE Healthcare, Medfield Diagnostics, Samsung Neurologica, NIRX, Gowerlabs, Siemens AG, Genentech Inc., Merck & Co., Inc., Hyperfine MRI, Stryker Corporation, Abbott Laboratories |
Segment Analysis:
The Diagnostics Segment Is Predictable To Lead the Type Segment of Stroke Diagnostic and Therapeutic Market Revenue
On the basis of type the global market is segmented into two major types' diagnostics and therapeutics types. The diagnostics division was dominant with significant share in 2022. However, the therapeutics type is expected to fuel growth of the global industry in the near future.
Ischemic stroke Segment Is Likely to Take over the Application Segment of Stroke Diagnostic And Therapeutic Market Revenue
On the basis of application the global market is segregated into ischemic and hemorrhagic yes of stroke. The ischemic stroke segment is expected to hold share of more than 80% in the global market in 2022. Ischemic stroke is the most usual type of stroke which is caused by a blood clot that blocks a blood vessel in the brain.
North America is Valued to be the Major Market for Stroke Diagnostic And Therapeutic
The study report delivers prospects and trends of stroke diagnostic and therapeutic products across different geographical regions counting Europe, North America, Latin America, Asia-Pacific, Middle East, and Africa. However, geographically, the stroke diagnostic and therapeutic market is dominated by North America due to growing stroke patient's pool in the countries U.S. and Canada, availability of advanced healthcare infrastructure, presence of key market players, and government initiatives that improve access to advanced power instruments the treatment of stroke in the North America. Europe constitutes a share more than 25% of the global in 2020. Presence of key operating players in the countries of the region is expected to help the development of the Europe market in the coming years of the forecast period ranging. Asia Pacific stroke diagnostics and therapeutics market is anticipated to grow at a CAGR of 8.4% over the forecast period. Increasing health awareness among the individuals in the emerging economies is expected to help in driving the growth of the global market in Asia Pacific region.
Top Players contending in the Market:
The companies focusing on research and development are expected to lead the global stroke diagnostic and therapeutic market. Foremost players contending in global stroke diagnostic and therapeutic market are as follows:
Neural Analytics
Cordis Corporation
Cerebrotech Medical Systems, Inc.
Koninklijke Philips N.V.
Medtronic plc.
Boston Scientific Corporation
GE Healthcare
Medfield Diagnostics
Samsung Neurologica
NIRX
Gowerlabs
Siemens AG
Genentech Inc.
Merck & Co., Inc.
Hyperfine MRI
Stryker Corporation
Abbott Laboratories
For the better understanding the recent situation of the global stroke diagnostic and therapeutic market and for most policies of the country, Precedence Research forecast the future evolution of the stroke diagnostic and therapeutic industry.
Key Market Developments:
In April 2020, Medtronic gets emergency authorization to sell compact ventilator in the U.S.
On 23rd January 2020 FDA approves next generation medtronic leadless pacemaker.
In January 2019, Medtronic, Ghent University, Imec and CARDIS project partners collaborated to develop a prototype medical device for the screening of arterial stiffness and the diagnosis of cardiovascular diseases
In January 2019, the company agreed to acquire EPIX Therapeutics, a medical device company.
In October 2019, Medtronic acquired AV Medical a company of medical devices that develops interventions based on catheters.
Major Market Segments Covered:
By Type
Diagnostics

Magnetic Resonance Imaging (MRI)
Computed Tomography Scan (CT scan)
Electrocardiography
Carotid Ultrasound
Cerebral Angiography
Others

Therapeutics

Tissue Plasminogen Activator
Antiplatelet
Antihypertensive
Anticoagulant
By Application
Haemorrhagic Stroke
Ischemic Stroke
By Geography
North America
Europe

Germany
France
United Kingdom
Rest of Europe

Asia Pacific

China
Japan
India
Southeast Asia
Rest of Asia Pacific

Latin America

Brazil
Rest of Latin America

Middle East & Africa (MEA)

GCC
North Africa
South Africa
Rest of Middle East & Africa