The global lyme disease diagnostic devices market size surpassed at USD 2.03 billion in 2019 and is predicted to hit around USD 3.87 billion by 2027, with impressive CAGR of 7.2% during the forecast period 2020 to 2027.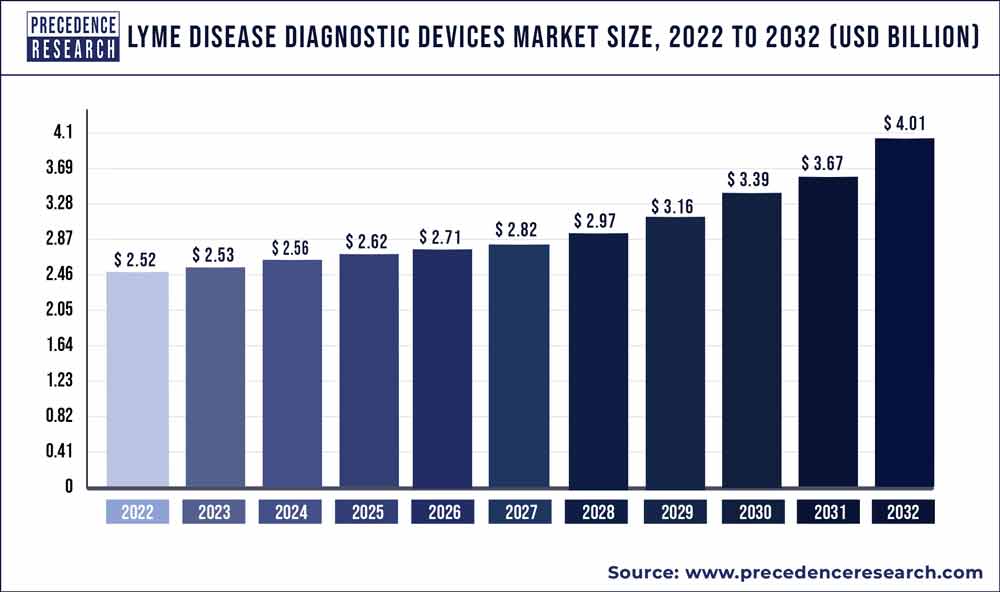 Key market Insights:
Upsurge in incidence of Lyme disease, growing policy attention on improving health care services, and the advent of new diagnostic tests for Lyme disease pushes the market. Nonetheless, lack of knowledge of the disease and ineffectiveness in Lyme disease research reduces the market. Additionally, growth in key players' interests in Lyme disease diagnosis R&D is predicted to provide lucrative business growth opportunities. Moreover, increasing number of cases of tick-borne infectious diseases is boosting Lyme disease diagnostics market. Vector-borne diseases are illnesses caused by pathogens and parasites in human inhabitants. Each year greater than 1 billion individuals are infected and higher than 1 million people die from vector-borne illnesses. They can be infected by bacteria, parasites or viruses. More than 16% of the ailment and disability endured globally is because of vector-borne illnesses, with more than 50% of world's population presently assessed to be at risk of these ailments.
Crucial factors accountable for market growth are:
Growing prevalence of Lyme disease
Increasing number of cases of tick-borne infectious diseases
Growing investment in research and development
Technological advancement

Significant Market Trends:
Serological Test Segment Reported Foremost Market Stake in 2019
Serological test segment recorded the prime market share in the global Lyme disease diagnostic devices market by type in 2019. Increasing use in the early diagnosis of Lyme disease diagnostics is the major reason for high market share of serological test. Other factors such as increasing investment in research and development is expected to increase the usage of serological tests over the estimate period.
The lymphocytic transformation tests are projected grow at the highest CAGR during the forecast period mainly due to new product launches in the near future.
Hospitals are Projected to Dominate the End User Segment of Lyme Disease Diagnostic Devices Market Revenue
The Lyme disease diagnosis is based on infection signs and symptoms, history of exposures to infected black-legged ticks, and laboratory tests. Serological tests can take several weeks to become conclusive after infection, indicating the need for new diagnostic tests that can identify the earliest signs of infection. Hospitals are well-equipped to handle patient flow and employ latest diagnostic and treatment techniques. These factors are primarily responsible for the greater market share of hospitals in the end-user segment of the Lyme Disease Diagnostic Devices Market.
Public/private laboratories segment will expand at a significant CAGR during the forecast time-frame.
North America is Estimated to be the Largest Market for Lyme Disease Diagnostic Devices
The research report covers key trends and prospects of Lyme disease diagnostic devices products across different geographical regions including North America, Europe, Asia-Pacific, Latin America, and Middle East and Africa. Geographically, Lyme disease diagnostic devices market is conquered by North America owing to high incidence of Lyme disease and existence of state-of-the-art healthcare infrastructure. On the other hand, Asia-Pacific is anticipated to witness the rapid growth rate, on account of increasing research and development investment by major market players and increasing awareness regarding tick-borne infectious disorders.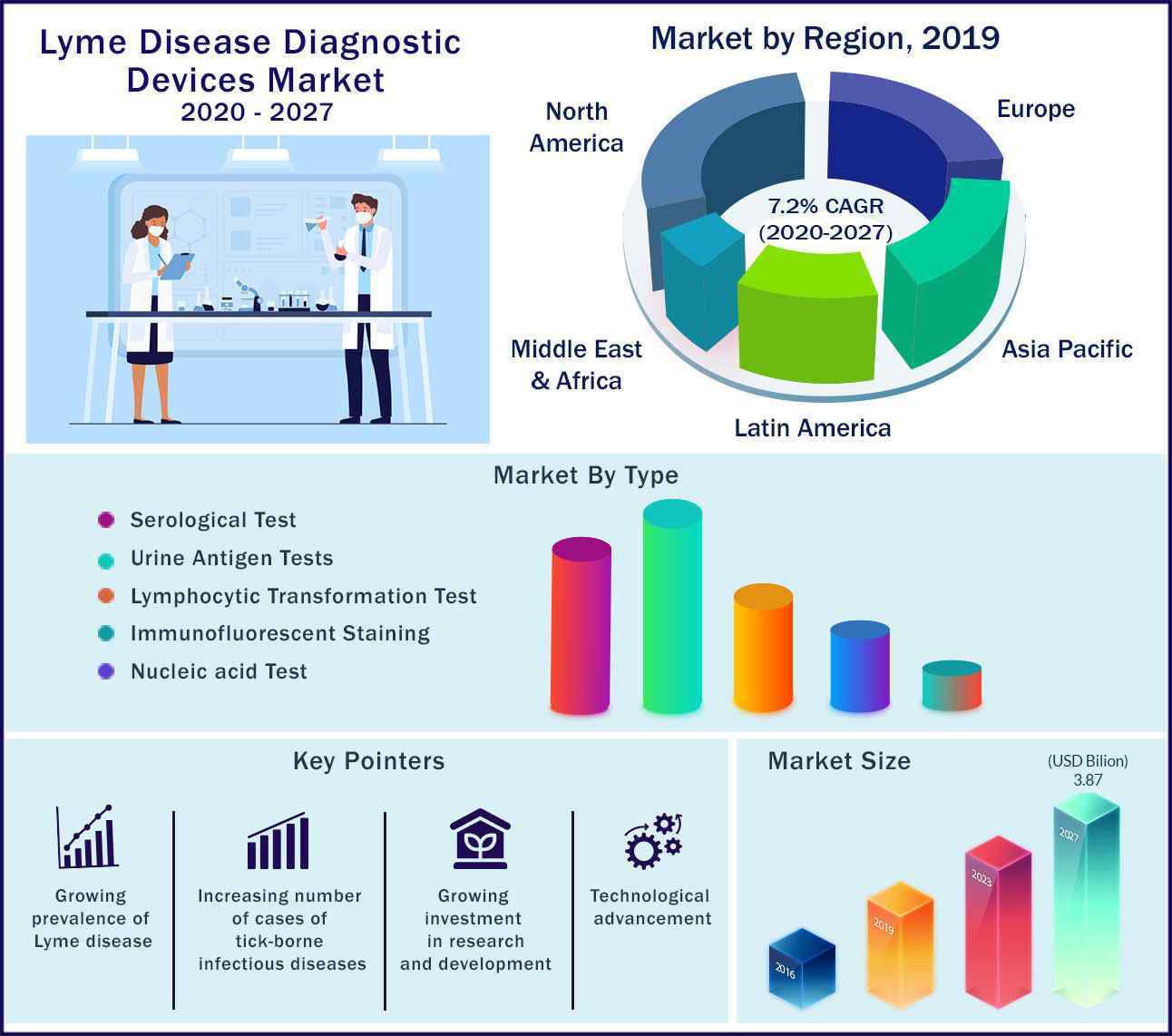 Top Players contending in the Market:
The companies focusing on research and development are expected to lead the global Lyme disease diagnostic devices market. Leading competitors contending in global Lyme disease diagnostic devices market are as follows:
Bio-Rad Laboratories, Inc.
Thermo Fisher Scientific, Inc.
Boulder Diagnostics
T2 Biosystems, Inc.
Abbott
Oxford Immunotec Global PLC
Quidel Corporation
Affymetrix Inc.
Hoffmann-La Roche Ltd
Graphene Frontiers
In order to better recognize the current status of Lyme disease diagnostic devices, and policies adopted by the foremost countries, Precedence Research predicted the future evolution of the Lyme disease diagnostic devices market. This research study bids qualitative and quantitative insights on Lyme disease diagnostic devices market and assessment of market size and growth trend for potential market segments.
Report Scope of the Lyme Disease Diagnostic Devices Market
| | |
| --- | --- |
| Report Highlights | Details |
| Market Size | USD 3.87 billion by 2027 |
| Growth Rate | CAGR of 7.2% From 2021 to 2027 |
| Largest Market | North America |
| Fastest Growing Market | Asia Pacific |
| Base Year | 2021 |
| Forecast Period | 2021 to 2027 |
| Segments Covered | Product, End User, Region |
| Companies Mentioned | Bio-Rad Laboratories, Inc., Thermo Fisher Scientific, Inc., Boulder Diagnostics, T2 Biosystems, Inc., Abbott, Oxford Immunotec Global PLC, Quidel Corporation, Affymetrix Inc., F. Hoffmann-La Roche Ltd, and Graphene Frontiers |
Major Market Segments Covered:
By Product Type
Serological Test
Urine Antigen Tests
Lymphocytic Transformation Test
Immunofluorescent Staining
Nucleic acid Test
By End User
Hospitals
Public/Private Laboratories
Physician's Office
By Geography
North America
Europe

Germany
France
United Kingdom
Rest of Europe

Asia Pacific

China
Japan
India
Southeast Asia
Rest of Asia Pacific

Latin America

Brazil
Rest of Latin America

Middle East & Africa (MEA)

GCC
North Africa
South Africa
Rest of Middle East & Africa