The global diabetic kidney disease market size was estimated at USD 2.5 billion in 2022 and it is projected to hit around USD 4.19 billion by 2032, growing at a CAGR of 5.3% from 2023 to 2032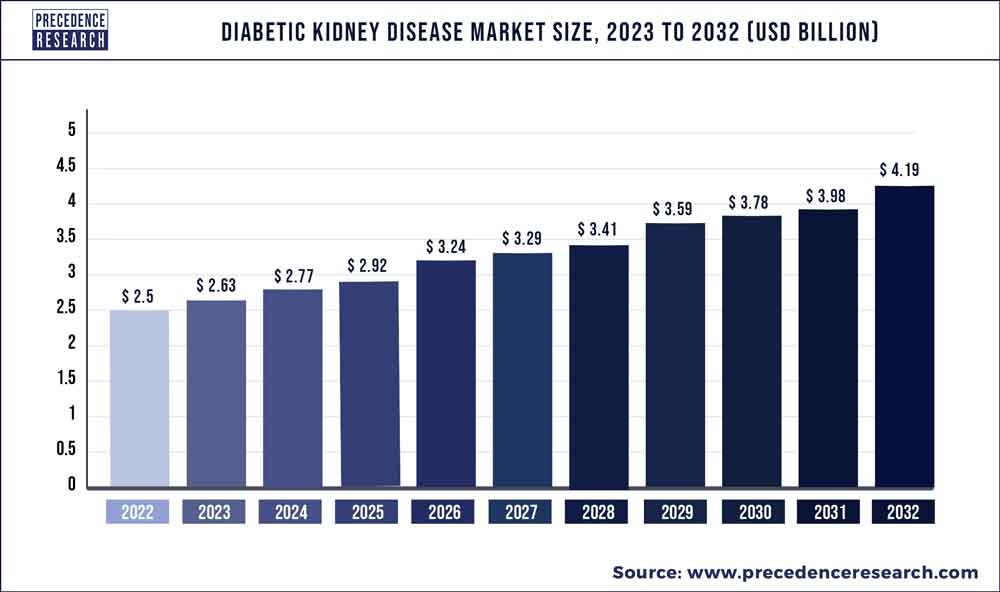 Key Insights:
On the basis of type, the type 2 segment is anticipated to maintain its market dominance with the highest market share from 2023 to 2032.
On the basis of treatment, the angiotensin-converting enzyme (ACE) Inhibitors segment has the largest market share.
On the basis of distribution channels, the retail pharmacy and drug store segment contributed the highest revenue in 2022.
On the basis of geography, the North America region captured the largest market share in 2022.
Market Overview
Kidney illness brought on by diabetes accounts for a significant portion of all diseases worldwide. The prevalence of obesity and diabetes is rising worldwide, fueling the market for diabetic nephropathy to proliferate. Genetics, blood sugar management, and blood pressure are a few other risk factors that can aid in the development of kidney disease in diabetes patients. Rising demand for diagnostic tests, including urine, blood, and kidney biopsy, as well as imaging tests like CT scans and MRI, are other factors driving market expansion.
Strict regulatory regulations, prolonged medication approval processes, and a shortage of comprehensive therapeutic management for diabetic nephropathy are all impeding the growth of the diabetic nephropathy market. Additionally, the high cost of imaging devices and the accuracy and dependability of a diagnostic test for the diagnosis of diabetic nephropathy restrict market expansion. Nevertheless, improvements in healthcare infrastructure in developing nations can generate a massive opportunity for market expansion and significantly boost market growth throughout the forecast period. Additionally, the market is growing due to the robust growth of the medical device sector and the accessibility of cutting-edge diagnostic tools.
Report Scope of the Diabetic Kidney Disease Market
| | |
| --- | --- |
| Report Coverage | Details |
| Market Size in 2022 | USD 2.5 Billion |
| Market Size by 2032 | USD 4.19 Billion |
| Growth Rate from 2023 to 2032 | CAGR of 5.3% |
| Base Year | 2022 |
| Forecast Period | 2023 to 2032 |
| Segments Covered | By Type, By Treatment, By Distribution Channel |
| Regions Covered | North America, Europe, Asia-Pacific, Latin America, Middle East & Africa |

Market Dynamics
Diabetes and chronic kidney disease (CKD) are challenging to treat. Still, there are several promising drugs in the pipeline for diabetic nephropathy, including esaxerenone (Daiichi Sankyo), TMX-049 (Teijin America), bardoxolone methyl (Kyowa Kirin), and others that are at various stages of clinical development. Essential treatments like Invokana, Farxiga, and Kerendia have paved the road for upcoming therapies with the latest medicine approval.
As diabetes cases continue to rise, the market for diabetic nephropathy will expand, allowing businesses to introduce innovative treatments. Additionally, the disease's better understanding in recent years will enable new targets to enhance treatment plans. Diagnostic techniques have benefited from technological advancements, and clinical recommendations establishing suggested targets and clinical practice have been published. It will be easier to manage and stop the course of diabetic nephropathy if indicators for early identification are found in patients. Furthermore, individuals with diabetic nephropathy are receiving tailored treatment to enhance renal and cardiovascular protection.
However, managing diabetic nephropathy is difficult due to the lack of novel therapeutic approaches to prevent, halt, cure, and reverse the disease and variations in clinical presentation and development rates among individuals. Additionally, the lack of routine screening and the lack of early and precise risk classification for patients with diabetic kidney disease (DKD)is troubling. Concerns have been raised about the usefulness of these models in preclinical drug discovery due to the absence of animal models that replicate the clinical characteristics of human DKD. Ineffective therapy is caused by poor drug adherence, which accelerates disease-related consequences. Renin-angiotensin system (RAS) inhibition and risk-factor management have been the accepted standards of care for management for the past 20 years.
Covid-19 Impact
The rise in kidney-related disorders is directly correlated with the rising COVID-19 incidence. For instance, according to a paper from 2021 titled "Acute Renal Injury in COVID-19: 90 Days of the Pandemic in a Brazilian Public Hospital," the kidneys are involved in 4–37% of COVID–19 cases, and acute kidney disorders are 50% more common in COVID–19 patients who are hospitalized. As a result, it has been discovered that the COVID-19 virus significantly affects patients' kidneys, which is anticipated to increase the burden of renal problems shortly and fuel market expansion. So, COVID-19 substantially affects the market for kidney illnesses worldwide.
Segments Insight
The kidney disease market is divided into segments based on type, treatment, distribution channel, and geography. By enlarging these divisions, you'll be able to research the industries' sparse growth sectors and provide users with thorough market summaries and industry insights to help them identify the most critical market applications.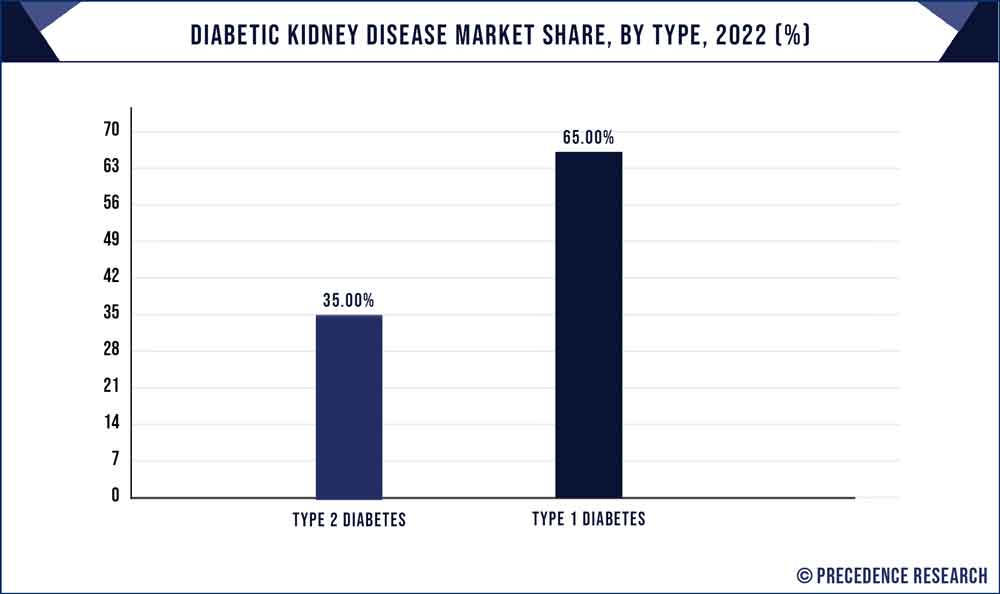 Type Insights
Based on type, the market is divided into Type 1 Diabetes and Type 2 Diabetes. During the projected period, Type 2 is anticipated to maintain its market dominance with the highest market share. Due to the widespread occurrence of diabetic nephropathy (DN) in type 2 diabetic people aged 20 and older.
Distribution Channel Insights
Based on the distribution channel, the retail pharmacy and drug store segment contributed the highest revenue in the diabetic kidney disease market in 2021. During the forecast period, the online provider segment is anticipated to see the highest CAGR, owing to the rise in the population suffering from diabetes and the geriatric population.
Treatment Insights
Based on treatment, Angiotensin Receptor Blockers (ARBs), angiotensin-Converting Enzyme (ACE) Inhibitors, Antioxidant Inflammation Modulators, Calcium Channel Blockers, and Others are the market segments. The Angiotensin-Converting Enzyme (ACE) Inhibitors sector has the largest market share. This is due to the safety and effectiveness of particular diabetic nephropathy-related symptoms.
Regional Insights
The United States, Canada, and Mexico are the major nations covered in the global kidney disease market report. Other significant countries include Germany, France, the United Kingdom, the Netherlands, Belgium, Switzerland, Italy, Russia, Spain, and Turkey, as well as the rest of Europe, Japan, China, South Korea, India, Malaysia, Singapore, Thailand, Australia, Indonesia, and the Philippines as well as the rest of Asia-Pacific (APAC), Saudi Arabia, the United Arab Emirates, South Africa, Egypt, and Israel as well as the rest of Middle East and Africa (MEA).
Due to rising government and pharmaceutical organization efforts to raise awareness of kidney disease as well as the existence of generic manufacturers, Europe has experienced the highest increase in the market worldwide.
As technology for treating renal disorders develops and pharmaceutical companies ramp up their efforts to create new formulations, North America now controls the market.
The study's regional section also lists specific market-impacting elements and domestic market regulation changes that affect the market's present and future trends. When giving prediction analysis of the country data, it also takes into account the presence and accessibility of international brands as well as the difficulties they encounter due to solid or weak competition from domestic and local brands, the influence of domestic tariffs, and trade routes.
Recent Developments
On May 2021, Novartis acquired cellerys, a research therapy startup from Zurich, to fight multiple sclerosis.
On January 2021, Mitsubishi Tanabe Pharma Corp. made a licensing agreement with Foods International Co. Ltd. to form a candidate antibody to cure antibody diseases.
On April 2021, the treatment of chronic kidney diseases in people at risk of progression with and without type-2 diabetes was approved in the US by Farxiga.
On October 2019, the United States designated Fresenius Medical Care as a breakthrough device manufacturer. A new hemodialysis device that promises to prevent blood clotting without the use of drugs has received approval from the FDA.
Competitive Analysis
The competitive landscape for the global kidney disease market includes information on competitors. The company's financials, market potential, revenue generated, investment in R&D, global presence, new market initiatives, production capacities, production sites and facilities, product launch, company weaknesses and strengths, product width and breadth, and application dominance are among the details that are included. The abovementioned data points are limited to the companies' attention to the global market for kidney illness.
The following companies are significant players in the worldwide kidney disease market:
AstraZeneca (UK.)
Pfizer Inc (US.)
Allergan,Inc (Ireland)
Bristol-Myers Squibb Company (US.)
Endo International plc (Ireland)
Dr. Reddy's Laboratories Ltd (India)
Sun Pharmaceutical Industries Ltd (India)
Teva Pharmaceutical Industries Ltd (Israel)
Novartis AG (Switzerland)
Mylan NV (US.)
CiplaInc (India)
Lupin (India)
Aurobindo Pharma (India)
Sanofi (France)
Fresenius SE & Co. KGaA (Germany)
F. Hoffmann-La Roche Ltd (Switzerland)
Takeda Pharmaceutical Company Limited (Japan)
Abbott (US.)
Segment Covered in the Report
(Note*: We offer reports based on sub-segments as well. Kindly, let us know if you are interested)
By Type
Type 1 Diabetes
Type 2 Diabetes
By Treatment
Angiotensin Receptor Blockers (ARBs)
Angiotensin-Converting Enzyme (ACE) Inhibitors
Antioxidant Inflammation Modulator
Calcium Channel Blockers
Others
By Distribution Channel
Online Pharmacy
Hospital Pharmacy
Retail Pharmacy
By Geography
North America
Europe
Asia-Pacific
Latin America
Middle East & Africa (MEA)