According to Precedence Research, the global microfluidics market was estimated at USD 18 billion in 2021 and is expected to surpass around USD 62 billion by 2030, growing at a CAGR of 16.5% from 2021 to 2030.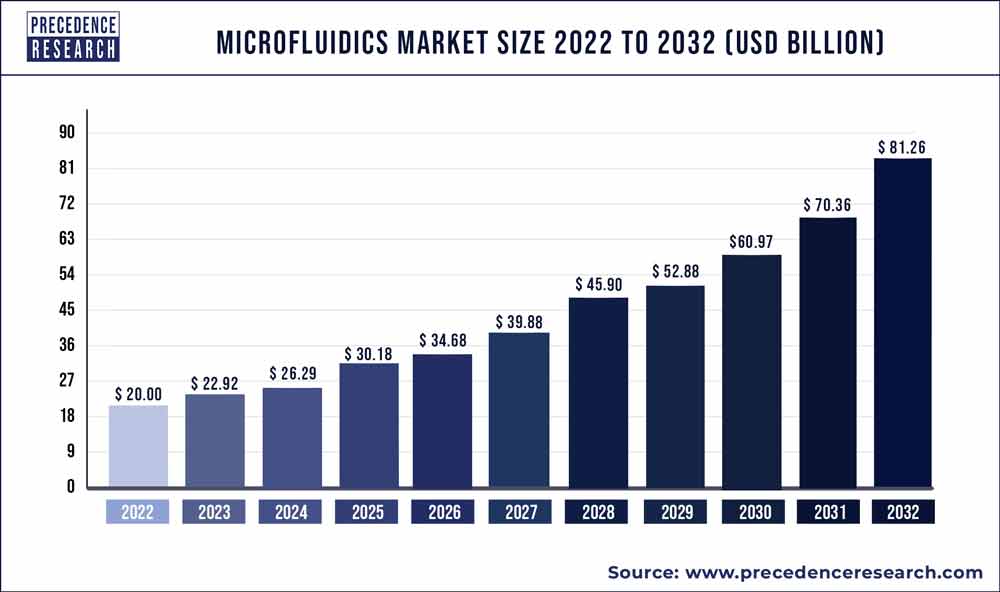 Growth Factors
Increase in demand for point-of-care (POC) devices anticipated to prominently boost the market size in the upcoming years. Significant demand for low-volume sample analysis, demand for In Vitro Diagnostics (IVD), high-throughput screening methodologies, and development of advanced lab-on-a-chip technologies are further expected to propel the market growth of microfluidics over the analysis timeframe. Microfluidics provides a high return on investment along with it also helps in controlling cost by minimizing errors.
Other key factors propelling the market growth for microfluidics include increasing for microfluidics technology & devices in point-of-care diagnostics, rising technological advancements in diagnostic devices, and rising incidence of chronic diseases across the globe. Hence, the above mentioned factors augment the demand for molecular diagnosis and subsequently impact positively towards the market growth of the microfluidics.
Material Insights
The polydimethylsiloxane (PDMS)-based microfluidic chips segment dominated the global microfluidics market in terms of revenue 34.5% in the year 2020 and anticipated to register the fastest growth rate over the analysis period. PDMS is a prominently used polymer in fast prototyping microfluidic devices. These are highly used by the academic community owing to their ease of fabrication along with their low cost. On the other hand, these polymers are hydrophobic that makes microchannels hard to operate in aqueous solutions. To combat this issue, new PDMS surface modifications are offered to address challenges due to hydrophobicity.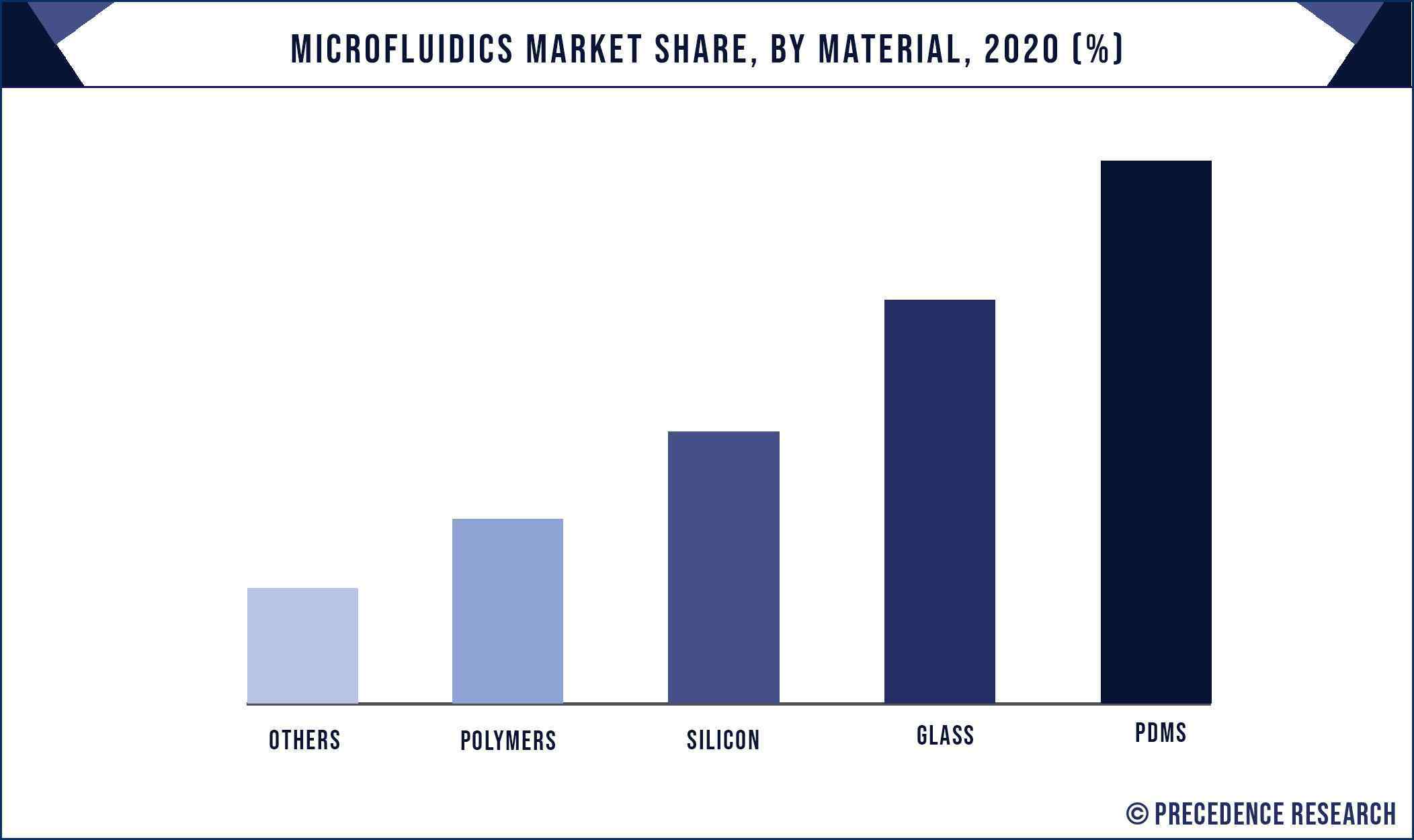 Besides this, polymer-based microfluidic devices proved as a better alternative to the glass and silicon-based microfluidic devices. Polymer-based materials are more affordable, robust, easy to access, and require rapid fabrication techniques as compared to silicon and glass materials. Polymers are one of the most important materials used in microfluidic chips for mass production by applying soft lithography, casting, injection molding, and hot embossing techniques.
Technology Insights
On the basis of revenue,the medical technology segment led the global microfluidics market with 83% revenue share in the year 2020. This is mainly attributed to the three major benefits offered by the microfluidics for the POC diagnostics that include smaller sample volumes, faster turnaround times, and lesser test costs. These benefits are moderately being utilized for the development of POC devices for detection and diagnosis of a wide range of conditions from cancer to infectious diseases.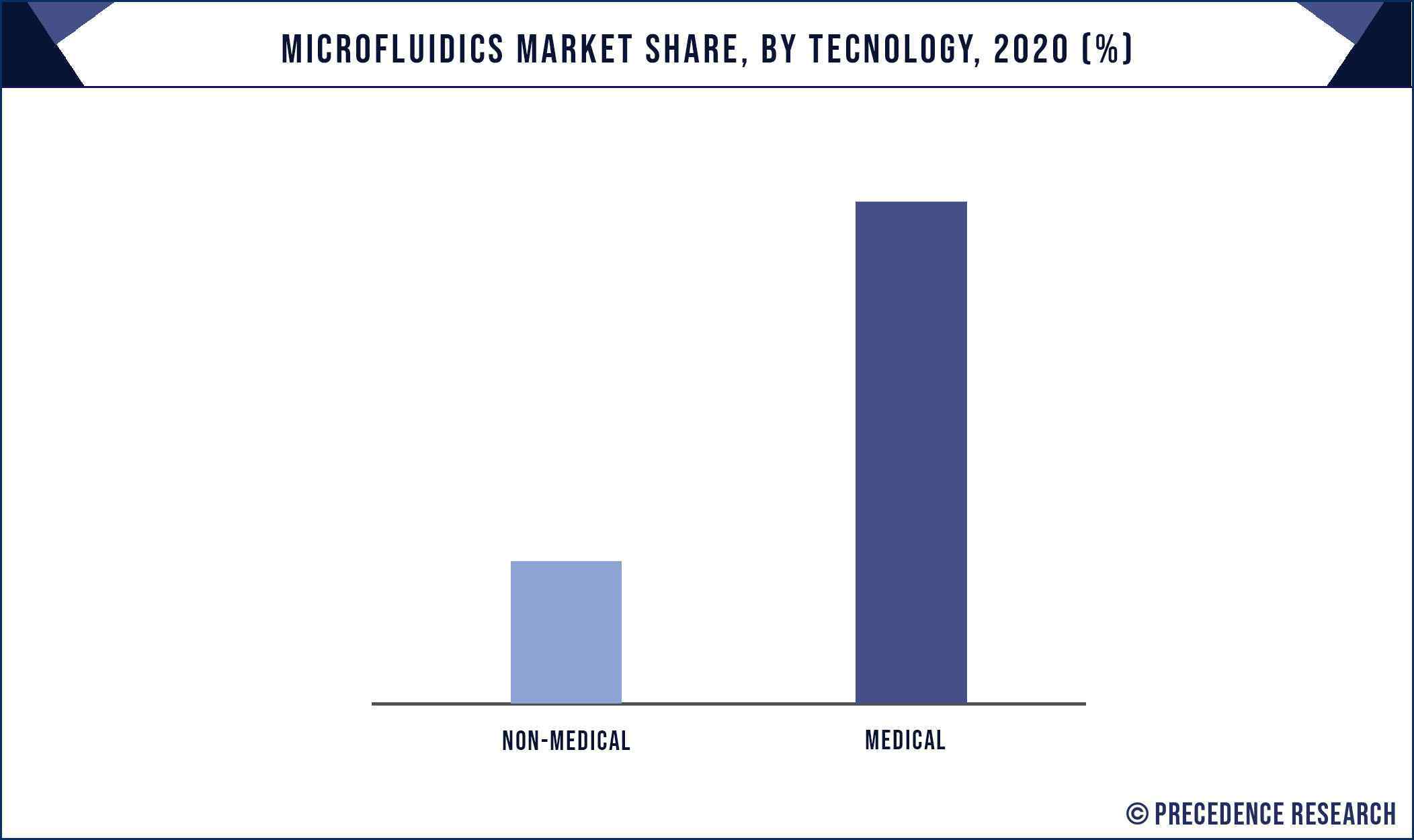 For example, the Laboratory of Integrated Bio-Medical/Nanotechnology & Applications (LIBNA) fabricated a microfluidic point-of-care sepsis chip that calculates CD64 expression on neutrophils as well as the overall WBC count in around 30 minutes, by just using 10 microliters of a blood sample.
Application Insights
The lab-on-a-chip application accounted revenue share of 38% in the global microfluidics market in the year 2020 and estimated to continue its position throughout the analysis period. In the field of molecular biology, lab-on-a-chip provides high detection speed despite of maintaining the same sensitivity level during RNA or DNA amplification along with their detection procedures. This application also permits the rapid sequencing of DNA.
Elveflow provides the fastest qPCR system named as Fast gene system that detects viruses and bacteria within 7 minutes. Furthermore, nanopore technology holds an excessive potential to facilitate the rapid genome sequencing of DNA than the lab-on-a-chip by implementing an array technique.
Regional Insights
North America emerged as the largest share holder around 43% in the global microfluidics market owing to the presence of well-established market players in the region, introduction of advanced technologies, an increase in the number of studies being opted to improve the samples optimization, and significant demand for POC diagnostics. In addition to this, the active participation of research institutes towards the development of novel microfluidic devices predicted to retain the dominance of the region over the upcoming years.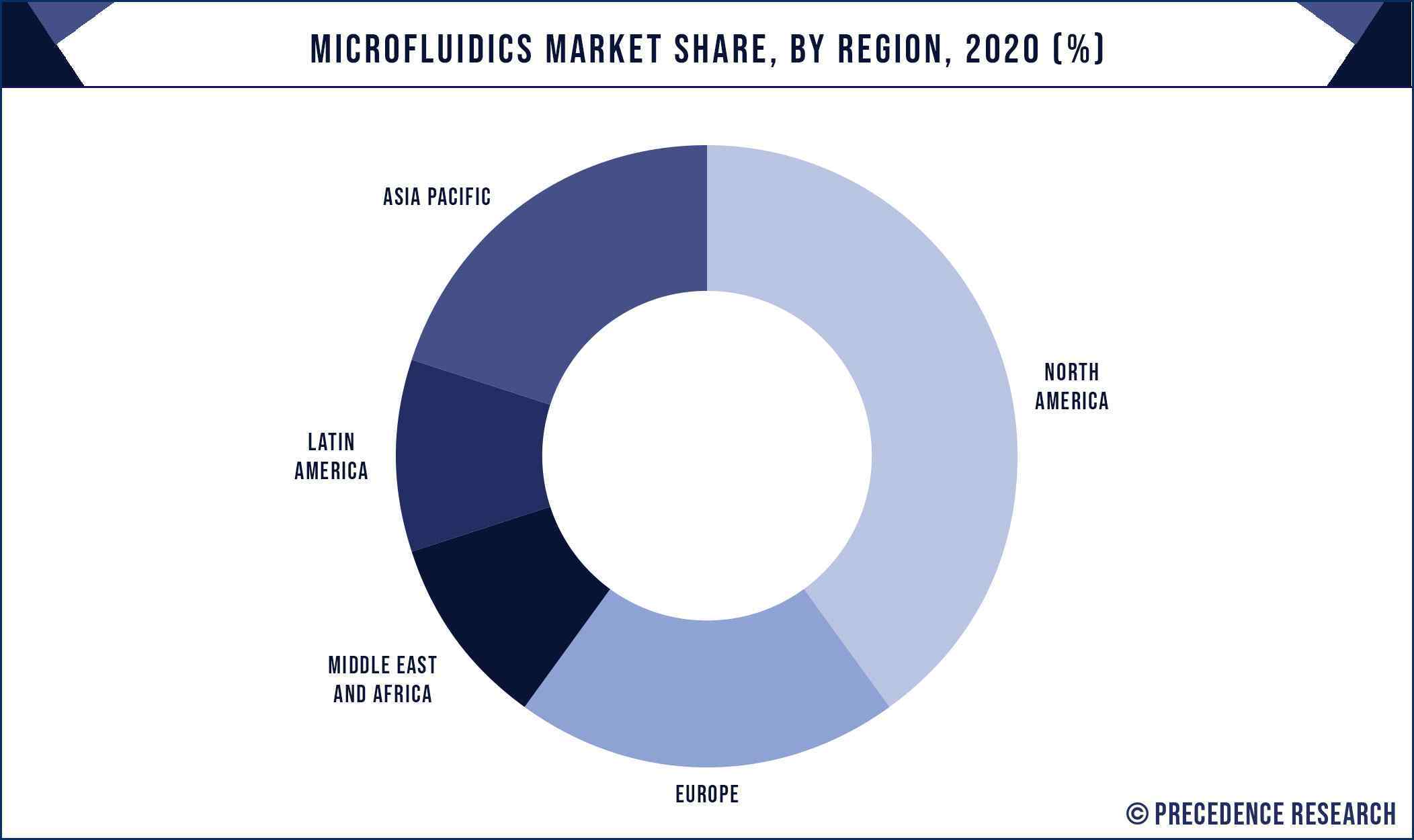 However, the Asia Pacific encountered to be the fastest growing market because of affordable labor, sophisticated research infrastructure, and adoption of microfluidic platforms. Furthermore, several international players have shown their interest for investing in this untapped market. For instance, in November 2019, Select BIO Microfluidics and Organ-on-a-Chip Asia organized a conference in Japan for addressing some novel technologies in the fields of Lab-on-a-Chip, Organ-on-a-Chip, and Microfluidics.
Key Companies & Market Share Insights
The global microfluidics market seeks to be highly competitive in nature because of the market players are significantly investing towards new product development and advancement. For instance, in March 2019, Dolomite Microfluidics introduced a novel microencapsulation system, named as µEncapsulator Systems. The system encapsulates nearly 300,000 cells into monodisperse droplets within a time span of just 15 minutes.
Some of the prominent players in the microfluidics market include:
Agilent Technologies, Inc.
Illumina, Inc.
Perkinelmer, Inc.
Life Technologies Corporation
Danaher
Bio-Rad Laboratories, Inc.
Hoffmann-La Roche Ltd
Abbott Laboratories
Fluidigm Corporation
Qiagen N.V.
Thermo Fischer Scientific
Biomérieux
Cellix Ltd.
Elveflow
Micronit Micro Technologies B.V.
Report Scope of the Microfluidics Market
| | |
| --- | --- |
| Report Highlights | Details |
| Market Size | USD 62 billion by 2030 |
| Growth Rate | CAGR of 16.5% from 2021 to 2030 |
| Largest Market | North America |
| Fastest Growing Market | Asia Pacific |
| Base Year | 2021 |
| Forecast Period | 2021 to 2030 |
| Segments Covered | Material, Technology, Application, Region |
| Companies Mentioned | Qiagen N.V., Agilent Technologies, Inc., Illumina, Inc., Perkinelmer, Inc., Thermo Fischer Scientific, Life Technologies Corporation, Danaher, Bio-Rad Laboratories, Inc., Cellix Ltd.,Hoffmann-La Roche Ltd, Abbott Laboratories |
Segments Covered in the Report
This research study comprises complete assessment of the market by means of far-reaching qualitative and quantitative perceptions, and predictions regarding the market. This report delivers classification of marketplace into impending and niche sectors. Further, this research study calculates market size and its development drift at global, regional, and country from 2019 to 2030. This report contains market breakdown and its revenue estimation by classifying iton the basis ofmaterial, technology, application, and region:
By Material
Glass
Silicon
PDMS
Polymers
Others
By Technology
Non-Medical
Medical

Gel Electrophoresis
PCR & RT-PCR
ELISA
Microarrays
Others
By Application
Organs-on-chips
Lab-on-a-chip
Continuous Flow Microfluidics
Acoustofluidics and Microfluidics
Optofluidics and Microfluidics
Electrophoresis and Microfluidics
By Regional Outlook
North America
Europe
Asia Pacific

China
India
Japan
South Korea

Rest of the World