The in vitro diagnostics (IVD) market size was valued at USD 115.48 billion in 2022 and it is expected to be surpass around USD 124.65 billion by 2032 with a registered CAGR of 1.6% from 2023 to 2032. The U.S. in vitro diagnostics market size will expand around USD 40.66 billion by 2032.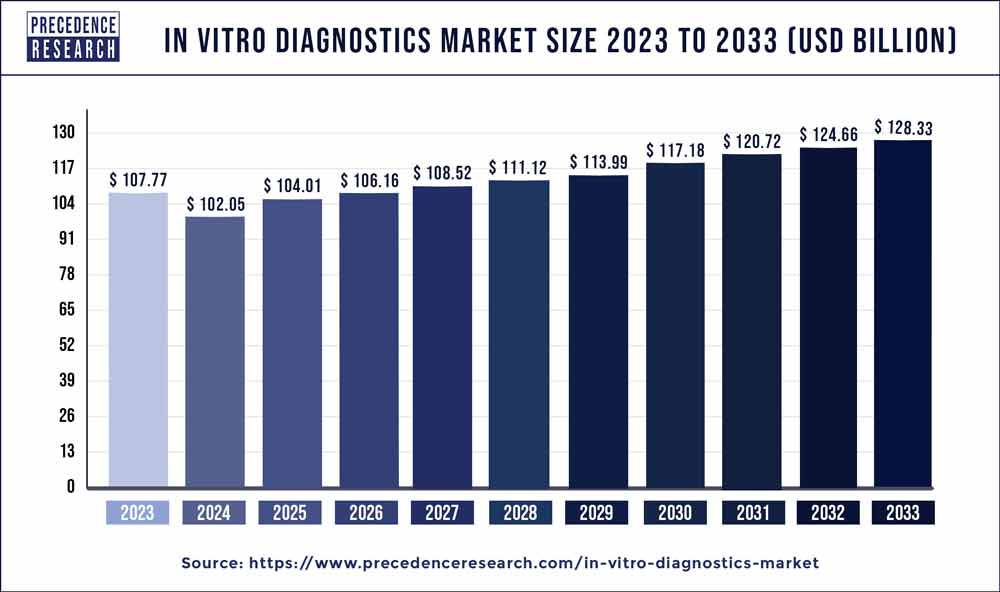 Access our Premium Real Time Data Intelligence Tool, Visit: Precedence Statistics
Key Takeaway
North America Market has captured a revenue share of 42.5% in 2022.
By product, the reagents segment held a revenue share of 65.8% in 2022.
By application, the molecular diagnostics segment accounted highest revenue share of 38% in 2022.
By end-uses, the laboratory segment has captured 40% revenue share in 2022%.
By test location, the point-of-care segment has generated a market share of over 21% in 2022.
By application, the infectious disease segment has garnered a revenue share of over 59.50% in 2022.
In Vitro Diagnostics (IVD) Market Size in U.S. 2023 to 2032
The U.S. in vitro diagnostics (IVD) market size was estimated at USD 40.08 billion in 2022 and it is projected to hit around USD 40.66 billion by 2032.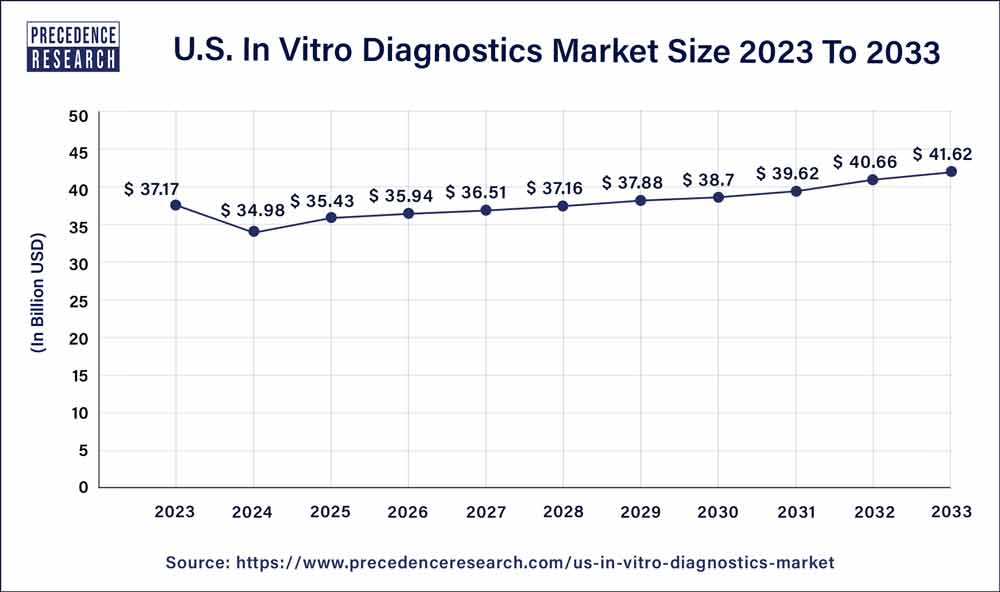 Introduction to In Vitro Diagnostics
"In vitro diagnostics" (IVD) refers to the market for medical equipment and supplies used to perform tests on human tissue samples, bodily fluids, urine, and blood. These tests are performed outside the body, in a laboratory setting, point of care setting, or home testing to diagnose, monitor, and manage various diseases and conditions. In vitro diagnostics is vital in healthcare by providing valued information to healthcare professionals for accurate disease diagnosis, treatment planning, and disease management.
The expansion of molecular diagnostics is one of the key trends in the in vitro diagnostics industry. Molecular diagnostics involves analyzing and detecting genetic material, proteins, and other molecules to diagnose and monitor diseases. Molecular diagnostics has witnessed significant advancements, particularly in genomics and proteomics technologies. These advancements have enabled the identification of specific gene variations and biomarkers associated with diseases, leading to more accurate diagnoses and personalized remedy approaches. The expansion of molecular diagnostics has revolutionized disease management, especially in oncology, infectious diseases, and genetic disorders.
Additionally, integrating artificial intelligence and machine learning is another key trend in the in vitro diagnostics market. Combining artificial intelligence (AI) and machine learning (ML) technologies in the IVD market enhances diagnostic accuracy, efficiency, and predictive capabilities. AI and ML algorithms can analyze large volumes of patient data, identify patterns, and generate insights to support clinical decision-making. These major trends in the in vitro diagnostics market are reshaping the industry and driving advancements in diagnostic technologies, personalized medicine, and patient care. The increasing focus on rapid and accurate diagnostics, integration of AI and ML, and the shift towards personalized medicine are expected to further propel the growth and evolution of the IVD market.
In recent years, in vitro diagnostics industry has recognized significant developments. Rising geriatric population, prevalence of infectious as well as chronic diseases and existence of automated in vitro diagnosis systems for hospitals to offer precise diagnosis are some of the factors are expected to propel the growth of the market. As per the data published by United Nations, around 900 million populations across globe are above age 60 years. Furthermore, World Health Organization declared that, by 2020, the number children younger than 5 years will be lesser than that of people above 60 years. Thus, growing elderly population and subsequent demand for immunoassay-based tests flourishes the market growth. Additionally, increased government funding and other healthcare organizations investment into in vitro diagnostics market is the key drivers to boost market growth over the forecast period. Growing consciousness on personalized medicines and increasing acceptance of point-of-care testing are also high impact rendering market drivers.
Furthermore, growth of condition specific tests, increasing importance of companion diagnostics as well as emerging economies are anticipated to show growth opportunities for players operating in the market. Enhanced and well-organized diagnostic tools, technological advancement in healthcare and surge in the over the counter tests is projected to witness growth in the in vitro diagnostics market. However, high cost involved into in vitro diagnostics services may hamper the industry growth over the forecast period.
Also, rigorous government regulations and adverse reimbursement policies are expected to hinder the growth to some extent. Furthermore, IVDS's have been under growing cost pressure over the last decade owing to increasing use and concerns about ungovernable health expenses. Nonetheless, surging demand for IVD products from the developing nations offers lucrative growth prospects to the market.
Scope of the In Vitro Diagnostics Market Report
| | |
| --- | --- |
| Report Coverage | Details |
| Market Size in 2023 | USD 107.76 Billion |
| Market Size by 2032 | USD 124.65 Billion |
| Growth Rate from 2023 to 2032 | CAGR of 1.6% |
| Base Year | 2022 |
| Forecast Period | 2023 to 2032 |
| Segments Covered | Product, Technology, Application |
| Regional Scope | North America, APAC, Europe, Latin America, MEAN, Rest of the World |
| Companies Mentioned | Alere, Inc., Hoffmann-La Roche Ltd., Arkray, Beckman Coulter, Becton Disckinson, Bio-Rad laboratories, Danaher, Sysmex Corporation, Abbott Laboratories |
Market Dynamics
Market Drivers
Mounting Prevalence of Chronic and Infectious Diseases
The significantly increased prevalence of chronic and infectious diseases is one of the major causes of growth drivers in the in-vitro diagnostics market. According to the U.S. Department of Health & Human Services, in the U.S., 6 in 10 adults suffer from a chronic disease, and 4 in 10 adults suffer from 2 or mere chronic disease conditions. The various forms of cancer, cardiovascular disorders, diabetes, obesity, etc., are chronic disorders. According to the World Health Organization, cardiovascular diseases accounted for cancers accounted for 9.3 million of all non-communicable disease deaths, followed by chronic respiratory diseases (4.1 million), diabetes (2.0 million, with kidney disease deaths caused by diabetes), and chronic respiratory diseases (17.9 million) per year, reported as of September 2022.
In addition, the in vitro diagnostics market currently generates the most revenue from the rise in infectious diseases, whose treatment and prevention are assisted by early detection. The increasing prevalence of chronic and infectious diseases leads to overall health costs for the nation. For instance, the U.S. Department of Health & Human Services stated that chronic disease conditions accounted for around $4.1 trillion in annual healthcare costs in America, reported as of December 2022. Furthermore, infectious diseases are brought on by microorganisms such as hepatitis, diphtheria, HIV/AIDS, Ebola, flu, human papillomavirus, tuberculosis, etc., and outbreaks like Swine flu, Zika virus, dengue, and Covid-19, which are continuously having a direct effect on the expansion of the infectious disease testing market segment. As reported by the WHO, an estimated 10.6 million people were diagnosed with TB in 2021, an increase of 4.5% from the 10.1 million cases in 2020. Thus, extensively increasing the prevalence of chronic and infectious diseases ultimately results in increased demand for more accurate, fast, and timely diagnosis, which augments the growth of the in-vitro diagnostics market.
Rising Implementation of Technological Innovation and Automation
The In Vitro Diagnostics market is a significant sector that can benefit from implementing Smart Labs-as-a-Service for laboratory automation. Integrating automation technologies and digital solutions in the IVD industry can significantly enhance laboratory services and streamline diagnostic workflows.
Smart labs provide advanced automated solutions that enhance laboratory operations, improving productivity and efficiency. Automation of diagnostic procedures, including sample handling, testing, and result analysis, lowers the chance of human error, speeds up delivery times, and enhances laboratory efficiency overall. In addition, Smart Labs-as-a-Service's subscription-based business model enables end- user labs to access advanced technology and digital services for a reduced price. This can be especially helpful for smaller facilities or laboratories on a tight budget. Laboratories can reduce costs while providing top-notch diagnostic services by pooling resources and utilizing automation.
Furthermore, market players are developing digital solutions for Smart Labs-as-a-Service to enable seamless data management and analysis. Increasing product launches and regulatory approvals related to laboratory automation burgeons the growth of the in vitro diagnostics market. For instance,
In January 2023, Qiagen, a Europe-based company, launched a platform for automated sampling in diagnostic laboratories called EZ2 Connect MDx IVD. Moreover, advanced laboratory information management systems (LIMS) and data analytics tools efficiently handle and interpret vast amounts of diagnostic data, providing valuable insights for healthcare providers and researchers.
In September 2022, ADSTEC and its subsidiary ADS Biotec, a market player involved in the development of automated instruments, announced the receiver of CE marking for their HANABI Cytogenetic Automation Instruments under the European Union In Vitro Diagnostic Medical Device Directive (IVDD) 98/79/EC.
Moreover, the advanced approach towards enhanced data management and analysis brings convenience to lab operations, bolstering the in-vitro diagnostics market growth. On top of it, automation in laboratory processes minimizes human errors leading to improved accuracy and quality of diagnostics results. Consistent and reliable testing outcomes provide more precise diagnoses and better patient care. Which in turn, accelerates the growth of in vitro diagnostics market.
Rise in the Demand for Point of Care Testing (POCT)
IVD technologies were only applied in clinical labs in the past. Most clinical chemistry, immunochemistry, and hematology tests continue to be carried out with high throughput equipment with complex automation. However, Point of Care Testing is expanding to meet the demand for quick diagnosis of infectious and chronic diseases near where the patients are located or being treated. According to a survey by the National Library of Medicine for several infectious diseases, POCT is available in all European countries that responded to the study.
In addition, key players are concentrating on releasing quick, portable, transportable, compact, and easy-to-use instruments that can be used outside lab settings. The COVID-19 outbreak has highlighted the need to improve local healthcare, particularly. This demand has increased the diagnostic offer's delocalization, including auto- and home-diagnosis. The rising number of POCT device manufacturers across the globe expands the in vitro diagnostics market growth. For instance, according to initial statistics from the members of the China Association of In Vitro Diagnostics, China currently has more than 1400 manufacturers of IVD products, out of which around 216 were POCT manufacturers in 2020.
Furthermore, the demand for complex diagnostic technologies is fueled by the shift towards personalized medicine, which customizes treatment based on a patient's unique characteristics. Point-of-care testing is essential in supplying real-time patient data that enables individualized treatment choices. Point-of-care testing offers the advantage of convenience and ease of use. It eliminates the need for sample transportation and allows for immediate results, leading to faster decision-making and improved patient management. This further contributes to accelerating the growth of the in vitro diagnostics market.
Market Restraint
Complex Regulatory Landscape
The complex regulatory landscape is one of the major hindrances to the growth of in vitro diagnostics market. New or modified devices must undergo a thorough FDA evaluation to ensure patient safety at the individual and community health levels. Therefore, devices intended to assist or preserve human life would be subject to the most thorough status of review. Regulations on in vitro diagnostics may restrict a newly developed IVD device from entering the market, which may incur huge losses to the manufacturer. Hence, effectively categorizing a device is essential to avoid entering market delays. Team members working on research and product development must know this to prevent "going back to the drawing board." This is particularly true in the United States, where the FDA deliberately controls additional creativity on devices that have already received approval if the supporting evidence needs to be sufficiently futuristic.
In addition, the European Commission's Directive 98/79/EC establishes legal requirements for producing and selling in-vitro diagnostics products in the European Union. Investments made in R&D could be well-spent if the regulatory authority rejects approval due to the uncertainty surrounding the time frame needed to receive regulatory approval for some IVDs. The EU has universal standards for the planning and production of IVD products and technologies, including Restriction of Hazardous Substances (RoHS) and Registration, Evaluation, Authorization, and Restriction of Chemicals (REACH).
Regulating IVDs has merit, but no one wants to get caught in a web of rules that go overboard to the point where it prevents the development of novel IVD products that could lead to advancements, particularly in devices deemed higher risks. Documentation is essential to demonstrate how a device complies with all regulatory requirements. This can help to overcome the regulatory restrain.
Market Opportunity
Increased Funding and Overall Spending on In Vitro Diagnostics Market
Governments worldwide recognize the importance of diagnostics in healthcare and allocate substantial funding to support research and development in the IVD sector. Additionally, healthcare policies focused on early disease detection and prevention drive investment in diagnostic technologies. Companies investing in research and development to enhance their technological capabilities are well-positioned to capitalize on market opportunities.
In November 2022, the Biomedical Advanced Research and Development Authority (BARDA) awarded Hologic, Inc. a $19 million contract to support its research and development initiatives. The purpose of this funding was to bring The Aptima SARS-CoV-2 assay from Hologic and the Panther Fusion SARS-CoV-2/Flu A/B/RSV assay from Hologic both adhere to the in vitro diagnostic (IVD) standards established by the U.S. Food and Drug Administration (FDA).
In January 2022, an IVD company, Virtue Diagnostics, revealed the closing of a $100 million Series B funding round. Clinical tests for China and emerging markets are the primary focus of Virtue Diagnostics, founded in 2019. Sequoia China and Morningside Ventures collectively headed the fundraising round with ORIZA Holdings. Existing investors PerkinElmer Ventures and Lilly Asia Ventures took part, and HAOYUE Capital served as the sole financial advisor.
In November 2021, QuantuMDx received a £15 million ($20.3 million) stake in its company from Vita Spring IVD Fund, a Hong Kong-based venture capital firm, and plans to use the funds to advance the creation of its Q-POC PCR platform for the verge of need.
Emerging markets, particularly Asia-Pacific and Latin America, offer untapped potential for IVD companies. The increasing healthcare spending, improving healthcare infrastructure, and growing patient awareness in these regions provide opportunities for market expansion and increased penetration of diagnostic products. Furthermore, companies that strategically invest in innovation develop partnerships, and focus on meeting the evolving needs of healthcare systems and patients are well-positioned to capitalize on these opportunities and drive future success.
Regional Insights
North America is estimated to top the global market throughout the estimated time period due to high-rise in healthcare awareness among population and its well penetrated healthcare system. In addition, easy accessibility of devices, increasing awareness about usage of these products and existence of huge number of residents suffering from numerous chronic diseases also drives the growth of the market. Furthermore, presence of various key market players in America is likely to enhance the growth of the market in the region.
The growing need for genetic testing for personalized healthcare, diabetes, and cancer is propelling the market in North America. Around 32.2 million Americans are expected to have diabetes by 2021, according to the International Diabetes Federation (IDF). The development of cost-effective, superior medical solutions targeted at attaining lab automation as a result of technological advancements is propelling the in vitro diagnostics market in North America. For instance, a pioneer in molecular diagnostics, BioGX, introduced POC CE-marked COVID-19 assays on their Pixl platform in July 2022. A qPCR detection system called the CFX Opus 384 Dx System and CFX Opus 96 Dx System was introduced by Bio-Rad Laboratories, Inc. in October 2021. This freshly introduced method offers accurate and precise quantification to enhance diagnostic testing workflow efficiency.
The dynamics of the market have changed, with more participants emphasizing the launch of tests for home-based testing. Additionally, in 2021, the FDA designated home molecular diagnostic testing as a major priority. The molecular analytical self-test kit for COVID-19 detection from BATM Advanced Communications Ltd. was slated for availability in March 2021. Furthermore, by allowing for early disease detection, these diagnostics lower the risk of replacements. However, because these tests are so expensive, it is expected that some patients may move to external options. Furthermore, the likelihood of internal modification is high for the detection of developing diseases like SARS-CoV-2, which encourages competition among rivals.
The IVD industry is now seeing tremendous expansion in North America, and this trend is anticipated to continue for a few more years. Due to the region's established healthcare sector and the growing incidence of chronic illnesses, its market share is anticipated to grow in the future.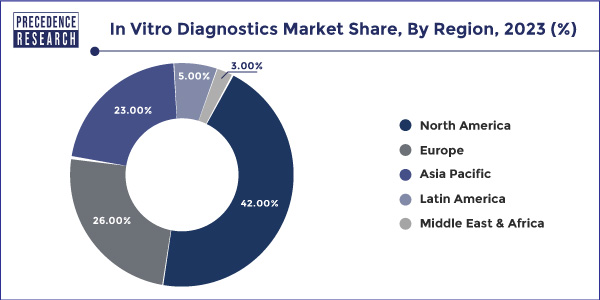 Asia Pacific is projected to witness fastest CAGR in the in vitro diagnostics market over the forecast period. The growth in Asia Pacific has been attributed to the increasing healthcare spending and growing prevalence of diabetes in the region.
The existence of a considerably bigger customer base than in other regions, quick economic growth, and increased need for improved healthcare solutions are major factors driving the Asia Pacific in-vitro diagnostics market revenue. The market in this area is seeing revenue growth due to rising R&D and significant manufacturing investments. The region's growing senior population and shifting epidemiological patterns are driving the need for new kinds of diagnostics. Beyond localization, nations like India, Singapore, China, and Japan are crucial players in ground-breaking innovation.
The increasing incidence of anemia in the area is one of the main reasons propelling the APAC in vitro diagnostics market. According to the most recent information supplied by the World Health Organization (2023), South-East Asia had the largest regional anemic non- pregnant female population (age group: 15-49) with 234,000 persons out of the global prevalent population of anemia in non-pregnant women. Children and women who are close to giving birth are particularly affected by anemia, which is common around the world. Iron deficiency anemia in pregnant women is also linked to unfavorable consequences on reproduction, including preterm birth, low birth weight newborns, and decreased iron storage in neonates, which can result in developmental abnormalities. IVDs are regarded as a crucial part of basic healthcare and are widely used in hematology-related tests for hemoglobin and other blood components, such as white blood cells. As a result, it is anticipated that the region's increasing anemia rate would increase demand for IVDs and create favorable conditions for the Asia-Pacific IVD market for growth.
The disease's signs and symptoms must be understood to perform screening and early detection. Lack of information, inaccessibility of information, and inaccurate information are all key factors in the fast spread of illnesses. Additionally, as compared to developed nations, the IVD market in developing economies grew relatively more slowly than those in those latter because of low technology penetration and weak healthcare infrastructure. Due to the high frequency of infectious illnesses, sizable target populations, and unmet research requirements for the development of personalized medicines, nations like India, China, and other Southeast Asian nations have stronger growth potential.
Global In Vitro Diagnostics Market Revenue, By Region, 2022-2032 (USD Million)
| | | | | |
| --- | --- | --- | --- | --- |
| Region | 2022 | 2023 | 2027 | 2032 |
| North America | 48,989.06 | 45,485.13 | 44,894.85 | 50,292.77 |
| Europe | 30,607.72 | 28,504.19 | 28,475.13 | 32,382.62 |
| APAC | 26,738.20 | 25,200.01 | 26,407.12 | 31,880.23 |
| LA | 5,286.90 | 4,953.16 | 5,068.18 | 5,939.01 |
| MEA | 3,866.78 | 3,624.70 | 3,677.62 | 4,161.88 |
Product Insights
Based on the product type the market has been classified into the reagent, instruments and services. The reagent segment dominated the market in 2022 as reagents are indispensible part of every in vitro diagnostics test. Rising demand for point-of-care tests and self tests and increasing various R&D initiatives are projected to accelerate the growth of this segment.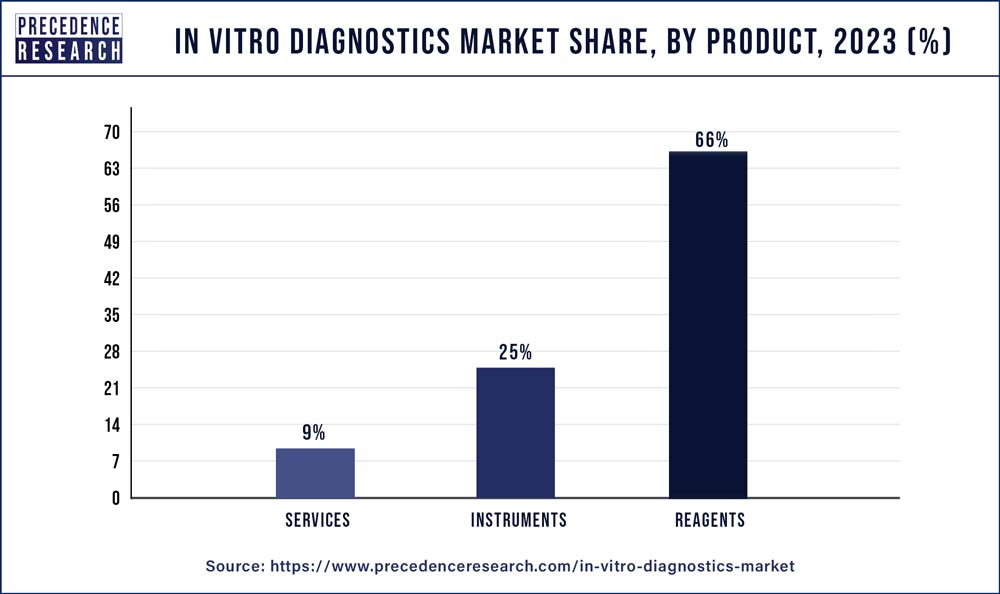 Additionally, focus of market players in launching technologically advance instruments are anticipated to create growth opportunities for this segment in near future. For instance, in January 2019, ClearLLbal 10C system was launched by Beckman Coulter, Inc. for clinical flow cytometry lab. In April 2018, the flexible and automatic system a CE-IVD marked AltoStar Molecular diagnostics workflow launched by Altona Diagnostics GmbH which automates entire workflow from sample prepare on till analysis. Furthermore, Instrument segment is projected to grow at fastest compound annual growth rate (CAGR) over the forecast period.
Global In Vitro Diagnostics Market Revenue, By Product Type, 2022-2032 (USD Million)
| | | | | |
| --- | --- | --- | --- | --- |
| Product | 2022 | 2023 | 2027 | 2032 |
| Instruments | 28,950.51 | 26,909.55 | 26,669.26 | 30,086.54 |
| Reagents | 75,883.86 | 70,996.28 | 72,231.39 | 83,913.52 |
| Services | 10,654.28 | 9,861.36 | 9,622.25 | 10,656.44 |
Technology Insights
Based on technology, the in vitro diagnostics market is classified into hematology, molecular diagnostics, immunology, coagulation, clinical chemistry, microbiology and others. Amidst these technologies, immunoassay dominated the global in vitro diagnostics market in 2022 owing to growing adoption of immunoassay based rapid testing and POC testing. Molecular diagnostics is expected to show the fastest growth over the forecast period. Increasing support by regulatory authorities is also supporting the market growth. For example, SOPHiA GENETICS received CE-IVD marking for solid tumor solution which will help to characterize and detects alerted genes in colorectal, skin cancer, lung and brain.
An immunoassay is a procedure that measures the concentration of a macromolecule in a solution using an antibody or immunoglobulin. The huge molecule identified is known as an analyte. The development of immunochemical approaches that bring advantages observed with larger molecular analytes with small molecules such as metabolites and toxins is one example of a technological advancement that increases the efficiency of immunoassay in terms of cost and performance.
Point-of-care testing (POCT) is becoming more and more popular, which is one of the major trends in the immunoassay industry. Rapid and practical diagnostic outcomes provided by POCT enable quick clinical judgment. Due to their ease of use, speed, and capacity to detect numerous analytes at once, immunoassays are ideal for POCT. The expansion of the use of portable and handheld immunoassay instruments in resource-constrained and decentralized healthcare settings is being driven by this trend. The push toward multiplexing is another trend. The simultaneous detection of numerous analytes in a single sample is made possible by multiplex immunoassays, which provides thorough diagnostic data. This trend is being pushed by the demand for better diagnostic solutions, particularly in fields like oncology, autoimmune disorders, and infectious diseases. Multiplexing not only saves time and resources but also allows for a more comprehensive understanding of disease profiles and personalized treatment approaches.
Global In Vitro Diagnostics Market Revenue, By Technology, 2022-2032 (USD Million)
| | | | | |
| --- | --- | --- | --- | --- |
| Technology | 2022 | 2023 | 2027 | 2032 |
| Immunoassay | 34,688.20 | 32,433.72 | 32,923.23 | 38,197.47 |
| Hematology | 6,827.36 | 6,345.41 | 6,288.28 | 7,079.82 |
| Clinical Chemistry | 20,236.73 | 18,978.14 | 19,496.32 | 22,960.24 |
| Molecular Diagnosis | 38,255.69 | 35,662.26 | 35,768.90 | 40,881.48 |
| Coagulation | 4,680.51 | 4,328.27 | 4,203.81 | 4,615.35 |
| Microbiology | 6,384.88 | 5,916.29 | 5,792.70 | 6,424.23 |
| Others | 4,415.28 | 4,103.12 | 4,049.65 | 4,497.91 |
Application Insights
In terms of applications the market is classified into diabetes, cardiology, nephrology, infectious disease, oncology, drug testing, autoimmune disease and others.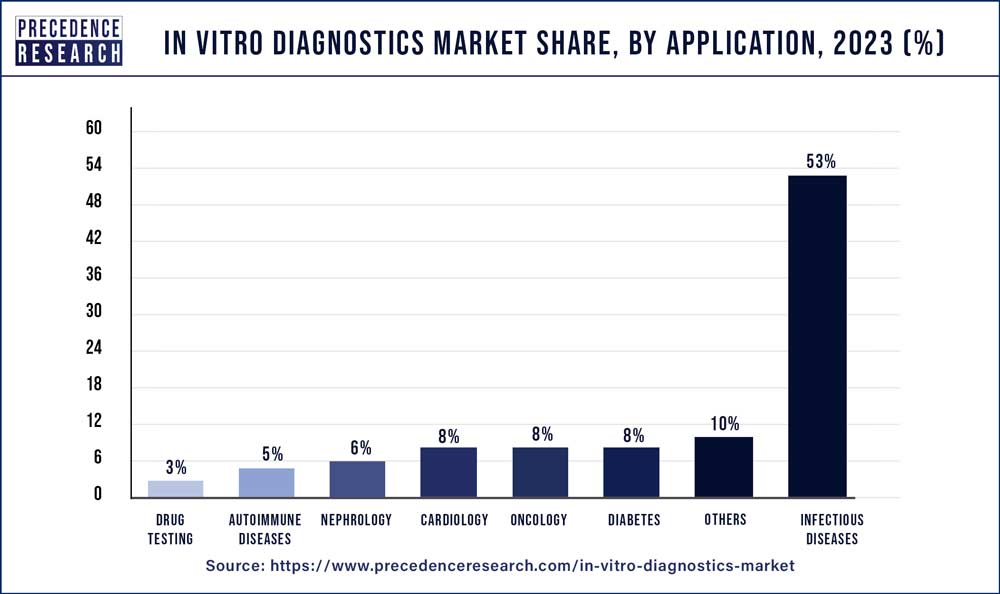 The infectious disease segment is anticipated to dominate the market over the forecast period owing to growing incidences of Hepatitis, Pneumonia, HIV-AIDS, tuberculosis and others. Key players are developing innovative diagnostics system in order to resist increasing incidences infectious diseases. In May, 2019 Roche Diagnostics launched Cobas MTB-RIF/INH that helps clinician in accelerating tuberculosis diagnostics. Availability of automated in vitro diagnostics assay and increasing prevalence of cancer drives the growth of oncology segment. For instance, in November, 2018 Roche Diagnostics launched Ventana pan-TRK (ERP17341) assay, an automated in vitro diagnostics immunohistochemistry assay to detect tropomyosin receptor kinase proteins in cancer.
Due to increased longevity due to impaired immunity, infectious diseases persist as a permanent threat to humanity in future. Majority of countries are held hostage by deadly pathogens that cause diarrhea, malaria, meningitis, tuberculosis, HIV/AIDS, and other parasitic, fungal, and viral infections. With the increasing prevalence for the infectious diseases, many established biotechnology companies are developing innovative systems and devices for the identification and detection of various infectious diseases and their types caused by fungus, viruses, and bacteria. For example, in 2019, Roche Diagnostics launched Cobas MTB-RIF/INH that helps the clinician in accelerating the diagnosis of tuberculosis. Additionally, over the last years there has been significant improvements in diagnostic testing capabilities for infectious diseases such as influenza, SARS-CoV-2, human immunodeficiency virus (HIV), Lyme diseases and sexually transmitted diseases ( TD's). For instance, few years ago the approach for epatitis B surface anti ody testing was introduced ased on automated chemical analyzers and this similar approach was applied on another infectious diseases to detect antigen and nucleic acids.
In the recent trend of identifying the infectious diseases, saliva and dried spots have been used in identifying the diagnostic samples for testing and it's no more restricted to lood specimens of the individuals. Additionally, there are new methods and technology for identifying infectious disease rather than traditional methods like RT-PCR. For example, recently a new diagnostic test has been developed by an Infosys awardee through the Science and technology department of India. This allows the detection by nucleic- acid base rapid diagnostic test and this test has been transferred to several other companies and organizations. Furthermore, there are many innovations in detection of infectious diseases from the last past years thus growing the demand for the applications in infectious diseases.
Global In Vitro Diagnostics Market Revenue, By Application, 2022-2032 (USD Million)
| | | | | |
| --- | --- | --- | --- | --- |
| Application | 2022 | 2023 | 2027 | 2032 |
| Infectious Diseases | 61,149.94 | 56,833.27 | 56,321.58 | 63,411.06 |
| Diabetes | 9,146.65 | 8,475.36 | 8,298.32 | 9,203.01 |
| Oncology | 8,727.73 | 8,323.38 | 9,144.04 | 11,710.79 |
| Cardiology | 9,104.25 | 8,538.03 | 8,771.15 | 10,329.53 |
| Nephrology | 6,633.27 | 6,127.88 | 5,927.70 | 6,475.24 |
| Autoimmune Diseases | 5,350.55 | 4,987.83 | 5,002.74 | 5,717.80 |
| Drug Testing | 3,986.64 | 3,757.30 | 3,937.28 | 4,753.31 |
| Others | 11,389.60 | 10,724.14 | 11,120.09 | 13,055.75 |
Key Companies & Market Share Insights
Existence of research organizations that offer clinical research, consulting services, and laboratory testing to cater the swelling demand for rapid diagnosis and treatment plans is likely to fuel the IVD market. The key players focus on strategies such as acquisitions, mergers, collaboration sand development of technologically advanced products in order to gain the competitive edge in the market. The major key players in the in vitro diagnostics market include:
Alere, Inc.
Hoffmann-La Roche Ltd.
Arkray
Beckman Coulter
Becton Disckinson
Bio-Rad laboratories
Danaher
Sysmex Corporation
Abbott Laboratories
Segments Covered in the Report
This research study comprises complete assessment of the market by means of far-reaching qualitative and quantitative perceptions, and predictions regarding the market. This report delivers classification of marketplace into impending and niche sectors. Further, this research study calculates market size and its development drift at global, regional, and country from 2020 to 2032. This report contains market breakdown and its revenue estimation by classifying it based on product, application, technology and region as follows: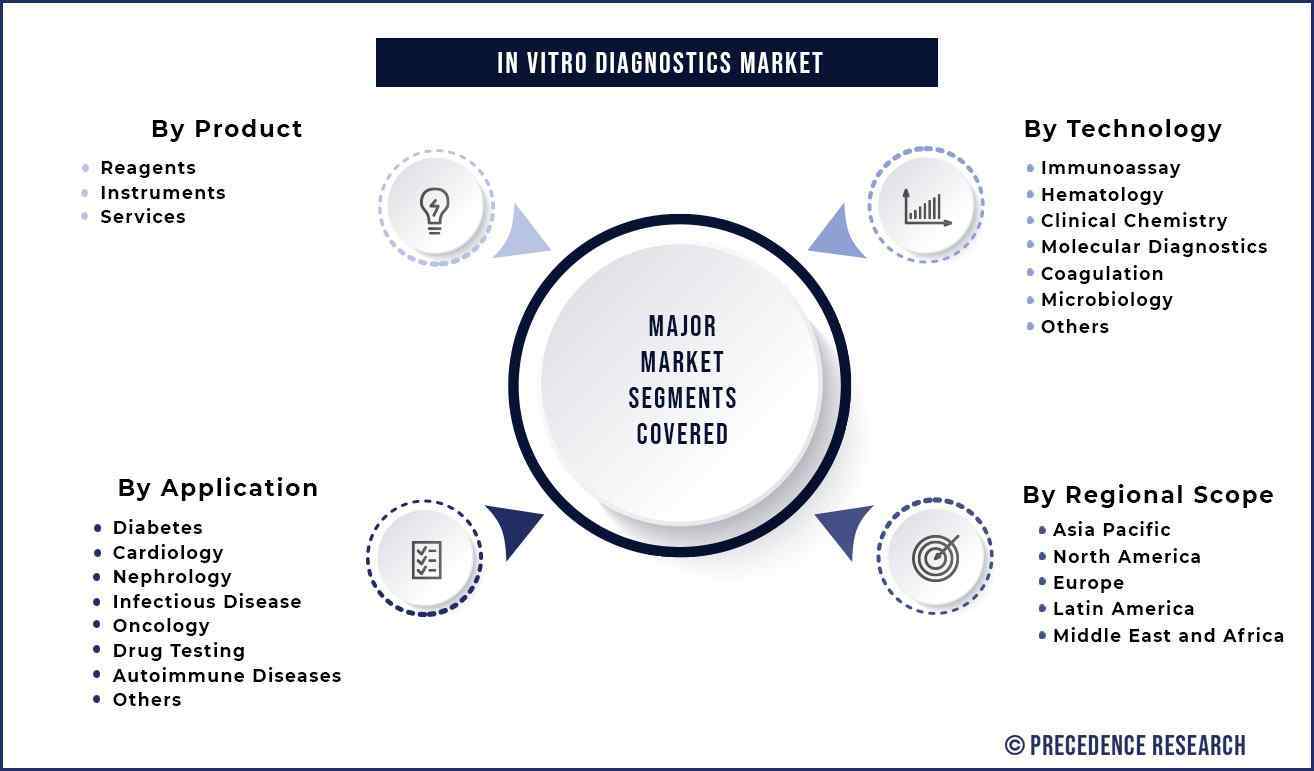 By Product
Reagents
Instruments
Services
By Test Location
Point of Care
Home Care
Others
By Technology
Immunoassay

Instruments

Reagents

Services

Hematology

Instruments

Reagents

Services

Clinical Chemistry

Instruments

Reagents

Services

Molecular Diagnostics

Instruments

Reagents

Services

Coagulation

Instruments

Reagents

Services

Microbiology

Instruments

Reagents

Services

Others

Instruments

Reagents

Services
By Application
Diabetes
Cardiology
Nephrology
Infectious Disease
Oncology
Drug Testing
Autoimmune Diseases
Others
By End User
Standalone Laboratories
Hospitals
Academic & Medical Schools
Point-of-Care
Others
By Regional
North America
Europe
Asia Pacific

China
India
Japan
South Korea

Middle East & Africa
Latin America