The global immunoassay market size was evaluated at USD 32.46 billion in 2022 and is expected to hit around USD 51.33 billion by 2032 with a noteworthy CAGR of 4.68% from 2023 to 2032.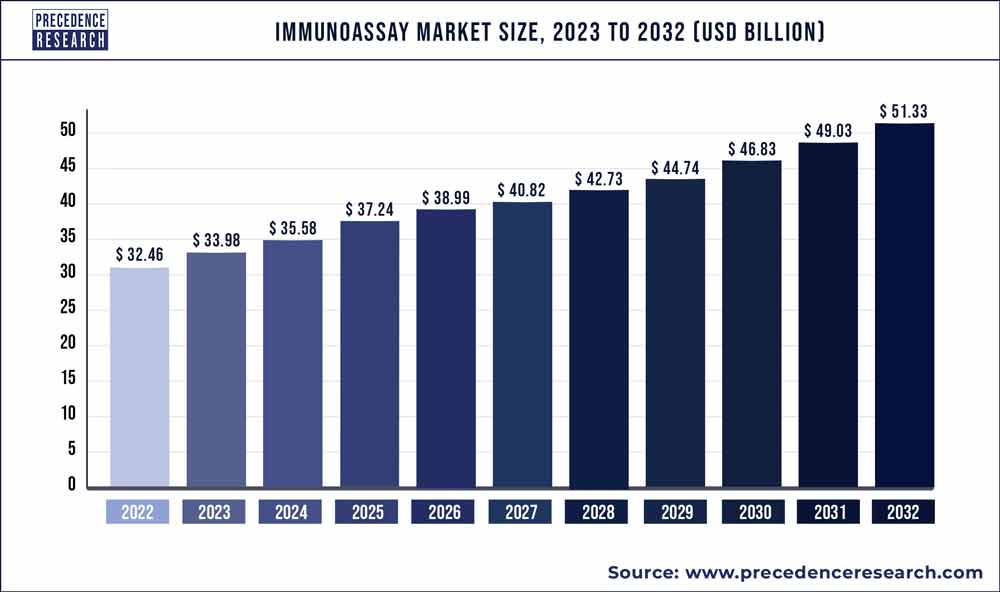 Access our Premium Real Time Data Intelligence Tool, Visit: Precedence Statistics
The immunoassay industry is influenced by the rising prevalence of infectious & chronic diseases and government initiatives toward implementing mass testing.
Additionally, an increase in several chronic and contagious diseases, including coronavirus, will drive market growth. Furthermore, an increase in the geriatric population vulnerable to infectious and chronic diseases contributes to market advancement.
The sudden increase in COVID-19 cases increased efforts in R&D in the diagnostics process aided by government funding. The increasing number of COVID-19 instances in 2020 and 2021 fueled the demand for immunoassay kits. The government is working on expanding the market for COVID-19 diagnostics to prevent further disease spread, vaccine supply, and a rise in demand for timely diagnostics.
The emphasis on critical patients has also shifted to developing time-efficient and accurate COVID-19 diagnostic kits. For instance, the FDA approved approximately 88 antibody-based and 256 molecular tests, totaling over 350 diagnostic test kits in 2021.
Key Takeaways:
By geography, the North America dominated the market and captured more than 36% of the revenue share in 2022.
By geography, the Asia Pacific is expected to be the fastest-growing region.
By product, the kit and reagent segment dominated the market and generated more than 61% of the total market share in 2022.
By product, the software and services segment is expected to grow at a CAGR of 5.68% from 2023 to 2032.
By technology, the ELISA segment dominated the market and capture more than 61% of the revenue share in 2022.
By application, the infectious disease segment dominated the market and generated more than 31% of the market share in 2022.
By end user, the hospital & clinical segment will dominate the market and contribute more than 31% market share in 2022.
By end user, the blood banks are expected to grow at a healthy CAGR from 2023 to 2032.
Report Scope of the Immunoassay Market
| | |
| --- | --- |
| Report Coverage | Details |
| Market Size in 2023 | USD 33.98 Billion |
| Market Size by 2032 | USD 51.33 Billion |
| Growth Rate from 2023 to 2032 | CAGR of 4.68% |
| Largest Market | North America |
| Fastest Growing Market | Asia Pacific |
| Base Year | 2022 |
| Forecast Period | 2023 to 2032 |
| Segments Covered | By Product, By Technology, By Specimen, By Application and By End User |
| Regions Covered | North America, Europe, Asia-Pacific, Latin America and Middle East & Africa |

Market Dynamics
Increase in the number of infectious and chronic diseases driving market growth
The global burden of infectious diseases and chronic disorders is constantly increasing due to the growing geriatric population. In Italy, nearly half of those aged 65 and above have at least one chronic disease, and 17% have two or more.
Most of the population suffers from chronic diseases, including cancer, diabetes, cardiovascular disorders, obesity, etc., as well as infectious diseases caused by microorganisms such as diphtheria, Ebola, flu, hepatitis, HIV/AIDS, human papillomavirus, tuberculosis, and outbreaks such as dengue, Zika virus, Swine flu, and Covid-19. This has consistently impacted the growth of the infectious disease testing market.
The immunotherapy market has enormous potential to obstruct the path of rising disease incidences through early diagnosis and diagnostic-based treatment monitoring/modification. According to WHO (World Health Organization), noncommunicable diseases (NCDs) kill 41 million people yearly, equivalent to 74% of deaths globally.
Uncertain regulatory environments and restrictive medical device & test regulations are challenges faced by the immunotherapy market
Regulatory bodies of various countries have stringent marketing and licensing requirements for immunoassay equipment and consumables. The immunoassay market's growth has slowed due to technological challenges like antibody cross-reactivity, false negatives, the limited detection of antibodies, etc.
Immunoassay designers need help with designs, such as result misinterpretation. Furthermore, the clinical industry has been plagued for decades by a shortage of educated experts, hampered market growth.
Technological advancements provide immense opportunities for the immunoassay market growth
The immunoassay market has grown dramatically due to technological advancements. Automated laboratory instruments and equipment have been developed for faster testing and results. Automation benefits laboratories by increasing efficiency and reducing the need for space and labor. As a result, the market is expanding rapidly, as some players offer compact, portable automated laboratory systems and point-of-care tests.
Research labs, including biotechnology, need to become more familiar with the diagnostic development of instrumentation and lag behind their diagnostics counterparts in implementing automated immunoassay. Automation is penetrating every field, including healthcare. For instance, automated immunoassays provide more throughput, reproducibility, and assay transfer.
This process provides the double benefits of reduced time and also a reduction in operator depending on variability. For Instance, Siemens healthcare Diagnostic offers five fully automated immunoassay platforms in the US.
COVID-19 Impact
The pandemic has negatively affected more than 80 countries have been affected by the pandemic. However, many healthcare professionals worked restlessly during the global pandemic to treat covid patients and curb the infection spread. During the COVID-19 pandemic, governments-imposed lockdowns that resulted in the prohibition of goods across borders. As a result, immunoassay kits are in short supply worldwide.
The COVID-19 pandemic positively impacted the immunoassay market. The market grew faster than before the pandemic due to a gradual reduction in swab tests but an increase in serological tests to map antibody presence after vaccination. Moreover, COVID-19 positively impacted molecular diagnostics and genetics, with +49.9% and 230.9% YoY growth in '19-'20, respectively.
Segments Insight
Product Insights
The kit and reagent segment dominated the immunoassay market, accounting for more than 61% of the total market share in 2022. The segment is expected to drive the market in the forecast period. With the increasing prevalence of infectious and autoimmune diseases, the more share can be attributed to the more demand for immunoassay kits and reagents for diagnostic purposes. Furthermore, the approval and release of immunoassay kits are expected to help in segment growth.
Over the forecast period, the software and services segment is expected to grow at a CAGR of 5.68% due to the high availability and increased demand for low-cost immunoassay services in emerging markets. Sysmex Corporation, for instance, began offering novel coronavirus (SARS-CoV-2) antibody lab assay services in June 2020.
Technology Insights
The ELISA segment dominated the immunoassay market, with a market share of more than 61% in 2022. The advantages of this method over immunoelectrophoretic & immunodiffusion include shorter assay times, qualitative & qualitative results, and the use of antiserum for analysis.
Rapid testing called lateral flow immunoassay detects a target analyte not using the equipment. The test technique shows a variety of applications, including dengue and Salmonella, Campylobacter, Legionella, and Listeria infections. Moreover, monoclonal antibodies use to precisely identify target analytes such as Immunoglobulin G (IgG), Immunoglobulin M (IgM), Immunoglobulin A (IgA), and Immunoglobulin D (IgD).
Application Insights
In 2022, the infectious disease segment dominated the market for immunoassay, accounting for more than 31% of the market share. This segment is expected to maintain its lead throughout the forecast period. The increased infectious diseases such as HIV, malaria, and SARS-COVID-19 drive the growth. The introduction of new products in the field of infectious disease testing is propelling the market even further.
The primary factor driving the growth of the immunoassay market during the forecast period is the rising prevalence of cancer cases worldwide. According to the International Agency for Research on Cancer, cancer was estimated to be more than 18.2 million new cases in 2020, with approximately More than 10 million deaths due to the disease. As a result, an increase in cancer incidence is expected to boost the use of immunoassays.
End-User Insights
Based on end-user, the immunoassay market categorizes into hospitals & clinics, clinical laboratories, pharmaceutical & biotechnology companies, CROs, blood banks, research & academic laboratories, and home care settings. The hospital & clinical segment will dominate the immunoassay market with a 31% market share in 2022. The increase in the number of hospitals has resulted in the rapid growth hospital segment.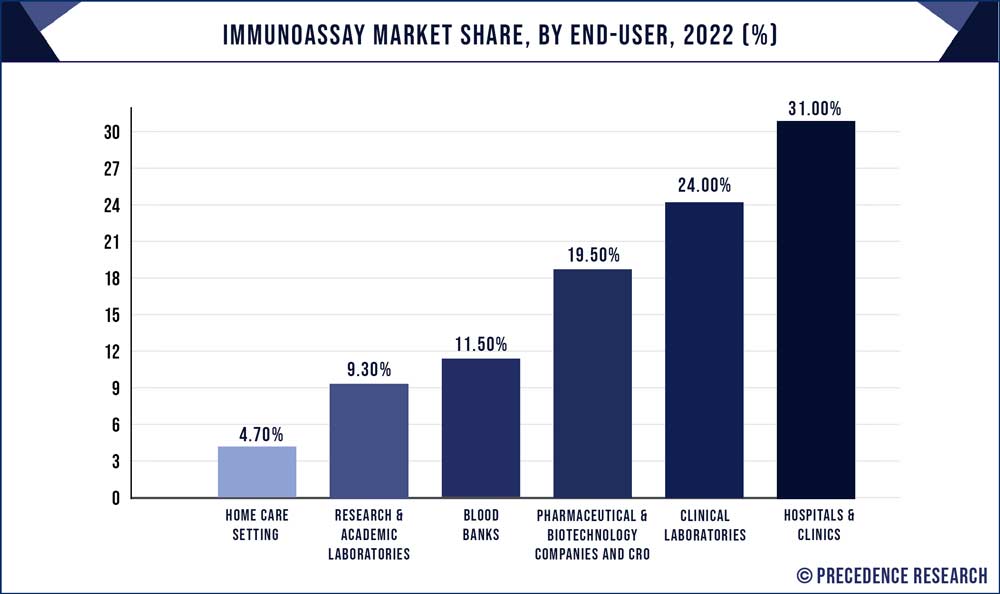 With the changes in the healthcare industry, there is a greater need for hospitals with advanced facilities. In addition, the clinical laboratory is the second fastest-growing segment due to increasing clinical trials and increased research and development activity influencing the immunoassay.
On the other hand, blood banks are expected to grow at a healthy CAGR over the forecast period. Blood banks are expected to grow during the forecast period due to an increase in the number of infectious diseases detected at blood banks through the screening and processing of donated blood.
One significant advantage of ELISA is that it is simple to use and does not necessitate the use of many specialized instruments or equipment. Therefore, it is commonly used in blood banks. As the demand for blood transfusions to treat infectious diseases rises, hospitals will likely see an increase in immunoassay testing. An increase in blood transfusions will benefit the blood bank segment.
Regional Insights
North America dominated the immunoassay market, with a revenue share of more than 36% in 2022. The market is boosted by increased demand for diagnostics caused by the increase in cancer cases and access to technologically advanced diagnostic techniques. Furthermore, the region's high prevalence of infectious diseases such as HIV and tuberculosis is increasing the demand for detection and treatment.
Asia Pacific is expected to be the fastest-growing region. Due to the presence of a more senior population in this region and more prevalence of chronic and infectious diseases. Furthermore, one of the factors driving the regional market is the increasingly innovative laboratory procedures and techniques for faster diagnosis and investigation of infectious diseases.
Recent Development
In 2022, Neogen launched an immunoassay (Veratox VIP) to detect cashew allergens. The Veratox VIP for Cashew allergen test is the second in Neogen's Veratox VIP series of enhanced quantitative enzyme-linked immunoassay (ELISA) products. It has a high level of specificity to deficient levels of cashew protein.
In 2022, Gethin Biotech launched the new MAGICAL 6000 chemiluminescence immunoassay Analyzer at MEDICA. It is a compact and innovative chemiluminescence immunoassay analyzer that is ideal for mid to high-workflow laboratories that require a one-step chemiluminescence solution. The instrument is highly productive and compact, allowing for fully automated operation and the fastest testing speed of any device of its size.
In 2021, Abbott's Pan bio COVID-19 Ag Rapid Test Device received CE Mark for asymptomatic diagnosis of the SARS-CoV-2 virus. It is also capable of self-swabbing.
Key Market Players
Abbott Laboratories
Danaher Corporation (Beckman Coulter)
Quidel Corporation
Ortho Clinical Diagnostics
Sysmex Corporation
Bio-Rad Laboratories, Inc.
Becton, Dickinson, and Company
F. Hoffmann-La Roche AG
Thermo Fisher Scientific, Inc.
Siemens Healthinners
Segments Covered in the Report:
(Note*: We offer report based on sub segments as well. Kindly, let us know if you are interested)
By Product
Reagents & Kits

ELISA Reagents & Kits
Rapid Test Reagent & Kits
ELISpot Reagents & Kits
Western Blot Reagents & Kits
Other Reagents & Kits

Analyzer

By Type

Open-ended System
Closed-Ended System

By Purchased Mode

Rental Purchased
Outright Purchased

Software and Services
By Technology
ELISA

By generation

Third generation & Above
Second-generation & Below

Rapid Tests
ELISpot
Western Blotting
Radioimmunoassay
Other technologies
By Specimen
Blood
Saliva
Urine
Other Specimen
By Application
Infectious diseases
Endocrinology
Oncology
Bone and mineral disorders
Cardiology
Blood screening
Autoimmune Disorders
Allergy Diagnostics
Toxicology
Newborn Screening
Other Application
By End-User
Hospitals & Clinics
Clinical Laboratories
Pharmaceutical & Biotechnology Companies And Cro
Blood Banks
Research & Academic Laboratories
Home Care Setting
By Geography
North America
Europe
Asia-Pacific
Latin America
The Middle East and Africa