The global blood bank market size was exhibited at USD 17.29 billion in 2022 and it is expected to attain around USD 24.78 billion by 2032, growing at a CAGR of 3.66% from 2023 to 2032.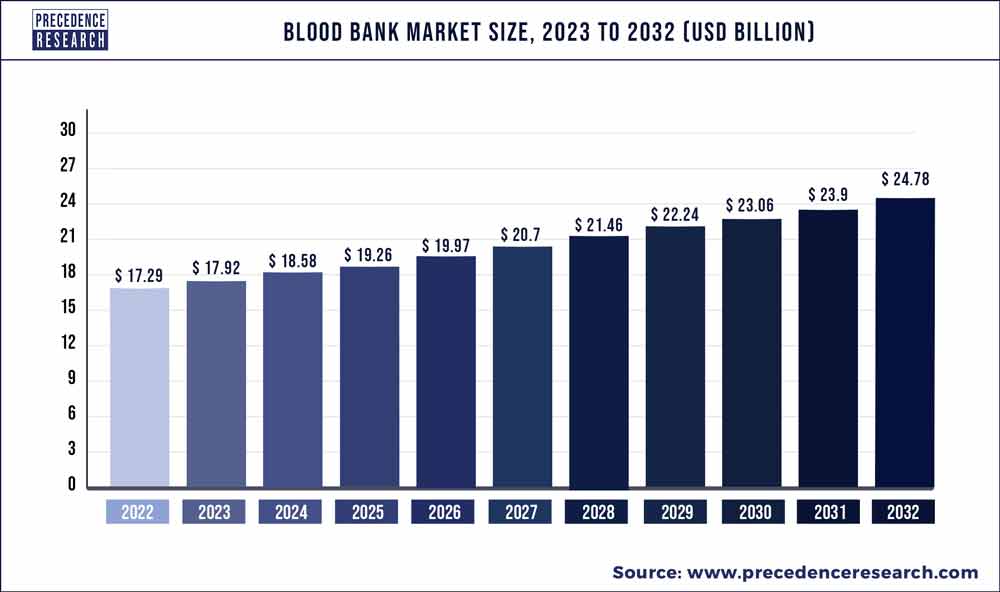 Access our Premium Real Time Data Intelligence Tool, Visit: Precedence Statistics
In a blood bank, donors' blood is gathered, typed, divided into components, stored, and made ready for patient transfusions. Red blood cells RBCs, plasma, and platelets are isolated from the blood and transfused to other people in accordance with their needs. Through accurate patient and blood product identification, blood banks prevent transfusion-related problems.
Key Insights:
By geography, the North America generated more than 45% market share in 2022.
By product, the red blood cell segment produced the maximum revenue in 2022.
By function, the testing segment accounted for the largest revenue in 2022.
Growth Factor
Increased blood donations as a result of the establishment of World Blood Donor Day helped the market expansion of blood banks. In order to ensure a reliable supply of transfused blood, several governments are aggressively encouraging blood donors.
By educating and raising awareness among the young population, some governments are working with various organizations to develop chances for blood donation, which is having a beneficial influence on the market's expansion.
The expansion of the market is being driven by improvements in the healthcare infrastructure in developing nations like Mexico and India. The thriving healthcare sector is also encouraging blood donors in isolated regions of countries, which is causing the blood bank business to expand. Because they frequently need blood transfusions, individuals with thalassemia and sickle cell disease are increasing the demand for blood donations, which is boosting industry growth.
Additionally, the market is growing due to the flourishing pharmaceutical business, which uses diverse blood components to create blood products. The industry of blood banks is expanding as a result of the expanding usage of blood components in various pharmaceutical R&D (research and development) projects.
The frequency of hematological disorders and the rise in accidents are driving blood donations and blood donors globally, which is driving the need for blood banks.
As hematologic disorders become more prevalent, there is a greater need for blood transfusions, which is driving the expansion of the worldwide blood bank market.
The expansion of blood banks' alliances and cooperation with major corporations has also contributed to the market's growth.
The market is being driven by an increase in transfusions due to trauma, car accidents, surgeries, and childbirth situations.
Report Scope of the Blood Bank Market
| | |
| --- | --- |
| Report Coverage | Details |
| Market Size in 2023 | USD 17.92 Billion |
| Market Size by 2032 | USD 24.78 Billion |
| Growth Rate from 2023 to 2032 | CAGR of 3.66% |
| Largest Market | North America |
| Base Year | 2022 |
| Forecast Period | 2023 to 2032 |
| Segments Covered | By Product, By Function, By Bank Type and By End User |
| Regions Covered | North America, Europe, Asia-Pacific, Latin America and Middle East & Africa |

Market Dynamics
Key Market Drivers: Increasing demand for plasma
Blood donation from recovered patients is rising, which is boosting the market growth. This is due to the growing amount of research and clinical trials regarding the COVID-19 convalescent plasma that examines how well recovered COVID-19 patients' plasma may help critically sick people feel better. For instance, researchers in the Netherlands enlisted around 1,500 COVID-19-recovered patients to give blood in an effort to create a successful plasma-based therapy for the unique disease.
The COVID-19 dilemma, which resulted in lower donor attendance rates and the termination of blood drives, reportedly hampered market growth, according to the World Health Organization. Due to increasing transfusion needs in patients with severe illness complications brought on by SARS-continuing CoV-2 mutation and the subsequent second and third waves of the pandemic, the market is anticipated to recover.
Rise in donations by repeat donors
The market is expanding as a result of an increase in contributions from older and repeat donors. Many digital tools can help blood banks maximize blood donation. Robotics and medical drones can speed up the blood donation procedure while also assisting in the recruitment of new donors. Blood donations are growing as a result of the usage of augmented reality (AR) to show donors the severe need for blood donations, which is also spurring the expansion of the sector. Additionally, it is anticipated that the adoption of blockchain to increase the network's visibility and security will support the development of the blood bank sector.
Key Market Challenges
Growing complexities of storage as well as shipping
Whole blood sample storage and delivery provide considerable logistical and financial problems. Whole blood must be utilized immediately after collection or kept under tight storage and environmental conditions for analysis or other uses. Phlebotomy, blood collection and transfusion skills are essential for carrying out blood collection efficiently, especially when using cutting-edge technology like automated blood collection devices.
Given their significance, a shortage of qualified individuals to operate such equipment will have a negative impact on the market's expansion. By 2035, there will be a 12.9 million job shortfall in the worldwide healthcare sector. Phlebotomy, nurses, doctors, and blood bank personnel fall under this category.
Key Market Opportunities
Blood center companies are working quickly and with the consumer in mind.
The worldwide blood bank market is growing as a result of ongoing innovation. Most blood bank organizations operate with urgency and customer focus in the post-pandemic age. Additionally, in the long run, production modernization and expansion together with ongoing innovation and customer-focused initiatives will continue to be crucial success drivers.
Increased R&D efforts
The expansion of the market for blood banking devices will benefit from the increase in research and development efforts. The growth rate of the market will be accelerated in the upcoming years by the expansion and modernization of healthcare infrastructure across emerging nations.
Additionally, the introduction of mobile applications by public and private organizations to raise awareness of the value of blood donation and offer patients safe, prompt, and donor-specific blood unit delivery will accelerate the growth rate of the blood banking devices market in the future.
Segments Insight
Product Insights
The red blood cell category produced the largest revenue in 2022 when broken down by product type, and it is anticipated that it will continue to dominate the market for the forecast period. Blood donation demand is rising due to the prevalence of chronic conditions. In 2020, the American Cancer Society predicted that more than 1.8 million people will receive a cancer diagnosis. Several of them will probably require blood throughout their chemotherapy treatment, even on a daily basis.
Blood transfusions are also necessary for sickle cell patients throughout their lifetimes. According to The American National Red Cross, 90,000 to 100,000 Americans have sickle cell disease, and roughly 1,000 newborns are born every year. Due to the increasing demand for platelets with short storage duration, the platelet segment is also anticipated to increase at the fastest rate over the projection period.
Functions Insights
The most revenue was generated by the testing function in 2022, and it is anticipated that this trend would continue throughout the projected period. This is due to the high cost of screening tests for blood and its constituent parts as well as the extensive array of diagnostic procedures used in the processing of blood. The regulation of diagnostic tests is heavily influenced by regulatory agencies including the FDA, Centers for Medicare and Medicaid Services (CMS), and Federal Trade Commission.
These organizations have started working on developing diagnostic procedures that are Clinical Laboratory Improvement Amendments (CLIA) compliant and can help identify diseases early. During the projection period, utilization rates of blood tests are anticipated to increase due to the implementation of CLIA in the United States.
The incidence of chronic diseases is likely to continue to climb, and there will be a strong need for quick solutions to check health issues, which will give the market a major boost in the years to come. Given that blood testing is crucial for the ongoing surveillance of illnesses, this is anticipated to present the profitable potential for operational organizations. In addition, hospitals, clinics, and other healthcare institutions are offering sophisticated testing to deliver quick services. Global COVID-19 instances are increasing exponentially, which is driving the need for extensive diagnostic testing.
In order to effectively manage COVID-19, a quick diagnosis, efficient treatment choices, and long-term preventative strategies are necessary. Diagnostics have advanced quickly as a result of the present rush to provide test kits that are affordable and provide point-of-contact detection of coronavirus infection.
Regional Insights
Due to the growing elderly population, rising instances of blood diseases, an increasing number of trauma cases, and an increasing number of surgical operations, North America has held a 45% market share in the blood bank industry in 2022. The number of Americans aged 65 and over is expected to double from 52 million in 2018 to 95 million by 2060, according to data from the United States Census Bureau's Population Projections. It is also predicted that this age group's proportion of the overall population would increase from 16% to 23%.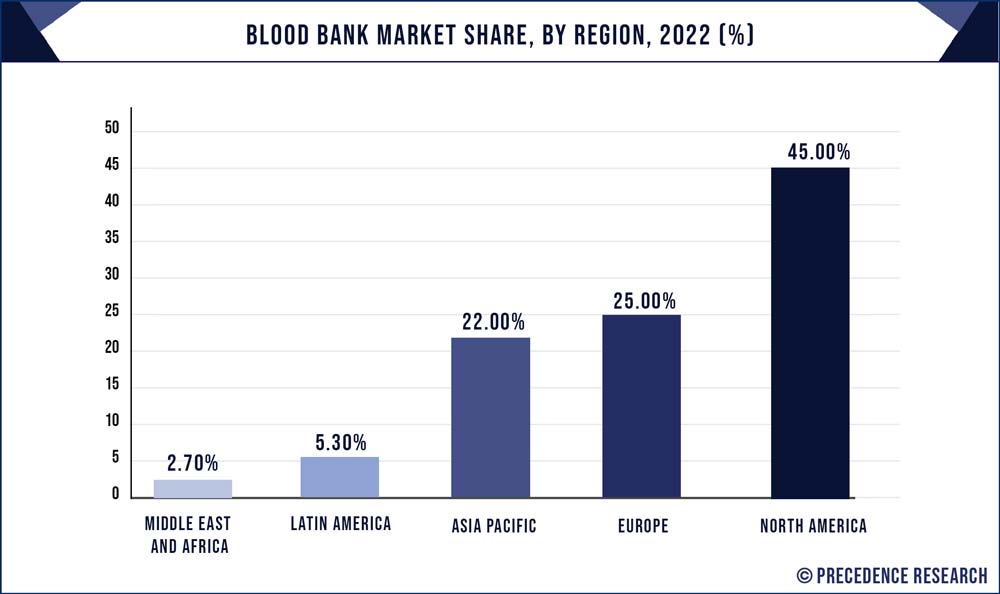 Additionally, according to the American Red Cross, 36,000 units of red blood cells, close to 7,000 units of platelets, and around 10,000 units of plasma are required each day in the US. In the US, more than 21, 000,000 blood components are transfused annually.
Additionally, according to the Centers for Disease Control and Prevention, 400 newborn newborns and approximately 1 in 5000 male births in the United States each year are affected by hemophilia. Cancers that are extremely common include lymphoma, myeloma, leukemia, and myelodysplastic syndromes.
At least one individual in the United States receives a blood cancer diagnosis on average every three minutes. Due to the increased need for blood, the market for blood banks in this area is stimulated. Additionally, the industry is being driven by a high volume of blood donations, an established healthcare system, and regional government blood donation efforts.
Key Market Players
America's Blood Centers
Australian Red Cross Society
Blood Bank of Alaska
Canadian Blood Services
Japanese Red Cross Society
New York Blood Center
Sanquin Blood Supply Foundation
The American Red Cross
Vitalant
NHS Blood and Transplant
National Blood Transfusion Council
Shire
Segments Covered in the Report
(Note*: We offer report based on sub segments as well. Kindly, let us know if you are interested)
By Product
Whole Blood
Red Blood Cells
Platelets
Plasma
White Blood Cells
By Function
Collection
Processing
Testing
Storage
Transportation
By Bank Type
By End User
Hospital
Ambulatory Surgery Centers
Pharmaceutical Companies
Clinics and Nursing Homes
Others
By Geography
North America
Europe
Asia-Pacific
Latin America
The Middle East and Africa