The global blood pressure monitoring devices market was valued at USD 1.62 billion in 2021 and is projected to hit around USD 4.12 billion by 2030 and poised to grow at a CAGR 10.93% during the forecast period 2022 to 2030.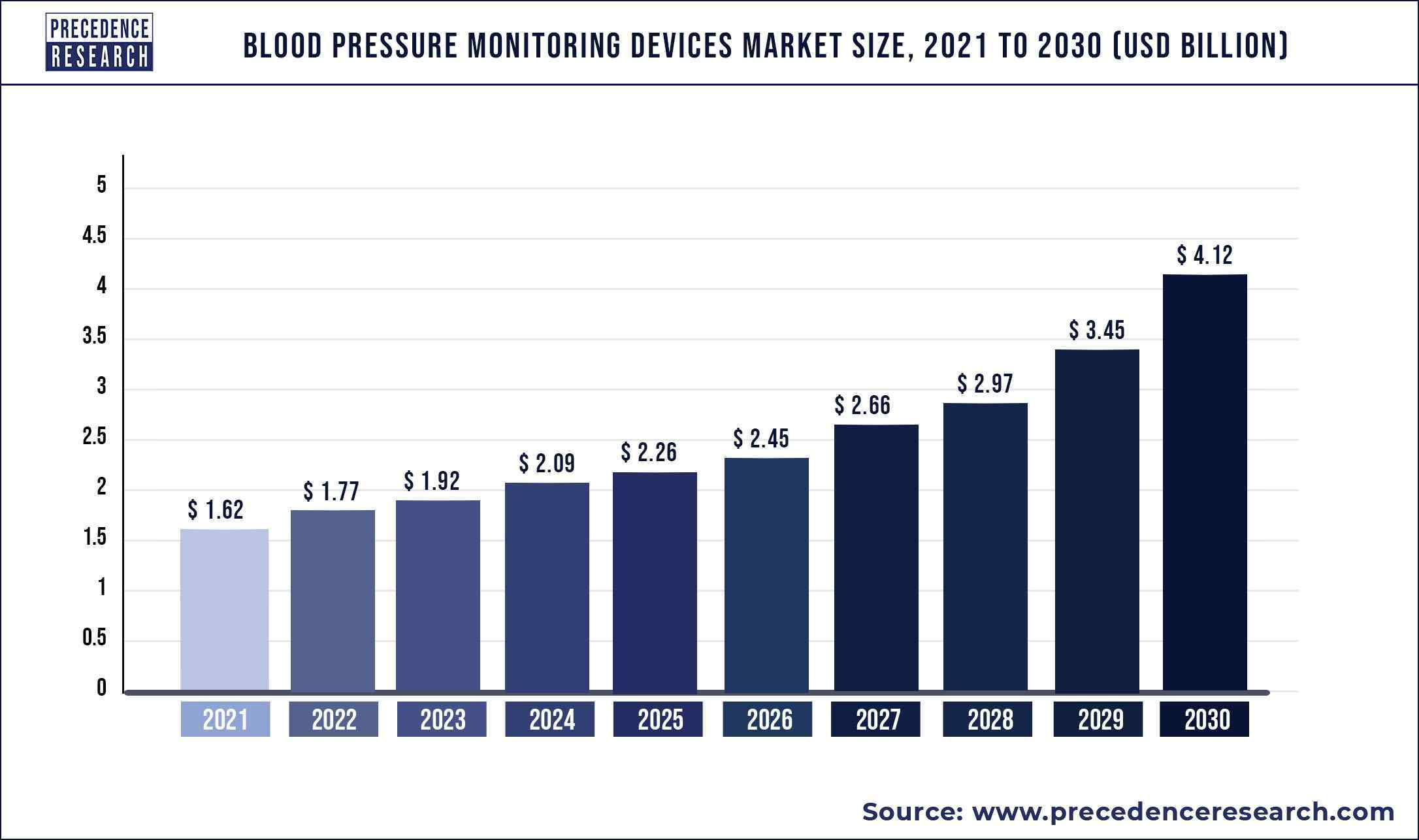 Growth Factors
Rising incidences of hypertension because of changing lifestyle is the key factor counting for the prominent growth of the market during the forecast period. As per the statistics published by the World Health Organization (WHO) in 2019, nearly 1.15 Billion people across the globe are suffering from hypertension that is a major factor behind the premature death worldwide. Consequently, the demand for Blood Pressure (BP) monitors is very high owing to the growing geriatric population base along with growing risk of lifestyle related disorders among wide population base because of rising incidences of sedentary lifestyle &obesity.
Initiatives undertaken by governments of various regions for example public blood pressure (BP) monitoring program for creating awareness amongst people as well as maintain the database created by remotely operated BP monitors predicted to further boost the market growth during the forecast period. For example, in February 2019, the Integrated Health Model Initiative (IHMI) activity was funded by the American Medical Association (AMA), launched a data management model to offer opportunities for improving health outcomes.
Presently, mobiles and wearable & portable devices are gaining popularity due to their associated benefits such as easy handling and the wireless transmission of patient's information. New technologies such as mHealth that support medication & treatment compliances for patients in chronic disease management anticipated to propel the market growth. It helps in tracking the patient's medication schedule, health information, and follow up for the treatment. These related advantages are the key factors projected to augment the overall market growth.
Report Scope of the Blood Pressure Monitoring Devices Market
| | |
| --- | --- |
| Report Highlights | Details |
| Market Size | USD 4.12 Billion by 2030 |
| Growth Rate | CAGR of 10.93% from 2022 to 2030 |
| Largest Market | North America |
| Fastest Growing Market | Asia Pacific |
| Base Year | 2021 |
| Forecast Period | 2022 to 2030 |
| Segments Covered | Product Type, End User Type, Region Type |
| Companies Mentioned | Koninklijke Philips N.V., General Electric Company, A & D Company, Limited, SunTech Medical, Inc., Welch Allyn, American Diagnostic Corporation, Briggs Healthcare, Withings, Spacelabs Healthcare, GF HEALTH PRODUCTS, INC., Kaz, A Helen of Troy Company, Rossmax International Limited |
Market Drivers
The rising aging population to drive the demand for blood pressure monitoring devices
The world continues to see an extraordinary and long-term shift in the age structure of the global population, owing to rising life expectancy and declining fertility rates. People are living longer lives, and the percentage and number of elderly people in the population are steadily increasing. In 2020, there were 727 million people aged 65 and up on the planet.
Women, on average, live longer than men, therefore they make up the bulk of the elderly population, particularly at advanced ages. The number of elderly people worldwide is expected to more than double over the next three decades, reaching over 1.5 billion in 2050. Between 2020 and 2050, the number of elderly will grow in all regions. The proportion of the global population aged 65 and up is predicted to rise from 9.3% in 2020 to roughly 16% in 2050.
Blood pressure rise was once assumed to be an unavoidable effect of growing older. However, it is now well accepted that the etiology of age-related blood pressure fluctuations is complicated and multidimensional, and that aging may simply provide more opportunities for environmental or lifestyle factors to take effect.
Systolic blood pressure rises continuously with age, at least until the ninth decade, according to longitudinal studies in developed or metropolitan populations. Diastolic pressure, on the other hand, reaches a peak around the sixth decade, following which it tends to level or even fall. As a result, the pulse pressure rises. As a result of these changes, the elderly have a much higher incidence of hypertension.
The prevalence varies depending on the diagnostic criteria employed, but it is estimated that between 35 and 50 percent of over-65s in developed countries are hypertensive. Isolated systolic hypertension is more common in the elderly, as the above age-related variations in systolic and diastolic pressures would suggest. Arterial and arteriolar stiffness, as well as increased peripheral resistance, are the pathophysiological causes of these age-related changes in blood pressure.
This is attributable to several causes, including diminished connective tissue elasticity, atheroma, and impaired smooth muscle relaxation due to decreased beta-2 receptor sensitivity. The most important determinants of age-related blood pressure changes appear to be lifestyle and environmental factors. In secluded societies such as nuns8 and rural communities in the developing world, the rise in systolic blood pressure is considerably reduced; nevertheless, when people from these communities go to an urban environment, their blood pressure rises.
Psychological strains could be a factor. Dietary modifications such as increased sodium intake or prolonged excessive alcohol drinking, both of which raise blood pressure, are more common options. Aging increases the pressor impact of sodium loading. Aging is linked to several other significant changes that affect blood pressure. Obesity is becoming more common as a result of changes in dietary intake and exercise; obesity is an independent risk factor for hypertension. With age, physical activity levels decrease, and a sedentary lifestyle is another risk factor for hypertension.
According to cross-sectional population research, there is an inverse link between socioeconomic status and blood pressure, meaning that people from the poorest parts of society have the highest blood pressure. The majority of this effect, however, can be accounted for by a higher proportion of obese respondents and higher alcohol use in the poorest socioeconomic groups. Educational status has a similar link.
Early environmental factors may have an impact on blood pressure as an adult and into old age. In middle age, low birth weight is linked to high blood pressure. The role of fetal development and low birth weight in the development of hypertension in old life, on the other hand, is still debated. Similarly, there isn't enough evidence for a polygenic etiology of hypertension in the old life. It's possible, though, that fetal development and genetic makeup play a role in determining receptivity to environmental stimuli later in life.
As a result, there is strong evidence that systolic blood pressure rises with age among city inhabitants, and that this is predominantly due to a complex interaction of numerous environmental and lifestyle factors. Blood pressure, on the other hand, drops with age in certain people. This is especially common in disorders that cause weight loss (e.g., Alzheimer's disease or malignancies) and diseases that decrease left ventricular function (e.g., following an acute myocardial infarction). In studies of blood pressure and mortality in the elderly, these disorders act as substantial confounders.
The findings of a prospective longitudinal study of older persons who were initially healthy. Blood pressure dropped in those who developed the condition. In people over the age of 85, there is an inverse association between blood pressure and mortality, with hypertensive people surviving longer than those with low blood pressure. This perplexing association arises from the fact that older people with low blood pressure have a higher prevalence of the serious underlying disease.
The rising usage of antihypertensive medicines among the elderly may have an impact on population-level blood pressure changes. Antihypertensive medicines are used by up to 25% of older individuals in affluent countries. There is evidence that this broad use is having an effect on blood pressure levels in the general population. Antihypertensive use is linked to long-term blood pressure reductions in the elderly, according to Starr's research. Therefore, many different factors influence blood pressure changes into old age. The rising aging population coupled with the increasing prevalence of hypertension is expected to augment the demand for blood pressure monitoring devices.
Increasing adoption of patient monitoring solutions to drive the demand for BP monitoring devices
HF management has substantial financial ramifications as well. While global estimates are difficult to come by, direct medical expenditures of HF care continue to climb as the disease's prevalence rises. In 2012, $30.7 billion was spent on HF care in the United States, with that figure expected to double by 2030. In many countries, quality programs have moved the financial burden of HF onto health systems, such as the Hospital Readmissions Reduction Program (HRRP) in the United States, where HF readmissions are the leading cause of Medicare reimbursement reductions. Given these clinical and financial reasons, as well as the inadequacies of present methods, considerable work has gone into establishing more effective HF management strategies.
For good overall control of HF, various components are required. The first is the provision of medical therapies that are guided by guidelines. Several pharmacotherapies have been shown to reduce mortality in HF patients, particularly those with a low ejection fraction. However, these medicines are not consistently provided at adequate doses. 10) The logistical challenges of giving these drugs contribute to the disparity. Most HF drugs, for example, necessitate stepwise dose titration to ensure tolerance, which is often only done at clinic visits. As a result, drug titration is delayed, and patients are inconvenienced.
The second step is to keep track of how the condition is progressing. Outpatient HF management necessitates constant monitoring for signs and symptoms of congestion. Failure to recognize and treat these symptoms may result in ER visits and hospitalizations. Although many patients and care teams try to monitor their condition using techniques like daily weight measurement and blood pressure (BP) monitoring, the burden on patients to collect this data and the difficulties in getting this information to care teams in a timely and actionable manner make this approach difficult. As a result, these methods have not consistently shown therapeutic efficacy.
The goal of remote patient monitoring (RPM) is to fill in the gaps in existing heart failure care. RPM is a method that enables care teams to keep track of and manage patients outside of regular medical interactions. This strategy has the potential to improve HF medical care by allowing for more complete and timely delivery of guideline-directed medical therapy (GDMT) and improved clinical decompensation monitoring.
Remote patient monitoring (RPM) is intended to fill in the gaps in current heart failure care. RPM is a mechanism for care teams to keep track of and manage patients outside of routine medical encounters. By allowing for more full and timely delivery of guideline-directed medical therapy (GDMT) and enhanced clinical decompensation monitoring, this technique has the potential to improve HF medical care.
The use of invasive biosensors in RPM methods has resulted in considerable decreases in HF admissions. However, the advantages of invasive RPM must be balanced against the dangers and costs of implanting an intrusive device. A consensus statement on invasive biometric sensing issued by the Heart Failure Society of America (HFSA) in 2017 underlined these considerations.
It stated that they "may be effective in certain individuals or when used in structured programs," but that "more research into the utility of these devices in everyday care is required."
RPM techniques that employ noninvasive biometric sensors, on the other hand, pose little danger and are typically less expensive than invasive devices. As a result, they can be used to treat a larger percentage of the HF population. The evidence for their clinical value, on the other hand, is mixed. The 2017 HFSA consensus statement on noninvasive biometric sensing RPM methods acknowledged the lack of evidence foundation and indicated that more research was needed to effectively evaluate associated consequences.
The field of RPM is still evolving today, and it is being included in cardiology practice. Advances in data collecting, monitoring, analysis, and clinical procedures could all help RPM methods, especially those that rely on noninvasive biometric sensing, to be more effective. Furthermore, the regulatory environment, which includes compensation for RPM initiatives as well as penalties for HF readmissions, encourages such advancements. COVID-19 has also shifted practice patterns, resulting in a greater drive to manage patients outside of the typical office setting.
COVID-19 and Remote Patient Monitoring
Before COVID-19, Remote Patient Monitoring (RPM) was predominantly used in telemedicine strategies for the chronic care business model. Heart disease and chronic obstructive pulmonary disease were the most common use cases, as well as diabetes and hypertension. It has now become one of the most widely used virtual care protocols, with a usage rate of up to 64.3 percent expected this year across the country. The COVID-19 outbreak put a huge strain on already underfunded and overworked emergency departments and health systems. RPM technology can keep patients safe at home while decreasing the burden on hospitals, emergency rooms, and front-line health care professionals.
Although many hospitals and health systems have employed some type of remote patient monitoring before the COVID-19 outbreak, accomplishing this at scale has proven difficult. As a result of the increased demand, the industry has seen an infusion of new companies. Many of the larger, more well-known suppliers already had digital platforms for virtual care, and remote patient monitoring was only an add-on. Fast-tracking procurement and implementation was a barrier for healthcare delivery organizations.
Several newcomers to the market provided stand-alone systems that could be deployed in days rather than weeks or months, and at a much lower cost. Integration with the EHR was a concern in this area, and if it wasn't done correctly, it would result in an additional burden. For example, data from a monitoring device could be returned in the form of a CSV or another format, which would need to be re-entered into the EHR record. Some solutions are based on FHIR standards and APIs for creating custom integrations, allowing for customization and integration. However, this necessitates the expenditure of resources and time, which hospital delivery groups do not have. Direct real-time integration of all data into the Electronic Health Record would be far superior (EHR). Furthermore, having the data filtered based on set markers allows for the detection of trends, patterns, and significant alerts.
In terms of adoption, the CMS's introduction of new billing codes in 2018 enhanced some adoption success, but the COVID-19 pandemic has accelerated it significantly. According to a poll, 59% of customers feel they are more likely to use telehealth services now than they were before COVID-19. Telehealth and remote patient monitoring services provide a continuous connection. Patients like how convenient it is, how much time it saves them, and how much more connected they feel to their practitioner. On a daily, ongoing basis, they experience a sense of assurance and peace of mind. The increase in patient satisfaction scores and patient engagement statistics can be used to quantify all of this. From the clinician's perspective, it's a win-win situation because of the ease of access to patient data and the opportunity to give higher-quality care to a bigger population. Finally, decreased costs and more efficiency motivate healthcare providers. They also recognize the importance of a multi-tiered strategy and the importance of the family environment. More benefits are anticipated to emerge as innovation continues to improve or build technological solutions, and adoption rates will continue to rise.
Product Insights
The aneroid BP monitors/sphygmomanometers segment emerged as a global leader and accounted for more than 42% of value share in the year 2020. Technological advancements along with new product launches anticipated to further augment the demand for sphygmomanometers globally. For example, in January 2017, Omron Healthcare, Inc. introduced Omron EVOLV, a wireless and portable upper arm blood pressure monitoring device. In addition, demand for digital sphygmomanometer projected to expand at lucrative CAGR owing to its associated advantages such as ease of use and accurate results.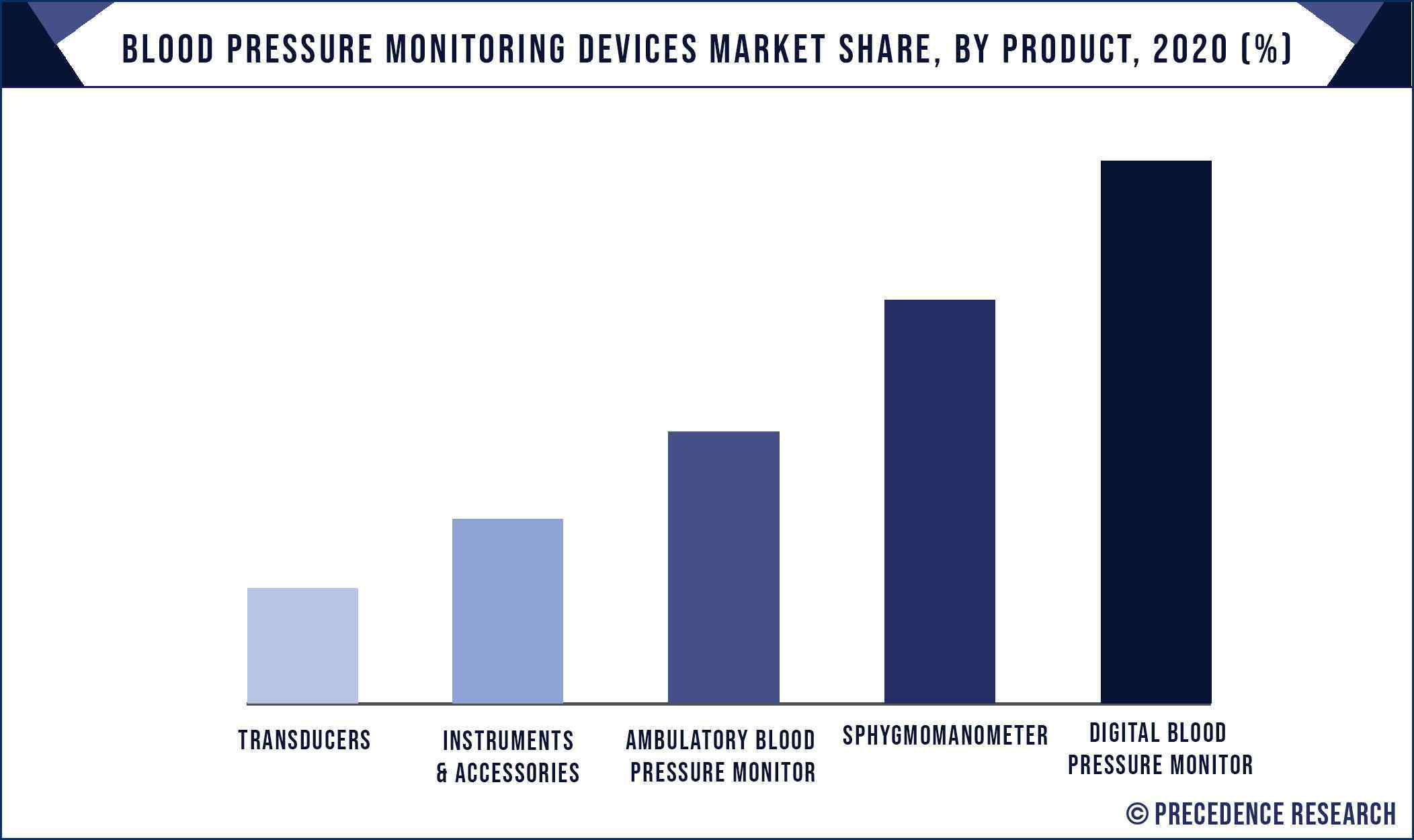 However, blood pressure cuffs anticipated to grow at a rapid rate over the analysis period on account of rising usage of blood pressure monitors backed by the increasing incidences of high blood pressure. These BP cuffs are available in different sizes, as per the type of patients. Basically two types of cuffs are available in the market that includes reusable and disposable. Amongst them, the disposable cuff segment anticipated to register the highest CAGR due to rising adoption of ecofriendly products coupled with the increasing concern about cross-contamination events at hospitals.
Blood Pressure Monitoring Devices Market, by Type, 2021-2027 (USD Million)
| | | | | |
| --- | --- | --- | --- | --- |
| | 2021 | 2024 | 2027 | CAGR (2021-30) |
| Digital Blood Pressure Monitor | 577.1 | 751.9 | 969.6 | 9.03% |
| Sphygmomanometer | 400.6 | 489.3 | 590.0 | 6.66% |
| Ambulatory Blood Pressure Monitor | 333.8 | 443.3 | 582.2 | 9.72% |
| Instruments & Accessories | 149.4 | 193.4 | 247.9 | 8.80% |
End-user Insights
Hospitals & clinics segment addressed the largest market value share in the year 2020 attributed to the presence of large patient pool. Further, the rising need for accurate, fast, and effective diagnostic tools for better health outcome anticipated to surge the adoption of BP monitoring devices in the hospital & clinics segment. Rising investment from governments of various regions for the development of hospital & healthcare infrastructure accounts positively towards the growth of BP monitors. Rising investment influence hospital sector to adopt new technologies and devices for early diagnose the problem or disease and cure them.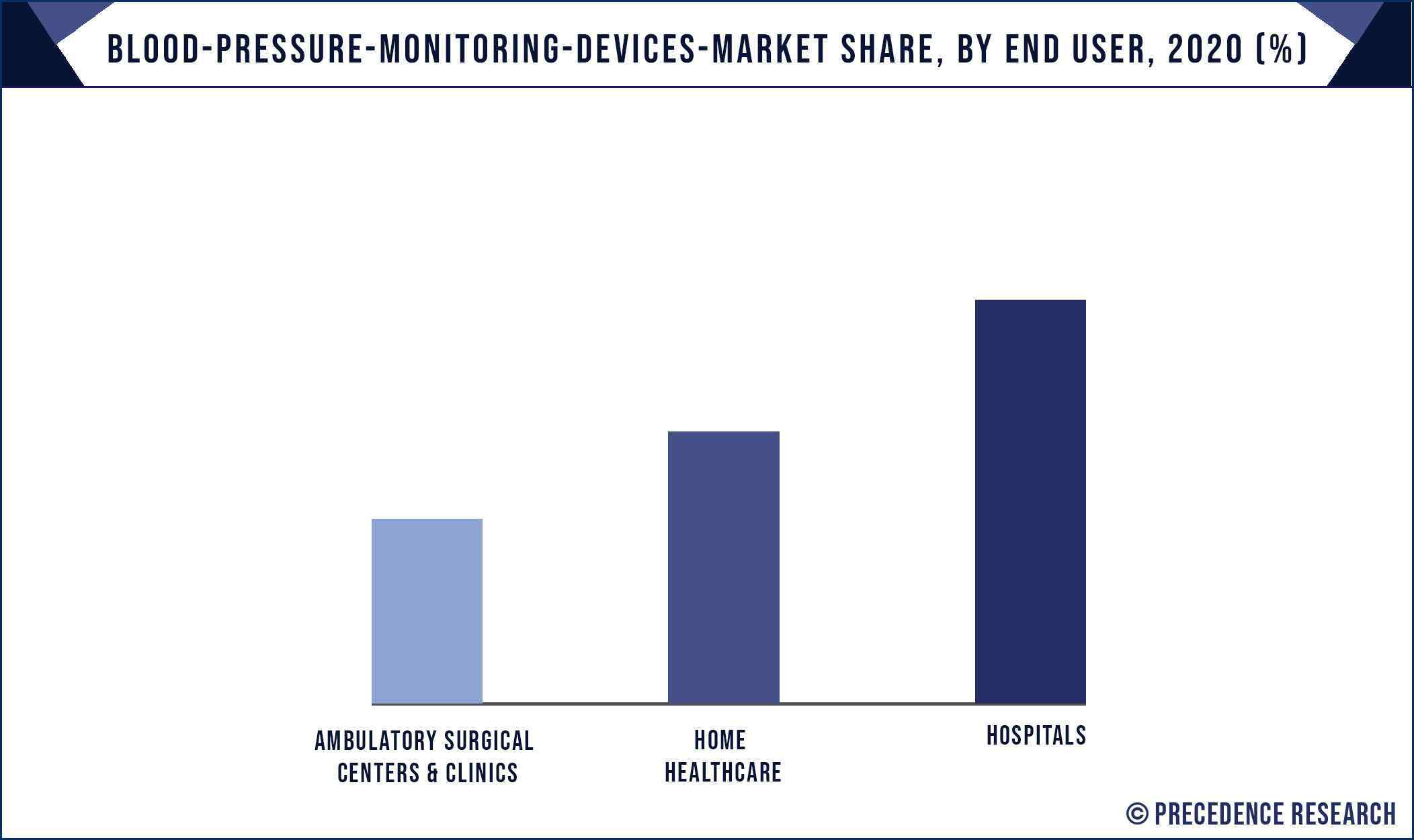 On the other hand, home healthcare registers the fastest growth of around 12.9% over the analysis period. Increasing availability of smart wearables that provide mobility as well as cost-efficient option for the homecare application is the key factor that drives the overall market growth. Further, increasing cases of high blood pressure along with rising disposable income are the other significant key factors that propel the growth of home healthcare segment.
Regional Insights
In 2020, North America led the global blood pressure monitoring devices market with nearly half of the market value share. This is attributed to the developed healthcare infrastructure along with significant investment for the development of effective and accurate BP monitors in the region.
High blood pressure, often known as hypertension, raises the risk of heart disease and stroke, two of the top causes of mortality in the United States. Clinicians diagnose hypertension in patients and treat them by comparing their systolic and diastolic blood pressure measurements to specific criteria. The hypertension thresholds used by physicians for diagnostic and treatment strategies for patients may range from one clinician to the next:
If a patient's blood pressure is continuously 140/90 mm Hg or greater, some doctors will diagnose them with hypertension. This level was established in accordance with guidelines and recommendations issued in 2003 and 2014.
If a patient's blood pressure is continuously 130/80 mm Hg or greater, other health care experts will diagnose them with hypertension. This limit is based on the 2017 hypertension clinical practice guideline from the American College of Cardiology and the American Heart Association (ACC/AHA).
Canada has been a world leader in hypertension screening, diagnosis, and management for the past two decades. Our national guideline program (which includes our guideline implementation and evaluation teams) has established a global benchmark for evidence-based hypertension care. However, cardiovascular disease remains Canada's greatest cause of death, and we will continue to work hard to prevent, identify, and manage hypertension to improve population cardiovascular health. In 2020, Hypertension Canada will continue to focus on aggressive blood pressure (BP) lowering in individuals at high risk for cardiovascular diseases, such as those with pre-existing cardiovascular illness, the elderly, and those with non-diabetic chronic renal disease.
Mexico now boasts a population of about 130 million people, with 85 million individuals aged 20 and up. The demographic pyramid continues to have a broader base, which corresponds to persons under the age of 54. Despite projections made 20 years ago that the population pyramid will transition into a mushroom shape as a result of increased life expectancy and adult population growth, this change has not occurred. In Mexico, hypertension has emerged as the most serious noncommunicable chronic disease threat to public health.
Around 30% of the adult Mexican population has hypertension; 75% of them are under the age of 54 (productive age); 40% are unaware, while only 50% of the aware hypertensive population takes medication, and only 50% are under control (140/90 mmHg). Hypertension, dyslipidemia, obesity, and diabetes are all cardiovascular risk factors that frequently coexist in the same person and are amplified by shared pathophysiological pathways.
On the contrary, the Asia Pacific shows attractive growth opportunity in the coming years due to rising level health awareness among people, increasing investment from manufacturers, and rising incidences of hypertension. According to the UN, China and India together accounted for more than a third of the world's population aged 60 and more in 2017. Chronic diseases such as cancer, diabetes, CVDs, and others are becoming more common as the population ages, resulting in a surge in demand for patient monitoring systems. The demand for wearable devices in the region will be driven by an increase in the prevalence of obesity and a growing awareness of fitness and preventative healthcare. Furthermore, the market is expected to rise faster as remote patient monitoring becomes more widely accepted in hospitals.
The remote patient monitoring market is predicted to grow at the fastest rate in Asia Pacific. Growth in the geriatric population, a quick rise in infectious diseases such as SARS (COVID-19), and increased investments by top industry players are some of the primary driving reasons for the remote patient monitoring market. Emerging economies like India and China have a lot of economic potential in the Asia-Pacific area. In nations like India and China, the fast-growing senior population increased awareness of remote patient monitoring, and rising disposable income presents a big market for remote patient monitoring systems.
Furthermore, the region's high prevalence of COVID-19 cases is likely to stimulate demand for blood pressure monitoring machines, heart rate monitors, pulse oximeters, and blood glucose monitors. As of June 2020, there were 217,606 coronavirus cases in India, 83,022 cases in China, and 16,986 cases in Japan. In the coming years, the region's growth will be driven by the adoption of a remote monitoring platform for COVID-19 patients. For example, Australia's first "virtual hospital" is using the Caretaker remote monitoring platform to keep COVID-19 patients under surveillance at home.
Blood Pressure Monitoring Devices Market, by Region, 2021-2027 (USD Million)
| | | | | |
| --- | --- | --- | --- | --- |
| | 2021 | 2024 | 2027 | CAGR (2021-2027) |
| North America | 614.8 | 779.2 | 977.3 | 8.03% |
| Europe | 451.3 | 566.5 | 703.6 | 7.68% |
| Asia Pacific | 345.3 | 451.9 | 585.2 | 9.19% |
| Latin America | 127.8 | 175.6 | 238.0 | 10.93% |
| MEA | 86.8 | 117.9 | 158.1 | 10.51% |
| Others | 1626.0 | 2091.1 | 2662.3 | 8.56% |
Key Companies & Market Share Insights
The global blood pressure monitoring devices market witnesses intense competition because of price sensitivity. Merger & acquisitions, collaborative, strategic alliances, and partnership are the key strategies adopted by the market players to sustain in the competition.
Certain of the noticeable performers in the blood pressure monitoring devices market as follows:
Koninklijke Philips N.V.
General Electric Company
A & D Company, Limited
SunTech Medical, Inc.
Welch Allyn
American Diagnostic Corporation
Briggs Healthcare
Withings
Spacelabs Healthcare
GF HEALTH PRODUCTS, INC.
Kaz, A Helen of Troy Company
Rossmax International Limited
Microlife Corporation
Segments Covered in the Report
This research study comprises complete assessment of the market by means of far-reaching qualitative and quantitative perceptions, and predictions regarding the market. This report delivers classification of marketplace into impending and niche sectors. Further, this research study calculates market size and its development drift at global, regional, and country from 2016 to 2027. This report contains market breakdown and its revenue estimation by classifying it on the basis ofproduct, end-use, and region:
By Product
Digital Blood Pressure Monitor
Sphygmomanometer
Ambulatory Blood Pressure Monitor
Instruments & Accessories

Blood pressure cuffs
Others

Transducers
By End-User
Ambulatory Surgical Centers & Clinics
Hospitals
By Geography
North America
Europe
Asia-Pacific

China
India
Japan
South Korea
Malaysia
Philippines

Latin America

Brazil
Rest of Latin America

Middle East & Africa (MEA)

GCC
North Africa
South Africa
Rest of the Middle East & Africa