The global home healthcare market size is expected to be worth around US$ 662.67 billion by 2027 from US$ 264.87 billion in 2020 with a CAGR of 14.2% from 2021 to 2027.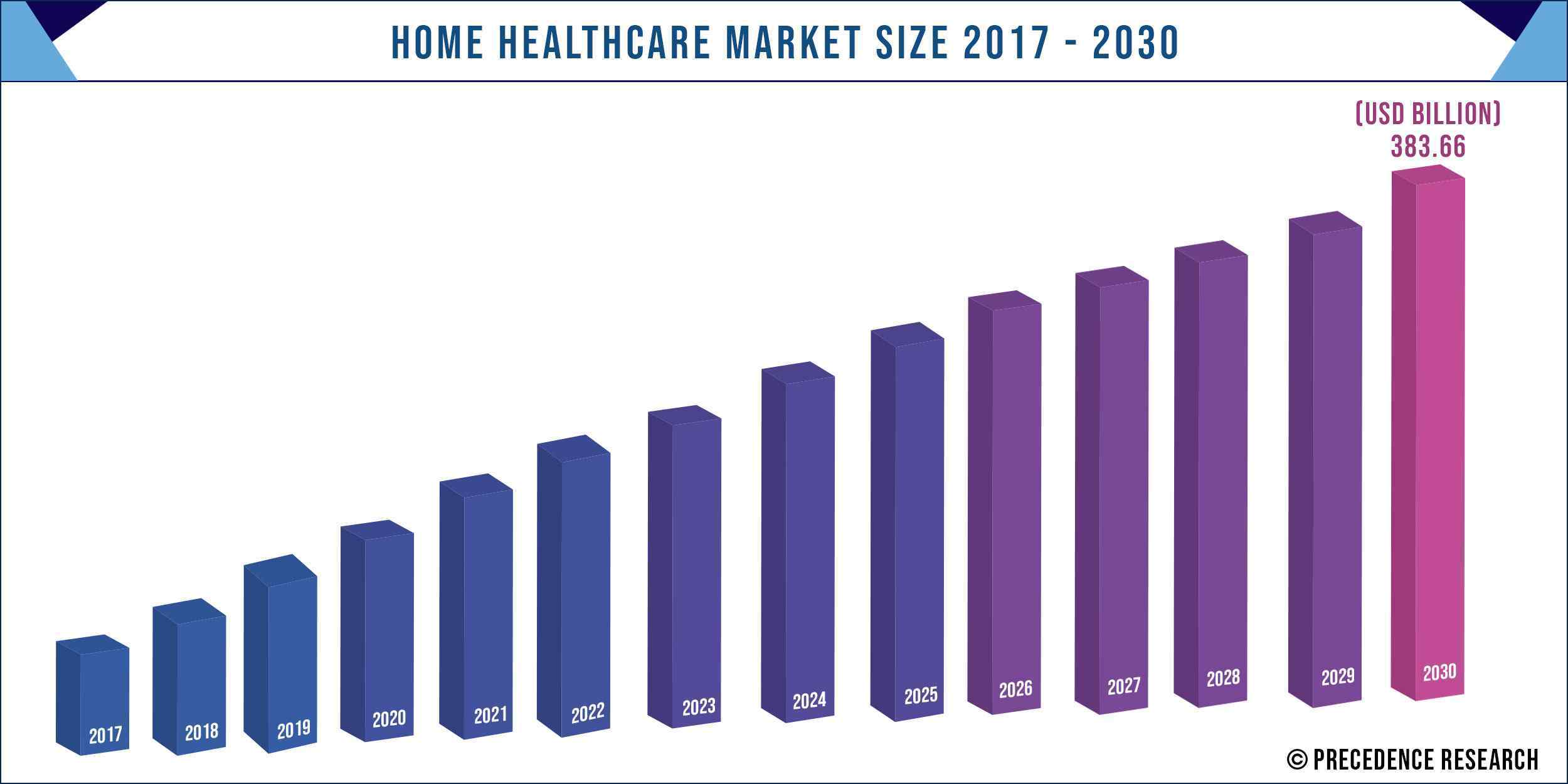 Home healthcare refers to a variety of medical services that can be provided in the comfort of a patients' own home to treat a sickness or accident. In most cases, home health care is less expensive, more convenient, and equally as effective as care received in a hospital or skilled nursing facility (SNF).A patient's options for receiving home health care services are virtually endless. Care can range from nursing to specialized medical treatments, such as laboratory workups, depending on the individual patient's circumstance. The treatment plan and any treatments that the patient may require at home will be determined by the doctor. The duration of home healthcare can be short-term to long-term, depending on the health of the patient.
There are different types of home healthcare services available:
Personal care & companionship services usually include non-medical care apart from routine medical care such as senior care, assistive care, home health aide services. In such cases, the patient may or may not be suffering from any severe ailment(s).
Private duty nursing care is usually long-term nursing services for patients suffering from an injury, disability, or chronic illness.
Apart from these, home healthcare services can be short-term with a designated physician assigned to help a patient recover from an injury or illness.
Home healthcare may or may not be prescribed by the doctor. In cases where it is prescribed by the doctor, these services are generally covered by the insurance company.
Devices such as blood pressure monitoring devices, glucose monitoring devices, and other therapeutic & diagnostic devices are also classified under home healthcare. The scope of the home healthcare market covers devices as well as services.
The rising percentage of geriatric patients across the world especially in developed countries like Germany, France, Japan, and the United States is considered as one major driving factor which promotes the growth of home healthcare market.
According to WHO, it is estimated in between 2015 to 2050, population above 60 years will approximately double from 12% to 22% across the globe. As per the study, it is also observed that each elder patient suffered from at least two or more major chronic disorders which further fuels the growth of the market. In addition, the rising demand for advanced healthcare services followed by high acceptance from the end-users is considered significant influence for the market growth.
The unhealthy aging of individuals will bring a huge opportunity for the healthcare services market. Recently, the rising penetrations of technology in the field of healthcare services followed by the delivery system are seen as a encouraging factor for the growth of the market. Rising investment in the upcoming technology followed by penetration of Artificial intelligence in healthcare is one of the major factors which will bring huge opportunities within the forecast period.
Developing countries with a mass population like India, China, Indonesia, Brazil, and others still need a good amount of time to develop and adapt themselves in the field of healthcare to become equivalent to developed countries. According to WHO, Counties like India lack the geriatric population and still need 20 more years to reach nearer to France.
COVID-19: Home healthcare industry impact
The COVID-19 pandemic has had a mixed impact on the global home healthcare market. The two branches of the market, i.e., devices and services have had different impacts. COVID-19 has positively impacted the sale of certain home healthcare products such as blood pressure monitoring devices, pulse oximeters, blood glucose monitoring devices, and temperature monitors. People around the world are increasing the purchase of these items due to the rising awareness regarding potential complications in case of infection. Thus, the pandemic has resulted in driving the sales of the home medical device market.
Companies are also undertaking initiatives to offer care at home. For instance, Lincare, a subsidiary of Linde plc, started offering home respiratory care to vulnerable patients in the US. The company is also easing the burden of hospitals by transferring inpatient respiratory patients from hospitals to home.
On the other hand, the home healthcare services market has witnessed a notable decline due to various factors such as patient fear of contracting the virus due to contact, elimination of non-emergency elective surgeries, and availability of family members due to extended lockdowns and work from home culture. Several home healthcare service providers and agencies have reported a decline in their services since the pandemic. The continuation of the pandemic in 2021 with the second-and third-wave of the virus coupled with lockdowns is expected to continue impacting the market.
Nonetheless, home healthcare service companies have extended their offerings for post-COVID recovery patients. In certain geographies, home healthcare service providers are treating stable COVID-19 patients to aid overburdened hospitals. As a case in point, the Visiting Nurse Service of New York, a home care provider, delivered care to stable coronavirus patients in New York. However, several home healthcare providers are struggling to procure personal protection equipment (PPE) due to high demand from hospitals and low supply, thus limiting their business. Home healthcare service providers are now focusing on adapting to the pandemic by being responsive towards new business demands. Home healthcare will play a pivotal role in the coming future due to a largepatient pool.
Report Scope of the Home Healthcare Market
Report Highlights
Details
Market Size
USD 662.67 Billion by 2027
Growth Rate
CAGR of 14.2% from 2021 to 2027
Largest Market
North America
Fastest Growing Market
Asia Pacific
Base Year
2021
Forecast Period
2021 to 2030
Segments Covered
Component Type, Regional Outlook
By Region

North America
Europe
Asia Pacific
Middle East and Africa
Rest of the Worlds

Comapnies Mentioned

McKesson Medical-Surgical Inc., Fresenius Medical Care, Medline Industries, Inc., 3M Healthcare, Baxter International Inc., Medtronic PLC, B. Braun Melsungen AG, Molnlycke Health Care F. Hoffmann-La Roche AG, Arkray, Inc., Becton
Market Drivers
The rising aging population & nuclear homes drive the need for home healthcare
Almost every country in the globe is seeing an increase in the number of older people and the proportion of them in their population. In 2019, the world's population of people aged 65 and up totaled 703 million. In 2050, the number of elderly people is expected to increase to 1.5 billion. The proportion of the world's population aged 65 and up went from 6% in 1990 to 9% in 2019. By 2050, that percentage is expected to climb to 16%, implying that one in every six individuals on the planet would be 65 or older.
Eastern and South-Eastern Asia, as well as Latin America and the Caribbean, have the fastest-aging populations. In Eastern and South-Eastern Asia, the percentage of people aged 65 and up about doubled from 6% in 1990 to 11% in 2019, and in Latin America and the Caribbean, the percentage of people aged 65 and up about doubled from 5% in 1990 to 9% in 2019. In four regions, Northern Africa and Western Asia, Central and Southern Asia, Latin America and the Caribbean, and Eastern and South-Eastern Asia, the proportion of older people are expected to treble between 2019 and 2050.
In the years 2015-2020, a 65-year-old person should expect to live a further 17 years on average over the world. That figure will have risen to 19 years by 2045-2050. In all countries, life expectancy at 65 is expected to rise between 2015 and 2020 and 2045-2050. Women presently outlive males by 4.8 years, but this disparity is likely to close over the next three decades.
The level of population aging appears to be dependent on agepatterns of output and consumption, according to indicators that combine both demographic and economic data. The economic old-age dependency ratio, which combines measured levels of consumption and output by age, reveals that population aging has the largest influence on nations or areas with large numbers of older people and high levels of old-age consumption, such as Europe and Northern America, as well as Australia and New Zealand.
Increasing healthcare costs to drive the demand for affordable home health treatments
Healthcare costs are increasing all around the world due to advancements in technology, the complexity of procedures, multiple illnesses in patients, changing government policies, high insurance premiums, and limited coverages. For instance, healthcare costs have risen dramatically in the US over the past several decades. The American Medical Association (AMA) identified three key factors driving healthcare costs, viz., population growth, population aging, and rising prices. Besides these, disease prevalence or incidence of medical service utilization are other vital factors fueling healthcare costs as well.
As the population grows older and lives longer, healthcare becomes more expensive. As a result, rising service expenses, particularly inpatient hospital care, accounted for half of the growth in healthcare spending. Additionally, population increase (23%) and population aging are the two most important elements driving up such spending (12%).
Average yearly rates for family coverage for those with employer-provided healthcare increased by 37% from USD 15,545 in 2015 to USD 21,342 in 2020 for those with employer-provided healthcare. Meanwhile, from 2015 to 2020, average unsubsidized family premiums for the Affordable Care Act (ACA) increased by 97%, from USD 8,724 to USD 17,244.
Increased insurance prices are simply one part of the equation. Americans are spending more money out of pocket than they have in the past. High-deductible health plans (HDHPs), which impose out-of-pocket fees of up to USD 14,000 per family, have increased the cost of healthcare significantly.Employer payments to HDHPs help to offset the higher deductible, and according to one study from 2018, HDHP members paid 20% of their total premium, whereas PPO participants paid up to 27%.
Medicare and Medicaid, for example, have increased total demand for medical services, resulting in higher pricing. Increases in the cost of medical treatment have been directly correlated with increases in the incidence of chronic illnesses such as diabetes and heart disease, particularly among seniors.
Market opportunities
Increasing awareness regarding home healthcare among patients in emerging countries
While developments in health care in the affluent world frequently focus on new technologies, broadening the reach of basic primary care services in emerging low- and middle-income nations is critical to improving health. Primary care can minimize hospitalizations and mortality, enhance life expectancy, and improve general health by providing easy access to basic health services and coordinating treatment with more specialized treatments as needed.
Primary care in developing nations is usually provided by a mix of state and private providers. Private for-profit and non-profit initiatives are increasingly important in providing high-quality primary care, and growing them is critical to maximizing their impact. While growing these services is difficult, having the necessary business abilities is essential.
Patients who do not value primary care and instead go to specialists or do not seek care at all, as well as those who simply lack access to treatment, require strong partnerships from programs. To scale effectively, programs are focused on the patient experience, investing in good branding and marketing, and promoting services through health education initiatives.
In Sub-Saharan Africa, the North Star Alliance is a shining example. North Star is a non-profit network of more than 30 roadside health centers operating along important traffic corridors in Africa, including Kenya, Tanzania, and South Africa, and servicing hundreds of thousands of patients each year. It was founded in Malawi in 2005. North Star primarily caters to truck truckers and sex workers and operates in the afternoons and evenings to accommodate their needs.Peer educators are hired by the centers to connect with and acquire the trust of these hard-to-reach populations. North Star operates clinics in converted shipping containers, which provide standardized mobile facilities, to cut expenses and develop a prominent brand. North Star clinics use IT systems that allow for real-time data exchange across clinics and the use of biometrics to follow patients to eliminate duplicate files and treatments. This aids the facilities in improving efficiency, maintaining quality standards, tracking disease trends, and gathering demographic data.
Effective financial strategies are required for programs to help patients access services and create revenue in areas where resources are restricted. This can include alternate payment mechanisms including microinsurance, health plans, and membership fees, as well as earning additional revenue to supplement the main offers.Through a public-private partnership approach, the non-profit Karuna Trust administers 68 health institutions in seven Indian states. As a result, patient satisfaction and health outcomes have increased at a lesser cost, while reaching more than one million people in India's distant and rural areas.
Component Type Insights
This research study segments the global home healthcare market based on various parameters such as service type and equipment type. The home health care market mostly dominated by service type.It is estimated the same segment capture more than 80% of the market share in the year 2019. The growth of this segment solely depends upon the rising elderly population across the world. Many healthcare agencies are keenly working in this segment to get better outcomes for the needy patients and also for those patients suffering from the chronic diseases. Most of the patients suffering from one or more of the chronic disorders like heart, urinary and respiratory diseases, cancer and diabetes. Chronic disorders are one of the leading causes of the death in the United States and Europe. It is estimated that United States alone spent more than USD 1.1 Trillion on chronic disability patients.
The service segment classified into skilled service type and unskilled service and skilled type. The skilled type of service dominated the largest market share in the year 2020. These services commonly include nursing care, speech-language therapy, assisting in medical social devices, and helps in providing occupational and physical exercise services. The stable and knowledgeable skilled workforces are in high demand in the home healthcare sector.
The equipment segment of home healthcare market is further classified into therapeutic devices and diagnostic. The therapeutic device segment dominated the market for the last decades. High pollution leads to individuals suffering from acute to chronic respiratory disorders following by the patient with minor to major renal disorders. The heavy technologically advanced device is now into practice in-home healthcare which supports market growth in the segment. Oxygen concentrator and pressure massager are some of the devices used routinely for home healthcare purposes.
The diagnostic device also showed tremendous growth in the historic periods. As the recent study was done by WHO indicates that, there is a rapid rise of the patient suffering from diabetes and cardiovascular diseases. Due to increasing globalization, high awareness and the augmented rate of screening gives segment lucrative growth. The ready availability of devices in the market of both the developing and developed countries is also one of the major factors for growth. Low-cost test, Free Smart Phone Apps is considered futuristic opportunities for the diagnostic home healthcare market.
Regional Insights
The report is broadly classified into five regions, North America, Europe, Asia Pacific, Latin America and the Middle East, and Africa. North America heavily invested in the home healthcare segment and thus contributed the largest market share in the year 2020. It is estimated that the same region contributes more than 40% of the market share. United states captured more than 75% of the total North American region.
Few other market influencers include technological advancement, advanced medical infrastructure, and increasing per-capita healthcare expenditures. As per the study, the U.S. holds the patients with the largest treatment affordability for chronic disorders. In Europe, the demography of the countries like Germany, France, UK, Italy, and Spain held the largest market share in the year 2019. Asia Pacific is also keenly focused on developing advanced healthcare infrastructures and due to burden of number of patients with diabetes, obesity, cardiovascular diseases, and others.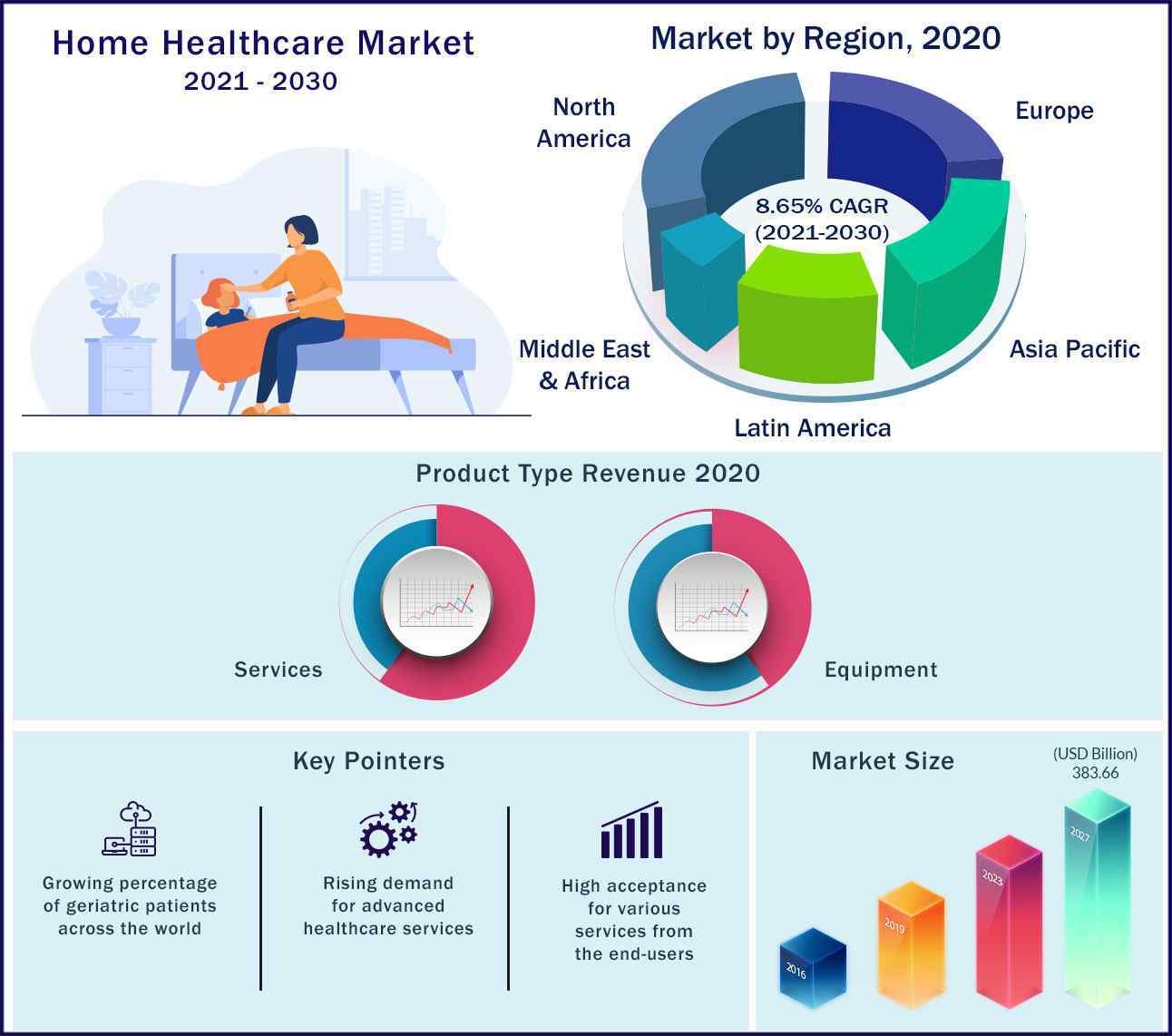 Key Companies & Market Share Insights
Some of the significant players in the home healthcare market include:
Manufacturers: -
McKesson Medical-Surgical Inc.
Fresenius Medical Care
Becton, Dickinson And Company
Arkray, Inc.
Medline Industries, Inc.
3M Healthcare
Baxter International Inc.
Medtronic PLC
Braun Melsungen AG
ConvaTec Group PLC
Molnlycke Health Care
Acelity L.P.
Hollister Inc.
Others
Service Providers: -
Sunrise Carlisle, LP
Extendicare, Inc.
Brookdale Senior Living, Inc.
Home Health Services Ltd.
Care UK Limited
Kindred Healthcare, Inc.
Genesis Healthcare Corp.
Sompo Holdings, Inc.
Home Instead Senior Care, Inc.
Others
Segments Covered in the Report
This research report estimates revenue growth at global, regional, and country levels and offers an analysis of present industry trends in every sub-segment from 2020 to 2030.This research study analyzes market thoroughly by classifying global home healthcare market report on the basis of different parameters including type of vector, application, workflow, end users, disease, and region:
By Component Type
Equipment

Therapeutic

Home respiratory equipment
Insulin delivery devices
Home IV pumps
Home dialysis equipment
Others

Diagnostic

Diabetic care unit
BP monitors
Multi para diagnostic monitors
Home pregnancy and fertility kits
Apnea and sleep monitors
Holter monitors
Heart rate meters
Others

Mobility assist

Wheelchair
Home medical furniture
Walking assist devices

Services

Skilled home healthcare

Physician/primary care
Nursing care
Physical, occupational, and/or speech therapy
Nutritional support
Hospice & palliative care
Other skilled home care services

Unskilled home healthcare
By Regional Outlook
North America
Europe
Asia Pacific

China
India
Japan
South Korea

Middle East and Africa

GCC
North Africa
South Africa
Rest of MEA