The global chemiluminescence immunoassay market size was valued at US$ 6.7 billion in 2022 and is predicted to register a compound annual growth rate (CAGR) of around 7.5% during the period 2023 to 2032.
The global chemiluminescence immunoassay market size is expected to reach around US$ 13.74 billion by 2032.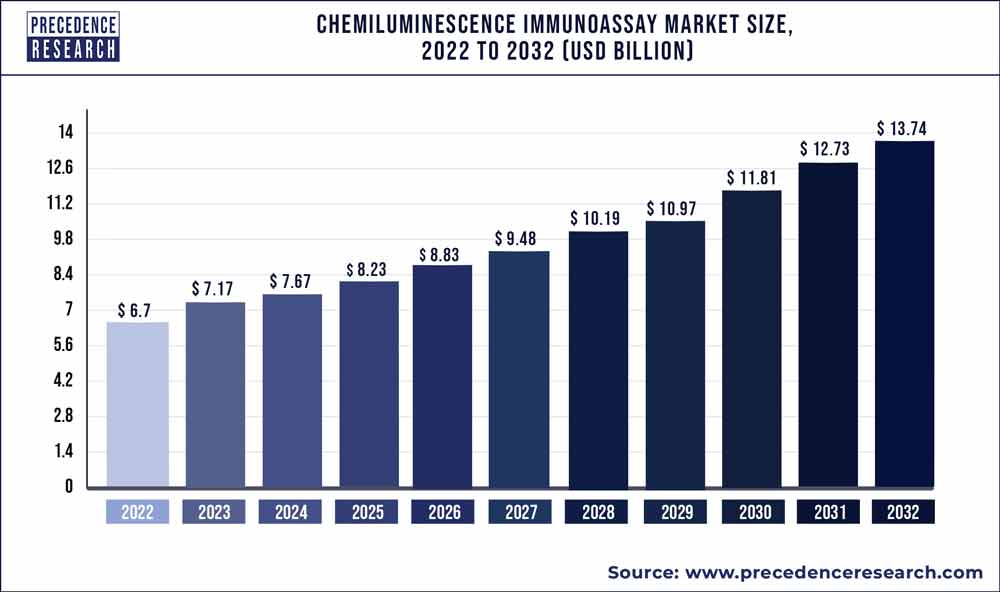 Growth Factors
Diagnostic technology is budding rapidly, and over the last decade, considerable progress has been made in the identification of antibodies, progressively impending this sort of diagnostic to that of automated clinical chemistry laboratory. The number of tests integrating chemiluminescence immunoassay Analyzers practices is estimated to magnify on account of technological advancements in disease diagnosis, upsurge in demand for treatment monitoring and precautionary diagnosis. Subsequently, requirement for high throughput facilities are also increasing. Furthermore, large-scale laboratories are capturing benefit of service and quality constraints confronted by small and mid-volume laboratories to seize a bigger chunk of the market by means of CLIA methods.
Companion diagnostics comprise assays or tests proposed to support healthcare providers in taking treatment decisions for patients on the basis of finest response to therapy. The co-development of companion diagnostics along with therapeutic products has the latent to meaningfully modify the drug development process and commercialize drug candidates by getting safer drugs with improved therapeutic effectiveness cost-effectively and quickly. With an increase in the demand for high-priced specialist therapies and safer drugs, the market for companion diagnostics is expected to showcase a high growth potential.The Novel coronavirus epidemic is expected to influence market projections for the chemiluminescence immunoassays market. This is due to its possible application in eliminating the disease. Research is underway for the development of the peptide-based magnetic CLIA for serological diagnosis of the COVID-19 virus. This is a noteworthy development since this is the second diagnostic test afterwards real-time RT-PCR, which is the only existing laboratory test to check probable cases of contamination.
Application Insights
Numerous applications of chemiluminescence immunoassay market comprises of disorders, endocrine infectious diseases, oncology, cardiovascular disorders, hepatitis and retrovirus, allergy, drug discovery & development autoimmunity, and others. Endocrine gathered considerable market share in terms of revenue in 2022 and it is predicted to reflect this tendency throughout the estimate period. Foremost influences accountable for the governance of this application segment are incessant inventions in test offerings and extensive product offerings of chief and local manufacturers.
Product Insights
Among different product segments analyzed in this research study, consumables segment garnered substantial share more than 70% of the total market revenue generated in 2022. This segment is predicted to hold its domination over the prediction period. This growth can be credited to augmented requirement for consumables including stains and reagents in the area of endocrinology, therapeutic drug monitoring, and disease analysis.
End-user Insights
In terms of several end-users, hospitals grasp majority of the market chunk and reported prime revenue share of more than 35% in 2022. This governance is credited to the cumulative need for chemiluminescence immunoassay solutions in hospitals and intensifying hospital visits on account of mounting occurrence of infectious diseases and cancer. Correspondingly, the growing hospitalization owed to outburst of novel coronavirus is anticipated to increase the requirement for chemiluminescence immunoassay solutions in the hospital segment. Snowballing amount of applications of automated CLIA analyzers in oncology, therapeutic drug monitoring, and companion diagnostics and emergence of integrated modules of automated CLIA analyzers are projected to fuel the growth of hospitals segment throughout the estimate period.
Regional Insights
North America seized the substantial market stake globally in 2022 and is projected to mirror this trend during the assessment period. Significant influences backing to its governance are the existence of established healthcare infrastructure, high acceptance of cutting-edge chemiluminescence immunoassay solutions, and snowballing pervasiveness of chronic diseases among others. Additionally, augmented availability of novel CLIA systems in the U.S. on account of existence of crucial market participants like Beckman Coulter, Inc., Abbott Laboratories, Roche and DiaSorinis further likely to subsidize the growth of the market in the North America.
Asia Pacific is prospective to be an extremely profitable market for the chemiluminescence immunoassay analyzers market and it is anticipated to develop at a rapid growth rate throughout the estimate period. Huge population base and escalation in occurrence of infectious and chronic diseases augments requirement for diagnostic testing in the APAC. Besides, promising government initiative to progress healthcare infrastructure is expected to supplement the growth of the market.
Key Companies & Market Share Insights
Extension of test offerings in ground-breaking ailment diagnosis areas and inventions in integrated immunoassay platforms are significant strategies of players involved in the CLIA marketplace. Certain substantial participants operating in the chemiluminescence immunoassay market include:
Hoffmann-La Roche AG
Siemens Healthineers
Abbott Laboratories
DiaSorin S.p.A.
Ortho Clinical Diagnostics
Immunodiagnostic Systems
Beckman Coulter Inc.
Inova Diagnostics, Inc.
Shenzhen Mindray Bio-Medical Electronics Co., Ltd.
Maccura Biotechnology Co., Ltd
Others
Report Scope of the Chemiluminescence Immunoassay Market
| | |
| --- | --- |
| Report Highlights | Details |
| Market Size in 2023 | USD 7.17 Billion |
| Market Size by 2032 | USD 13.74 Billion |
| Growth Rate from 2023 to 2032 | CAGR of 7.5% |
| Largest Market | North America |
| Fastest Growing Market | Asia Pacific |
| Base Year | 2022 |
| Forecast Period | 2023 to 2032 |
| Segments Covered | Product Type, Application Type, End User Type, Region Type |
| Companies Mentioned | B. Braun Melsungen AG, Merck KGaA, Thermo Fisher Scientific, Inc., Baxter International, Inc., Intermountain Life Sciences, Cytiva (Danaher), Standard Reagents, Pvt. Ltd., FUJIFILM Irvine Scientific, CovaChem, LLC, Pfizer, Inc and Fresenius Kabi AG. |
Segments Covered in the Report
This research report includes complete assessment of the market with the help of extensive qualitative and quantitative insights, and projections regarding the market. This report offers breakdown of market into prospective and niche sectors. Further, this research study calculates market revenue and its growth trend at global, regional, and country from 2020 to 2032.This report includes market segmentation and its revenue estimation by classifying it on the basis of product, application, end-usersand region as follows:
By Product
Consumables
Instruments
Software & Services
By Application
Cardiology
Therapeutic Drug Monitoring
Oncology
Endocrinology
Autoimmune Disease
Infectious Disease
Others
By End-use
Clinical Laboratories
Hospitals
Pharmaceutical & Biotechnology Companies
Others
By Regional Outlook
North America
Europe

U.K.
Germany
Italy
France
Rest of EU

Asia Pacific

China
India
Japan
Southeast Asia
Rest of APAC

Middle East & Africa

GCC
North Africa
South Africa
Rest of Middle East and Africa

Latin America

Argentina
Mexico
Brazil
Rest of Latin America