Precedence Research predict, the global biomarkers market size was estimated at USD 71.88 billion in 2022 and is predicted to hit USD 207.46 billion by the end of 2030, representing impressive CAGR of 14.1% during the forecast period 2021 to 2030.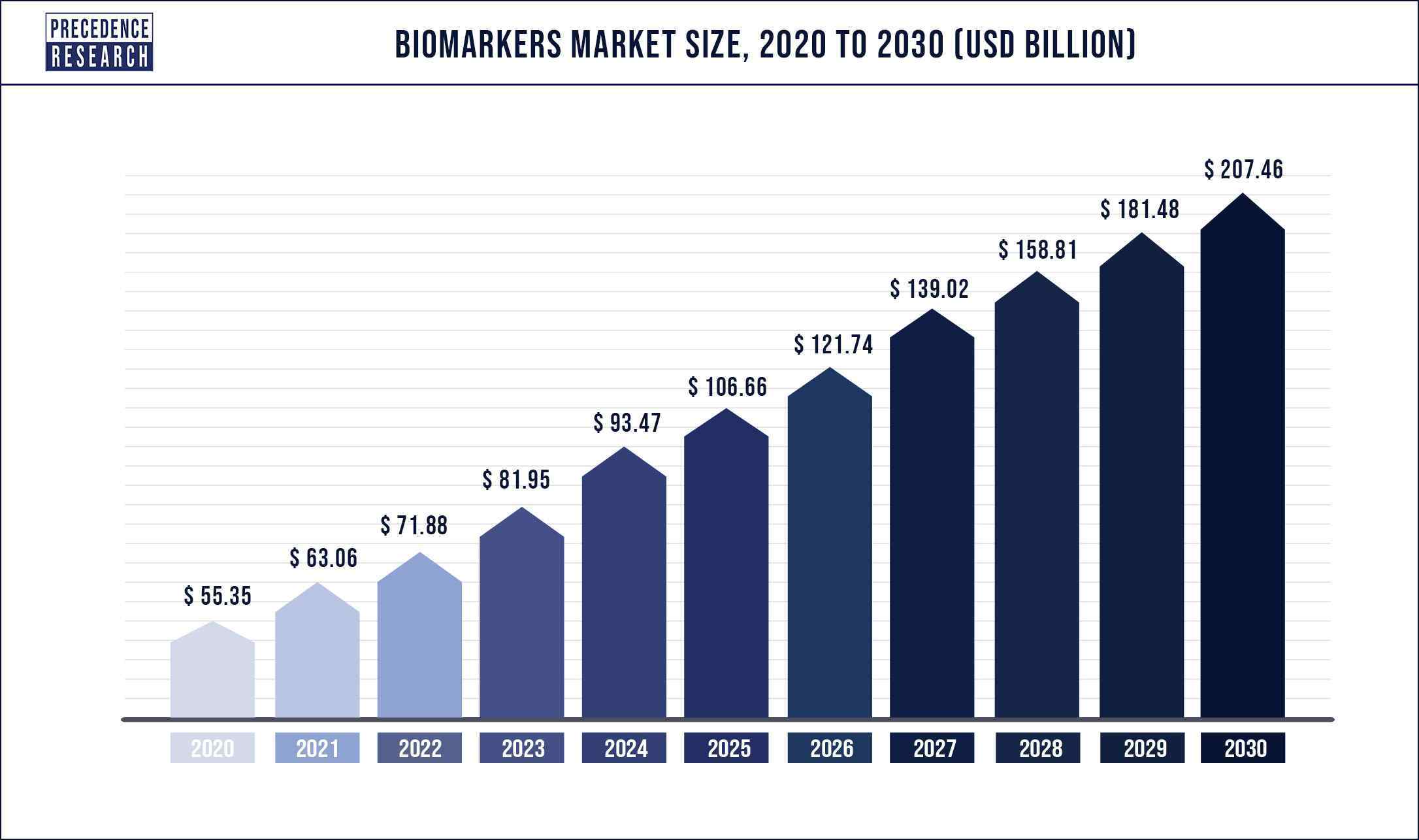 Access our Premium Real Time Data Intelligence Tool, Visit: Precedence Statistics
Key Takeaway
North America has held revenue share of more 45% in 2022.
By type, the safety segment has accounted revenue share of 37.9% of the total revenue in 2022.
By application, the drug discovery & development segment has dominated the market with revenue share of 32.95% in 2022.
By disease, the cancer segment captured revenue share of 36.8% in 2022.
Key market Insights:
Biomarkers have presented a major boost for early detection of cancer which can be a crucial development in the field of cancer diagnostics. Early detection can be a major advantage in the treatment and management of cancer. Biomarkers are vital as molecular markers of the physiological state of a cell at a definite time. Active genes, their corresponding protein products, and supplementary organic compounds produced by the cell generate these markers. As a regular cell progresses through the intricate process of transformation into a cancerous state, biomarkers can prove vital for the screening of early cancer and individuals at risk of evolving cancer. Consistent, non-invasive examinations for the early recognition of cancer improve the likelihoods for successful treatment and preclude the usage of an invasive biopsy.
Crucial factors accountable for market growth are:
Rising incidences of cancer
Increasing focus on establishment of biomarker-based diagnostic methods
Growing number of contract research organizations
High incidence of chronic ailments
Increasing research on use of biomarkers in early detection of cancer
Rapidly expanding applications of biomarkers in diagnostics

Report Scope of the Biomarkers Market
| | |
| --- | --- |
| Report Highlights | Details |
| Market Size | USD 207.46 Billion by 2030 |
| Growth Rate | CAGR of 14.1% from 2021 to 2030 |
| Largest Market | North America |
| Fastest Growing Market | Asia Pacific |
| Base Year | 2022 |
| Forecast Period | 2023 to 2030 |
| Segments Covered | Type, Application, Disease |
| Companies Mentioned | Bio-Rad Laboratories, Inc., Epigenomics AG, Qiagen, Abbott, Johnson & Johnson Services, Inc., F. Hoffmann-La Roche Ltd., Agilent Technologies, Inc., Abbott, Siemens, and Thermo Fisher Scientific, Inc. |
Significant Market Trends:
Safety Biomarkers Segment Reported Foremost Market Stake in 2022
Safety Biomarkers segment recorded the prime market share in the global biomarkers market by type in 2019. Increasing use in the process of drug discovery is the major reason for high market share of safety biomarkers. Other factors such as increasing investment in research and development to develop new diagnostic procedures is expected to increase the usage of the safety biomarkers over the estimate period.
The efficacy biomarkers are projected grow at the highest CAGR during the forecast period mainly due to new product launches in the near future.
Cancer is Projected to Dominate the Disease Segment of Biomarkers Market Revenue
Cancer is one of the most widely studied disorder in the world. Constant research in the cancer field has revealed that, use of biomarkers in early detection of the deadly disease can be a turning point in cancer management. Strong product pipeline of major manufacturers related to cancer biomarkers is expected to further boost the popularity of biomarkers in cancer management.
Neurological Diseases segment will expand at a significant CAGR during the forecast time-frame.
Drug Discovery & Development Projected to Dominate the Application Segment of Biomarkers Market Revenue
The use of biomarkers is on a constant rise in drug discovery and development majorly due to the advantages offered by biomarkers to scaleup the clinical development stage. These factors contribute to the growth of drug discovery & development segment.
North America is Estimated to be the Largest Market for Biomarkers
The research report covers key trends and prospects of biomarkers products across different geographical regions including North America, Europe, Asia-Pacific, Latin America, and Middle East and Africa. Geographically, biomarkers market is conquered by North America owing to high incidence of cancer and existence of state-of-the-art healthcare infrastructure. On the other hand, Asia-Pacific is anticipated to witness the rapid growth rate, on account of increasing research and development investment by major market players and initiatives taken by governments to boost the biopharmaceutical sector.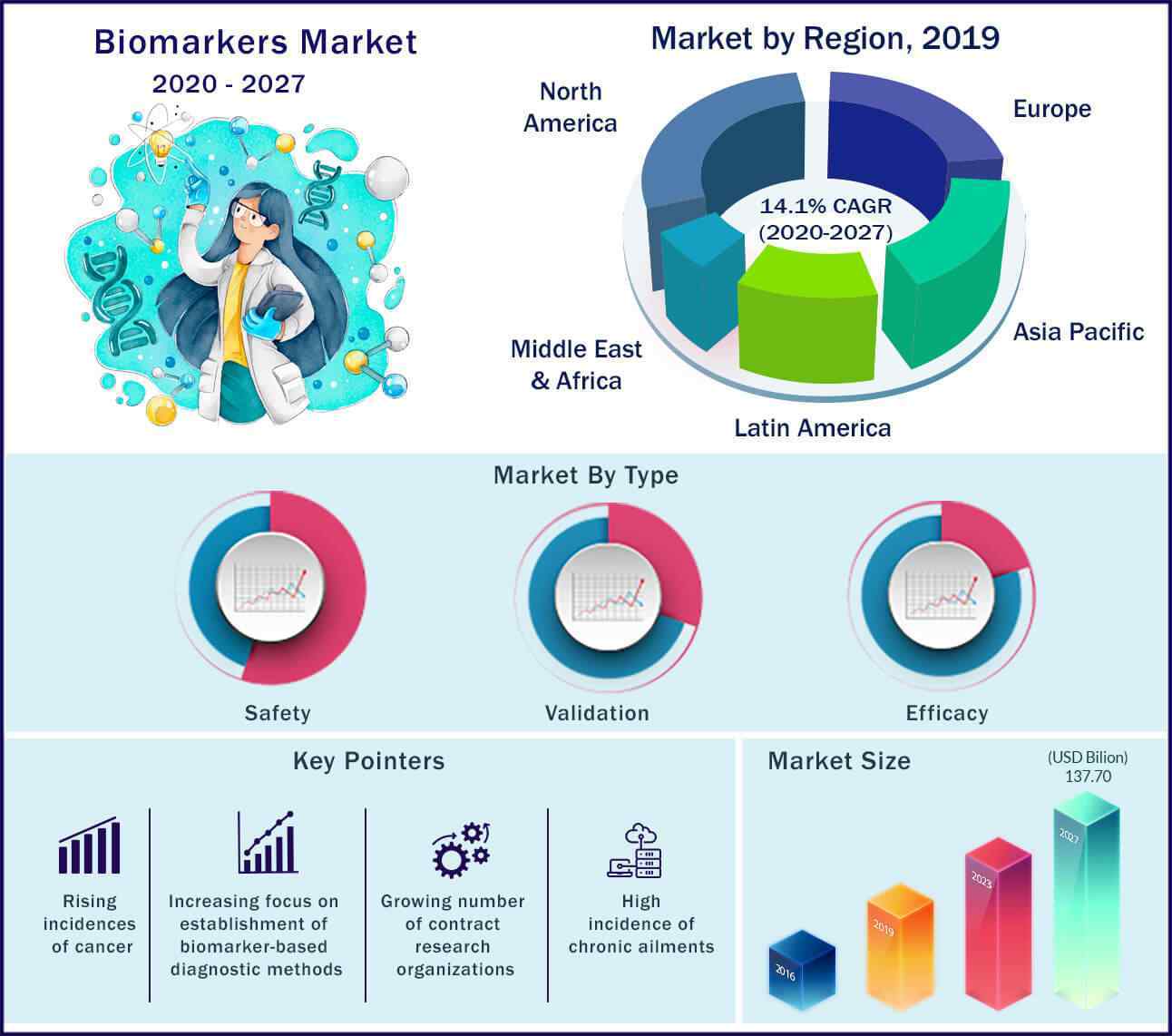 Top Players contending in the Market:
The companies focusing on research and development are expected to lead the global biomarkers market. Leading competitors contending in global biomarkers market are as follows:
Bio-Rad Laboratories, Inc.
Qiagen
Epigenomics AG
Abbott
Hoffmann-La Roche Ltd.
Agilent Technologies, Inc.
Johnson & Johnson Services, Inc.
Abbott
Siemens
Thermo Fisher Scientific, Inc.
In order to better recognize the current status of biomarkers, and policies adopted by the foremost countries, Precedence Research predicted the future evolution of the biomarkers market. This research study bids qualitative and quantitative insights on biomarkers market and assessment of market size and growth trend for potential market segments.
Major Market Segments Covered:
By Type
Validation
Efficacy
Safety
By Disease
Neurological Diseases
Cancer
Immunological Diseases
Cardiovascular Diseases
Others
By Application
Personalized Medicines
Drug Discovery & Development
Diagnostics
Others
By Geography
North America
Europe

Germany
France
United Kingdom
Rest of Europe

Asia Pacific

China
Japan
India
Southeast Asia
Rest of Asia Pacific

Latin America

Brazil
Rest of Latin America

Middle East & Africa (MEA)

GCC
North Africa
South Africa
Rest of Middle East & Africa