The global generative AI in personalized medicine market is surging, with an overall revenue growth expectation of hundreds of millions of dollars from 2023 to 2032.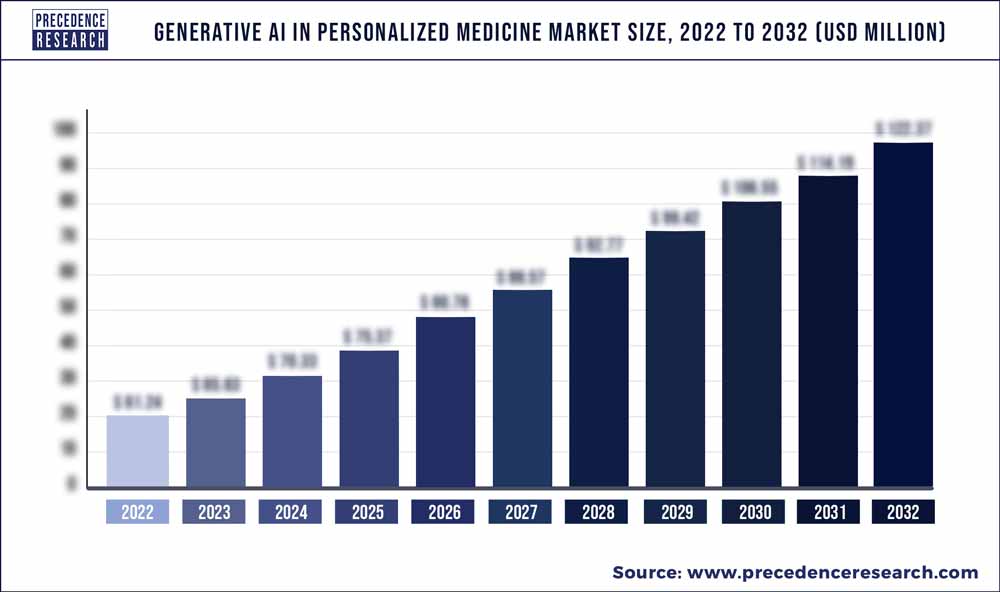 Key Takeaways:
North America is expected to dominate in the generative AI in personalized medicine market during the forecast period.
By personalized medicine therapeutics, the pharmaceutical segment is expected to hold a leading position in the generative AI in personalized medicine market.
By deployment model, the cloud-based segment is expected to carry a significant share of the generative AI in personalized medicine market during the forecast period.
By end-user, the hospitals and clinics segment shares the maximum CAGR during the projection period.
Market Overview:
In the last few years, AI models have had some efficacy in enhancing the genetic identification of neurodevelopmental disorders, and in the challenging undertaking of accurately identifying missense variations, two AI algorithms, Human Splicing Code and DeepSEA, exhibited promising outcomes. Data on healthcare has been growing significantly over the last few years due to the adoption of digitization of medical data. Precision medicine is driven by artificial intelligence, which further enhances patient outcome prediction and accuracy. Furthermore, it provides more readily available and affordable treatment options for patients who may not currently be able to afford them because of their price or lack of health insurance. With this new technology, the healthcare sector has received unparalleled opportunities to accelerate innovation, expand precision medicine, and eventually change how we observe and improve human health.
Growth Factors:
Workforce, economics, and client or patient involvement are three crucial aspects of healthcare where AI can make a significant difference. Clinical decision assistance and image analysis are AI's two most frequent applications in medical settings. By giving them instant access to data or research pertinent to their patient, clinical decision support systems assist doctors in making decisions about treatments, drugs, mental health, and other needs of patients. AI technologies are utilized to analyze CT scans, x-ray images, MRIs, and other images in the field of medical imaging to look for lesions or additional results which a human radiologist would overlook.
A growing trend is towards personalized medicine, which adjusts patients' course of care based on their traits. To identify biomarkers, forecast medication reactions, and create individualized treatment plans, the evaluation of massive patient data, including genomes, proteomics, or medical records, mainly depends on generative AI. Development for abundant AI technology is fueled by an increasing emphasis on personalized medicine, propelling market growth.
Report Scope of the Generative AI in Personalized Medicine Market:
| | |
| --- | --- |
| Report Coverage | Details |
| Largest Market | North America |
| Base Year | 2022 |
| Forecast Period | 2023 to 2032 |
| Segments Covered | By Personalized Medicine Therapeutics, By Deployment Model, and By End-User |
| Regions Covered | North America, Europe, Asia-Pacific, Latin America, and Middle East & Africa |

Driver:
Rising demand for rapid treatment planning for creating personalized therapy
Generative AI's use in healthcare has a significant financial impact on cost reduction and revenue generation. For instance, generative AI-powered chatbots can offer fast and individualized help, cutting down on expensive ER visits with improved access to preventative treatment. By identifying patients' health structure likely to develop chronic diseases, predictive analytics enables healthcare professionals to take early action and avoid the need for later, more expensive treatments. By observing patterns and trends in massive databases, AI can also help population health management, allowing healthcare organizations to customize their services to the needs of specific patient and member populations. Using AI in healthcare can reduce expenses, boost income, and enhance patient care. All these advantages offered by generative AI for rapid treatment planning are observed to fuel the market's growth.
Restraint:
Ethics related concerns
AI development is not only happening quickly but exponentially. AI is constantly producing new procedures, revelations, and insights that directly impact the daily routines of healthcare customers. Healthcare organizations need to catch up to rivals utilizing AI by being overly wary and not keeping up with the technology. For instance, it has already been demonstrated that generative AI is more proficient than humans at interpreting images in radiology. Executives who don't use these tools will eventually lose customers looking for the most precise outcomes and might have to spend more money on staff in the long run.
Additionally, several ethical concerns act as a hindering factor for the market's growth. Specific concerns include ethics, privacy, biasness in training data, possible abuse of chemicals, and accountability for actions made according to AI-derived outputs. It is essential to respect moral standards while ensuring that generative AI is utilized sensibly for the benefit of patients and society. Healthcare organizations have to strategically work on the utilization of the technology while also taking its implications for ethics into account to address this restraint.
Opportunities:
Rising demand for rapid medical imaging analysis
By producing high-quality images, restoring lost or corrupted data, and aiding with segmentation and analysis, generative AI can improve medical imaging approaches, assisting clinicians in making more precise medical and therapeutic decisions. When used on CT pictures, this can reduce the quantity of radiation needed, which is a considerable advantage to patients. In addition, generative AI algorithms generate 3-D holographic images based on computed tomography (CT) and magnetic resonance imaging (MRI) scans, which can significantly increase surgeons' capacity for preparing complex procedures. Algorithms can be programmed to recognize specific pathologies using machine learning and deep learning, such as melanomas for skin malignancies.
Generative AI can also be used to analyze the pattern of patient's health with medical images, this can be effective with the implementation of image detection services in generative AI which is being adopted in the market. Using generative AI in conjunction with medical imaging tools such as CT and MRI scans can assist in increasing the accuracy and efficiency of machine learning. Machine learning systems can detect visual irregularities and warn clinicians of potential issues. The rising cases of diseases such as cancer and neurogenerative disorders have boosted the demand for rapid medical imaging analysis. This element is observed to increase the adoption of generative AI to create medical images that can be further used for creating personalized solutions.
Segments Insight:
Personalized Medicine Therapeutics Insights:
The pharmaceuticals segment shows significant growth in the generative AI in the personalized medicine market during the predicted period. The pharmaceutical companies are observed to shift their focus on the utilization of generative AI for clinical trials. Particular algorithms in generative AI offer the identification of biomarkers that are useful to create a pathway for patient treatment, especially while developing personalized solutions.
For instance, In March 2023, Mitsui & Co., Ltd., one of Japan's largest business conglomerates, collaborated with NVIDIA on Tokyo-1, an initiative to supercharge the nation's pharmaceutical leaders with technology, including high-resolution molecular dynamics simulations and generative AI models for drug discovery.
Devices are registered to grow faster in the generative AI in personalized medicine market during the forecast period.
Generative AI are being used to expedite drug discovery and development. These models can generate novel molecular structures and predict their properties, helping researchers identify potential drug candidates more efficiently, accelerating the discovery of new therapies, and enabling personalized treatments tailored to an individual's genetic makeup. Medical devices like heart monitors can track vital signs, AI can collect the data from those devices and look for more complex conditions, such as sepsis. One IBM client has developed a predictive AI model for premature babies that is 75% accurate in detecting severe sepsis.
On the other hand, the genomic medicine segment is expected to grow at a significant rate during the forecast period. Genomic medicine uses an individual's genomic information to guide clinical care and provide more customized diagnostic or therapeutic decisions. One of the main objectives of large-scale sequencing projects is to promote genomic medicine by speeding up the detection and understanding of illness or therapeutic-associated genetic variations. Growing attempts to aggregate population-level sequence data and integrate genomic data with phenotypic data, clinical records, and other forms of multi-omics data (e.g., proteomics, transcriptomics, and metabolomics) contribute to the segment's endeavor. While facilitating novel scientific advances for personalized medicine, the integrative study of genomics and clinical data with the help of generative AI offers lucrative opportunities for the genomic medicine sector.
Deployment Model Insights:
Cloud based segment shows attractive growth in the generative AI in the personalized medicine market during the forecast period. Cloud-based generative AI solutions provide benefits such as flexibility, adaptability, accessibility, and cost-effectiveness. They enable insurers to use cloud storage and computing capabilities to better manage large amounts of data and complicated AI algorithms. Cloud solutions also allow easy technology integration and access to information and applications from any place with an internet connection. For instance, In June 2023, Google Cloud announced a collaboration with Mayo Clinic to transform healthcare with generative AI, with Enterprise Search in Generative AI App Builder (Gen App Builder), to improve the efficiency of clinical workflows, make it easier for clinicians and researchers to find the information they need, and ultimately to help improve patient outcomes.
End-user Insights:
Hospitals and clinics is the fastest growing segment in the generative AI in personalized medicine market throughout the forecast period. The usage of AI technology for various objectives, including precision medicine and clinical trial design. Generated AI technology is used in hospitals and clinics for multiple applications, including medication research, systems for clinical decision-making, patient data evaluation, and clinical picture analysis. Hospitals and clinics are key end users because of the presence of large patient datasets and the need for effective diagnosis and treatment planning.
Regional Insights:
North America is dominating and expected to remain a significant region in the generative AI in personalized medicine market throughout the predicted timeframe.
The growth of the market is attributed to the presence of significant key players investing in AI, such as Alphabet, Microsoft, Apple, and Nvidia, the United States is the leading nation that is expected to contribute to the largest share of the market followed by Canada. The United States has always been on the cutting edge of adapting and utilizing AI and ML technologies in various industries such as healthcare, education, and entertainment. This expansion is achievable due to the availability of enormous quantities of data to train generative models.
As the government and the overall healthcare sector focus on the rapid development of personalized solutions for the healthcare sector to control the waste-expenditures in drug development, the market for generative AI in personalized medicine is expected to grow in North America.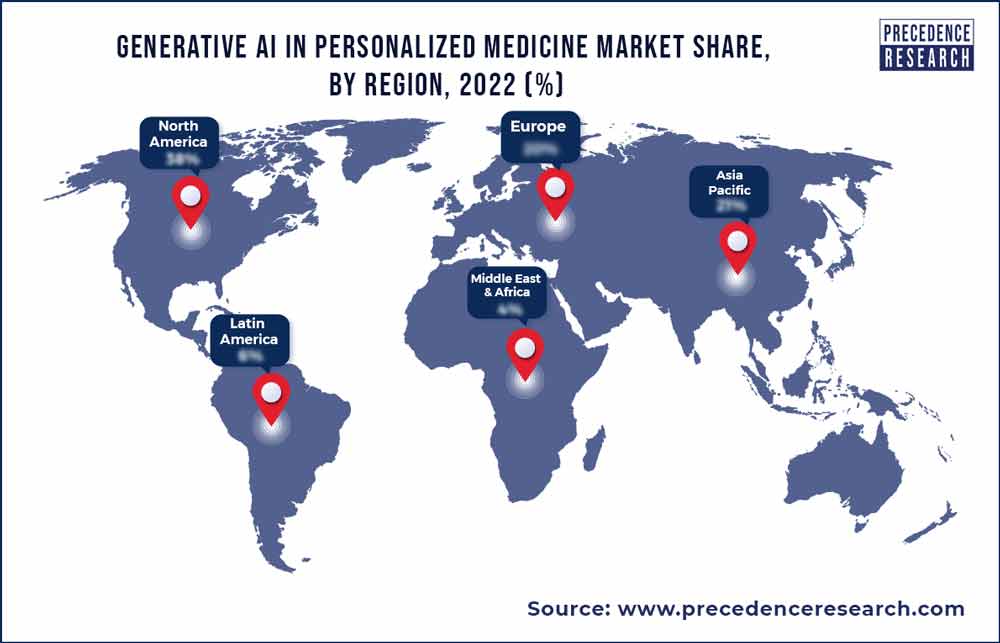 Asia-Pacific shows lucrative growth in the generative AI in personalized medicine market during the forecasted timeframe. The growth of the market is related to the growing prevalence of health problems, which increases the demand for diagnostic services. Rising digitization in numerous industries, expansion of cloud networks and data centers, and development of the IT industry along with the substantial efforts on improving healthcare infrastructure collectively promote the market's growth in Asia Pacific. Rising investment in AI technologies by emerging economies such as China and India fuel the growth of generative AI in personalized medicine market. India and China are worldwide hubs for technological talent. Japan, Korea, and Singapore are leaders in smart cities and robots, while a thriving startup culture thrives in Beijing, Jakarta, Bangkok, and elsewhere. All these factors collectively highlight the possibility of rapid adoption of generative AI in the medicinal sector in Asia Pacific for the upcoming period.
According to Microsoft's 2023 Work Trend Index, which is based on a survey of 31,000 people in 31 countries, 78% of respondents in the Asia-Pacific region would delegate to AI, where possible, to reduce workloads.
Recent Developments:
In April 2023, Microsoft Azure Health Services worked with CueZen to revolutionize the healthcare industry. The partnership aims to lead CueZen's generative AI for healthcare and Microsoft Azure's cloud services to give their healthcare clients more personalized patient involvement care.
In December 2022, Insilico Medicine launched the new updates to Pharma.AI, its end-to-end drug discovery stage, using generative artificial intelligence to design new molecules, predict the outcome of clinical trials, and discover new targets to aim discovery product PandaOmics and various new panels to the generative chemistry engine Chemistry42, along with specifics on the predictive capabilities inClinico tool.
Key Market Players:
Butterfly Network
Deep Genomics
Google LLC
IBM Watson Health
Microsoft Corporation
Aidoc
Insilico Medicine
PathAI
Tencent Holdings Ltd.
Neuralink Corporation
Johnson & Johnson
Segments Covered in the Report:
(Note*: We offer reports based on sub segments as well. Kindly, let us know if you are interested)
By Personalized Medicine Therapeutics
Pharmaceutical
Genomic Medicine
Devices
By Deployment Model
By End-User
Hospitals and Clinics
Clinical Research
Healthcare Organizations
Diagnostic Centers
By Geography
North America
Europe
Asia-Pacific
Latin America
Middle East and Africa