The regenerative medicine market size was valued at USD 9.81 billion in 2021 and is predicted to be worth around USD 37.92 billion by 2030 with a CAGR of 16.2% from 2021 to 2030.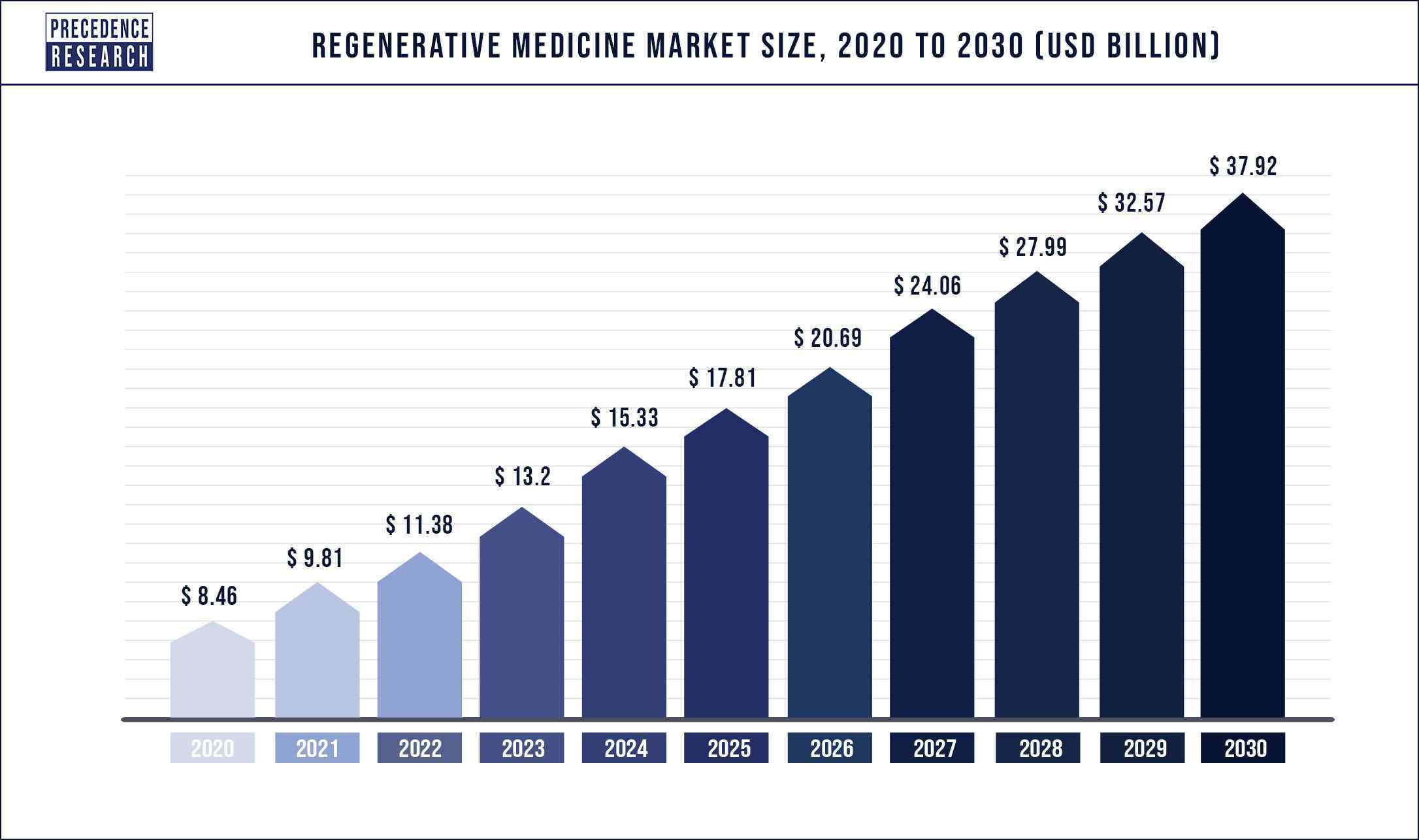 Key market Insights:
Stem cell therapy is one of the most revolutionary applications of regenerative medicine in the real-world scenario. Stem cell therapy encourages the repair response of ailing, dysfunctional or wounded tissue by means of stem cells or their by products. It is the next big thing in organ transplantation and makes use of cells in the place of donor organs, that are limited in stock. Scientists cultivate stem cells in a laboratory. These stem cells are operated to specialize into particular cells, such as blood cells, heart muscle or nerve cells. The specific cells can then be implanted into an individual. Stem cells have the capability to build all tissue in the human body, therefore have great possibility for future healing uses in tissue repair and regeneration.
Crucial factors accountable for market growth are:
Increasing prevalence of chronic ailments
Growing incidence of genetic disorders
Rapidly increasing trauma cases
Growing investment in research and development for regenerative medicine
Strong product pipeline of regenerative medicine products
Increasing popularity of stem cell therapy
Report Scope of the Regenerative Medicine Market
| | |
| --- | --- |
| Report Highlights | Details |
| Market Size | USD 37.92 Billion by 2030 |
| Growth Rate | CAGR of 16.2% from 2021 to 2030 |
| Largest Market | North America |
| Fastest Growing Market | Asia Pacific |
| Base Year | 2021 |
| Forecast Period | 2021 to 2030 |
| Segments Covered | Product, Application, Region |
| Companies Mentioned | Integra LifeSciences Corporation, Aspect Biosystems, Amgen, Inc., Medtronic plc, AstraZeneca, Novartis AG, Smith & Nephew plc, MiMedx Group, Shenzhen SibionoGeneTech Co., Ltd., and Baxter |
Significant Market Trends:
Tissue-Engineering Segment Reported Foremost Market Stake in 2019
Tissue-Engineering segment recorded the prime market share in the global regenerative medicine Market in 2019. The key reason for the hefty share of the tissue-engineering segment is multiple advantages such as ability to replace a defective structure with an entirely living structure and potential in developing treatments for previously untreatable medical conditions. Moreover, high investment in research and development for developing effective treatments, and constant launch of new and effective products are expected to boost the demand in tissue engineering segment.
The stem cell therapies segment is projected grow at the highest CAGR during the forecast period mainly due to increasing popularity of stem cell related treatment options and high investment by major manufacturers. Other factors responsible for high growth of stem cells therapy segment are increasing geriatric population, and increasing trauma cases worldwide.
Musculoskeletal Applications are Projected to Dominate the Regenerative Medicine Market Revenue
Regenerative medicine, specifically cellular therapy, is a rapidly emerging field that is being explored as a possibility for the repair of function in numerous disease areas including musculoskeletal ailments. High research and development activity in use of regenerative medicine for the treatment of musculoskeletal disorders is the major reason for the high revenue share of regenerative medicines.
Oncology segment will hold a significant share in the global regenerative medicine market mainly due to the high incidence of cancer globally and increasing demand for development of new technologies for the treatment of cancer.
North America is Estimated to be the Largest Market for Regenerative Medicine
The research report covers key trends and prospects of regenerative medicine products across different geographical regions including North America, Europe, Asia-Pacific, Latin America, and Middle East and Africa. Geographically, regenerative medicine market is conquered by North America owing to high incidence of chronic diseases and presence of sophisticated healthcare framework. On the other hand, Asia-Pacific is anticipated to witness the rapid growth rate, on account of increasing healthcare expenditure and growing investment by major manufactures to launch new products.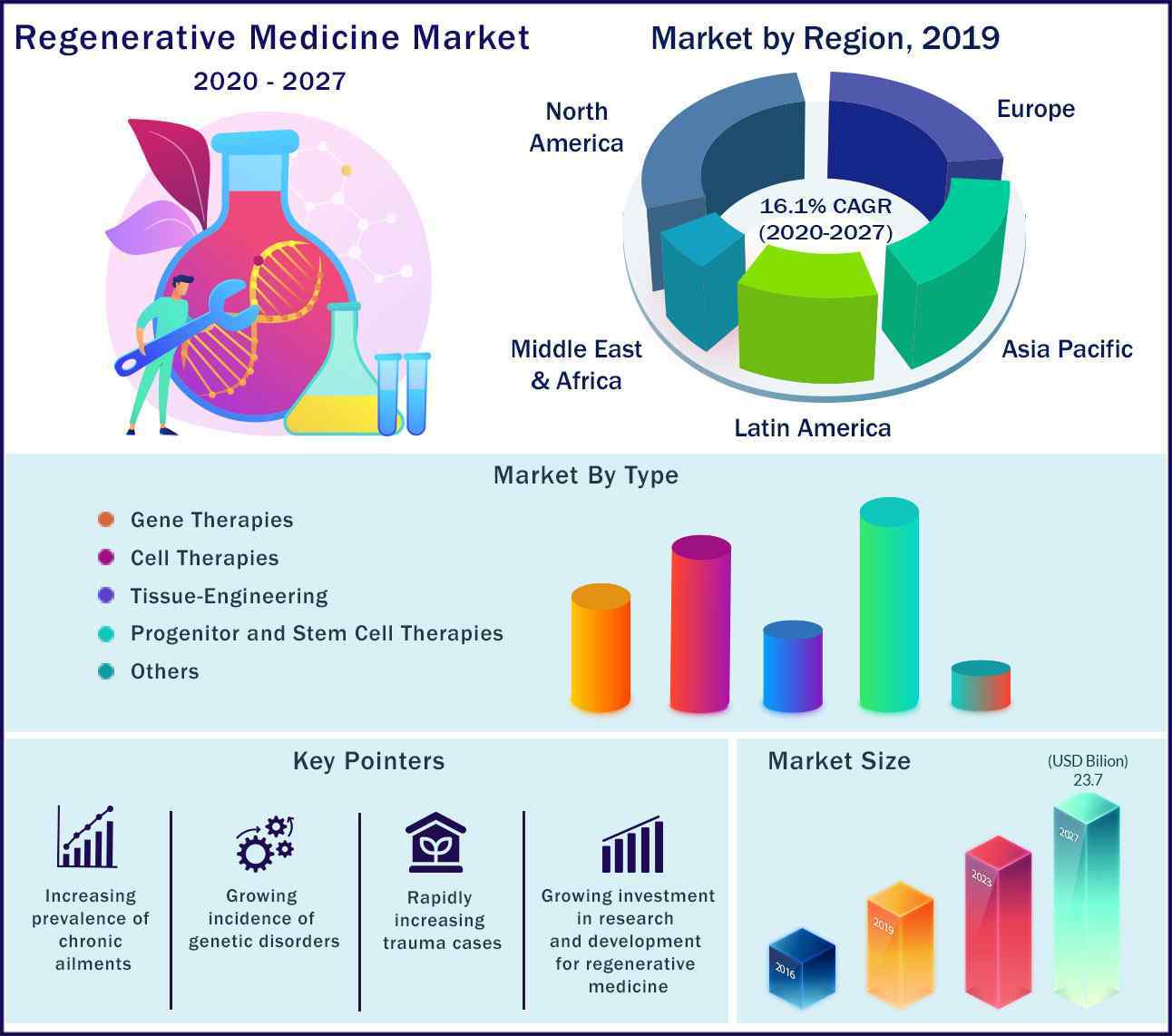 Top Players contending in the Market:
The companies focusing on research and development are expected to lead the global regenerative medicine market. Leading competitors contending in global regenerative medicine market are as follows:
Integra LifeSciences Corporation
Aspect Biosystems
Amgen, Inc.
Medtronic plc
AstraZeneca
Novartis AG
Smith & Nephew plc
MiMedx Group
Shenzhen SibionoGeneTech Co., Ltd.
Baxter
In order to better recognize the current status of regenerative medicine, and policies adopted by the foremost countries, Precedence Research predicted the future evolution of the regenerative medicine market. This research study bids qualitative and quantitative insights on regenerative medicine market and assessment of market size and growth trend for potential market segments.
Major Market Segments Covered:
By Product
Gene Therapies
Cell Therapies
Tissue-Engineering
Progenitor and Stem Cell Therapies
Others
By Application
Wound Care
Musculoskeletal
Ophthalmology
Oncology
Cardiovascular
Others
By Geography
North America
Europe

Germany
France
United Kingdom
Rest of Europe

Asia Pacific

China
Japan
India
Southeast Asia
Rest of Asia Pacific

Latin America

Brazil
Rest of Latin America

Middle East & Africa (MEA)

GCC
North Africa
South Africa
Rest of Middle East & Africa