The global tissue engineering market size was accounted at USD 11.81 billion in 2022 and it is expected to hit around USD 33.38 billion by 2032, expanding at a CAGR of 11% during the forecast period 2023 to 2032.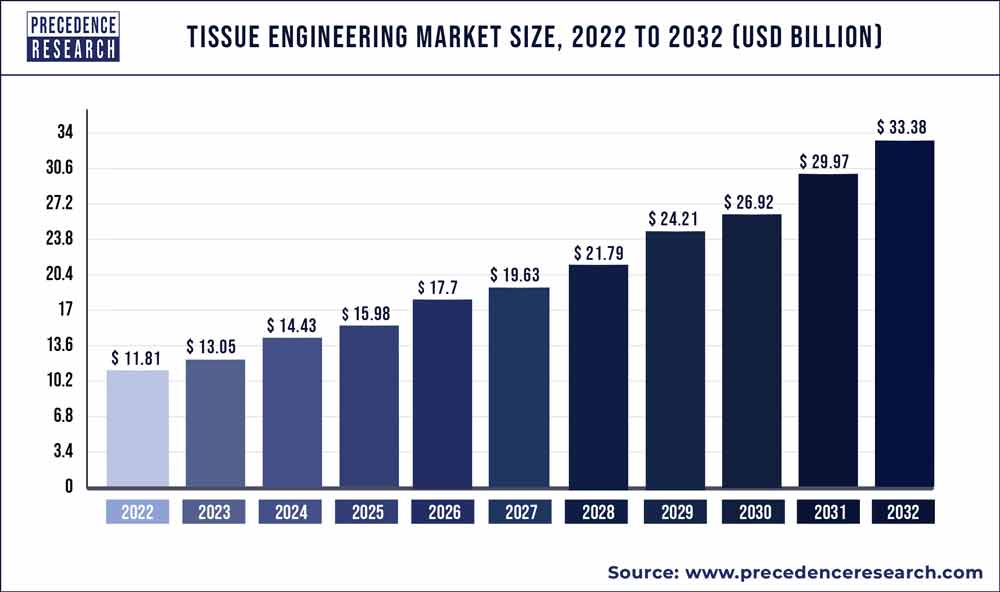 Key Takeaways:
By material type, the synthetic segment has captured 83% revenue share in 2022.
By application, the orthopedic, musculoskeletal & spine segment has held the highest market share of around 31% in 2022.
The skin & integumentary application segment is growing at the highest CAGR during the forecast period.
Based on end use, the scientific research segment has captured the highest revenue share in 2022.
North America region accounted for 52% market share in 2022.
To regenerate, preserve, augment, or replace different kinds of biological tissues, the biomedical engineering field of tissue engineering combines cells with engineering, material technologies, and the proper biochemical and physicochemical parameters. To repair, replace, or regenerate tissues or organs, tissue engineering (TE), a fast-developing field, transforms basic knowledge in physics, chemistry, and biology into useful materials, technologies, and therapeutic approaches.
Assisting with tissues or organ regeneration, including bone healing (calcified tissue), heart tissue, cartilage tissue, vascular tissue, and pancreatic tissue are some of the main purposes of tissue engineering in medicine and research. The behaviour of stem cells is another topic of study in this area. Stem cells may differentiate into a wide variety of cell types and aid in the body's healing processes. The 3D aspect of tissue engineering enables a more in-depth examination of tumour architecture. Additionally, it offers a setting in which to test possible novel treatments for various disorders. It is anticipated that an increase in R&D efforts would help the market expand as awareness of tissue engineering rises in emerging economies.
The global market for tissue engineering is growing because of developed countries adopting regenerative medicine and tissue engineering technology. To have an advantage over rivals, key actors are forming alliances and working together.
Additionally, to fulfil the demand, prominent companies are upgrading their product portfolios and developing fresh tissue engineering products.
The healthcare sector has been significantly impacted by the COVID-19 epidemic. Since the COVID 19 pandemic, clinical tissue engineering research has been discontinued and non-COVID 19 clinical studies have been scaled back. In the meanwhile, a number of pharmaceutical and biotech companies have moved their attention to the creation of COVID-19 therapy medications and vaccines. Additionally, the global tissue engineering industry has been constrained by a significant decline in cell and tissue donation programmes. As a result, the worldwide tissue engineering industry is being constrained by delays and disruptions in clinical research as well as cancellations or delays in tissue replacement and reconstructive treatments.
Growth Factors
Another element raising awareness is the growth in popularity of tissue regeneration technology due to effective products and lower rejection rates. Additionally, there are more procedures performed for regeneration. Pre-clinical research is being done on the use of tissue-engineered vascular grafts in cardiovascular surgery and therapy. Currently, bladders made of tissue engineering are being successfully transplanted outside of the patient's body.
Report Scope of the Tissue Engineering Market
| | |
| --- | --- |
| Report Coverage | Details |
| Market Size in 2023 | USD 13.05 Billion |
| Market Size by 2032 | USD 33.38 Billion |
| Growth Rate from 2023 to 2032 | CAGR of 11% |
| Base Year | 2022 |
| Forecast Period | 2023 to 2032 |
| Segments Covered | Application, Material Type, End-Use, and Geography |
| Companies Mentioned | Stryker Corporation, Organogenesis Inc., Cook Biotech Inc., Integra Life Sciences Corporation, 3M, AbbVie Inc., Medtronic, Zimmer Biomet, Baxter International Inc., DePuy Synthes (Johnson & Johnson Services, Inc.), B. Braun Melsungen AG |

Key Market Drivers
Rising incidence of chronic diseases and road traffic accidents, trauma injuries - The market for sophisticated treatment methods like tissue engineering is expanding as a result of factors including the increased prevalence of chronic illnesses, the rise in trauma injuries, and the frequency of auto accidents. Due to the catastrophic bone and organ damage they result in, traffic accidents are one of the leading causes of death globally. According to the WHO, 20 to 50 million people are hurt in car accidents each year. In order to restore injured tissues, tissue engineering offers an alternative to mechanical device instruction, surgical reconstruction, and transplantation.
Gaining importance in multiple areas - Tissue engineering is becoming more popular in a variety of fields, including urological goods, orthopaedics, burn therapy, and wound and burn care. In the treatment of paediatric patients, tissue engineering can be very useful. Congenital abnormalities such as esophageal atresia, bladder exstrophy, and congenital diaphragmatic hernia provide significant surgical complications due to the absence of tissues or organs at birth. Additionally, the care of burn wounds has seen a considerable increase in interest in tissue engineering methods. Increased burn and trauma-related injuries are anticipated to fuel the growth of the worldwide tissue engineering market, as tissue engineered skin replacements offer significant potential for wider applications in wound healing.
Key Market Challenges
Multiple problems associated with tissue engineering
There are a number of issues with currently used tissue engineering techniques, such as inefficient cell growth, unstable and insufficient production of growth factors to promote cell communication and appropriate response, and a lack of suitable biomaterials and techniques to capture suitable physiological architectures.
Another restriction of tissue engineering is the inability to regulate cellular processes and their many characteristics (biological, mechanical, electrochemical, and others), as well as issues with biomolecular detection and biosensors. Furthermore, despite the rising interest in tissue engineering research, the market's expansion is being constrained by the treatment's high cost and ongoing advancements.
Key Market Opportunities
Increasing demand for regenerative medicine
The market is expanding as a result of increasing demand for regenerative medicine and the promise of tissue engineering treatments to heal irreparable tissue damage. The market is expanding due to the increased prevalence of diseases including diabetes, obesity, and other illnesses as well as the growing need for regenerative medicine.
Over the projection period, it is projected that other factors such lifestyle-induced changes, an ageing population, and an increase in traumatic injury cases would support the industry's expansion.
Technological advancements in tissue engineering
In vitro implant design employing 3D printers and technological advancements in tissue engineering are anticipated to support the market's growth in the years to come. It is projected that the increase in reconstructive and replacement operations would accelerate market expansion. Additionally, the market is anticipated to benefit from the broad scope of growth and considerable research in tissue engineering.
Segments Insight
Application Insights
Due to the growth in musculoskeletal problems, the orthopaedics, musculoskeletal, and spine segments led the tissue engineering market in 2022. The spine, bone replacements, and bone transplants are all part of the orthopaedic regeneration section. Around 900,000 surgical procedures each year include bone replacement or repair, according to the Medicare and Medicaid programme in the United States. Due to an annual occurrence of almost 15 million fracture cases, the cost of healthcare in the US rises by USD 59.9 billion.
Due to a sharp rise in the frequency of cardiovascular illnesses throughout the world, the sector for cardiology and vascular tissue engineering is predicted to develop at the greatest pace during the analysis period. In order to heal, restore, and re-vascularize the injured cardiac tissues, important actors are also participating in the development of stem cell treatments. Additionally, research is being done on gene therapy, sophisticated biologics, and small chemicals to promote the regeneration of injured cardiac cells. In order to examine the impact of cardiovascular illnesses, single and mixed cells from autologous and allogeneic stem cells are being used more often. Additionally, segment growth is anticipated to be boosted by developments in tissue engineering technology. For instance, the creation of 3D heart muscles and Engineered Heart Tissue (EHT) would open up prospective markets for the expansion of tissue engineering in the future.
Material Type Insights
The market leader in 2022 is anticipated to be the sector of biologically generated materials. The development of tissue engineering and biomedical devices that naturally boost the ability of tissues to regenerate in order to repair deteriorated bodily mechanisms heavily relies on biomaterials.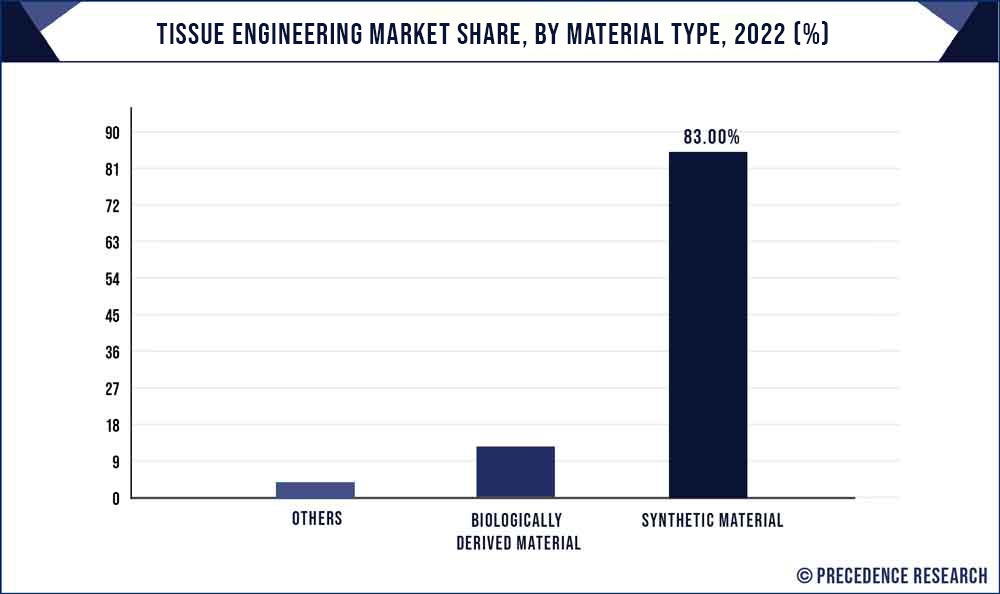 Neo-tissues that are similar to their basic body components are produced in vitro using biologically derived ingredients. Additionally, these materials promote tissue regeneration by the targeted delivery and on-demand release of certain chemokines at damage sites, as well as by providing transient, tissue-like support matrices that degrade naturally and function. However, throughout the anticipated period, the synthetic material category is expected to see the greatest CAGR in the worldwide tissue engineering market.
Tissue Engineering Market Share, By Region, 2022 (%)
| | |
| --- | --- |
| Regions | Revenue Share in 2022 (%) |
| North America | 52% |
| Asia Pacific | 18% |
| Europe | 23% |
| Latin America | 4% |
| MEA | 3% |

Regional Insights
Due to an increase in interest in stem cell treatment and a rising elderly population, North America had the greatest revenue share in 2022. Additionally, the availability of private and public financing, high healthcare spending, and sophisticated technology for the diagnosis and treatment of chronic conditions encourage a higher proportion of the regional market for tissue engineering. Due to the availability of public funding as well as considerable investments made by private groups, the U.S. is thought to account for a sizeable portion of global revenue. The "2020: A New Vision" effort was started by the U.S. Department of Health to put stem cell treatment and regenerative medicine at the forefront of healthcare. Technology innovation and translational advancement depend critically on the transformational effects of employing regenerative medicine in clinical settings.
Over the course of the projected period, Asia Pacific is anticipated to develop at the quickest CAGR. One of the top nations promoting technical advancements in the field of tissue engineering is Japan. Additionally, it is anticipated that the market for tissue engineering in Asia would develop because of an increase in the frequency of clinical illnesses like cancer. Growth in the industry is also fueled by elements like the development of 3D bioprinting and medical tourism in the area.
Japan is a desirable tissue engineering outsourcing market for wealthy countries like the U.S. Additionally encouraging for quicker clearance of clinical trials is its regulatory framework. The Regenerative Medicine Law, which permits the adoption of practises that might hasten the clinical development of regenerative and cell-based therapies, has been authorised by the Ministry of Health, Labor, and Welfare (MHLW).
Recent Developments
In May 2021, 3D Systems, the industry's top provider of 3D printing, said that it had acquired the German software company Additive Works GmbH in order to increase its simulation capabilities and quickly optimise its large-scale 3D printing procedures.
The 2022 Symposium on Advanced Wound Care (SAWC) Spring Conference, which will be held between April 6 and April 10, 2022 in Phoenix, Arizona, will feature the most recent advanced wound care research on Organogenesis Inc.'s product lines, including Affinity, PuraPly AM, NuShield, Apligraf, Novachor, and Organogenesis Physician Solutions
In March 2019, MyungMoon Bio Co. Ltd. and ACell struck an exclusive distribution contract for the sale of MicroMatrix and Cytal Wound Matrix wound treatment products in South Korea. In South Korea, MyungMoon is a well-known producer and distributor of pharmaceuticals and medical equipment.
Segments Covered in the Report
(Note*: We offer report based on sub segments as well. Kindly, let us know if you are interested)
By Application
Cord blood & Cell Banking
GI, Gynecology
Cancer
Skin & Integumentary
Dental
Orthopedics, Musculoskeletal, & Spine
Neurology
Urology
Cardiology & Vascular
Others
By Material Type
Synthetic Material

Synthetic Polymers
Others

Biologically Derived Material
Others
By End-Use
Regenerative medicine research
Hospitals
Healthcare and medical institutes
Others
By Geography
North America
Europe
Asia-Pacific
Latin America
Middle East & Africa (MEA)