The global stem cells market size accounted for USD 9.3 billion in 2020, and it is expected to hit around USD 17.79 billion by 2027, poised to grow at a CAGR of 8.61% from 8.61 to 2027.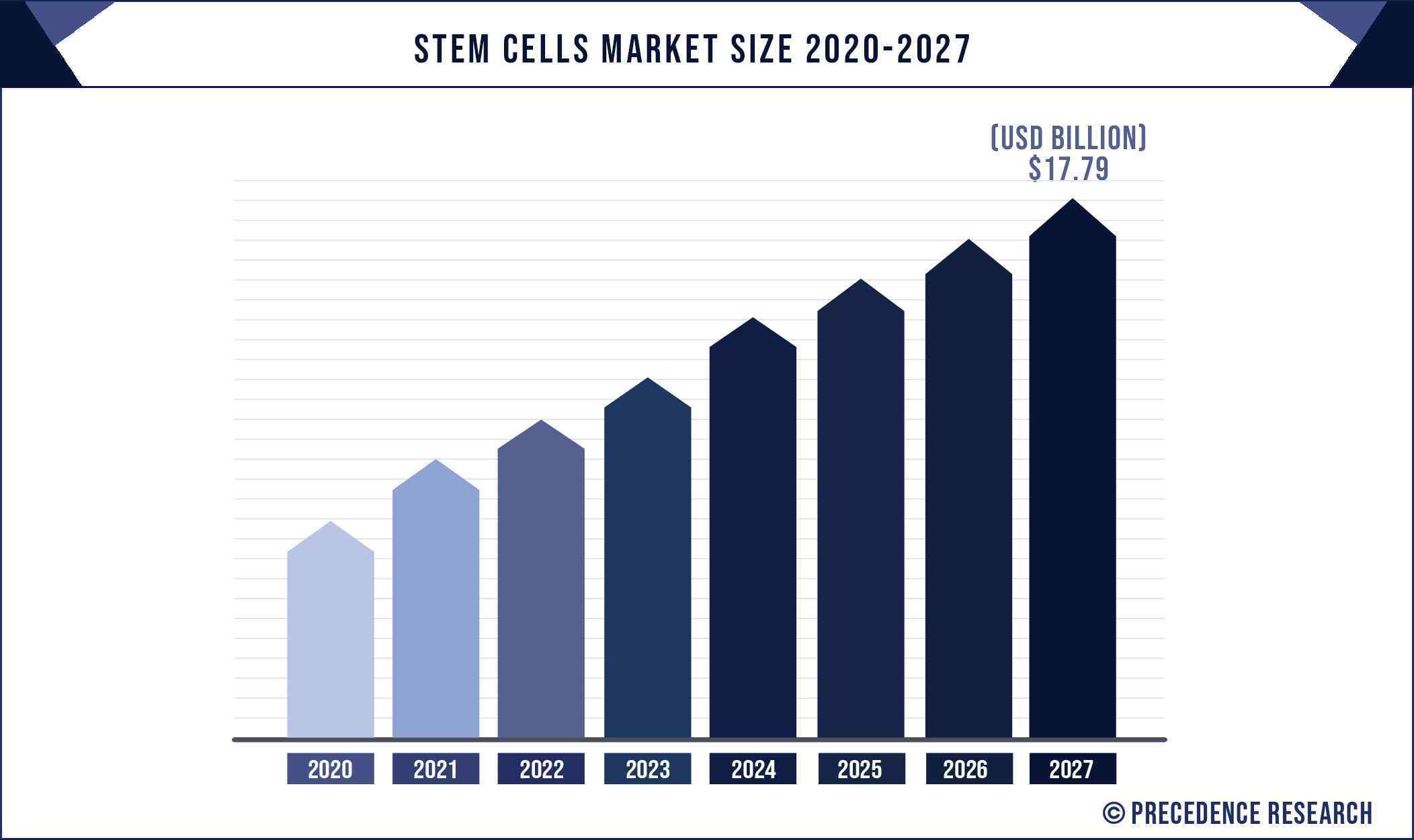 Access our Premium Real Time Data Intelligence Tool, Visit: Precedence Statistics
Market Overview
Global stem cells have acquired noteworthy attention from the multi-sectored community of scientists. Growing investment in stem cells research and the exponential success of regenerative medicines are projected to propel the market growth. Another growth rendering factor for the global stem cells market is increasing number of clinical trials across the globe. Stem cell technology has garner importance over the last few years as it is used to treat the diseased organs, damaged tissues and regenerative medicines. Increasing number of stem cells banking and government initiatives drives the growth of the stem cells market in emerging countries.
Additionally, growing awareness among regarding storage of stem cells has positively impacted the market propagation. However, growing awareness about alternative procedures is likely to hinder the market growth. Nonetheless, growing stem cell-based research and investment by pharmaceutical and biopharmaceutical companies will significantly propel the market growth over the forecast period.
Stem Cells Market Scope
| | |
| --- | --- |
| Report Highlights | Details |
| Market Size | USD 17.79 Billion by 2027 |
| Growth Rate | CAGR of 8.61% From 2020-2027 |
| Base Year | 2021 |
| Historic Data | 2017 to 2020 |
| Forecast Regiod | 2021 to 2027 |
| Segments Covered | Product, Application, Technology, Therapy |
| Regional Scope | North America, APAC, Europe, Latin America, MEAN, Rest of the World |
| Companies Mentioned | STEMCELL Technologies, Inc., Osiris therapeutics, Inc., Cynata Therapeutics, Human Longevity, Inc., Advanced Cell Technology, Inc., BIOTIME, Inc.Mesoblast Limited, Promethera Biosciences S.A. N.V., Merck Group, Takara Bio Group. |
Market Dynamics
Drivers:
Rising application in research and therapies
Stem cell products are widely used in various applications that include research and therapies such as medicines. Rising demand for regenerative medicines is one of the major factors proliferating the growth of the market. Increasing popularity for stell cells among researchers and clinicians to develop regenerative medicines is also triggering the potential demand in the industry. In July 2022, Bio Techno, which manufactures develops, and sells science reagents acquired Namocell, a US-based company that deals in providing instruments and consumables required for gene therapy.
Business activities in the industry
Stem cell products are increasingly becoming popular in pharmaceutical companies. The rising need for effective stem cell therapies for neurological disorders is leading to a surge in research and development activities in the market. Growing collaborative activities between pharmaceutical and biotechnological companies is triggering the growth of the industry. For example, In July 2023, Pluristyx partnered with Stem Genomics. Through the collaboration, the businesses will provide a standardized method for users to assess the genomic stability of Pluristyx's pluripotent stem cell (PSC) lines using the ICS-digital PSC test from Stem Genomics.
Restraints
Ethical and regulatory issues
The stem cell market has proven effective in the treatment of new diseases such as diabetes, and spinal cord injury. However, some countries and regions have put restrictions on certain stell cell research which is further limiting the growth of the market. Human embryonic stem cell research involves damaging human embryos to create cell lines. Furthermore, the risks associated with stem cell plantation include unsuitable mitigation of stem cells.
High cost of treatment
The high cost associated with stem cells is observed to limit the growth of the market. Stem treatment has come as an effective option in treating various chronic diseases. Developing stem cell-based therapies is also costly and time-consuming. The research and development process, as well as the need for clinical trials and regulatory approvals, require significant financial investments.
Opportunity
Rising demand for regenerative medicines
The demand for regenerative medicines is experiencing major popularity. Stell cells hold great potential for regenerating damaged or diseased tissues and organs. The therapies assist in treating various diseases including heart disease, and diabetes. Advancements in stem cell research also enable the development of personalized treatments based on a patient's stem cells, reducing the risk of rejection and improving treatment outcomes.
Application Insights
In terms of application segments the oncology segments exhibited the highest growth rate owing to the existence of various pipeline products for the treatment of cancer and tumors.Increasing regenerative medicine centers are expected to increase the prospects for stem cells in near future.
Product Insights
Depending upon the product, the global stem cell market is classified into adult stem cell, human embryonic stem cells, very small embryonic like stem cell, and induced pluripotent stem cell.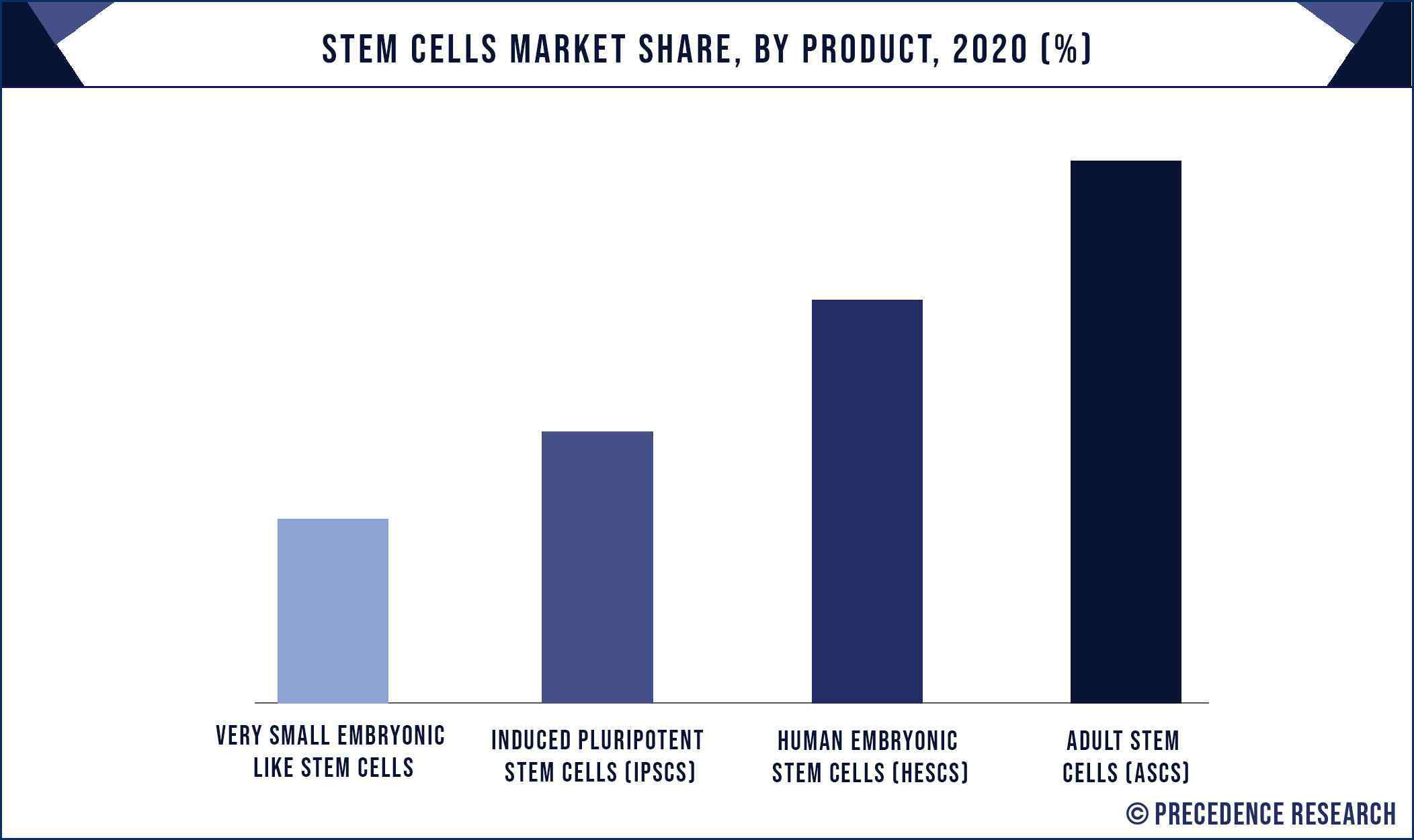 Among these, adult stem cells dominated the global market in 2020 and is expected to hold the dominance over the forecast period owing to less contamination risk integrated with sub-culturing, less need of production labor and compatibility with the human body.
Technology Insights
Amidst different technology segments, the cell acquisition technology dominated the stem cells market in 2020. Increasing awareness about the exponential significance of stem cells has propel to noteworthy growth in cell harvesting, which resulting in growth in the global stem cells market. Generally, the most common method used in order to cell acquisition is the bone marrow harvest as the tissues recovery from bone marrow stem cells is relatively faster.
Therapy Insights
Allogeneic therapy acquired largest market share among different therapy segments in 2020. The benefit of allogeneic stem cell is that the donor stem cells male their own immune cells which can help destroy cancer cells that may remain after high-dose treatment. This graft-versus-cancer is used in prevention of cancer relapse. The incidences of cancer relapse increasing significantly, generally it takes place within 1 year after therapy and these happenings are noticed in children and people suffering from oropharyngeal and breast cancer These facts are in turn accelerating growth of allergic therapies segment.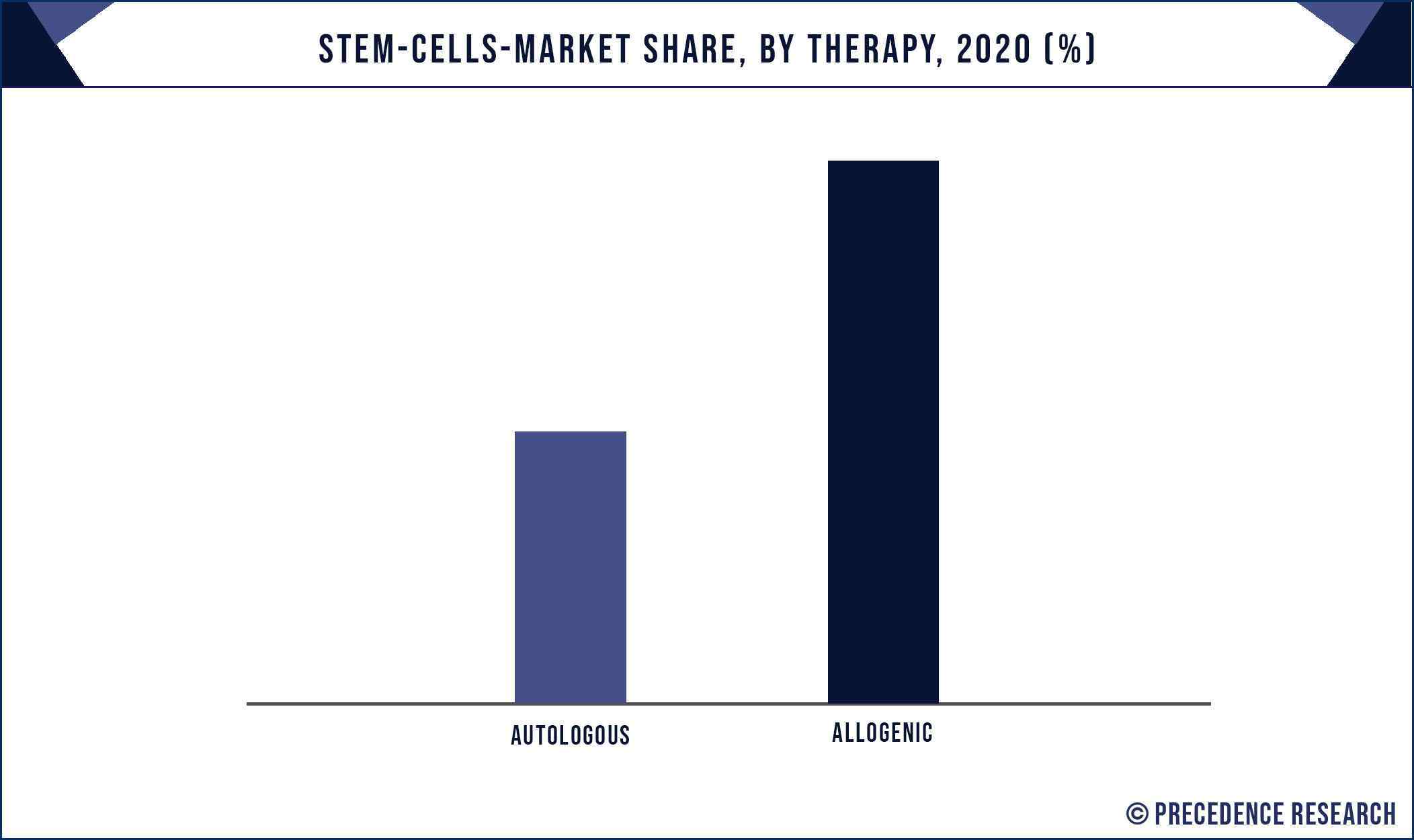 The autologous segment is expected to grow at robust growth rate over the forecast period owing to low risk associated with autologous therapy.Another major factor expected to fuel the growth include increased survival, affordability, reduced risk of graft-versus-host diseases and no requirement for recognition of HLA-matched donor.
Geography Insights
In 2020, North America ledthe stem cells market in terms of revenue owing to huge R&D investments in cytological research. The increased number of clinical trials undergoing in the U.S. also drives the market growth in this region.Stem cells are highly used in regenerative medicines particularly in the dermatology sector. The U.S. and Canada with their well-developed healthcare infrastructure will encourage research and development activities and emerging players.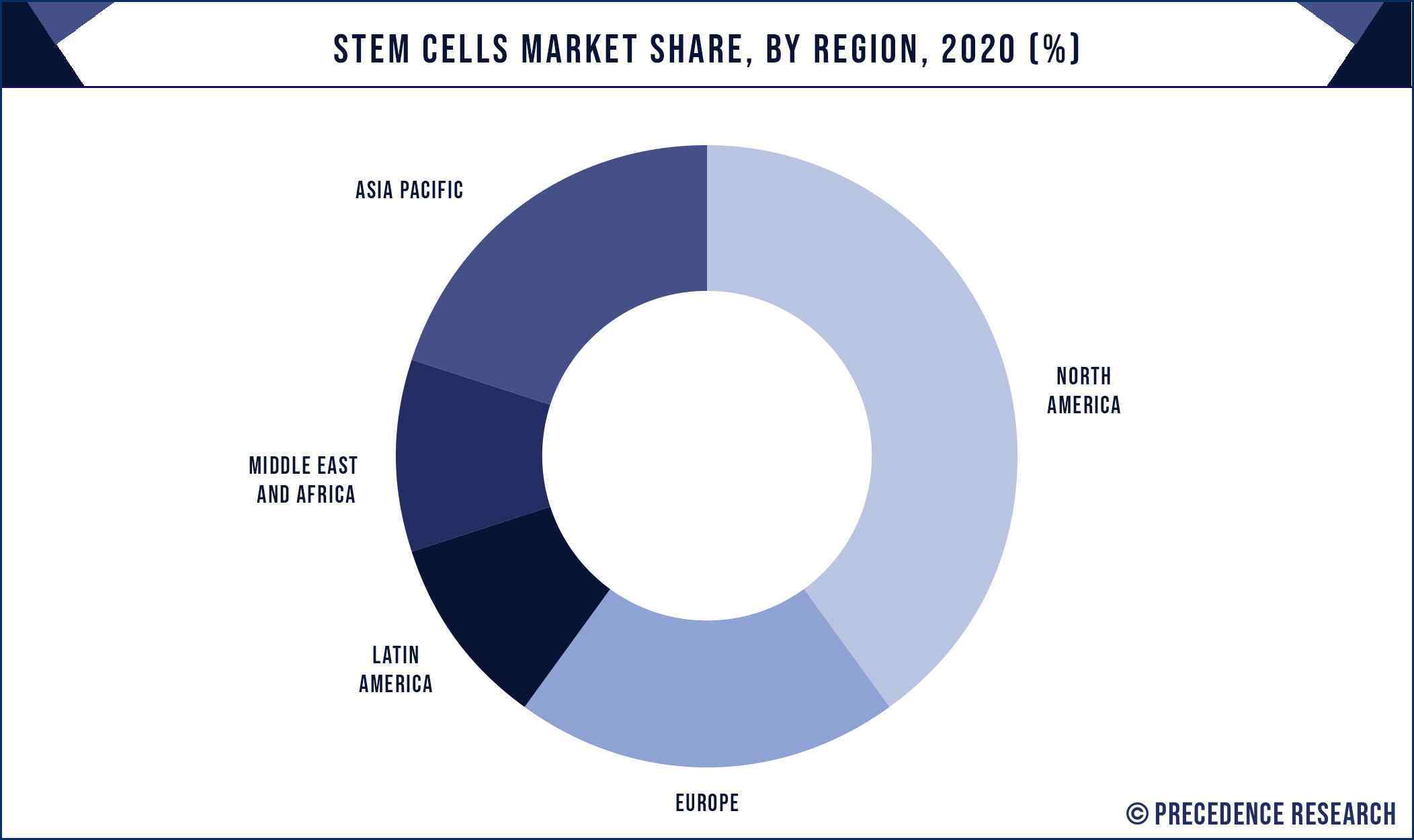 Stem cells market in Asia Pacific grows with the high CAGR on account of robust product pipelines in cell-based therapies and a huge patient pool.
Key Companies & Market Share Insights
Constant product advancements and enhancement in stem cell technology by the prominent market participants is escalating the competitive rivalry in the marketplace. Easy access to data via genomic, EHR databases, proteomich as fortified players to investigate numerous therapies to help in the treatment of beforehand untreatable conditions.The use of iPSC's in order to grow stem cell therapies is also growing. For instance, Takeda Pharmaceutical Company Limited collaborated with The Cnter for iPS Cell Research and application for the development and commercialization of iPScell-derived chimeric antigen receptor T-cell therapy. The iCART program is anticipated to enter clinical trials by 2021.
Few major key players involved in the global stem cells market include:
STEMCELL Technologies, Inc.
Osiris Therapeutics, Inc.
Cynata Therapeutics
Human Longevity, Inc.
Advanced Cell Technology, Inc.
BIOTIME, Inc.
Mesoblast Limited
Promethera Biosciences S.A. / N.V.
Merck Group
Takara Bio Group
Segments Covered in the Report
This research study comprises complete assessment of the market by means of far-reaching qualitative and quantitative perceptions, and predictions regarding the market. This report delivers classification of marketplace into impending and niche sectors. Further, this research study calculates market size and its development drift at global, regional, and country from 2016 to 2027. This report contains market breakdown and its revenue estimation by classifying it on the basis of product, application, technology, therapy and region as follows:
By Product
Adult Stem Cells

Neuronal Stem Cells
Mesenchymal Stem Cells
Dental Stem Cells
Umbilical Cord Stem Cells
Adipose-derived Stem Cells
HematopoieticStem Cells
Dedifferentiated fat (DFAT) Cells
Other ASC's

Very Small Embryonic Like Stem Cells
Human Embryonic Stem Cells
Induced Pluripotent Stem Cells
By Application
Regenerative Medicine

Neurology
Oncology
Hematology
Injuries
Orthopedics
Incontinence
Diabetes
Liver Disorder
Others

Drug Discovery and development
By Technology
Cell Acquisition

Apheresis
Bone Marrow Harvest
Umbilical Blood Cord

Cryopreservation
Cell production

Therapeutic Cloning
Cell Culture
In-Vitro fertilization
Isolation

Expansion and Sub-Culture
By Therapy
Allogenic Stem Cell Therapy
Autologous Stem Cell Therapy
By Regional Outlook
North America
Europe
Asia Pacific

China
India
Japan
South Korea

Middle East & Africa
Latin America