The global dermatology market size was estimated at USD 1.59 billion in 2022 and it is expected to hit around USD 3.14 billion by 2032, poised to grow at a CAGR of 7.03% during the forecast period from 2023 to 2032.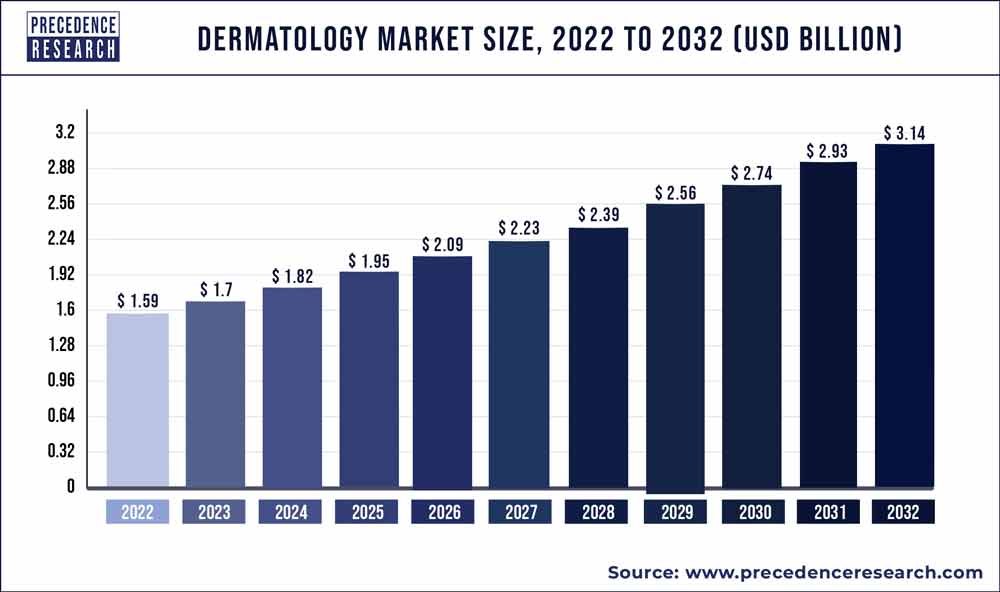 Key Takeaways
North America contributed more than 35% of revenue share in 2022.
Asia-Pacific is estimated to register the fastest growth during the forecast period.
By type, the cosmetic dermatology segment is expected to grow at the fastest pace during the forecast period.
By application, the acne segment carries the largest share of revenue in the dermatology market.
By end-use, the skin clinics segment is expected to register the fastest CAGR during the forecast period.
Market Overview:
A branch of medicine which deals with the diagnosis and treatment for the conditions of skin, hair, and nails is known as dermatology. The dermatological market on global level is anticipated to expand more quickly in the upcoming years due to several interrelated variables, such as population growth, rising disposable incomes, and increasing health insurance coverage. Multiple elements associated with and offered by the dermatology market are observed to significantly increase the skin's healing capacity and boost cosmetic procedure outcomes. The American Academy of Dermatology Association estimated that 9,500 Americans have a skin cancer diagnosis daily. It was predicted that 2,570 women and 5,080 men would die due to melanoma-related issues in 2022, a total of 7,650 deaths. Such rising cases of skin conditions highlight the growth of the market.
Growth Factors:
The dermatology market is expanding due to rising acne cases, a developing pharmaceutical sector, a growing population, and quickening developments in laser and light-based treatments for the skin. The most common skin cancers and infections, dermatitis, psoriasis, skin inflammation, and skin contaminations, are among the foremost skin diseases. Some common nail problems include bacterial and parasite contaminations, ingrown nails, tumors, and moles. Dermatologists suggest dermatology cases to treat skin, nail, and hair conditions. As powerful skin imaging technology advances and the demand for early dermatological condition diagnosis rises, apparently the market will continue to grow.
Report Scope of the Dermatology Market:
| | |
| --- | --- |
| Report Coverage | Details |
| Market Size in 2023 | USD 1.7 Billion |
| Market Size by 2032 | USD 3.14 Billion |
| Growth Rate from 2023 to 2032 | CAGR of 7.03% |
| Largest Market | North America |
| Fastest Growing Market | Asia Pacific |
| Base Year | 2022 |
| Forecast Period | 2023 to 2032 |
| Segments Covered | By Type, By Application, and By End-Use |
| Regions Covered | North America, Europe, Asia-Pacific, Latin America, and Middle East & Africa |

Driver:
Rising cases of acne problems in younger generation
Teenagers and young adults are prone to suffer from acne problems for a certain phase, which is caused due to hormonal changes during puberty. The American Academy of Dermatology Association estimated that 85% of people between 12 and 24 have at least mild acne. Acne can strike at any age and persist into the 30s and 40s. Along with younger generation, adult acne condition is rising which affects up to 15% of women. The causes contributing to the growing acne problem include stress, hormones, and diets that can make inflammation worse. As levels of stress increase, acne-causing androgens also increase, which can activate oil glands and hair follicles and worsen acne.
The dermatology industry offers multiple solutions for acne conditions taking from antibiotics to laser treatments. As the younger generation tends to be more conscious about appearance, the requirement for advanced acne solutions is expected to grow. Thus, the element acts as a driver for the growth of the market.
Restraint:
Fluctuating consumer preferences
Shifting customer preferences, such as a move toward natural or organic skin care products, state the fluctuations in the market. Consumers frequently attempt to diagnose and treat their skin disorders utilizing internet resources and over-the-counter products since the invention of the internet and easy access to information. This pattern may reduce the demand for expert dermatological services, particularly for straightforward or mild skin problems. Social media and the influence of beauty influencers both have the potential risk of propagating false or misleading information about skincare.
Non-scientific advice may influence customers, resulting in the selection of incorrect products or insufficient care for their skin problems. Pharmaceutical products like prescription drugs for dermatological issues may raise customer skepticism. They might favor complementary therapy like holistic practices or herbal cures, reducing the demand for dermatology medications and recommended treatments. Thus, the fluctuations in consumer preferences are observed to create a restraint for the market.
Opportunity:
Emergence of laser and LED light therapies
Due to the growing usage of medical and aesthetic laser technologies, there will be a significant rise in the need for specialized equipment like dermatological lasers. Because they are non-invasive and aid in the reduction of skin problems, medical laser technologies like high-intensity focused ultrasound and transdermal focused ultrasound., quickly gain acceptance from the public. Such advanced and LED-based light therapies for skin treatments focus on small tissue components with light radiation while sparing the surrounding tissue, resulting in more accurate and effective treatments with fewer side effects. Alternative energy sources are used by modern technology, such as lasers, radiofrequency, and ultrasound-based equipment. Considering these factors, the emergence of laser and LED light therapies is observed to offer a significant opportunity for the market.
Segments Insight:
Type Insights:
The cosmetic dermatology segment is expected to grow at the fastest rate during the forecast period. The segment's growth is attributed to the non-surgical and minimally invasive methods utilized by cosmetic dermatology to enhance the visual appeal of the skin, hair, and nails. It entails utilizing various methods and technologies to improve the skin's tone, texture, and general look. These include dermal fillers to give volume to the hands, face, and lips, as well as Botox injections to minimize the look of wrinkles and fine lines. Moreover, the emergence of laser treatments to cure hair growth problems and fade scars and tattoos; microdermabrasion to exfoliate the skin and lessen the appearance of wrinkles, fine lines, and acne scars promotes the segment's growth for the upcoming period.
The surgical dermatology segment is expected to register a notable growth rate during the forecast period. Surgical dermatology encompasses many aesthetic procedures, such as facelifts, liposuction, hair transplants, and laser treatments. As people become more conscious of their appearance and seek non-invasive or minimally invasive ways to enhance their looks, the demand for these procedures is estimated to grow while promoting the segment's growth. This growth of the segment has positively influenced the dermatology market, with more dermatologists expanding their practices to include surgical procedures. The rise of surgical dermatology has influenced the competitive landscape within the dermatology market. Dermatologists who offer surgical procedures may differentiate from those focused solely on medical dermatology or cosmetic treatments like injectables. This has increased competition among practitioners and clinics, driving innovation and specialization in dermatological surgery.
Application insights:
The acne segment is expected to be dominant in the dermatology market throughout the forecast period. Changes in lifestyle followed by unhealthy diet and hormonal changes are most common factors to boost the cases of acne conditions. The patient number and a plethora of established treatments for the same cause supplement the segment's growth. Moreover, the substantial growth in the development of cures and treatments for acne conditions supports the growth of the segment.
For instance, Zydus Lifesciences, in June 2023, stated that the US health agency had granted final approval for its extended-release tablets of the generic antibiotic Minocycline Hydrochloride, which is used to treat moderate to severe acne. The US Food and Drug Administration (USFDA) has approved extended-release minocycline hydrochloride tablets.
The psoriasis segment is estimated to be the fastest growing in the dermatology market during the predicted period. Light therapy, PUVA, retinoids, immunological therapies, and methotrexate are widely suggested to treat psoriasis. Chronic stress, over exposure to the sun and unhealthy lifestyles are likely to fuel the cases of psoriasis.
The American Academy of Dermatology has launched a ground-breaking project in June 2023 to create educational materials that will enhance the evaluation, diagnosis, and treatment of patients with generalized pustular psoriasis (GPP), an uncommon type of psoriasis that results in widespread, pus-filled blisters, powered by OM1's data aggregation structure and its PhenOM artificial intelligence (AI) platform. Victims with GPP require urgent medical attention but frequently receive the wrong diagnosis, delaying treatment and perhaps leading to consequences that could be fatal.
End-Use Insights:
The skin clinics segment is expected to have a dominant position in the dermatology market during the predicted period. Skin clinics generally specialize in the diagnosis and treatment of skin diseases. The availability of certified or professional surgeons at the skin clinics along with the presence of advanced equipment for skin treatments at such clinics have forced patients to prefer skin clinics. Skin clinics can reach a wider clientele by providing specific treatments for skin issues like acne, aging, pigmentation, and rejuvenation.
New, efficient and non-invasive procedures drive more patients to skin clinics, increasing their clientele and profitability. In addition, skin clinics have started offering customized and personalized treatments, considering every skin condition. This brings an opportunity for the segment to grow.
The hospitals segment is the fastest growing segment in the dermatology market throughout the forecast period. With more people visiting hospitals for skin medical care and diagnosis due to the availability of various treatment options, dermatological device innovation and advancement are on the rise. Additionally, consultations for various skin illnesses have increased due to the accessibility of numerous treatments at hospitals, which ultimately promotes the segment's growth.
Hospitals, especially in well-developed countries, have invested in the latest dermatological machinery and technology to increase diagnostic procedures and treatment effectiveness. Hospitals generally have access to cutting-edge treatments for various skin disorders owing to the innovation of advanced imaging technologies, laser therapy, and surgical equipment. With qualified medical staff and specialized dermatology departments or clinics, many hospitals have been developed. These divisions offer thorough therapy for patients with skin disorders, from straightforward maladies to intricate dermatological diseases. Thereby, these factors highlight the segment's growth.
Regional Insights:
North America held the largest share of the market in 2022, the region is expected to grow at a significant rate during the forecast period. Skin cancer and other skin conditions like eczema and rosacea are becoming more common in the region, while cosmetic operations are becoming more popular due to improved healthcare infrastructure. In addition, the availability of better dermatological tools for treating skin conditions and substantial public awareness for skin cancer and other skin conditions. Pore and skin ailments are the two most common regular health problems across most national populations, surpassing the prevalence of conditions like obesity, hypertension, and disease. Thereby, promoting the growth of the region.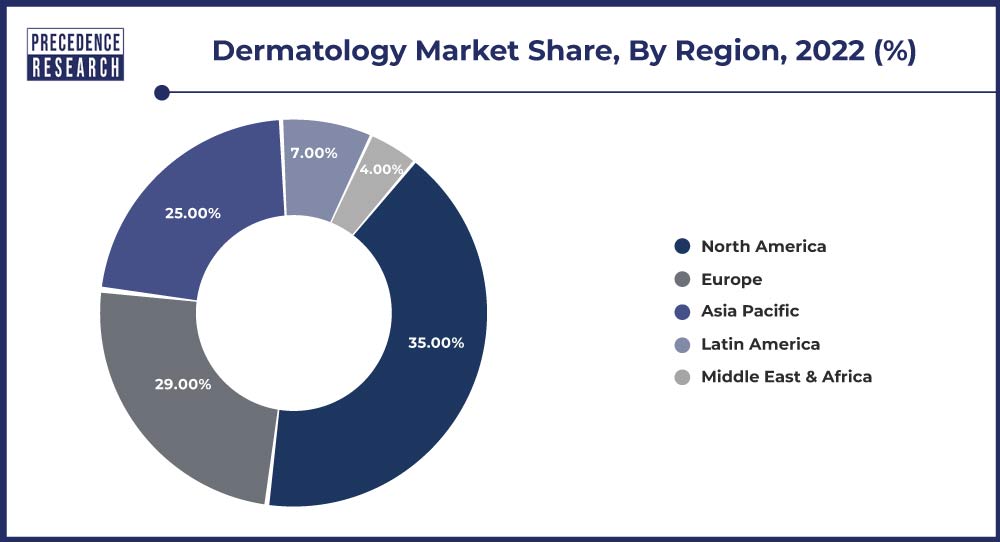 Asia-Pacific is estimated to register the fastest growth rate throughout the forecast period. Due to the rising incidence of skin diseases, the aging population and the rising cost of medical services, the region has become a commercial hub for the dermatology industry. Additionally, multiple initiatives are undertaken using various government relationships to elevate the focus on dermatological issues. Due to the exposure to the sun, Asians are prone to suffer from serious skin conditions. Moreover, the rising awareness about skin cancer in the region brings a substantial requirement for early treatments of minor skin conditions. This element is expected to fuel the market's growth.
For instance, to strengthen its position in the anti-fungal and anti-psoriasis markets, Indian pharmaceutical company Eris Lifesciences Ltd announced in January 2023 that it would pay 3.4 billion rupees to Glenmark Pharmaceuticals Ltd for a portfolio of dermatology products. The agreement calls for acquiring nine brands, including Onabet, Demelan, Halobate, and Sorvate, for India and Nepal by Eris' dermatology-focused division.
Recent Developments:
In July 2023, CHOSEN started offering Peptide Therapy Intense Repair Gel. This ground-breaking skincare product is designed to offer intense skin restoration after exfoliation, laser treatments, sunburn, and skin inflammation.
In April 2023, the Zerigo 2.0 ecosystem was officially launched, as per Zerigo Health. According to a news release from the company, this digital platform links individuals and healthcare organizations for handling and phototherapy therapy for chronic skin disorders.
In March 2023, a clinical development business, ICON plc, and LEO Pharma established a strategic agreement by collaborating, the companies intend to accelerate the completion of clinical trials and the introduction of novel medications specifically aimed at patients with dermatological conditions. LEO Pharma wants to ensure that the studies are patient-centric and economical.
In April 2022, Thirty Madison, a virtual care provider for patients with chronic illnesses with a New York location, introduced a new platform aimed at holistic skin health. Facet, a unique vertical, will handle dandruff, eczema, psoriasis, acne, melasma, anti-aging, and rosacea issues.
At the 2022 American Academy of Dermatology (AAD) Meeting, which will be held from March 25–29 in Boston, Massachusetts, Johnson & Johnson Consumer Inc. Announced to offer fresh research outlining critical developments in the knowledge and care of skin. At the upcoming meeting, 11 presentations will be presented, including topics such as the effects of oat against ecological and anti-inflammatory stimuli and a vitamin C serum with clinical advantages across various skin types.
Key Market Players:
AbbVie Inc.
Pfizer Inc.
GSK plc
LEO Pharma A/S
Sun Pharmaceutical Industries Ltd
Galderma S.A.
Amgen Inc.
DermBiont, Inc.
Johnson & Johnson Services Inc.
Roivant Sciences Ltd
Segments Covered in the Report:
(Note*: We offer reports based on sub segments as well. Kindly, let us know if you are interested)
By Type
Medical Dermatology
Surgical Dermatology
Pediatric Dermatology
Cosmetic Dermatology
Cutaneous Lymphoma
Dermatoimmunology
Others
By Application
Acne
Dermatitis
Psoriasis
Skin Cancer
Rosacea
Alopecia
Others
By End-Use
Hospitals
Skin Clinics
Others
By Geography
North America
Europe
Asia-Pacific
Latin America
Middle East and Africa