The global dermatology CRO market size was estimated at USD 4 billion in 2022 and is expected to surpass around USD 7.2 billion by 2032, poised to grow at a CAGR of 6.1% during the forecast period 2023 to 2032.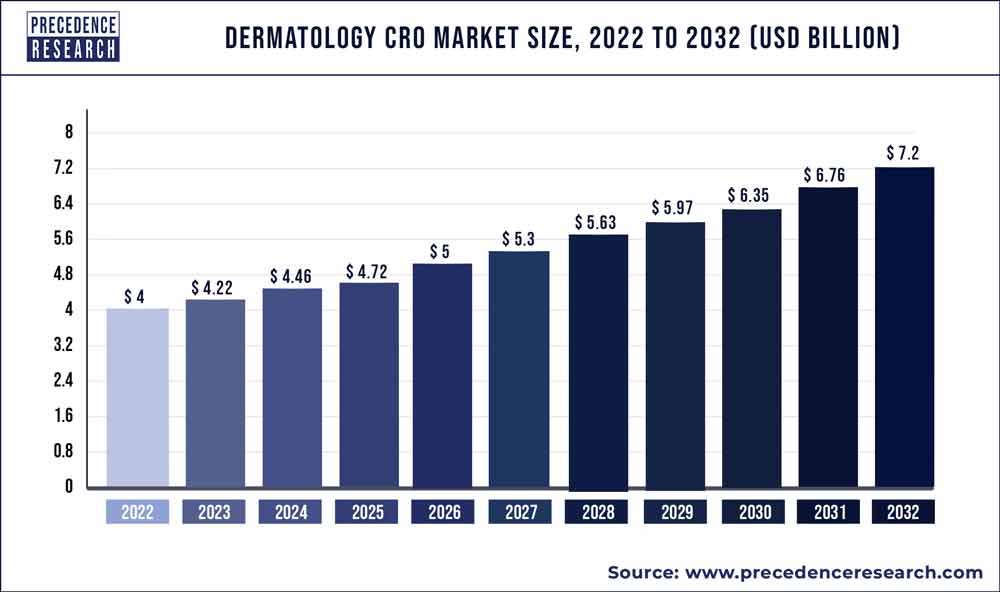 Access our Premium Real Time Data Intelligence Tool, Visit: Precedence Statistics
Institutions that help pharmaceutical or biotechnology corporations with their contracted research activities are known as dermatology contract research organizations. Both pharmaceuticals and medical equipment are produced by CROs. CROs provide all of the essential research for pharma and biotech businesses, including project planning and clinical trial administration.
Key Takeaways:
In 2022, The Asia Pacific region led the market with more than 40.60% of the revenue share.
Dermatology clinical research has been contracted out to CROs during the past ten years.
In 2022, By type, the clinical segments captured more than 75.30% of the revenue share.
By type, the preclinical segment is projected to grow at the highest CAGR of 8.5% from 2023 to 2032.
In 2022, By service, the clinical monitoring segment had the greatest revenue share of more than 20.60%.
In 2022, By phase type, the Phase III segments are the most expensive and include the most participants, therefore in 2022, they led the market with a revenue share of over more than 50.40%.
Growth Factor
One of the main factors propelling the market is the need for topical dermatological medications including anti-infective, anti-inflammatory, emollients, local anesthetics, and cleansers to treat acne. The dermatology contract research organization (CRO) industry is also being driven ahead by the increased public awareness of skin illnesses, the critical need for quick detection, and the rising incidence of skin cancer and other skin conditions.
The COVID-19 outbreak had a negative impact on the global economy in 2020 and is still having an impact now. The market for dermatological CRO was largely spared by the effects of the pandemic because of the development of online clinical trials and government initiatives to preserve faulty healthcare supply chains. Additionally, due to ongoing immunization campaigns and the repeal of the shelter-in-place rules, the backlog of clinical studies is decreasing. The market, therefore, seems to have a promising future.
Over the projection period, it is predicted that the prevalence of skin diseases would increase globally. Up to 50 million North Americans have acne each year, making it the most prevalent skin condition in the country, according to the American Academy of Dermatology Association. One in ten people will experience atopic dermatitis at some time in their lives. In the United States, 7.5 million individuals suffer from psoriasis. In the United States, rosacea is a common skin disorder that affects 16 million individuals. In the United States, more than 9,500 people receive a skin cancer diagnosis each day.
A rise in the occurrence of skin cancer and other skin conditions as well as increased awareness of skin illnesses
Expanding R&D expenditures, rising pharmaceutical industry outsourcing, and rising collaborative efforts will all contribute to the Contract Research Organization Services industry's expansion.
Dermatological drugs are required due to the rising prevalence of skin cancer and other skin conditions. This will probably support market expansion.
The elimination of adverse laws and the surge in vaccination demand are expected to accelerate market expansion.
Report Scope of the Dermatology CRO Market
Report Coverage
Details
Market Size in 2023
USD 4.22 Billion
Market Size by 2032
USD 7.2 Billion
Growth Rate from 2023 to 2032
CAGR of 6.1%
Base Year
2022
Forecast Period
2023 to 2032
Segments Covered

By Service
By Type
By Phase Type

Regions Covered

North America
Europe
Asia-Pacific
Latin America
Middle East & Africa

Key Market Drivers
An increasing number of clinical trials
Worldwide, clinical trials are crucial to the process of developing skin medications. It aids in the development of innovative methods for detecting, diagnosing, and avoiding the onset of disease as well as a unique therapy for skin conditions. Clinical trials provide the scientific basis for diagnosing and treating patients as well as testing new drugs and medical devices. Even while researchers might not achieve the desired outcomes, clinical trial data assist point researchers on the proper path.
Comparatively fewer clinical trials are undertaken in the United States than in other countries throughout the world. Since it is frequently simpler and less expensive to conduct clinical trials outside of the United States and the European Union. The success rates of dermatology clinical trials vary depending on the stage of the study and the therapies or products under development. Only 9% of drugs make it through phase 1 and are approved.
The quantity of clinical studies that have been filed has dramatically increased recently. Dermatology clinical trials are becoming more complex, yet they are still important to research and create cutting-edge skin treatments and technology. The expansion of the dermatological CRO market is anticipated to be driven by this rise in clinical trials, which is anticipated to accelerate the creation of novel skin care medications.
Key Market Challenges
Several issues associated with dermatology clinical research
CROs are still dealing with a number of problems, including commoditization, competitive pressure, and novel patient engagement models. Smaller CROs are under pressure from market segmentation as larger companies take a larger share of the market. In addition, there is a dearth of people with knowledge of and competence in the most recent regulatory requirements in many contract research businesses. There is a severe scarcity of clinical research associates and clinical trial associates, according to the Association of Clinical Research organizations. The dermatological CRO market's revenue growth is anticipated to be constrained by intense competition and a shortage of experienced specialists for clinical trials.
Key Market Opportunities
The growing investment by biopharmaceutical, pharmaceutical, and medical device companies
The majority of biopharmaceutical, pharmaceutical, and medical device companies continue to invest a substantial amount of money in creating novel treatments and technology for illnesses connected to the skin. To get high-end, cutting-edge skin care products on the market, the pharmaceutical industry, in particular, is making significant investments in research and development. Sponsors typically contract with independent service providers to handle the development of medicinal and other products, which enables them to employ a more flexible pricing structure and do away with the need to retain redundant development capabilities around the globe.
The expansion of the global market is being fueled by increasing expenditures made by many important firms in clinical and non-clinical research activities as well as outsourcing to various dermatological contract research organizations services that assist give cost-effective development solutions. The pattern indicates that the major pharmaceutical corporations are increasing the effectiveness of their research and development efforts and working together on new R & D.
The pharmaceutical research and development industry is evolving as businesses strive to increase remote employee participation and put more emphasis on creating trial outcomes that are responsive to patient needs. In addition to significantly contributing to the market boom in the projected term, these new growth trends are anticipated to accelerate the development of new technologies and pharmaceuticals.
Segments Insight
Type Insights
With a revenue share of more than 75.30%, the clinical segment led the dermatological contract research organizations market in 2022. The desire for novel technologies, the rising demand for orphan medications and customized medicine, and the rising number of biologics are all factors in the segment's growth. Technology developments, the requirement for CROs to perform dermatological clinical trials, and the globalization of clinical trials are some of the drivers that are predicted to fuel the rise.
Outsourcing phase III clinical trials to dermatological CROs helped the clinical segment obtain the greatest revenue share in 2022 since phase III clinical trials are one of the most expensive stages of a clinical trial. Over the projected period, the preclinical segment is anticipated to grow at the highest CAGR of 8.5%. The need for dermatological CROs is going to be driven by the increase in preclinical studies using big molecules and the growing need to lower R&D costs, which will lead to market growth.
Service Insights
Clinical monitoring had the greatest revenue share of more than 20.60% in 2022, and it is anticipated that it will keep that position throughout the projection. This could be brought on by an increase in clinical studies and the need to monitor them, which is raising service demand.
Dermatology clinical research has been contracted out to CROs during the past ten years for a variety of factors, including cost-effectiveness and technical expertise. Clinical monitoring data is anticipated to improve with the usage of smart analytics and real-time data-capturing technology in the healthcare industry. The category is growing because real-time data collecting on drug safety and toxicity enables early discovery of trial defects and fast adjustments, such as trial re-design or cancellation.
Phases Type Insights
Phase III clinical trials are the most expensive and include the most participants, therefore in 2022, they led the market with a revenue share of over 50.40%. The typical price of a single phase III clinical investigation is around USD 19.0 million, with 59 innovative therapeutic drugs being authorized by the FDA between 2015 and 2016.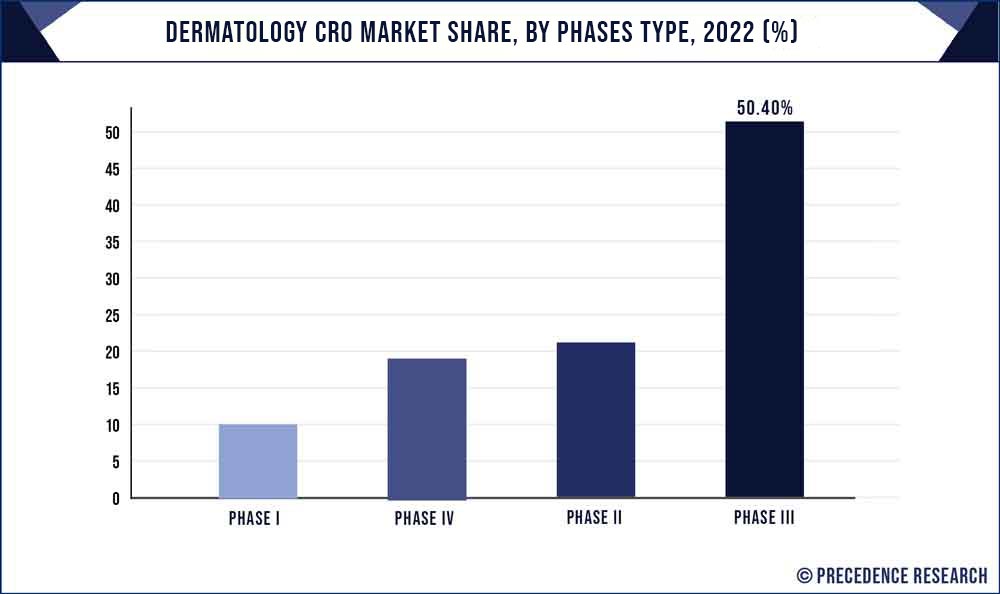 Phase III also requires more patients and, frequently, longer treatment durations. In 2021, the phase II segment's revenue share was the second-largest. There are two sections to this study. The first stage is reviewing various dosages and efficacy studies, while the second portion entails selecting a dose.
Regional Insights
Asia Pacific led the market in 2022 with a revenue share of over 40.60% and is predicted to expand quickly going forward. This is brought on by the high frequency of chronic diseases, the accessibility of various populations, the simplicity of enlisting and keeping patients, and the adoption of legislation that passes muster. Additionally, supportive government actions are promoting market expansion. For instance, the Central Drugs Standard Control Organization (CDSCO) released new regulations in February 2018 that are anticipated to reduce the clearance process' duration to around 30 to 60 days.
The market for dermatological CROs in North America will account for a sizeable revenue share in 2021 due to the region's highest number of trials that are carried out and outsourced. The expansion of this regional market has also been aided by the government's growing funding of R&D initiatives through grants and loans to businesses and research institutions.
Recent Developments
Icon plc and PRA Health Sciences signed a legally binding agreement in February 2021 to buy each other for $12 billion. Customers will benefit from the merged company's expanded geographic, functional, and therapeutic scope.
A final deal was reached in 2021 for Thermo Fisher to pay USD 17.4 billion for PPD. Thermo Fisher will considerably increase its market share in the clinical research services sector as a result of this purchase, particularly in the early phase clinical trials sector.
Key Market Players
IQVIA HOLDINGS INC.
Covance Inc.
Pharmaceutical Product Development, LLC (PPD)
Parexel International Corporation
Charles River Laboratories International, Inc.
Icon, Plc
Medidata Solutions, Inc.
Syneos Health
Pharmaron
GVK Biosciences Private Limited
Wuxi AppTec
MEDPACE HOLDINGS, INC.
PRA Health Sciences
CTI Clinical Trial & Consulting
Bioskin
Proinnovera
Biorasi
Javara
TFS
Segment Covered in the Report
(Note*: We offer reports based on sub-segments as well. Kindly, let us know if you are interested)
By Service
Project Management/Clinical Supply Management
Data Management
Regulatory/Medical Affairs
Medical Writing
Clinical Monitoring
Quality Management/Assurance
Bio-statistics
Investigator Payments
Laboratory
Patient and Site Recruitment
Technology
Others
By Type
Drug Discovery

Target Validation
Lead Identification
Lead optimization

Preclinical
Clinical
By Phase Type
Phase I
Phase II
Phase III
Phase IV
By Geography
North America
Europe
Asia-Pacific
Latin America
Middle East & Africa (MEA)