The global biologics market was estimated at US$ 366.43 billion in 2021 and it is expected to hit over US$ 719.84 billion by 2030 with a noteworthy CAGR of 7.8% from 2022 to 2030.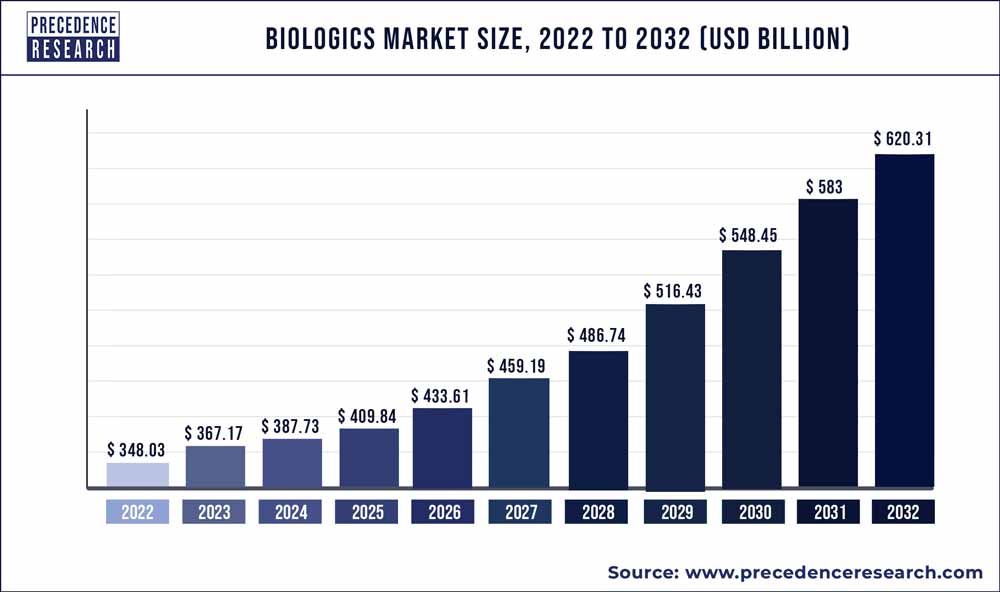 Growth Factors
Biologic is a substance made from live creatures or containing living organism components. Biologic medications are a general class of biotechnology derived pharmaceuticals originating from humans, microorganisms, and animals. Proteins that influence the activity of other proteins and cellular processes, genes that control the creation of critical proteins, modified human hormones, and cells that create substances that suppress or activate immune system components may all be found in biologic products. As biologic medications alter the way natural biologic intracellular and cellular processes work, they are sometimes referred to as biologic response modifiers.
The rise in the frequency and diagnosis of chronic diseases has demanded the availability of sophisticated diagnostics and treatment medications, which has fueled the worldwide biologics market. Biologics are drugs that have been genetically modified to target a particular portion of the immune system that causes inflammation. With the emergence of coronavirus diseases, governments in various countries are also taking steps to boost the healthcare industry and secure the supply of biologics. In addition, researchers and scientists are studying species and expression systems in order to improve the productivity of biological products. In addition, a number of pharmaceutical companies are conducting research and development to increase the efficacy of oral medications for arthritis.
Due to the fall in small molecule medication research and development productivity, biologics are expected to grow dramatically in the future years. The pharmaceutical companies are working on a variety of biologic medications in order to maintain their market dominance. When oral medications for Crohn's diseases and rheumatoid arthritis improve in effectiveness, more moderate patients are predicted to move to branded and new therapies. In addition, new compounds offer therapeutic options for patients who have previously failed to respond to conventional treatments, and they frequently display higher protection and efficacy.
Report Scope of the Biologics Market
| | |
| --- | --- |
| Report Coverage | Details |
| Market Size by 2030 | USD 719.84 Billion |
| Growth Rate from 2022 to 2030 | CAGR of 7.8% |
| Largest Market | North America |
| Fastest Growing Makret | Asia Pacific |
| Base Year | 2021 |
| Forecast Period | 2022 to 2030 |
| Segments Covered | Source, Product, Disease, Manufacturing, Route of Administration, Drug Classification, Mode of Purchase, Distribution Channel, Geography |
| Companies Mentioned | Eli Lilly & Company, Samsung Biologics, F Hoffman La Roche, Celltrion Addgene, Amgen, Abbvie Inc., Sanofi, Pfizer Inc., Merck & Co. Inc, Novo Nordisk A/S |
As processing capacity improves, biopharmaceutical production capacity is likely to rise. Another example of these innovations in the employment of single use technologies is the production and manufacturing of biopharmaceuticals. Furthermore, biologists are working on developing more efficient creatures and speech processes. The development of cell lines and reagents that improve the efficacy of biological products is predicted to drive revenue growth.
The prevalence of prevalent chronic disorders as well as some countries' comprehensive healthcare finance plans are expected to play a key role in the growth of the global biologics market. Over the projection period, improvements in the healthcare organizations together with reforms in numerous nations are projected to reflect well for the biologics market. In addition, developments in the anti-inflammatory biologics industry are expected to grow during the forecast period.
The adoption of novel biological procedures by pharmaceutical corporate giants in order to speed up their manufacturing processes is expected to result in a wide range of drug versions. The biologics industry is predicted to grow in demand due to technological advancements and less health risks.
Manufacturing is one of the most essential steps in the biologics production process, accounting for a significant portion of the worldwide biologics industry. As it represents the sector's outsourcing and in-house operations, the mode of production is an important element to investigate. Rather than acquiring or outsourcing services, businesses choose to create their own. As a result, the percentage of biologics produced in-house has increased. Businesses are putting money into their own bioprocessing equipment.
Source Insights
In 2021, the microbial segment dominated the biologics market. Due to the vast number of pharmaceuticals produced by these products, microbial expression systems had the highest revenue generation. E. coli and yeast are commonly included in microbial expression systems.
The mammalian segment is predicted to develop at the quickest rate in the future years. Platelet derived growth factor, recombinant insulin, and recombinant interferon is some of the products that have been generated using these expression systems.
Product Insights
In 2021, the monoclonal antibodies (MABs) segment dominated the biologics market. Due to the increased use of this class of pharmaceuticals in several therapeutic areas, monoclonal antibodies dominated the market with the biggest revenue share. Monoclonal antibodies allow sick cells to be targeted without hurting good cells.
The vaccines segment, on the other hand, is predicted to develop at the quickest rate in the future years. Due to its use as a prophylactic measure in infectious disorders, vaccines are expected to expand at the fastest rate in the next years.
Disease Insights
In 2021, the oncology segment dominated the biologics market. This is attributed to the increased incidence of cancer combined with the presence of many research and development programs.
The cardiovascular diseases segment, on the other hand, is predicted to develop at the quickest rate in the future years. This is attributed to the rising prevalence of heart and blood vessel diseases.
Region Insights
North America dominated the biologics market in 2021. This is due to the presence of a number of well-established players in this region. Furthermore, a larger revenue share is attributable to higher demand for disease treatment items.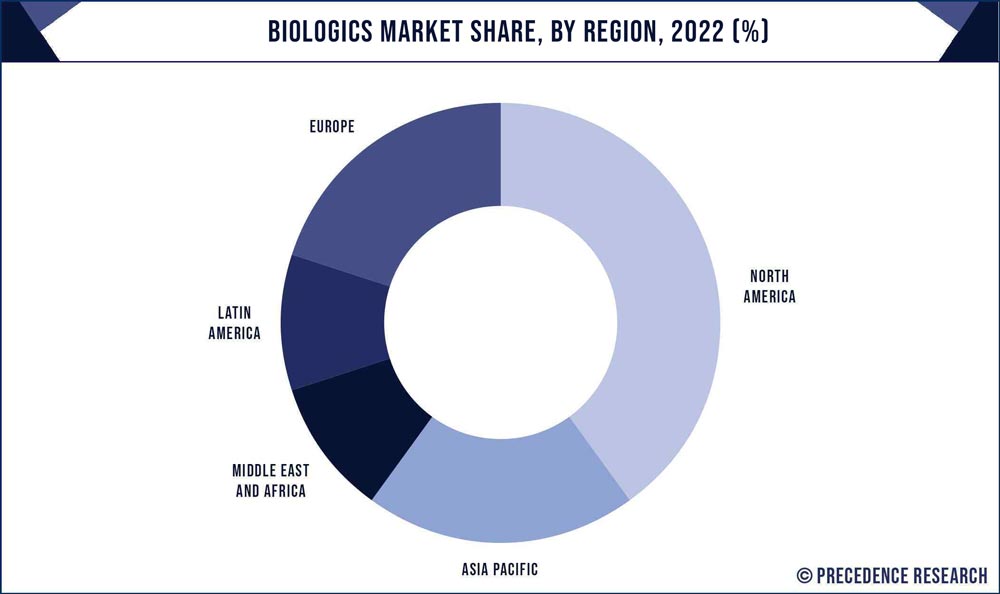 Asia-Pacific, on the other hand, is expected to develop at the fastest rate during the forecast period. The regional contract manufacturers have made a upsurge of large expenditures in order to get a foothold in the capital intensive business.
Key Developments
Moderna Inc., announced in August 2021 that it had completed the rolling submission process for its Biologics License Application to the FDA for full licensure of the Moderna COVID-19 vaccine for active immunization to prevent COVID-19 in people aged 18 and up.
Pfizer Inc. and BioNTech SE declared in August 2021 that they had started a supplemental Biologics License Application with the FDA for the approval of a booster dose of COMIRNATY to prevent COVID-19 in people aged 16 and up.
As India's biggest biosimilar maker increases its production to generate value to stakeholders ahead of an anticipated initial pubic offering, Biocon Biologics is in talks with ADQ, the Abu Dhabi government's wealth fund, to advance capital.
A South Korean business, Samsung Biologics has committed to work with Eli Lilly & Company on the development of a virus neutralizing antibody for the COVID-19 virus.
In 2020, WuXi Biologics completed purchase of Bayer's drug product manufacturing facility in Germany. WuXi Biologics' first medication production facility in Europe was expected to increase the company's commercial manufacturing capabilities.
In October 2020, Cadila Pharmaceuticals released two similar biologics known as NuPTH and Cadalimab in the Indian market to increase its geographical reach.
Some of the prominent players in the global biologics market include:
Eli Lilly & Company
Samsung Biologics
F Hoffman La Roche
Celltrion Addgene
Amgen
Abbvie Inc.
Sanofi
Pfizer Inc.
Merck & Co. Inc
Novo Nordisk A/S
Segments Covered in the Report
(Note*: We offer report based on sub segments as well. Kindly, let us know if you are interested)
By Source
Microbial
Mammalian
Others
By Product
MABs
Vaccines
Hormones
Therapeutic Enzymes
Recombinant Proteins
Antisense, RNAi & Molecular Therapy
Blood Factors and Anticoagulants
Allergenic extracts
Human Cells and Tissues
Proteins
Gene Therapies
Cellular Therapies
Others
By Disease
Oncology
Immunological Disorders
Cardiovascular Disorders
Hematological Disorders
Others
By Manufacturing
By Route of Administration
By Drug Classification
Branded Drugs
Generic Drugs
By Mode of Purchase
Prescription Drugs
Over-The-Counter (OTC) Drugs
By Distribution Channel
Hospital Pharmacies
Retail Pharmacies
Online Pharmacies
By Geography
North America
Europe
Asia-Pacific

China
India
Japan
South Korea
Malaysia
Philippines

Latin America

Brazil
Rest of Latin America

Middle East & Africa (MEA)

GCC
North Africa
South Africa
Rest of the Middle East & Africa